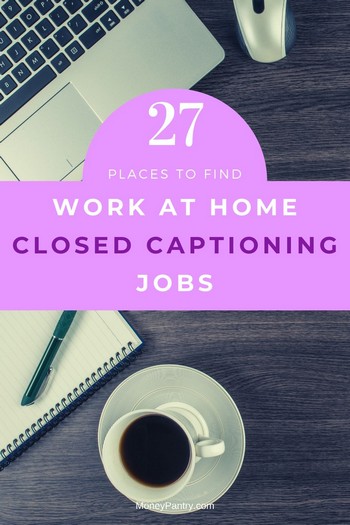 Looking for closed captioning jobs?
In this post, we tell you where to find them!
There are lots of jobs you can do from home. One to consider if your typing skills are up to scratch is closed captioning jobs.
Closed captioners write the captions that you'll see if you hit the CC button on a video, like on Amazon Prime for example.
They differ from subtitle jobs – but more on that below.
Many closed captioning gigs can be done from home.
Need Easy Extra $300+/Month for Free?
KashKick
: Get paid directly into your PayPal for watching videos, surfing, shopping and more.
Join KashKick Now!
Panel Payday
: Earn up to $75 per survey. They also pay up to $50/hr for mystery shopping.
Join Now!
InboxDollars
: Paid over $57 Million to members to watch videos, take surveys, shop and more.
Get $5 instantly!
Branded Surveys
: Get $1 instantly just for joining for free. Plus get paid within 48 hours by PayPal!
Join Branded Surveys
iPsos iSay:
: If you have to only sign up for one paid survey site, go with Ipsos (high paying survyes)!
Join iPsos Now!
Swagbucks
: Get paid to watch videos, shop online, take surveys and more.
Join now & get $5 instantly!
So, let's take a look at how you can get paid to caption videos and where to find work.
What's the difference between closed captioning and subtitles?
Captions and subtitles are not the same things, although they do have similarities.
Here's a quick guide:
Captions
Captions are designed for people who are deaf or hard of hearing. They usually include speech and non-speech elements from the videos, such as coughs, door slams, dogs barking, thunder, and music.
It also includes background noises and speaker differentiation.
So, captions display all of the audio and dialogue as text.
There are two types of captions, closed and open captions. Closed captions are those that the viewer can turn on and off as they please. Open captions are embedded into the video and can't be switched on or off.
Closed captions are generally added after the video, whether that's a movie, a TV show, or a YouTube video, has been released.
Subtitles
On the other hand, subtitles are designed for viewers who can hear, but may not understand the language of the video, like with a foreign film or TV show for example. Sort of like when you're watching Dark on Netflix, and you need subtitles because you can't understand German!
It generally only includes the dialogue.
So only the language of the video is displayed as text.
This means that with closed captions, you're having to include much more!
Subtitles are generally developed before the film or television show is released.
Offline vs. Real-Time Captioning
Offline CC is where you write captions for a video that's already been recorded. So, you can do this at your own pace.
Real-time captioning, as its name suggests, is where you create captions for something in real-time. This could be captions for a sports event, for example.
This makes it more demanding because you have to keep up with what's going on and can't work at your own pace as you can with offline captioning.
You can find both types of captioning gigs with the companies and websites below.
How Do I Get a Job in Closed Captioning?
Okay, so now you know what closed captions are, how do you get a gig working as a captioner?
What are the requirements, and can anyone get started with it?
The main question you may have is…
Do you need a degree to be a closed captioner?
Yes, and no!
The good news is that there are many high paying jobs that don't require a college degree.
That's always great because lots of people haven't been to college.
Yet many gigs just aren't accessible to those who aren't college-educated.
So, closed captioning is a good choice if you don't have a degree, because you will find some gigs where a degree isn't required.
Now, do note that I did say that there are many jobs don't require a college education.
Real-time captioning gigs do often require a related degree and a lot of experience.
However, that's just one facet of captioning.
Live captioning is done in real time while the event is happening – as a court reporter would do for example.
Many jobs, however, involve prerecorded, or offline, captioning where the captioning is done after the event has taken place.
So, you're adding closed captions to videos that have already been completed.
These types of gigs often don't require you to have a degree or a ton of experience either.
The companies below offer both live-captioning and prerecorded captioning jobs.
How exactly do you become a closed captioner?
Requirements for closed captioners
The main requirements are good typing skills and listening skills of course.
Aside from that, the exact requirements are going to differ from place to place.
Check through the requirements of each job to ensure your skills and experience meet the criteria.
You'll also need to have the right equipment to get started, such as a:
Computer that's reliable and has access to programs like Microsoft Office.
A reliable internet connection.
Headset so that you can properly hear what you need to caption.
Foot pedal so that you can easily slow down or stop playback.
Separate monitor or TV, in some cases may be required so that you can view the video as you caption.
Closed-captioning software. Some companies may recommend a specific one.
Closed Captioning Companies that Pay You to Work From Home
There are tons of CC companies out there. The thing is that not all of them are currently offering jobs.
I'm going to cover the best places to find work, but I'm going to start with places that are advertising closed captioning jobs in 2020.
Rev is a great place to look for work, because it's easy for anyone to get started, and they're always advertising for captioners.
With the site, you get paid via PayPal weekly which is pretty awesome.
The site says that average earnings per month are $240. And the top monthly earnings are $1570.
All you need to get started with the company are strong English skills, a computer, and a dependable internet connection.
Next on our list is Aberdeen Broadcast Services. This company hires captioners.
Just check on the site's careers page, which I linked to above, to view current openings.
At the time of writing, there was an opening for a live real-time broadcast captioner. It says it's looking for real-time captioners who are trained and experienced in the CC industry.
It's a remote position, and you'll need to have a typing speed of 180 to 220 WPM, as well as lots of equipment, such as real-time closed captioning software, two computers, one for backup, three phone lines (one can be a cellphone if it works at home), and back-up internet.
There may be other captioning positions available, so do check the careers page for jobs.
Another place to check for work captioning is CaptioningStar. It's a company that provides captioning services.
The company often advertises gigs on its careers page, which I linked to above.
Currently, it says it's looking for freelance captioners to join its team.
Just fill out the form on the page we linked to above to get started!
Captionmax provides closed captioning for prerecorded media and real-time captioning.
It's one of North America's largest closed captioning and media accessibility companies.
On the "Work With Us" section of the website, Captionmax is currently offering a couple of captioning jobs.
Check the page we linked to above to view current openings.
The company says that its employees are offered lots of benefits, such as:
Medical: 3 different plans
HSA
Dental insurance
Vision insurance
401k with company match
Paid time off
The National Captioning Institute (NCI) often has openings for captioners. It provides both live captioning and prerecorded captioning services, as well as other services like subtitling and translation and transcription.
The NCI often provides captioning jobs on its careers page, and at the time of writing, there was a position open for a steno captioner.
Check the careers page I linked to above for specific details about each job.
Other Companies to Contact for Closed Captioning Jobs
Above, I linked to companies that are currently advertising for captioners.
There are also lots of companies that offer CC services that you may be able to find work with, even if they aren't advertising CC jobs right now.
While they may not currently be advertising captioning jobs, you can still contact these companies to inquire about openings. Or you can visit the company's careers or jobs page to check for openings in the future.
Below, I've including a few companies you can get in touch with for work.
6. VITAC
VITAC offers closed captioning, subtitling, and accessibility services. It provides real-time and prerecorded content.
It offers captioning jobs from time to time.
Visit this page to check for future openings.
7. Talking Type Captions
Talking Type Captions has been providing closed captioning, subtitling and script services to clients since 2003.
Just get in touch with the company here to ask if they have any work.
8. Ai-Media
Ai-Media provides captions, transcripts, subtitles, described video and more to clients.
While the company didn't have any positions open for captioners at the time of writing, you can still check the careers page here for future openings.
You can also get in touch with the company here to inquire about captioner jobs.
9. ASC Services
ASC Services provides services, like captioning, text interpreting, transcription, and translating, to clients
Get in touch with the company here to ask about captioning work.
10. Caption Media Group
The Caption Media Group provides captioning and subtitling services to companies big and small.
Get in touch with the company here to see if they have any available work.
11. 3Play Media
3Play Media provides captioning and transcription services and tools.
You could get closed captioning work from the company.
Check the company's job page here for openings in the future.
Or get in touch with the company here to inquire about work.
12. GoTranscript
This company offers transcription and professional video captioning jobs. You get paid up to $0.60 per audio minute.
You can find more info here.
13. RNK Productions
RNK Productions is one of the biggest names when it comes to transcription and captioning of TV shows, videos, movies, and many other pre-recorded programming. They hire people to work as independent contractors. Contact the company for details including pay, hours and more.
Go to this page for details and how to apply.
14. Dotsub
If you are bilingual, this might just be for you. They offer work for subtitlers and captioners in English and other languages.
You can find the application form here.
15. Daily Transcription
Mostly known for its work from home transcription opportunities, DT also offers captioning tasks.
Besides the usual requirements, they also require you to be at least 18 to work.
You can find details here.
16. CrowdSurf
CrowdSurf is a great platform that connects freelancers with potential employers. You can find all kinds of work related to reading and writing including closed captioning and transcription.
This page has all the info you need to get started.
17. Copytalk Business Services
If you are knowledgeable about or like finance, you may like this one. It's a company that mainly works with companies in the financial industry.
One of the best things about this company is that they even pay you for the training period.
You can choose to work anywhere from 16 to 40 hours a week with pay starting at around $8.25 per hour.
Go to this page to find the closest facility near you and apply.
18. Communication Service for the Deaf (CSD)
This is a great organization that aims to make communication for the deaf and hard of hearing community easier and better.
They offer remote jobs for captioners. You add words to movies, TV programs, videos and any other form of content that needs captioning.
CSD's career page has all the details.
19. Impact Media
Impact Media is a "full service closed captioning and subtitling company, dedicated to providing professional quality captioning."
This is a great work at home job with no college degree requirement. To apply, visit their homepage.
20. Vanan
If you are looking to get paid to caption YouTube videos, this is a great place to start. In addition to offering YouTube Closed Captioning, the company also offers Closed Captioning, Open Captioning, Video Captioning and Broadcast Captioning.
You can apply by going to this page.
Jobs Boards Where You Can Find Closed Captioning Jobs
As you can see above, there are lots of companies that are looking for captioners.
But, you can also find jobs in this industry on job board websites. Here are a few sites where you can look for CC work.
First up is Indeed. It's a great place to find work because it's updated pretty regularly. At the time of writing, there were 169 CC jobs listed on there. So, take a look!
UpWork is another site to check for jobs. New openings are posted on there quite regularly.
At the time of writing, there were 145 CC jobs available on Simply Hired. Have a scroll through the site to find work.
Glassdoor is another good site to look on for work. At the time of writing, there were 347 CC jobs listed on the site.
LinkedIn also lists CC gigs. The site's job listings are updated regularly making it a good place to check for work. At the time of writing, there were 132 closed captioning jobs listed on the site.
Fiverr started as a gig platform where you could buy and sell small tasks for just 5 bucks but it has morphed into one of the top freelancing platforms. Unlike other platforms where you just search for opportunities, here you create a listing for the service you offer along with details and pricing. People who need work done, will contact you and pay you to caption their videos.
FlexJobs is another great job search engine that specializes in remote, flexible work.
Now, unlike other most other job sites, FlexJobs has a $14.95 membership fee that gives you access to all their listings.
But why would you pay to find a job where you can use all the free job sites?
Well, FlexJobs claims it has 100% scam-free job postings which will save you a lot of time. Read my full review of FlexJobs for more details.
How Much Does a Closed Captioner Make?
Pay for captioners varies drastically, since there are so many different types, from live to prerecorded across a variety of industries.
How much you earn will really depend on the company that you work for, the type of captioning you do, and how many hours you work.
Reports for income also vary widely.
According to Glassdoor, the average captioner pay is $13 an hour.
Rev says you can make up to $1570 a month.
Chron states that the salary for a closed caption television specialist is between $55,000 and $60,000.
So, pay does vary a lot. It's best to check with the company you plan to work with for specific pay rates.
Summary
There are lots of companies that pay you to caption videos or real-time events.
Give them a try.
And, if you don't get work from the company sites I listed above, don't forget to check out sites like Indeed and Glassdoor for tons of closed captioning jobs.
Let us know in the comments section where you find closed captioning gigs.