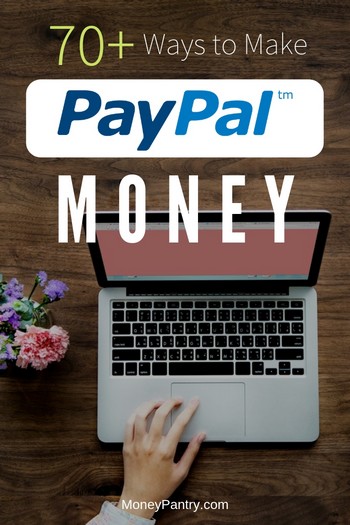 Do you want to know how to make PayPal money?
With more than 250 million accounts worldwide, PayPal is one of the most popular payment platforms in the world.
And, it's not hard to see why.
With quick payment processing, an easy-to-use interface, and its ubiquitous nature, it makes it one of the best payment platforms for anyone looking to make money online.
Through PayPal, almost anyone can make money and get paid fast online.
Need Easy Extra $300+/Month for Free?
KashKick
: Get paid directly into your PayPal for watching videos, surfing, shopping and more.
Join KashKick Now!
Panel Payday
: Earn up to $75 per survey. They also pay up to $50/hr for mystery shopping.
Join Now!
InboxDollars
: Paid over $57 Million to members to watch videos, take surveys, shop and more.
Get $5 instantly!
Branded Surveys
: Get $1 instantly just for joining for free. Plus get paid within 48 hours by PayPal!
Join Branded Surveys
iPsos iSay:
: If you have to only sign up for one paid survey site, go with Ipsos (high paying survyes)!
Join iPsos Now!
Swagbucks
: Get paid to watch videos, shop online, take surveys and more.
Join now & get $5 instantly!
Since it is such a well-known platform, many companies, websites, and individuals use PayPal as a payment method.
So, if you want some fast cash in your PayPal account, then you have plenty of options to choose from.
And no, I'm not talking about accepting PayPal donations, although that certainly is a good option depending on your individual situation.
From freelance writing to watching videos, there are so many ways to earn PayPal money instantly – or almost instantly anyway!
How to Make Money with PayPal
Let's take a look at some of the easiest and most effective ways to make money through PayPal.
Start Freelance Writing
Our number one method for making PayPal cash is to write and get paid!
As a freelance writer, you can write a wide range of different pieces, such as:
Blog posts
Articles
Press releases
Product descriptions
Resumes
Social media posts
Meta descriptions
In return, you get paid.
There are two main ways to make money writing articles online:
Write for content websites: These are websites that feature article requests. So you get access to a pool of articles and you can pick up the ones that you're interested in. Then, the website will pay you a set rate.
Write for private clients: A private client, such as a blog owner will post a job listing on a platform. Then, freelance writers can apply. The client chooses the writer that they want to work with. When the project is complete, the client pays the freelancer.
Many websites and private clients pay freelance writers via PayPal.
How much PayPal money can you make as a freelance writer?
Freelance writing is one of those careers where earnings can vary wildly.
Some freelances only earn hundreds a month, while others are making thousands.
It really depends on a few factors, such as:
How experienced you are.
The client you're working with – some clients pay ridiculously low amounts, so do be aware.
The platform that you're working on – some platforms simply have higher paying jobs and some charge fees for using their platform.
How many articles or words you write per month. If you're getting paid per word or per article, then the more you write, the more you'll earn. Or if you get paid hourly, then, as with any job, the more hours you work, the more money you will make.
According to figures from PayScale.com, the average income for a freelance writer is $24.03 an hour.
Writers aren't always paid hourly though – many are paid per word they write or per article.
So, again, the amount you could earn per article could be as low as $5 or as high as $500.
How to get started
Here's how you can start freelance writing and receive payments through PayPal:
1. Define Your Niche: Determine your area of expertise or interest within the writing field. It could be blog writing, copywriting, technical writing, content writing, or creative writing. Focusing on a specific niche will help you target relevant clients.
2. Build a Portfolio: Create a portfolio that showcases your writing samples. If you're starting from scratch, consider creating your own blog or contributing guest posts to reputable websites to demonstrate your writing skills and style.
3. Join Freelance Platforms: Sign up on popular freelance platforms such as Upwork, Freelancer, or Fiverr. These platforms connect writers with clients looking for writing services. Complete your profile, highlighting your skills and experience.
4. Develop a Professional Website: Consider building a professional website to showcase your writing services, portfolio, and contact information. A website can help attract clients outside of freelance platforms and provide a centralized hub for your writing business.
5. Define Your Rates: Determine your pricing structure based on factors such as the type of writing, word count, research requirements, and your experience level. Ensure that your rates align with industry standards and reflect the value you provide.
6. Apply for Writing Projects: Browse through job listings on freelance platforms and submit proposals for writing projects that match your expertise. Tailor each proposal to the specific client's needs and demonstrate your understanding of their requirements.
7. Deliver High-Quality Content: If selected for a writing project, communicate effectively with the client to understand their expectations. Submit well-researched, error-free, and engaging content within the agreed-upon deadline. Consistently delivering high-quality work will help build your reputation and attract more clients.
8. Set Up PayPal Account: Create a PayPal account if you don't already have one. PayPal provides a secure and widely accepted payment method for freelance writers. Link your PayPal account to your website and freelance platforms for easy payment processing.
9. Invoice Clients: Once you complete a writing project, send professional invoices to clients using PayPal's invoicing feature or through email. Include details such as project name, agreed-upon rate, word count, and payment terms.
10. Receive Payments: Clients can make payments directly to your PayPal account using their PayPal balance or credit/debit cards. PayPal offers secure and convenient payment processing, and you'll receive notifications when funds are transferred.
11. Withdraw Funds: You can withdraw the funds from your PayPal account to your linked bank account or use them for online purchases.
12. Build Relationships and Referrals: Maintain positive relationships with clients by providing excellent service. Happy clients are more likely to provide referrals or offer repeat projects, which can help you grow your freelance writing business.
Remember to continually improve your writing skills, market yourself effectively, and stay updated with industry trends to stand out as a freelance writer using PayPal.
Freelance writing platforms that pay via PayPal
Here are the best freelancing platforms and job boards where you can find clients willing to pay good money for talented writers:
Of course, there are many more places including individual blogs, online magazines, etc. You can reach out to those sources directly via their contact page. And if you want to be paid exclusively via PayPal, be sure to ask whether they pay by PayPal or not.
Take Paid Online Surveys
Another option to consider is taking surveys. They're not the most exciting option, but taking surveys is an easy way to make some extra cash.
And since you don't need to block out huge chunks of time to take surveys, you can easily take them while watching TV or while waiting at the dentist's office. Taking surveys is also a very flexible way to earn.
Also, surveys don't require any qualifications, meaning that pretty much anyone can do them.
How much can you make taking surveys?
How much you'll earn really depends on the websites that you use.
Each website pays differently, and even the amount you earn per survey may differ for the same company.
Our advice, if you really want to maximize the amount that you make from surveys, is to simply join as many survey websites as you can.
The more survey websites you're signed up for, the more surveys you'll be eligible for.
So join multiple websites and take multiple surveys on each one.
Doing this, you can easily add $200 to your PayPal account each month.
How to get started
Here's how you can get started in participating in online surveys to earn money with PayPal.
Research Legitimate Survey Sites: Look for reputable survey websites that offer paid surveys. Some well-known platforms include Swagbucks, Survey Junkie, Toluna, and Vindale Research. Make sure to read reviews and check their payment methods to ensure they support PayPal.
Sign Up: Create an account on your chosen survey websites. Most platforms require basic information such as your name, email address, and demographics to match you with relevant surveys.
Complete Your Profile: Fill out your profile on each survey site to provide more details about yourself, such as your age, occupation, interests, and household information. This information helps survey platforms send you surveys targeted to your demographic.
Explore Available Surveys: Once your profile is complete, you'll start receiving survey invitations via email or find available surveys when you log in to the survey websites. Take time to browse through the available surveys and select the ones you want to complete.
Complete Surveys: Each survey will have a specific set of questions related to different topics. Take your time to provide honest and accurate responses. The length and complexity of surveys can vary, and the rewards offered may differ as well.
Earn Points or Cash: Upon completing surveys, you'll earn points or cash rewards, depending on the survey platform. These rewards are typically credited to your account on the survey website.
Redeem Rewards to PayPal: Once you accumulate a certain number of points or reach the minimum payout threshold, you can redeem your rewards for PayPal cash. The survey platform will provide instructions on how to initiate the redemption process.
Transfer Funds to PayPal: After redeeming your rewards, the survey platform will transfer the funds to your PayPal account. Ensure that your PayPal email address is correctly linked to receive the funds.
Withdraw Funds: Once the money is in your PayPal account, you can either keep it there for online purchases or withdraw it to your bank account for easy access to cash.
Stay Active and Consistent: To maximize your earnings, remain active on the survey platforms and regularly check for new surveys. Participating consistently will increase your chances of receiving more survey invitations and earning more money over time.
Remember, while online surveys can be a convenient way to earn some extra money, they may not provide a substantial income. Consider combining survey participation with other methods to diversify your earnings.
Survey sites that pay by PayPal
Here's the list of online survey sites that pay via PayPal,
Sell Your Used Stuff
Do you have a ton of books taking up space in your home that you no longer read?
Are there clothes in your closet that you never wear? (Statistics show that we only wear about 20% of our wardrobe regularly!)
Or perhaps you just got a new smartphone and your old one is just gathering dust in a drawer?
Whatever it may be, it's likely that you have stuff in your home that you'd like to get rid of.
That's why selling your used stuff for cash is such a good idea.
You can easily sell your stuff online and get cash for it.
How much can you make selling your unused stuff?
How much you'll earn from your used stuff depends on various factors.
One factor to consider is whether or not the website you sell through charges a listing fee.
Some websites allow you to list your items for sale for free, while others require you to pay a listing fee.
You'll likely find that most websites let you list stuff for free but take a percentage of your profits.
The commission fee percentage varies depending on the platform you use. For example, some places might only charge 5%, while others might take 50% of the profits. However, the most common commission fee is around 20%.
Conveniently, you can get the money you make from selling your used stuff sent straight to your PayPal account!
Best places to sell used stuff and get paid in PayPal
Check out these platforms for selling your used stuff.
Start an Online Reselling Business
Online reselling refers to the practice of purchasing products from one platform or source and then selling them for a profit on another platform or marketplace. It can be a lucrative way to make money by leveraging online marketplaces and platforms.
There are thousands of people doing it on Amazon, eBay and other ecommerce platforms.
How much money can you make?
The amount of money you can make with online reselling can vary greatly and depends on several factors, including the products you choose to sell, your pricing strategy, competition, market demand, and your ability to effectively manage your business.
Some online resellers make a significant income, while others may earn a more modest supplemental income.
How to get started
Here's an overview of the process and key aspects of online reselling:
Choose a Reselling Platform: Select an online marketplace or platform where you can list and sell your products. Popular options include Amazon, eBay, Etsy, Poshmark, Mercari, and Depop. Each platform has its own rules, fees, and target audience, so choose the one that aligns with your products and goals.
Source Products: Find products to resell. You can source products from various places, such as thrift stores, garage sales, clearance sales, wholesale suppliers, liquidation auctions, or even your own unused items. Research popular products, trends, and demand to identify profitable opportunities.
Product Research: Before purchasing products, conduct thorough research to assess their market demand, competition, pricing, and potential profitability. Look for items that have a good selling history and offer a reasonable profit margin.
Purchase and Inventory Management: Once you identify profitable products, purchase them at a competitive price. Keep track of your inventory to ensure you have a sufficient supply to meet customer demand. Proper inventory management helps prevent stockouts and delays in fulfilling orders.
Optimize Product Listings: Create compelling product listings that showcase your items effectively. Write detailed descriptions, include high-quality images, and use relevant keywords to improve visibility and attract potential buyers. Consider optimizing your listings based on the platform's best practices and guidelines.
Pricing and Profit Margins: Set competitive prices for your products while considering factors like sourcing costs, fees, shipping expenses, and desired profit margins. Regularly analyze and adjust your pricing strategy based on market trends and competition.
Shipping and Fulfillment: Determine your shipping methods and options. You can choose to handle shipping yourself or use fulfillment services like Amazon FBA (Fulfillment by Amazon) for storing, packing, and shipping your products. Ensure timely and reliable shipping to provide a positive customer experience.
Customer Service: Provide excellent customer service to build a positive reputation and foster customer loyalty. Respond promptly to inquiries, address customer concerns, and strive for positive feedback and reviews.
Marketing and Promotion: Promote your products through various marketing channels, including social media, email marketing, content creation, and collaborations with influencers or bloggers. Utilize marketing strategies to increase visibility, attract potential buyers, and drive sales.
Analyze and Adapt: Regularly track and analyze your sales, profit margins, and customer feedback. Identify trends, assess the performance of different products, and make adjustments to your sourcing, pricing, or marketing strategies accordingly.
Remember that successful online reselling requires research, diligence, and adaptability. Stay informed about market trends, maintain good relationships with suppliers, and continuously learn and improve to stay competitive in the dynamic online reselling landscape.
Best platforms for online reselling
Here's the list of popular online reselling platforms that offer PayPal as a payment option, presented in HTML format with clickable links:
Test Websites & Apps
Website and app testing involves evaluating the functionality, usability, and user experience of websites or web applications.
Many companies and platforms offer opportunities for individuals to participate in user testing and provide valuable feedback.
Website testers visit websites to see whether they work properly. It can be frustrating for a customer to visit a website where the links are broken or the website doesn't function as it should. That's why companies hire testers to check their apps and sites and provide feedback based on their experience. This feedback helps companies improve their existing sites or apps or develop better ones.
As a tester, you'll need to use a website or app and then provide feedback on your experience. You'll report on things like encountering any errors, ease of navigation, and other relevant aspects.
Some of these website testing companies pay you through PayPal, making it an easy way to earn some extra cash.
Here's how you can get involved and get paid via PayPal:
How much can you earn as a usability tester?
The earning potential as a usability tester can vary depending on the platform and the number of tests you complete.
Typically, you can earn anywhere from $3 to $20 or more per test.
How to get started
Here's an overview of steps to get started with user testing and receive payments through PayPal:
Sign up with a User Testing Platform: Register with a reputable user testing platform such as UserTesting, Userlytics, or TestingTime.
Complete a Qualification Test: Typically, you will be required to complete a qualification test to assess your suitability as a tester. This test may involve performing specific tasks and providing feedback. Successful completion will enable you to access paid testing opportunities.
Receive Testing Notifications: Once approved, you will start receiving notifications for available testing opportunities via email or through the platform's dashboard. These notifications will provide details about the test requirements, compensation, and deadline.
Perform the Website Test: Accept testing assignments that interest you and meet your availability. During the test, you will be asked to visit a website or use a web application while recording your screen and voice. Follow the provided instructions and complete the assigned tasks, paying attention to usability, functionality, and user experience.
Provide Feedback: While performing the test, share your thoughts, observations, and feedback by speaking aloud or through written responses. Be specific and detailed in your feedback, highlighting both positive aspects and areas for improvement.
Submit the Test and Await Payment: After completing the test, submit it as instructed by the user testing platform. The platform will review your submission, ensuring that you have met all the requirements. Upon approval, you will receive compensation for your participation.
Receive Payments via PayPal: User testing platforms often pay testers through PayPal. Ensure that you have a PayPal account linked to the email address associated with your user testing platform account. Payments are typically processed within a specified timeframe, depending on the platform's payment schedule.
Maintain a Good Testing Reputation: Consistently provide high-quality feedback, follow instructions accurately, and meet deadlines to build a positive reputation as a tester. This can lead to more testing opportunities and potentially higher compensation in the long run.
Remember, the availability of testing opportunities and the compensation rate may vary based on your demographics, qualifications, and the specific platform you choose. Stay proactive, check for new testing opportunities regularly, and actively engage in providing valuable feedback to maximize your earning potential as a website tester.
Top user testing sites that pay via PayPal
The companies below pay you money to your PayPal account for testing websites.
Sell Unwanted Gift Cards
Do you have a gift card for a store that you never shop at?
Many of us do!
You can make money from your unwanted gift cards by selling them. Here are some places where you can sell them for cash.
How much can you earn?
The earning potential varies depending on several factors. It depends on the original value of your gift card, whether the selling platform takes a commission, and what percentage of the card's value you receive when it sells.
Best places to sell unwanted gift cards for PayPal cash
Check out these places and sell your unwanted gift cards:
Shop Online and Earn PayPal Cashback
When you do your shopping through a cashback website like Rakuten, you can get a percentage of your spending back as a cashback reward.
While not all cashback websites offer PayPal payments, many of them do. Here's a list of popular cashback sites that offer payments through PayPal:
How much can you make cashback shopping?
The amount you can earn from cashback shopping varies, as it is based on a percentage of your spending. Simply put, the more you spend, the more you can earn in cashback rewards. While you won't get rich from these websites, you can make a profit on something you already do—shop online.
Cashback sites that pay through PayPal
Here are some popular cashback sites that offer payments through PayPal:
Use Rebate Apps
Rebate apps are similar to cashback sites, and many cashback sites also have corresponding apps. However, in this section, we will focus specifically on apps for those who prefer to do their online shopping exclusively on their phones.
These apps can help you get rebates on various purchases, including groceries, gas, electronics, and more. Here's how they work:
Some apps allow you to simply open the app, select the store where you want to shop, and make your purchases as usual. Your account will be credited with the stated rebate.
Other apps may require you to upload a picture of your receipt. With some of these apps, you can upload receipts from any store and get paid.
However, there are apps that may require you to purchase specific products to qualify for the rebate. For example, there might be an offer on a particular brand of frozen pizza, so if you purchase that specific pizza and upload a photo of your receipt, you'll receive the rebate.
Many rebate apps offer payments through PayPal, making it a convenient way to add some extra money to your account.
Since you have to go shopping anyway, why not make some money while you're at it?
How much can you earn?
While you won't become rich from using rebate apps, you can easily save a few dollars each time you shop and have those savings sent directly to your PayPal account.
Rebate apps that pay via PayPal
Here is a list of popular rebate apps that offer PayPal as a payment option:
Remember to check the terms and conditions of each app to ensure that PayPal is available in your country or region.
Sell a Course Online
Do you have expertise in a particular field, such as computers or arts and crafts? If so, you can consider selling an online course on a topic of your choice.
Your course can be created using various mediums, including presentations, videos, and articles, to provide a comprehensive learning experience.
How much can you make selling online courses?
The earning potential from selling online courses can vary significantly based on several factors. Here are a couple of examples:
A Reddit user claims to make $550 a month by selling courses on Udemy.
Felicia Ricci reportedly earns $3,000 to $5,000 a month selling courses on Udemy.
Keep in mind that your earnings will depend on factors such as the number of courses you sell, the pricing of your course, and the commission you receive from each sale.
Places where you can sell courses online
If you're looking to sell courses online and receive payments to your PayPal account, consider these platforms:
Sell on your own website
Alternatively, you can sell your courses through your own website. By listing your course for sale on your website and integrating PayPal payments, you can receive payments directly into your PayPal account. This allows you to keep all the profits from your course.
To set up your own website, you'll need:
A domain name: Obtain a URL from a company like Bluehost or GoDaddy at a reasonable price.
Hosting: Choose a company to host your website. Bluehost, for example, offers domain and hosting services together.
A publishing platform: Use a platform like WordPress to publish your course content.
Teach English Online
Online there are so many educational platforms that teach students ranging from children to adults how to speak another language.
And these websites require teachers to conduct these classes.
Since these lessons are carried out in an online classroom, you have a lot of freedom when it comes to your work schedule.
For most companies, you'll need to have some qualifications.
If you plan to teach English, then you'll need to have a TEFL certificate or a similar qualification.
Also, you may need to have a degree.
Just make sure that you take a look at the requirements for each individual place.
How much can you make as an ESL teacher?
How much you'll earn teaching English or other languages depends on the company you work with.
According to figures from PayScale, you can earn anywhere from $12.35 to $39.26 an hour as an ESL teacher. The average income is $20.26 an hour.
Places to find work as an English teacher
With the companies below, you can get paid to teach languages to students.
Best sites that pay you to teach English
Here are the most reputable sites where you can get paid in PayPal to teach English (and other languages).
Become a Translator
If you speak more than one language, then consider working as a translator.
Translators, as the name suggests, translate various documents and media from one language into another.
You can find translation work online and many of the companies that offer work pay via PayPal.
What's great about translating work is that you can pick it up on a freelance or part-time basis.
So you can easily fit this type of work into your schedule.
How much can you make as an online translator?
On average, translators earn $20.11 per hour according to figures from PayScale. Of course, how much you'll earn will vary depending on the client or the company that you work for.
Best sites that pay you to translate
You can find work as a translator at the companies below.
Do Transcription work
Wondering how to make money online and get paid through PayPal?
If so, then you might want to take on some transcription work.
If you're a good typist, then this is the job for you!
As a transcriptionist, it's your job to listen to audio files (this could be an interview, for example) and then type or "transcribe" what you hear.
Once you've done that, you send off the document to your client or manager, and then you get paid.
How much can you earn?
How much you'll earn as a transcriptionist will vary, depending on the company or client that you work with.
According to figures from PayScale, you can earn anywhere from $7 to $25 an hour as a transcriptionist.
Best sites to find transcription work
Check out the following platforms.
Other Ways to Get Paid via PayPal Payments
Just to give you an idea of the possibilities for making PayPal cash, here are a bunch more awesome ways you can work and get paid in PayPal.
Affiliate marketing
Participating in paid focus groups
Virtual assistance
Social media management
Content creation (blogging, vlogging, podcasting)
Graphic design or logo creation
Voiceover work
Website or app development
Writing and publishing eBooks
Online gaming or eSports
Mystery shopping and secret shopper assignments
Renting out your space or belongings through platforms like Airbnb or Turo
Participating in paid clinical trials or research studies
Becoming a paid product tester or reviewer
Offering personalized services or experiences on platforms like TaskRabbit or Airbnb Experiences
Creating and selling digital products, such as templates, stock photos, or digital artwork
Providing remote or virtual services, such as virtual personal training, consulting, or coaching
Crowdfunding for creative projects or entrepreneurial ventures
Renting out your skills or expertise through platforms like JustAnswer or Clarity.fm
Making PayPal Money Summary
There are plenty of ways to make money through PayPal. These are just some of the great and creative ways you can make money with PayPal.
Whether you're freelancing, sharing your opinions through online surveys, or exploring the world of cashback rewards, PayPal provides a convenient and secure method for receiving your hard-earned cash.
So, why not unleash your entrepreneurial spirit, think outside the box, and explore the endless possibilities of making money with PayPal?