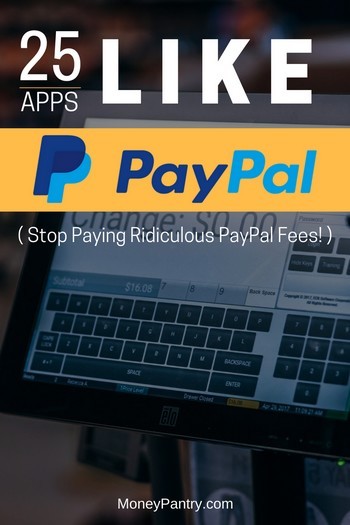 When it comes to sending and receiving payments online, there's one payment method that comes to mind…
PayPal.
And even though there are a lot of online payment systems like PayPal out there, PP is one of the (if not THE) most popular one.
But, PayPal isn't without its issues…
Some common complaints include:
Fees: Sometimes, especially on larger transactions and international transactions, the fees PayPal charges can really add up.
Poor customer service.
Freezing or blocking accounts: So, you can't receive payments or access your funds until your account is unblocked.
Country-based restrictions.
That's not to say that it isn't a great service. It certainly makes it easier to take and send payments online.
Need Easy Extra $300+/Month for Free?
KashKick
: Get paid directly into your PayPal for watching videos, surfing, shopping and more.
Join KashKick Now!
Panel Payday
: Earn up to $75 per survey. They also pay up to $50/hr for mystery shopping.
Join Now!
InboxDollars
: Paid over $57 Million to members to watch videos, take surveys, shop and more.
Get $5 instantly!
Branded Surveys
: Get $1 instantly just for joining for free. Plus get paid within 48 hours by PayPal!
Join Branded Surveys
iPsos iSay:
: If you have to only sign up for one paid survey site, go with Ipsos (high paying survyes)!
Join iPsos Now!
Swagbucks
: Get paid to watch videos, shop online, take surveys and more.
Join now & get $5 instantly!
And when it comes to making money online, it's a great tool since most rewards and survey sites pay you with PayPal.
But, if you have experienced complaints like the ones above, or if the person you plan to send payment to doesn't accept PayPal as a payment method, then you'll be glad to know that there are many services similar to PayPal out there.
So, whether you need to split the cost of rent with your roommate, need a reliable platform to make business transactions on, or are a freelancer looking for a platform that makes it easier and cheaper to receive payments, then it's good to know that PayPal isn't your only choice.
Below, we have listed sites and apps like PayPal that allow you to make online transactions.
And, we've split them into two categories:
Apps and sites that are great for personal use
Apps and sites that are suited for business use.
PayPal Alternatives for Personal Use
So, you might need an easy way to split the cost of utilities or the rent with your roommate.
Or you might want an easy way to split the bill next time you go out to dinner with friends.
Or, you might just want to send a friend or family member a gift.
Whatever the reason, online transaction platforms like PayPal make it easy for you to do these things. But, PP isn't your only option.
There are plenty of other apps out there that you can use for personal use.
1. Skrill
Skrill is a super easy to use platform. So, if you're looking for an app similar to PayPal, which is a little easier to use, then you should definitely check this one out.
With Skrill, you can:
Create a Skrill wallet and bring all of your payment details together in one place. Skrill allows you to choose from 40 different currencies.
Control all of your payments through one, easy-to-use account.
Send and receive money.
Store cards.
Link bank accounts.
Pay conveniently, anytime, anywhere, using your email address and password.
Move funds from Skrill to your bank account instantly.
What's great about Skrill, aside from how easy it is to use, is that its fees are low.
Fees are just 1.45%.
There's a refer a friend program available too. If you refer a friend, then Skrill will take 10% of the fees they generate from paying or sending money and put it into your Skrill account.
There's an app available too:
2. Google Pay Send (Formerly Google Wallet)
Google Pay Send is another super easy to use platform. It's an app. And, the reason that it makes such a good alternative is that it there are no fees involved with using Google Pay Send.
So, if you're sick of losing money in PayPal fees, then you should definitely check it out.
Using Google Pay Send, you can request, send and receive money from other people. Just link a debit card or bank account.
The only downside to the Google Pay Send app is that it is restricted to the U.S.
So, if you live outside of the U.S. then you, unfortunately, won't be able to use the app.
In the U.S., you can send and receive payments through the Google Pay Send app or you can visit pay.google.com to send and receive money from your computer.
People in the U.K. can use the desktop version too, but the app is not available.
Here's where you can download the app:
3. Venmo
With Venmo, you can easily make and send payments.
If you're looking for an easy-to-use platform, then you should definitely consider this one.
Venmo allows you to:
Make payments: You can pay friends and family with a Venmo account, using money you have in Venmo or using a bank account or debit card you've linked. Paying people with your Venmo account is super easy – and it can be done using a phone number or email address. Of course, the person you're paying must also have a Venmo account.
Make purchases: Venmo can be used as a payment method in mobile apps. So, if you're shopping online, PayPal isn't your only choice for payment outside of debit and credit cards.
Transfer money to your bank: You can quickly transfer money from your Venmo account to your bank account.
Chat to friends and family: What makes Venmo unique is that it allows you to connect with people. So, you can actually chat within the application.
What's great about Venmo is that for most payment methods, sending money is totally free!
If you send money using your Venmo balance, bank account, debit card, or prepaid card, fees are waived, so it's free.
When you use a credit card to send money, however, there is a 3% fee charged.
Also, receiving money and making purchases in other apps is always free.
It's also free to transfer money from Venmo into your bank account using the standard transfer option.
But, if you transfer your balance out of Venmo using the instant transfer option, then this costs $0.25.
Your personal and financial data is encrypted and protected on Venmo's secure servers.
There's a Venmo app available as well:
4. Popmoney
Using Popmoney, you can send, request and receive money using your email or mobile device.
It's another site like PayPal that offers an online personal payment service.
With Popmoney, you can:
Send, request and receive money online or using your mobile device.
Send money securely from your bank account to almost anyone with an email address or mobile number.
Request money easily from a person or group – again all with their mobile number or email address.
Move money directly from bank account to bank account.
What's great about Popmoney is that the person you send money to doesn't have to have an existing Popmoney account too.
All they need to have to receive money from you is a bank account and an email address or phone number.
Also, some banks even offer the Popmoney personal payment service. So, you can login to your bank's website and use Popmoney there.
Popmoney has an app too.
Here's where to get the app:
5. Paysera Mobile Wallet
Paysera Mobile Wallet is an app like PayPal.
Using it, you can:
Instantly send money to friends and family.
Use a password to protect transferred money.
Check currency rates and exchange currency.
Link a bank card to your mobile wallet.
Pay for goods and services. You can simply scan QR codes using the app.
Order food remotely.
View Paysera cash-in/cash-out points and point-of-sale (POS) on the map.
Get notifications about cash flow in real time.
Send money requests to friends. All they have to do is confirm your request, rather than making transfers.
Basically, if you use this app instead, then you don't have to carry cash, credit cards or debit cards. You can just use the app to pay for stuff instead.
It's totally free to open a personal account.
Paysera can also be used by businesses. But, you'll need to open a corporate account, once you've opened up a personal Paysera account first.
You'll also need to complete an identification procedure.
You can learn more about opening a PaySera corporate account here.
Here's where you can download the app:
Download Paysera Mobile Wallet for iOS devices here.
Download Paysera Mobile Wallet for Android devices here.
6. TransferWise
If you're looking to transfer money internationally, without paying a fortune for it, then you should definitely check out TransferWise.
Using it you can transfer money abroad quickly and easily.
According to TransferWise, banks can charge you up to 5% in hidden costs when you send money to a bank account abroad. It claims to be up to eight times cheaper.
TW displays fees upfront and deducts it before currency conversion, meaning you won't be surprised by hidden charges.
And if you are looking for a site like PayPal for freelancers, according to many reviews on Reddit, TransferWise seems to be a great fit.
Overall, it's a great platform that makes transferring money abroad more cost-effective.
You can find out more about TransferWise for business here.
There's also an app available:
Download the TransferWise app for iOS devices here.
Download the TransferWise app for Android devices here.
PayPal Alternatives for Business
In this section, we've included apps and sites that are more designed for business use, rather than personal use.
If you own an eCommerce store, or any other kind of business, then you might want to consider one of the apps below as an alternative to PayPal.
It's important to note that most of the apps below do charge you to use their services. So, make sure that you check out the pricing options before you sign up.
7. Payoneer
For business owners, professionals and freelancers, Payoneer is an excellent platform that's definitely worth considering.
Using it, you can quickly, easily and securely get paid by international clients and global marketplaces – at a low cost.
Just sign up, and you can receive payments to your Payoneer account from companies around the world.
And, you can easily withdraw the funds to your local bank or at ATMs worldwide.
Payoneer is pretty upfront with its fees – you can view them here.
Since Payoneer is used in 200 countries, it's a great option if you're looking for a site that's as widely accepted as PP.
8. Stripe
If you're a business owner looking for a good payment platform, then you might want to check out Stripe.
Using this site, you can easily set up online transactions.
Stripe has a ton of features available, which make it perfect for business use.
With it, you can:
Bill customers on a recurring basis.
Set up a marketplace.
Simply accept payments.
Per transaction, Stripe charges 2.9%, plus $0.30.
9. Dwolla
If you own an eCommerce company and are looking for an online payment system and mobile payment network, then take a look at Dwolla.
It allows you to integrate bank transfers.
With it, you can facilitate ACH payments, and verify customer and bank account information within your platform.
10. Amazon Pay
Amazon Pay is great for both large and small businesses.
Using it, your customers from around the world can check out using information already stored in their Amazon accounts.
So, it basically makes it quicker and easier for your customers to checkout.
And, since Amazon is such a reputable company that most people know, it's a great option. Amazon offers fraud protection at no additional cost as well.
11. Adyen
Adyen is a payment platform that you can use to accept payments globally.
What's great about Adyen is that it allows you to take payments online, on mobile devices and at the point of sale.
You can easily accept international cards and local payment methods too.
It's a real contender in the online payment service market.
In fact, in 2018, eBay announced that it planned to switch from using PayPal as its partner, and replace it with Adyen.
So, it is one to consider if you're looking to switch.
12. Square
Square is a great tool for both online and brick-and-mortar businesses.
Square offers a credit card processing service.
When you sign up, it sends you a free reader that you can use to swipe credit cards anywhere.
It's a handy tool that you can simply attach to a mobile device.
And, you can even accept tips from customers with it, and record gift cards, cash and other types of tender with it.
You can also sell with Square Register, which is a fully integrated, point-of-sale system.
It has plenty of other useful eCommerce tools available, like Square Checkout. This allows you to accept payments online using a checkout workflow that's hosted by Square. Learn more about the tools on offer on the square website.
There's a square app available too:
13. Authorize.net
Authorize.net offers payment solutions to small businesses. Using it, you can take payments online, through mobile devices, or at a store.
You can accept credit cards, e-checks, and alternative payments.
There's even an app available, which you can use to accept and manage credit card payments.
This point of sale app also allows you to accept tips from customers, refund transactions, and specify a sales tax rate.
Here's where you can get the app:
To use the app, you need to have an active Authorize.Net account.
According to the company, over 400,000 merchants use Authorize.net to accept payments online and on-the-go.
14. Payline Data
Payline Data offers payment processing services to businesses.
It provides:
Online payment processing: It offers a payment gateway that includes built-in data security and fraud protection. You can easily integrate payments into your online shopping cart, and with its REST gateway API, you can integrate payments into your app or software.
Mobile payment processing.
Retail POS payment processing.
Integrated payments.
15. Shopify Payments
Shopify Payments allows you to accept payments online. It's a really great solution for business owners looking for a simple way to take payments online.
You don't have to set up a third-party payment provider or merchant account when you use it.
Of course, this tool is only useful if you have a Shopify store.
If you own another type of business or you have your store set up somewhere else, then this isn't the tool for you.
However, if you do have a Shopify store, or you plan to open up an online store, then you should definitely consider Shopify Payments.
It comes fully-integrated with your store. Once you set up your Shopify store, you'll have access to the features of Shopify Payments. So, you'll be able to accept all major cards, such as American Express, Visa, MasterCard, and Discover card.
16. WePay
WePay offers integrated online payments.
It works with more than 1,000 partners, such as GoFundMe.
And, allows you to process payments instantly, and securely.
What makes WePay such a good alternative is its customer service.
When you read about WePay online, one of the things about the company that comes up most often is just how good its customer support is.
Since PayPal doesn't always get glowing reviews for its customer care, this makes WePay a great alternative.
17. ProPay
ProPay provides payment processing solutions to a wide range of industries and companies.
It features a number of services, such as:
The ability to accept major credit cards and debit cards.
Payment processing options for enterprise businesses.
Payment integration options.
ProPay is ideal for both small and large businesses.
And, it has an A+ rating with the Better Business Bureau.
18. Charge.com
Charge.com is a merchant account provider.
It offers merchant credit card processing services. Its fees are as low as 0.25% as well, which is great.
Using Charge.com, you can accept credit cards from brands like Visa, MasterCard, American Express and Discover, and checks online, in-person, by phone, via mail, or by fax.
It also provides software, EMV terminals, and a credit card reader for a computer, smartphone or tablet for free.
So, using Charge.com, you can accept credit cards online or offline.
And, it also offers an online shopping cart for a seamless checkout on your own website. So, you don't have to direct your customers to a separate payment processor's website.
19. 2CheckOut
2CheckOut is an online payment processing service that allows you to accept mobile and online credit card, debit card, and PayPal payments.
It supports eight payment types, 15 languages, 87 currency options and more than 200 global markets. So, you can easily accept payments throughout the world.
You can see which countries 2Checkout supports here.
Offering easy to integrate checkout options, 2CheckOut is a good option for merchants looking for an alternative.
20. Worldpay/Vantiv
Worldpay and Vantiv have partnered to offer a number of payment processing services.
The companies merged in January 2018.
They provide secure payment services to small and large businesses, such as online payment processing, card machines and phone payments.
According to a press release from the combined company, named Worldpay, Inc. it processes more than 40 billion transactions a year, through 300 plus payment types, across 146 countries and 126 currencies.
21. Paymate
Using Paymate, you can securely accept card payments, like Visa and MasterCard through your smartphone and the Paymate OnTheGo card reader.
What's great about Paymate is that it allows you to accept card payments online, in-person and over the phone.
And, you don't need a merchant account.
You can charge customers in their local currency too, and securely process payments manually from any web browser.
22. PayLane
PayLane is another company that offers online payment solutions. It supports 160 plus currencies and 30 plus payment methods.
And, you can set up automatic recurring payments and subscriptions for credit cards, PayPal and direct debits too.
And, what's handy about PayLane is that it offers plugins for major shopping platforms too. So, if you're not a very technical person, then this makes setting up a payment processor easier.
It also features apps too and other mobile options, which you can check out here.
23. BlueSnap
BlueSnap is a provider of eCommerce payment services, specializing in secure global payment processing and payment gateway solutions.
It supports checkout in 29 languages, 100 currencies, and 110 payment types, including popular mobile wallets, like Apple Pay and PayPal.
It allows you to take online and mobile payments, and offers invoices and subscriptions.
BlueSnap has an A+ rating with the Better Business Bureau.
24. Viewpost
Viewpost offers online invoicing and payments
The company suits businesses of all sizes, from freelance contractors to large companies.
Using Viewpost, you can:
Create, send and track online invoices.
Send electronic payments.
25. FastSpring
FastSpring is a global digital commerce, subscription billing and management platform.
It supports global subscriptions and payments for digital businesses, specifically, so those selling software, content or apps online.
Closing thoughts
As you can see, there are so many sites and apps like PayPal out there.
You don't have to be stuck using just one site or app. There are plenty of others to choose from.
So, give one of these apps a try and see if you prefer it to PayPal.