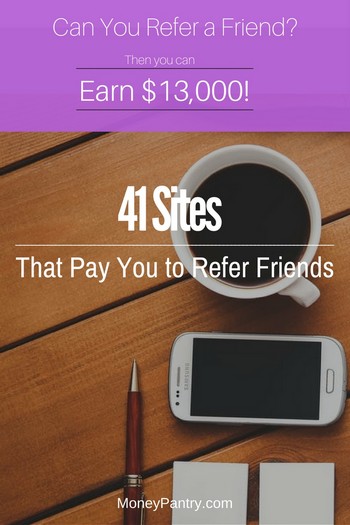 Imagine, getting paid every time a friend buys/uses something you recommended on Facebook!
It's actually a reality!
It's known as Paid Referrals.
Word of mouth has been one of the best and most reliable ways for companies, big and small, to get new customers.
Heck, when I used to make my living as a floor installer, 99% of my clients were referred to me by their friends, family, and neighbors who I had done a job for previously.
People trust their friends and family more than they trust an ad they see on TV.
Need Easy Extra $300+/Month for Free?
KashKick
: Get paid directly into your PayPal for watching videos, surfing, shopping and more.
Join KashKick Now!
Panel Payday
: Earn up to $75 per survey. They also pay up to $50/hr for mystery shopping.
Join Now!
InboxDollars
: Paid over $57 Million to members to watch videos, take surveys, shop and more.
Get $5 instantly!
Branded Surveys
: Get $1 instantly just for joining for free. Plus get paid within 48 hours by PayPal!
Join Branded Surveys
iPsos iSay:
: If you have to only sign up for one paid survey site, go with Ipsos (high paying survyes)!
Join iPsos Now!
Swagbucks
: Get paid to watch videos, shop online, take surveys and more.
Join now & get $5 instantly!
And that explains why word of mouth has been and still is, the most effective form of advertising.
Companies know this!
They also know that people who are referred by their friends are more likely to become lifelong customers.
All of that, combined with the fact that traditional advertising costs a lot of money, gave birth to the idea of Paid Referral Programs.
Paid referral programs, or referral marketing, isn't exclusive to the world of businesses and consumers – companies also use it to hire new employees.
Employees referred by other employees are much more likely to stick around for longer because they feel more obligated.
According to the Wharton School of Business, a referral customer has a 16% higher lifetime value than your average customer.
This is so effective that even universities use it. For example, Vanderbilt University Medical Center has a nurse referral program where they give $2500 to any employee who successfully refers a registered nurse.
What is a Paid Referral Programs?
It is exactly what it sounds like – you get paid for bringing in new customers to a company/website.
Instead of spending millions of dollars on traditional advertising, some companies rely on their existing customers and user-base to get the word out.
And to entice you (the existing customer) to talk about their services and products with your friends and family, they are willing to pay you.
How do you get paid
Now, the exact amount you get paid depends on a few factors.
Same applies to the way you are paid.
Some companies will pay you a set amount, once.
Some companies will pay you a recurring commission for every month/year the person who you referred stays a customer.
Some companies give you a percentage of what your referrals spend.
When it comes to actually getting paid, some sites pay by PayPal, some by check, others let you redeems your earning with gift cards and other prizes.
Ready to make some referral cash?
To make it easier for you to get started, we have gathered a list of companies and websites with paid referral programs, across different industries.
If you were to refer one friend or family member to each one of these companies/sites, you'll earn close to $13,000!
Let's make you some money!
– Travel Services
Let's kick off with some travel services that offer rewards for referring people.
Traveling is something that just about all of us do – whether it's staying in a hotel, or catching a cab, most of us use some kind of travel service on a regular basis.
These services will reward you for your referrals so that you can travel the right way: freely!
Lyft is the competitor to the service giant Uber, and they make for some serious competition.
For drivers at Lyft, referring another person to become a driver will make you both eligible for $500 in bonuses!
This giant service that serves as something of the new form of taxis in the 21st century is known for fast, reliable service (but the cost sure can add up!).
Every time someone uses your referral code, you'll get a discount towards your next ride.
If you can get the word out there in a big way, then you might be able to get around town free for a while!
You've probably heard of Airbnb, the crowdsourced lodging service that has been expanding operations for the last few years.
Airbnb can make a great alternative to traditional hotels and motels, but there's no mistaking that sometimes it can get pricey.
Remedy that by earning $25 in Airbnb credit for each referral you make – and $75 for each referral who ends up becoming a host!
– Financial Referrals
Another thing that many of us are involved in is banks and financial institutions.
Well, believe it or not, many banks actually have some hefty referral awards if you can get a friend to create an account or sign up for a card.
Your bank might not be one of the banks that offers referral programs, but don't fret – there are still loads of other opportunities on this list worth taking advantage of!
Capital One 360's referral program is built on the idea of quantity over quality.
You get a comparatively small $20 per person signed up. But you can keep collecting referral rewards until you reach $1000 collected!
By far the most obscure service in the financial section, Smartypig is a service where you allocate funds for a project (like an online piggy bank).
You declare a goal and pursue it, whether that means saving up for a TV or a trip overseas.
Smartypig will give you $10 per referral, but you can refer 100 people.
Citi is offering some very generous referral rewards, which could be anything from a free tablet to a $500 reward.
Any Citi customers should definitely look out for this opportunity since the rewards are so great.
No word on whether or not you get capped out after a certain amount of referrals, though.
You need to refer a friend to sign up for a card with Chase for your referrals, and they'll actually need to use it – no dummy entries here!
You can refer up to 10 people.
As for the friends themselves, they get an incentive in the form of a $100 cash back if they spend over $500 within their first few months.
This one is a bit unique in that everybody benefits for participating.
If you're a US Bank customer, you can get up to 5,000 FlexPoints for your referrals (which is between $875 to $5000 worth of FlexPoints, depending on what your sources are.)
FlexPoints are like cashback points, so you should have no shortage of things to spend them on!
Southwest Rapid is offering you 5,000 bonus points per referral, up to a total of 30,000 (or 6 referrals.)
That's more bonus points than some other rewards programs will offer, which makes this a very desirable option for any Southwest Rapid customers.
PNC WorkPlace Banking is a service that enables you to tie your banking functions into your workplace.
It sounds a bit strange at first glance, but it works great in the right situation.
You'll get $100 per coworker referral, with the rewards capping after 5 referrals.
This one functions very similarly to Chase's program – Refer friends to become cardholders with a max of 10.
You get your reward after they activate the card.
However, on this one, the monetary incentives are scaled back a bit (the friends receive $50 cash back, but there is no minimum to spend in order to claim it.)
– Technology Company Referrals
Technology is increasingly something that humans can't live without.
Whether it's a highly advanced service like a television provider or a basic internet access, we can all agree that having money to spare on your tech services is a good thing.
Here is a list of a few tech companies who will reward you for referring:
You'll get $50 per referral with 10 referrals allowed per year (netting all 10 will make your service essentially free for a few months!)
Dish also offers an initial incentive of 5 free PPV movies on your first referral, so it's worth your time to recommend at least one person you know.
AT&T has one of the most fleshed-out referral programs of all the tech companies, allowing you to make nearly $600 through referrals each year.
What makes this a convenient referral program is that you only need to refer the customers to the AT&T itself, and any service they purchase will count towards your referral.
This is opposed to something like a banking referral program that asks you to get cardholders, exclusively.
You'll earn $25 per customer referred, which makes 24 people a year to get to the max amount.
What makes Verizon's referral program unique is the fact that you can be paid out in cash instead of credit with the service.
This adds another dimension for potential referral-hunters out there who are looking to earn extra money.
You'll get paid $25 per referral, with a max of 5 referrals.
The ins-and-outs of this program are a little bit unclear, but what you can tell from the link provided is that you get paid $7.50 per person referred to Google Apps.
You're referring them to the Google Apps paid subscription, that is, but this is a very common subscription service in business circles. Refer up to 100 people for a max earnings of $750.
– Gym Referrals
Believe it or not, yes, you can get paid for referring people to gyms!
As we all know, gyms rely on driving a ton of memberships, and this is just part of that process.
If you have a friend who is already looking to join a gym, these are perfect options.
I've collected a few big name gyms below, but don't forget that even local gyms might have a referral program in place.
If there's a non-franchise gym in your area, it's definitely worth going in and checking about their referral opportunities.
This group is offering a very healthy $50 per person referred, but the downside is that it's a women's only gym – sorry guys!
However, if you've got the opportunity to take advantage of this option, the $50 could easily knock out your membership fees for a while.
You've almost definitely seen one of these before, and there's a good chance that there are one or more Gold's Gyms in your area.
This referral program won't offer you money or credits but will give you rewards for referrals, which is worth looking into if you're already a member.
This fitness group is offering gift cards per member referred.
Unfortunately, they don't disclose the amount, so this is an offer best left to people already involved in Equinox.
Here's a referral program that's pretty neat – you can get a $20 MyStore coupon for your referrals, which is fairly standard.
Or, you can choose to have one 50 minutes personal training session. That's a pretty cool offer, as referral programs go.
If you really drove home some referrals, you could socialize AND get a PT course out of it – how's that for free stuff?
– Affiliate Programs
Now, you may or may not have heard of affiliate programs before.
They're kind of a big deal!
There are thousands and thousands of blogs out there that exist solely to take advantage of these affiliate programs, which are something of a next-level referral program.
It's an entire section of the blogging industry.
How does it work?
Put simply, you write about a product and provide a link to a place to buy the product.
Nothing unusual there.
The only difference is that the special link you use enables you to get paid for whatever purchases they may end up making.
It's that simple, and for some, it's a full-time job.
There are a few more nuances, but that's the gist of it.
It's good form to disclose when you're using affiliate links as per the FTC's disclosure guidelines.
Sounds scary, I know, but don't worry, just a brief mention and you're in the clear. A small price to pay for getting in on affiliate programs, which can be pretty great.
We'll kick off with Fitbit since they might have the highest commission rate here at 12%.
That's right – 12% commission on all items you sell through your affiliate links to their products.
Fitbit doesn't make the most expensive products in the world, but you're getting a great cut at 12%.
Target's affiliate program is a bit more middle-of-the-road at 5%.
It's not amazing, but if you're advertising a big-ticket item, 5% can be a welcome rate to make in return.
To start, I couldn't find the exact rate that you make in commissions on iTunes.
However, that doesn't disqualify it from the possibilities since you can link to so many different kinds of media (everything from movies to music.)
You might want to sign up to this one just for the variety.
Walmart's characteristically shrewd pricing shows in the commission rate of 4%, but that's still nothing to balk at when you consider that the partner in question is Walmart.
Barnes & Noble also have an affiliate program.
I went looking all through the terms and conditions, but I couldn't find the compensation rate – suffice it to say that there are definitely some people out there taking advantage of it, so it might be worth your time. Great for book blogs.
I had to save this one for last because this is the absolute king of the affiliate world, so much so that the word 'affiliate' might trigger the word 'Amazon' in your mind.
Amazon's unprecedented selection of products makes them the clear leader in this case, but what's more: they have a sloping commission rate.
Your base rate is 4%, but jumps to 6% and then even 8% or above, depending on your sales volume per month.
This is huge news for writers and reviewers out there, and indeed, many people make their living exclusively by running Amazon Affiliate blogs.
You'll even get the commission if they click away and buy a different product – anything they buy for a little while after clicking your link is credited to you. Now that's awesome.
– Work at Home Referrals
You must certainly be wondering, "Why would an employer pay to obtain employees? Sounds sketchy."
Indeed, I'd see your point – it does sound a tad sketchy at first glance.
However, that's simply because these are call center companies, and the call center industry has an insanely high turnover.
A lot of people just don't like call center work, but that doesn't mean that it won't work for you.
Check out these companies' referral programs and see for yourself.
This group is hiring people to do anything from tech support to customer service, to sales.
They're also offering a pretty great commission – $100 per person!
Call Center QA is a company that works with telephone mystery shoppers.
Basically, it means you'll be calling a store and pretending to be a customer, but really, you're gathering information to report back to Call Center QA. Kind of fun, like being a secret agent.
The work is flexible and low-barrier to entry.
They pay you via PayPal and give you $5 per referral.
This is a call center looking for independent contractors who are willing to work from home (though, their company name sounds more appropriate for the secret agent work of Call Center QA.)
The only requirements for working at LiveOps are an open schedule and the ability to commit to 10 or more hours of work a week.
No word on the official payout for referrals.
– Digital Services Referrals
The explosion of the internet and the 'blogosphere' means that digital services are now their own, massive industry – and that means referral programs will come in tow!
Some digital services reward you with monetary gains, some reward you with enhanced service.
Let's kick off with DreamHost because they have a pretty cool system in place – you get your flat earnings in addition to another $5 every time one of YOUR referrals, makes a referral!
Affiliate systems like this are pretty great since they allow multiple levels of reward to funnel back to you.
This one is really simple – get $10 in Groupon credit for every friend you refer.
This revolutionary file-sharing service will reward you with additional space every time you refer a friend.
Another great referral program that rewards you more the more people you refer.
It goes up from around $50 a person to $125 a person later on, and that's nothing to scoff at!
If you have an audience who will sign up, definitely get in on this ASAP.
Another service based reward, this time very simple: refer a friend and you both get access to the premium service.
It's that easy!
This referral program is another one that benefits all involved:
For you (the referrer): Free hosting
For them (the person you referred): 20% Off
The Amazon Prime referral program is kind of like a light version of the Amazon Affiliates program.
You get $5 Amazon credit for each Prime member you refer who makes a $5 purchase.
– Rewards Programs
I saved this one for last since we're back to basics a bit.
These are those classic GPT (Get Paid To) task sites that we all know and love.
You may not know, however, that they are good for referring, too.
Let's look at how some of these programs work to finish off our list:
This big-name reward site has two different ways to make money, and it differentiates between 'referrals' and 'affiliates.' At a glace:
Affiliates go for a quantity approach. Any valid account that is registered from your referral nets you $1, whether they use the site or not.
Referrals give you $2 per person, however, they're required to complete a survey first.
Twice the pay, but you're banking on the idea that the people will actually use the site!
Our old friend SwagBucks makes an appearance in the affiliate ring with their referral program.
You can get 1000 SwagBucks per referral, which is roughly equivalent to $10.
No limit on max referral numbers, so get the word out there on this (already popular) site and let the rewards come.
This is a survey-exclusive site that wants people to give feedback on products and other consumer interests.
You get $2 per person joined, on the stipulation that they first complete 2 surveys.
Here's another one of those multi-level referral types discussed before.
You only make $1.50 per referral, however, you get a 15% cut of their lifetime earnings.
Refer a handful of dedicated users, and you'll be sitting pretty!
This site is a legitimate survey service that allows you to make between $3 and $20 per survey.
Now, how does the survey reward tie back to you, the referrer?
Well, you make a 15% cut on all lifetime earnings for your referrals, so those good rates are a boon for you.
This online survey company is trustworthy and reliable, so don't worry about wasting your time by taking a chance on them. They're tried and true.
This is a well-varied GPT site that allows all kinds of tasks from videos to games and it'll reward you for all of it.
A great site to spend your time in its own right, but you'll be even happier to know you can get 10% of the earnings for the tasks done by your referred members.
Gather your video-watchers and your game-loving friends and refer them to InboxDollars – it might be the easiest money you ever make.
Final thoughts
Personally, I think that anyone serious about making money should give at least one of these referral programs a chance.
Some of them are pretty small-time opportunities, but some of them have amazing potential. You need to look no farther than Amazon's massive referral empire to figure that out.
If you're looking to earn some extra cash and refer your friend and family to some of the products and services you use and love, this is a great way to go.
You can even turn this into a full-tile job that will allow you to make a living.
How?
How do you think bloggers make their money?
Most of the money comes from referral commissions they get.
For that though, you'll need a blog and a lot of work. That is beyond the scope of this post. But if you are new and want to start a blog, read our "How to start a blog and make money" post.
Your turn
Have you ever earned a referral commission?
What was your biggest paycheck fro referring a friend or family to a company or a job?