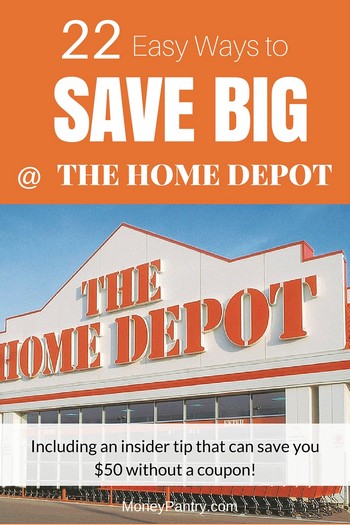 I love The Home Depot!
Walking through the HD aisles, I'm like the kid in the candy store.
And that leads to spending a lot of money, which is fine since I buy tools and materials that I actually need and use.
Nonetheless, I don't always like to pay full prices for everything.
So after years of shopping exclusively at The Home Depot, I have learned a lot of big and small ways to save money when shopping there, plus a few "insider" secrets and tricks that have actually helped me score unbelievable deals (more on that later).
Ready to stretch your dollar further at The Home Depot?
Need Easy Extra $300+/Month for Free?
KashKick
: Get paid directly into your PayPal for watching videos, surfing, shopping and more.
Join KashKick Now!
InboxDollars
: Paid over $57 Million to members to watch videos, take surveys, shop and more.
Get $5 instantly!
Branded Surveys
: Get $1 instantly just for joining for free. Plus get paid within 48 hours by PayPal!
Join Branded Surveys
First Opinion
: Get paid up to $10 per survey and $300 per virtual focus groups!
Join Now!
Swagbucks
: Get paid to watch videos, shop online, take surveys and more.
Join now & get $10 instantly!
Let's save you some cash…
How to Save Money at The Home Depot
Here are some of the bets tips and tricks for saving at the biggest home improvement store.
1. Save on Holiday Specials
Right after the holidays, go to the checkout section near the "Contractor's Center".
This is where they keep all their holiday specials that haven't sold.
They are on sale at stupidly low prices, sometimes 80%-90% off.
This year, a few days after the new year, I went to the store to pick up a few items and I came out with 2 huge metal tool organizers that were holiday specials with the original prices of $1200 each. They were on sale for $285 each.
I was lucky that they had 2 left. So I picked up both. Sold one on eBay to someone local for $950 and kept the other one.
So basically I got a free giant tool organizer and I got paid a few hundred dollars as well!
2. Save on lumber by buying leftover wood
If you do a lot of wood related DIY work, you probably use a lot of scrap wood.
Don't pay full prices for those.
Sometimes when people buy wood at the store, they have to cut it short to length, and the left over isn't always long enough to be sold, or maybe it's a stack of wood that's missing a piece, whatever the reason may be, HD sells these for 30%-80% off.
Go to the back section of the lumber aisles at your local Home Depot and ask an associate to show you where they keep them.
Sift through them and you'll find plenty of good lumber you can use for your DIY projects.
3. Save on paint with "Oops Paint"
Sometimes people order custom paint (colors) and either change their minds or never come back to pick them up.
The store will keep those right in front of the paint department (sometimes in the back) and sell them for far less than their original price.
The store will keep those right in front of the paint department (sometimes in the back,) selling them for far less than their original price.
They call it (at least in my local Home Depot) "Oops Paint"!
So if you are in need of paint, always check out the Oops Paint section.
You never know, you may be able to find a few gallon of the exact color you were going to buy, and you don't have to pay full price.
4. Use other home improvement retailers' coupons
Another relatively unknown way of saving at The Home Depot is to use their competitor's coupons.
That's right, you can bring in coupons from other home improvement stores and HD will honor those.
5. Home Depot's moving coupon
The Home Depot used to offer what's known as the "Moving Coupon" to customers who were dealing with a move.
Although, the coupons could have been used on anything and not just items related top moving (moving boxes, tapes, etc)
But they have discontinued that program a while back.
However, there is one simple way you can still take advantage of their old program.
Here is a neat little trick that can get you coupons year round…
Go to Lowes.com and click on the "Moving" tab. Filling out the form on that page gets you a 10% off coupon that's good for purchases of up to $5,000. Then take that coupon to the HomeDepot and use it to save some cash.
6. Special buy of the day
Another rather unknown feature of The Home Depot is their "special buy of the day" feature which you can find by going to http://www.homedepot.com/SpecialBuy/SpecialBuyOfTheDay.
Every day they put one item on sale in this section with a special price lasting for only 24 hours, kind of like Amazon's Lightning Deals.
7. Check the Savings Center
Home Depot, like most other retailers, has a dedicated savings section on its website where you can find decent deals and discounts.
You can visit http://www.homedepot.com/c/Savings_Center at home on your computer before you hit the store, or on your phone while in the store to see if there are any deals you can take advantage of.
They have sales and discount for almost all of their departments, and sometimes these deals can fetch you up to 50% off.
So it's worth a shot to take a few seconds to visit the Savings Center.
8. Get 110% price match
Most people know that Home Depot has a price match program where if you find a lower price at one of their competitors (Lowe's, Ace Hardware, etc) they will match that price.
But what a lot of people don't realize is that not only they match their competitor's price, but they also beat it by 10%.
So next time you want to buy something at the Dept, be sure to check out other local stores to see if you can find lower prices.
9. Shop via eBates & get cashback
Another easy way to save a few bucks on things you are going to buy anyway is to shop online through a cash back portal like eBates.
At the time of writing this post, eBates offers 1.5% cash back on every dollar you spend at homedepot.com.
10. Take advantage of Home Depot's online coupons
These days it's easier than ever to find coupons for practically any store including The Home Depot.
For example, at the time of writing this, there are Home Depot coupons and discounts codes on RetailMeNot for up to 20% off on all small appliances, with free shipping on orders over 45%.
11. Join Home Depot's Garden Club
Home Dept's Garden Club is a cool little program where you sign up for free and they send you emails from time to time that includes special promotions, offers, how-to project information, expert advice and more.
This year they are offering a $5 off of $50 coupon for new members.
Plus, you'll receive exclusive email deals and discount that can mount up to $300 a year.
Not bad for something that is free and takes only a few seconds to do.
12. Get money back if prices drop within 30 days
Just like Amazon's price guarantee program that I explained in our 50 Money Saving Amazon Hacks, Home Depot also has a 30-day price protection.
If the price of an item drops within 30 days, take the receipt back to the store and they will refund you the difference.
13. Check for products with rebates
Home Depot offers rebates on a lot of the products it sells in its stores or online.
All you have to do is visit Home Depot's Rebate Center on their official website.
From there you can search by product name or category to see what you want to buy has any rebates attached to it.
14. Prices ending with .3 and .6 mean saving
This is a little-known trick that I actually learned from an employee of our local Home Depot.
You know how some products have those weird prices like $10,95?
You want to pay attention to the prices ending with .03 and .06.
If a product's price ends in.06 it means it is on clearance and it may still go lower.
However, if a product ends with .03, that means the price is as low as it can get. It's the final mark down for that product and you will have about 3 weeks or so to buy it before it gets pulled off the shelves.
Just by paying attention to the prices you are guaranteed to save yourself some money.
15. Get up to $50 off just by asking
I learned this from an employee who told me that they are allowed to give up to $50 off every day without having to ask their manager for approval.
So, if you want to save a little more, all you may have to do is ask.
Not to mention, if you happen to be asking the manager of the store, you may even get a bigger discount.
16. Home Depot's 10% military discount
According to The Military Wallet, Home Depot offers a 10% discount to current and former military personals.
All you need is a proper military ID.
17. Skip the sales tax
Home Depot allows certain businesses and individuals (mainly teachers) to skip paying sales tax by providing a valid state-issued tax exemption.
If you don't have one, you can apply and get one by going to https://hdapps.homedepot.com/TaxRegistration/registration/
During the registration process, you'll be able to create a special Home Depot tax exempt ID number that you can use to avoid paying sales taxes when shopping at The Home Depot.
17. Paint prices are lowered during holiday weekends
They know a lot of homeowners use (especially) long holiday weekends to do small remodeling projects, painting being one of the most common ones.
So they reduce the paint prices during long holiday weekends to lure people to the store.
You could pay less for the same gallon of paint if you plan to do your project during a long holiday weekend like Father's Day, Memorial Day, 4th of July, and Labor Day.
You'll be able to take $5 off of a one-gallon paint or $25 off of a 5-gallon bucket.
18. Buy a discounted gift card
This is one of those little tricks that most people hear about but never get around doing it.
Next time you need to buy something from The Home Depot, be sure to buy a discounted gift card.
Simply visit a discount gift card site like Raise or GiftCardGranny and buy a Home Depot gift card for 10-20% less than its face value.
It's a quick and easy way to save money before you even set foot in the store.
And when you get to the store, use one or few of the other Home Depot money saving tips we mentioned here and increase your total savings.
19. Earn free Home Depot gift cards
For those of you who spend time on the internet daily, Swagbucks is an easy way to earn points for doing what you already do online, watching videos, shopping, playing games, etc.
You can then redeem these points for gift cards including Home Depot gift cards.
Spending just 10-15 minutes a day on Swagbucks each day can easily earn you a free $10-$20 Home Depot gift card (you also have the option to redeem your earning for cash via PayPal or gift cards for other stores like Amazon, Lowe's, Target, etc).
What's even more exciting is that we have a way for you to get a free $5 sign up bonus.
Use this link to register for free and get a free $5 bonus.
20. Check out from the "Pro Desk" to save up to $500 on a $2500 purchase
If your order totals, at least, $2,500, you can check out through the "Bid Desk" or otherwise called "Pro Desk" (which is normally used by contractors, but really anyone can go through it) and get an extra 10% to 20% off of your total.
The only downside is that it may take a day or two for the order to be processed by their corporate office.
But hey, 20% off of $2500 is $500. I would wait a whole week if I had to in order to save $500.
21. Join the free workshops
If you are the Do-It-Yourself kind of person, you can save hundreds and even thousands of dollars by doing some of the home improvement projects on your own.
And if you don't know how to, Home Depot's Free Work Shop classes are there to help you.
You won't save money directly on purchases you make, but you will save a ton by doing things yourself and not paying a contractor.
Of course, only take on projects that don't require special expertise and license. I am a very handy man, but I'd rather leave anything to do with gas and electricity (and some plumbing related stuff) to professionals.
22. Save big by buying "special" items
Most Home Depots have a few shelves towards the back of the store where they keep heavily discounted stuff.
And these are not just small stuff, I am talking about power tools and even appliances.
The reason they are heavily discounted is that some may have been opened, have a small scratch on them, etc. Things that really don't make the products any less good.
I regularly pick up stuff for a fraction of their original prices.
Just last week a saw an LG 24.1 Cu. ft. French Door fridge for $355 less than it's original price. It just had two small scratches on its sides.
Wouldn't you take a $355 savings over 2 small scratches?
Final Words
I hope these tips will help you save some money and stretch your dollar further when shopping at The Home Depot.
Please feel free to share any Home Depot money saving tips or tricks you use by leaving a comment below.