Here at MoneyPantry, we spend hours every day scouring the world for money making and saving ideas to share with you.
During my quest for savings I occasionally (ok, often) get distracted by photos and videos of cool dogs.
This is how I was introduced to Brim the Mastiff…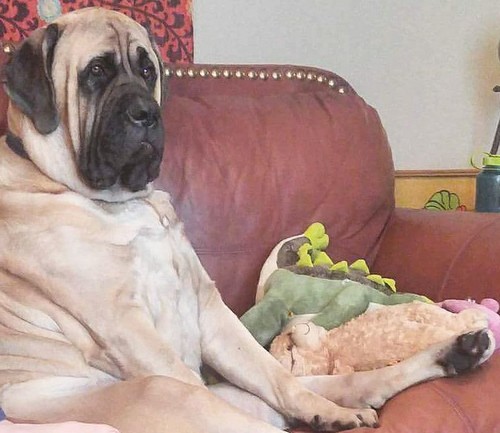 I was so entranced that I spent the better part of an hour scrolling through his adorable photos, and then I came across his merchandise for sale…
My first thought was  "I need this hoodie" followed by, "This is a genius money making idea"!
I reached out to Brim's humans, Melissa & Adam, for more info on their amazing dog and clever side gig.
Need Easy Extra $300+/Month for Free?
KashKick
: Get paid directly into your PayPal for watching videos, surfing, shopping and more.
Join KashKick Now!
InboxDollars
: Paid over $57 Million to members to watch videos, take surveys, shop and more.
Get $5 instantly!
Branded Surveys
: Get $1 instantly just for joining for free. Plus get paid within 48 hours by PayPal!
Join Branded Surveys
First Opinion
: Get paid up to $10 per survey and $300 per virtual focus groups!
Join Now!
Swagbucks
: Get paid to watch videos, shop online, take surveys and more.
Join now & get $10 instantly!
Here's their story:
Melissa works as a video producer and editor and Adam is a cardiac sonographer.
They live in Minnesota with Kylie the cat and the star of our story, Wilford Brimley (AKA Brim the Mastiff).
Brim helps the family earn some extra income each month and even helps pay his own vet bills.
Nope, not by hawking diabetes medications, just by chillin' on the couch.
Brim was born in late 2014, and came to live with Melissa & Adam as a puppy.
Melissa says:
We got Brim as a puppy. We had fallen in love with the English Mastiff breed after meeting some at a local festival. I REALLY wasn't interested in getting a puppy (I had raised puppies before and didn't really want to deal with the certain level of destruction they bring).  Adam had never had a puppy, so he was really pro-puppy.   He was a wonderful and smart puppy so Adam didn't really learn his "puppies are hard" lesson….until we ended up fostering 11 newborn puppies last year.  (More on that later.)

Brim loves sitting on the couch, judging every single thing I do, going for short walks followed by long naps, swimming (and sinking when he forgets to paddle his feet) and playing with the garden hose in the summer. His favorite toy is a large poof pall that he constantly has in his mouth like his pacifier. He's really just a toddler in a large dog body.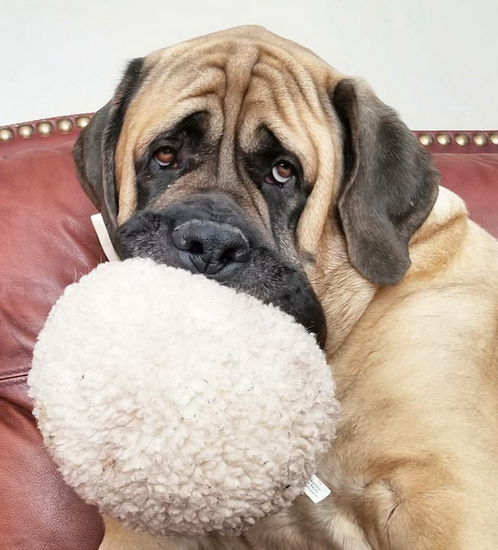 Was Brim born a star, or he grew into it?
He definitely has always been a weird little ham. I'm a bit of a stage mom in that I have always thought he was a star. I didn't really realize that it wasn't just me who was obsessed with him until I started getting more and more friends and family asking about him constantly, and then total strangers. Usually when I meet acquaintances, the first thing they say is "oh, you're Brim's mom!"
How many social media followers does Brim have? Was this a gradual buildup or was he an overnight success?
We are sitting at a little over 29,000 right now. It was pretty organic at first. I started his Instagram when we picked him up, so for the first year his followers were my friends and family and fellow mastiff lovers.

We've had a lot of cool features (on Barkbox, American Kennel Club, etc) that really upped our followers in the last couple years but we don't stress too much about gaining or losing followers. 
What's the scientific definition of a "party leg"?
Brim's Party Leg

I don't know how Party Leg is not in the dictionary yet! A party leg is just a limb that cannot be tamed. Brim likes to sit like a person on the couch and often (probably because his legs are so long and he takes up so much space) he has to pop out one of his legs to dangle dramatically over the couch. Some mastiff owners also call this a "fancy leg" or "the ballerina", but Brim is always ready to party so we call it his party leg.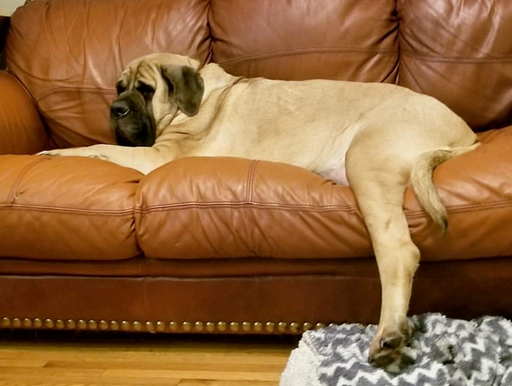 I think selling Brim merchandise is genius!  Who came up with the idea?
We started designing t-shirts a bit before Christmas because I kept getting inquiries from followers asking what they could get their Brim-obsessed family member or friend for Christmas.

We knew we needed a party leg shirt, so that was one of the first ones to go up. I designed it thinking a couple people would get a kick out of it, but it turned out to be our most successful design yet.

Now I kind of design things as they come to me. I know Adam has a couple designs he wants to get out in to the world yet, too. I just seem to have a lot more time on my hands, haha.
Is it a money maker?
So far it is!

It seems to ebb and flow.

The first month the Christmas orders really took off, and we made about $160 profit. The next couple months it has been hovering between $50 and $100.

I think it's great for something I don't really need to manage or put a lot of time in to after the initial design.

Brim has his own account that we keep his profits in and we have been using it for his expenses. He just paid his own vet bill last week, I was pretty proud of him!

We won't be quitting our jobs any time soon, but it is so nice to have some money set aside just for Brim as he is kind of an expensive boy.   
What's been your experience selling with Redbubble? We've covered them in some of our prior posts, but firsthand experience would be great to share with our readers.
So far it has been great!

We were really overwhelmed with the idea of printing and shipping the merch ourselves. It's hard when you're just getting in to it to really know how much overhead you should have and what kind of size and color variety.

With Redbubble you only get a certain profit margin (we have ours set at 20 to 25%) but it definitely is worth it to have them do the printing and shipping as the orders come in.

Every so often we just upload a new design and make sure to advertise on Brim's social media when they are having a sale (which is often!). I love that when they have coupon codes, they take the percentage off of their cut and not the seller's cut. 
 Does Brim have a sponsorship from BarkBox, or any other company?
 Brim doesn't have any ongoing sponsorships, but he does get a lot of free things. 

Barkbox gifted him a 3 month subscription when they made their lovely video of him and companies like Petsafe and Birdsong pet beds have provided him with new toys and beds recently.

Since we often have a foster in the house, it's so fun seeing him share all his swag with our foster dogs since he definitely couldn't play with it all himself (cuts in to nap time). 
Does Brim ever make paid appearances?
Brim has never made a paid appearance, we've been asked before but I don't think we could make it work.

He's most comfortable in his own space and he doesn't like crowds of people. Understandably, when he is amongst a group he becomes the center of attention almost immediately and gets a little nervous and crowded and tries to hide. When you're 180 lbs, there aren't a lot of good hiding places!

I'd be open to doing a surprise or a get well visit for someone, we'd just have to keep it low key.
Brim & Family also give back to the canine community!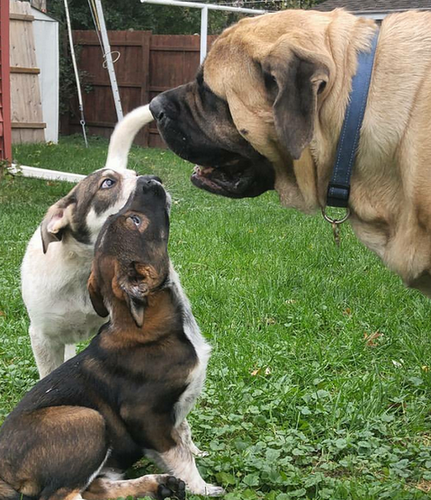 Brim also shares his couch with foster siblings waiting for their fur-ever homes.
Melissa & Adam frequently take in foster dogs and puppies from Ruff Start Rescue, a foster based rescue in their area that also works with LightShine Canine Rescue.
Many adoptable dogs just don't thrive in shelters, but are perfectly at ease in a home, making it easier for potential adopters to see and interact with dogs in a low stress environment.
Melissa says:
We take foster breaks every once and awhile because it can be overwhelming for us and for Brim, but it is so so fulfilling!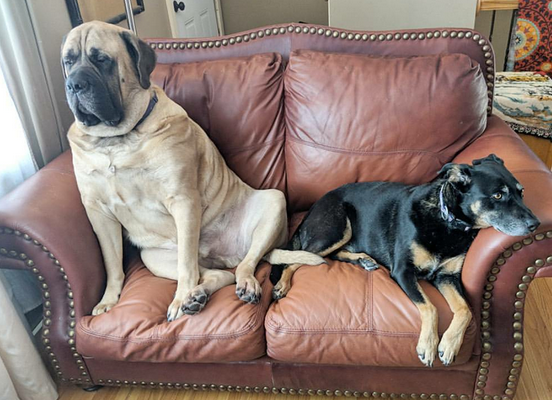 Has the fame gone to his head? How is his relationship with his siblings?
I think Brim was born entitled and it has only gotten worse from there.

He thinks that every package that comes in the mail is for him (he loves doing unboxing videos) and he is sure that everyone who comes in to our house wants his drool wiped all over their pants.

He is pretty shy and protective of his home but he is also a huge ham that will do anything to get the attention of guests.

He does seem to prefer to be an only dog  70% of the time and gets jealous of the attention the foster dogs get but luckily he only sulks for a little bit.

He actually really loves his cat sister, Kylie. It's pretty ridiculous watching them interact.

Sibling Love
Shoppers can find a wide array of Brim themed gear for sale.  T shirts, hoodies, pillows, wall art, notebooks, coffee cups, leggings, electronics cases and stationary are just a few of the items up for grabs.
Check out the merchandise for yourself here.
*MoneyPantry is not affiliated with Brim the Mastiff, and does not receive any compensation from Brim related purchases.
Addicted to Brim yet?
Follow him on Instagram for regular doses of super cuteness!
Final thoughts from Melissa:
We are just so happy to have the opportunity to brighten days with Brim's social media presence. He makes me so happy and I am so entirely obsessed with him, so it's nice to have an outlet to obsess over him that isn't one-way. To all the crazy dog people out there, I salute you. 
Our final thoughts:
Here at MP, there are two things we love, side hustles and four legged friends.
Brim's family was creative in combining the two, and we wish them much success in their side gig.
Their story is a classic example of coming up with a great idea and running with it.
Most side hustles don't turn people into instant millionaires, but the journey to financial freedom starts with small steps.
Feel free to leave us a comment and share your thoughts!