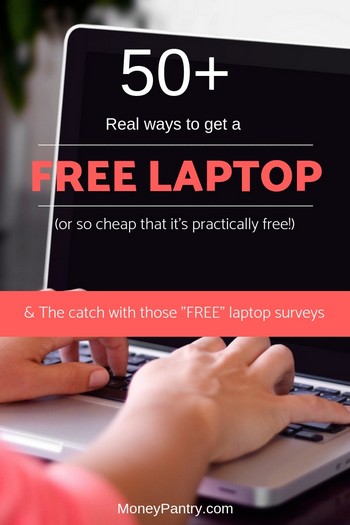 Have you ever seen an advertisement that claimed you could get a free laptop?
I am not talking about getting free laptops from the government or programs where they give them to college students, or low income families.
I am talking about the ones where you have to complete a few offers to get the free laptop. They are all over the place on the web.
And normally they offer you a free laptop from one of the popular brands like Dell, Macbook Air or Toshiba.
Example: If you like an example, here is one that I have used in the past and actually did receive the laptop.
Want $5 Free?
Join InboxDollars for free. InboxDollars pays you to watch videos, search, shop, take surveys, and more. They have paid out $57 Million so far!

Chances are if you have ever seen one, you dismissed it immediately as some kind of scam. After all, you can get all kinds of free stuff, but a laptop?
Well you wouldn't be completely wrong to make that assumption, but the truth is that you can get a laptop for very cheap through certain programs, and all it takes is effort and diligence.
Now, I'd like to be clear about this: some of these sites are scams!
But, there are legitimate sites as well that do giveaway free laptops, but there is catch of course! I'll get to that later, but first let me give you a few pointers on avoiding the scam ones.
Before you sign up for any offers, make sure you investigate the company itself. You can do this by looking them up on the Better Business Bureau directory, or anywhere else that has up-to-date information about how legitimate a business is.
Even once you've confirmed a company as legitimate, you'll need to read through the terms and conditions very carefully, because even reputable companies can have dicey fine print.
Some red flags to look for when you're investigating:
Do you have to sign up for a lot of affiliate programs to claim the laptop?
If you do, can you cancel them?
How many can you cancel?
Is the shipping cost excessively high?
Sometimes, these "free laptop" programs will lock you into contracts that you can't cancel quickly, and they'll ask for your credit card info, too. Be careful about this.
So, how does this Free Laptop thing work?
Ok, so we established that there are both scams and legit sites that do this. But how can legit sites afford to giveaway totally free laptops to people?
So here's how it usually works:
1. You sign up for the program. Usually, this also entails allowing the site to sell your information to advertisers (so use your backup email accounts!)
2. You'll also be asked to sign up for various products and programs. That might me signing up for Netflix, or buying a product, or something similar. You'll be asked to do 5-10 of them within a certain time period, generally a month or two.
The company that offers you the free laptop makes its money from the commission they get from those products and services you have to sign up for in order to get the free laptop. And that is how they can afford to do this.
You might also be asked to provide some kind of membership fee when you sign up, but the good news is that you can usually cancel this soon after.
Now, some of the products or services that you are asked to purchase may be eligible for refunding, but this will change depending on which Free Laptop service you're using. Make sure you know the fine details!
If you have completed all of the aspects of your side of the deal, and the time period has ended (those 1 or 2 months I mentioned above,) then you should be applicable for receiving your free laptop.
It isn't strictly 'free' by this point, between shipping, membership, and offers, but it is heavily discounted.
Since part of the 'cost' of the laptop is provided by selling your contact information, you should use a dummy email and phone number when you sign up.
The importance of keeping track
Feedback from previous participants in these types of programs point out that you need to be very diligent to spend a minimal amount of money in fees.
This means being organized– keep a file where you track your signups, as well as a document with contact info, addresses, and websites used.
You'll want to make sure you keep a check-list of "have-dones" and "will-do's" to be sure that you've made your requirements. Some sign-ups don't require you to pay anything, but some do, and you'll want to keep track of that information as well.
One of the most important parts of minimizing your costs is being proactive about cancelling the things that you're required to sign up for. Many of the services you'll be expected to sign up for can be cancelled after the trial period, and you'll want to make sure you do cancel them if you can.
It will help to have things like sign-up dates, trial periods, and amounts paid listed in their own document.
Additionally, you should thoroughly browse the list of offers– some of them will just be trials that are free and easy to cancel before they cost you anything.
So how much you end up paying for the supposed "Free Laptop"?
Of the participants in these programs who have managed to minimize costs, the usual payment estimate is between $40 and $100.
That certainly isn't free, but it also isn't the $400-$500 that the laptop is probably worth.
If you..
A) Sign up with a trustworthy business,
B) remain organized and
C) are proactive about cancelling/returning things,
then it should absolutely be possible to get yourself a laptop for far under market price.
What if I can't stay organized?
Well in that case, you are going to pay a lot more. Most of the offers you sign up for as trials, will start charging your credit card after the trial period ends. So if you forget to cancel the trial, you are going to pay.
I personally think the best way to take advantage of these kinds of programs is to use them when you are shopping for something.
For example, if you are thinking about signing up for NetFlix, or say GameFly, instead of going directly to NetFlix or GameFly, use one of these "Free Laptop" programs and go through them. That way, you get your NetFlix or GameFly, but you also get the laptop.
And in situations like that, that gets to be a real free laptop. You were going to pay for those services anyway. By going through that program you also get the laptop.
Now that would be the smart way to take advantage of such opportunities.
Bottom Line
The main limitation is simply making the effort to stay organized and really minimize the costs.
If you can overcome this hurdle, you're in luck! Because following the tips I've discussed here is your way to get an (almost) free laptop!