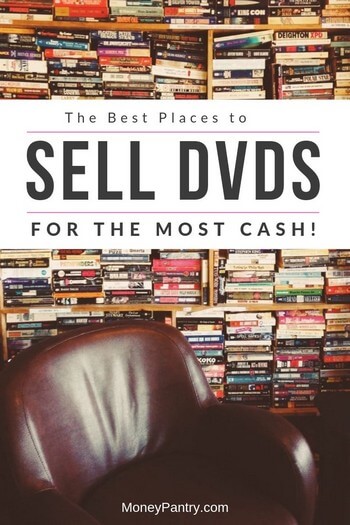 Selling used DVDs and CDs is probably one of the easiest ways to make quick cash by basically decluttering your home.
And the best part is that most people have a few, if not a huge stack of, DVDs and CDs lying around.
Whether you have a collection of new releases or timeless classics in DVD format or just have a few lying around the house that you would rather exchange for cash, there are tons of great places where you can sell items like DVDs for cold hard cash.
This is especially true for the generation before the popular streaming services like Netflix and Hulu where they had to purchase DVDs and CDs to watch their favorite movies, shows and other videos.
In this post, we'll show you the best places to sell your old and used DVDs near you and online.
Where to Sell DVDs for the Most Money
If you've been a reader of MoneyPantry for a while, you know that when it comes to selling used books online, we always recommend BookScouter because it acts as a book buyback site search engine that helps you find out who pays the most for your titles by searching over 40 book buyback sites.
Need Easy Extra $300+/Month for Free?
KashKick
: Get paid directly into your PayPal for watching videos, surfing, shopping and more.
Join KashKick Now!
InboxDollars
: Paid over $57 Million to members to watch videos, take surveys, shop and more.
Get $5 instantly!
Branded Surveys
: Get $1 instantly just for joining for free. Plus get paid within 48 hours by PayPal!
Join Branded Surveys
First Opinion
: Get paid up to $10 per survey and $300 per virtual focus groups!
Join Now!
Swagbucks
: Get paid to watch videos, shop online, take surveys and more.
Join now & get $10 instantly!
The good news is that there is also a site like BookScouter but for DVDs.
So if you ever wondered, "where can I sell my DVD for the best price", read on to get your answer.
Bonavendi is a little different than the other sites in that it acts more like a search engine for buyback sites.
Basically, you enter the barcode or ISBN of your item and it searches on over 30 buyback sites and presents you with the ones that pay the most for it.
Choose the one that gives you the most cash and follow the steps to sell it to them and get your money.
Have more than one item?
Entering barcodes for 3 or 4 item manually is fine and easy but looking up and typing in 60 different barcodes from a collection can make you insane, even if you are getting the best price for each one.
Save time and your sanity! Instead of entering barcodes one by one, install their free mobile app and simply scan the barcodes.
All you have to do is:
Download the App (Android – Apple)
Scan the Barcodes with your phone
Get the best price
Whether you have an entire collection, Box sets or just a few, their app makes it very easy to sell your DVDs fast.
Things to Consider
Barcode / ISBN
If your item doesn't have a barcode or ISBN number you won't be able to sell it. This is how Bonavendi's vendors recognize the DVD that you are trying to sell.
Another note, simply typing in the name of the movie on the site sometimes gives you a variety of options including books and video games because Bonavendi sells those as well.
For the most accuracy, I recommend scanning the barcode with your phone or typing in the ISBN number.
Selling Bulk DVDs
Selling many DVDs at one time is certainly more worth your while. If you simply sell one or two, you might not make the most money for your time depending on their worth.
Bonavendi really becomes profitable if you have an entire collection to sell because they make it very easy to do so, and will give you the best price for each individual item.
Third-party Vendors
Once in a while when an offer is given for an item from a vendor and Bonavendi transfers you to their site, you may have to re-enter some information regarding receiving payment for your item.
This does not happen with every vendor, but it did happen to me once or twice.
Bonavendi offers the same price comparison and convenience for used DVDs with used books, used video games and used CDs.
You may find yourself quickly making money on a variety of used stuff you have lying around the house before you know it.
Where to Sell DVDs Online
We did the research and found you the best sites and platforms to get cash for your used or new DVDs and CDs.
Here they are:
We talk a lot about Decluttr here at MoneyPantry. In fact, I wrote a detailed review of Decluttr that you can read here.
The reason I like this site/app is that it truly is one of the best apps to sell your stuff.
Not only you can sell your used Blu-Ray movies, DVDs and CDs for cash to them, but they also buy your used cell phones, textbooks, tablets and even video game consoles.
Selling through Decluttr is easy and quick.
Enter the barcode of the item you want to sell. The site will give you an instant quote. If you like the price, you can print out a prepaid shipping label that you can use to ship your item to them for free.
You get paid the very next day of the company receiving your item. They pay via PayPal, direct deposit or check. You get to choose which payment method you prefer.
3. SecondSpin
Update: SecondSpin is no longer in business. There is a similar site you can use. It is Second Spin Disk (it has no affiliation to the original SecondSpin company though).
SecondSpin is one of the best sites that buy used DVDs and CDs. As long as your item is in a good condition and a Region 1 or Region Free/All disc, they'll buy it from you and they do pay well.
From what I can see, they accept way more titles compared to other DVD buyback sites.
You can also sell CDs, BluRays and Vinyls.
To find out how much they pay, simply enter the title (whether it's a movie, album or whatever else) or its barcode into the search box. The site will immediately give you a quote.
By the way, you can also trade your DVDs for store credit and use the credit to buy whatever they sell.
If you'd rather get paid in cash, you can choose between PayPal or paper check.
Read my SecondSpin review for tips on how to get the most cash for your stuff.
Eagle Saver is a great buyback site that not only buys your DVDs but also buys books, CDs, BluRays and games.
Here's how the process works:
Step 1: Enter the 10 or 13 digit ISBN code (for books) or the 12 digit UPC (for Audio CDs, DVDs/Blu-rays and Video Games) to get an instant quote.
Step 2: If you like the price, print out the free shipping label that they provide and ship your item.
Step 3: get paid by check or PayPal.
It just can't get any easier than this!
By the way, if you used to collect movie or TV series but no longer are doing that and would rather sell the collection of TV shows you have, Eagle Saver is one of the best places to sell them.
DVDs aren't the only things they buy. They also buy Blu-Rays, CDs, games, and video game consoles.
Just like other buyback sites, all you have to do is enter the UPC barcode into the box to get an instant quote.
If you like the price, print out your free shipping label, ship the item(s) to the company. The company pays you within 3 days of receiving your item(s).
You can choose to be paid via PayPal or paper check.
Now, one thing to keep in mind is that your item needs to be in good condition. If the disc or its case have any scratches, chips or missing pieces in it, they won't pay for it. So before you ship out your item, make sure it meets their requirements.
Ok, I'll admit. Amazon is not the best place to sell DVDs!
So why recommend it?
Well, I'm sure you've noticed a pattern with most buyback sites. Almost all of them only pay for DVDs in good condition. I'm willing to bet you have a few DVDs that at the very least have a few scratches on them. For those items which you can't sell to buyback sites, Amazon is your friend.
You can sell items in any condition on Amazon as long as you detail it in the description of your item listing.
To start selling on Amazon, simply visit the sellers page and follow the steps.
Unfortunately, they have monthly seller fees, so if you only have a few items, I wouldn't recommend it unless you have some rare DVDs that are worth a lot of money.
For the rest of us, there is another option with Amazon (more on that later!).
Wanna see how high you can sell your DVDs for?
Auction it on eBay and sell it to the highest bidder!
I would recommend this if you have collectible and rare item. Selling normal DVDs for a few bucks won't really be profitable when you take into account all the fees you have to pay to eBay.
8. Ziffit: Sell DVDs in Europe
Most of the sites we mentioned in this post focus on people in the U.S.
Ziffit buys DVDs from anyone in England and Ireland.
Simply enter the EAN (European Article Number) if your item and they'll give you an instant quote.
If you like the price, drop it off at a local Collect+ outlet (More on another interesting option later!).
Once they receive the item, you get paid.
You have a few options for getting paid:
Bank transfers
PayPal payments
Cheques
Instant Cash Voucher
Now, here is the interesting part…
If you have a lot of DVDs, they actually will come to your place and pick them up for free! You have to qualify for the free courier service which they'll let you know when you're checking out online.
You can also install their free app for Android or iOS and use it scan barcodes quickly and easily.
Trade Your DVD for Cash or Credit
There are a lot of companies that have Trade-In programs where you can trade your old stuff (usually tech-related products) for cash or store credit.
Now here's the bad news…
Trade-ins are, in most cases, a rip off!
You won't get anywhere near the amount you can get if you have the time and patience to sell your stuff to buyers directly or on buyback sites.
But if for some reason you'd rather trade your DVDs and games for cash or credit, you have a few options.
With the Amazon Trade-In program, you can trade your items for Amazon credit. Unfortunately, the trade-in value is usually lower than if you sold the item yourself.
But there is an upside to trading your DVD for Amazon gift cards. It saves you a lot of time since you don't have to deal with listing your item and trying to sell it yourself.
Once they accept the trade-in, you get paid (your Amazon gift card balance will be credited) within 2 business days. They do offer instant payment for some items.
By the way, you can exchange thousands of items for Amazon gift cards with the Trade-In program, including Amazon Devices, electronics, books, video games and more
Gamestop Trade-In is basically like Amazon Trade-In. You can trade a bunch of items including gaming systems, accessories, tablets, smartphones, retro gaming, and of course DVDs.
Here's how it works:
Click the link above and enter the title of the item you want to sell
The site will instantly give you a Trade Value offer that tells you how much they'll pay you for it in cash or store credit
Print your Trader Value offer and take it to your local store and get the offered cash or credit for your item.
I'm sure you know this but just in case, you always get more value if you accept store credit instead of cash.
For example, I put in "Red Dead Redemption 2" to test it out.
I got this Trade Value offer:
Store Credit: $12.10
Cash: $9.68
If you do buy stuff at Gamestop, then definitely go with the credit so you can get more for your old DVD or DVD set.
By the way, for a few tips on how to increase your trade in value, read my post on Gamestop trade in value.
As you can imagine, they accept anything tech-related including laptops, computers, tablets, phones, speakers and much more. Thankfully, they also accept DVDs, games and movies.
To get started:
Use their online Estimator to get an instant estimate of your trade-in value.
If you accept the offer, register with the Best Buy Trade-In Center and print the prepaid shipping label and ship your items.
They'll email you a Best Buy E-Gift Card within 10 days of receipt of your item.
You can also trade some items online. For examples, you can trade your video games online.
Where Can I Sell DVDs for Cash Near Me
Don't want to deal with the hassle (and shipping cost) of selling DVDs online?
Sell locally!
Here are some of the best places for selling DVDs for cash in person.
12. Used Bookstores
I love used book stores. Sadly with Amazon and so many apps and sites where you can sell used books as well as buy them, they seem to be disappearing.
But if you can find a used book store near you, go check them out. Most used book stores not only buy used books, but they also buy other types of content including DVDs, CDs, video games and movies.
As far as how much you get paid, it depends on what you're selling and whether or not your local store has demand for what you're selling.
Now, if you want to get more bang for your buck and don't mind not getting paid in cash, consider trading your stuff for store credit. Used book stores (and almost all other places) pay much more in the form of store credit for almost any item.
You can use the store credit to buy books or whatever else the store sells. This helps you get more value for your item but it also helps the store as it increases their sales which these days they desperately need.
13. Music Stores
This is another overlooked place. A lot of local music stores do buy DVDs. And the content doesn't always have to be music-related. Many stores also buy films along with albums, concerts and other music-related content.
For example, Amoeba music store (with locations in Los Angeles, San Francisco and Berkeley) pays "top dollar" for what they call "strong and uncommon" titles.
Now, as it is with a lot of these places, you're not gonna get anywhere near the market value (for a brand new item) for your stuff. Amoeba, for instance, says they pay an average between $1 to $7 for most DVDs.
That may not be what you bought the item for or hoped you could sell it for, but if you want quick cash, this is a good option.
Again, if you choose store credit instead of cash payment, you'll get more (around 30% or so).
14. Craigslist
It seriously amazes me how with all these new apps & sites for selling used stuff online and locally, how I can still sell stuff quickly on Craigslist.
If you don't want to deal with shipping fees and want to sell your DVD for cash instantly, CL is the way to go.
You don't have to spend a penny on listing or shipping fees.
Take a few pictures of your item, add the description, give your listing a good title and wait for potential buyers to contact you.
Once you agree on a price, meet the buyer in a safe (preferably public place) and exchange your DVD for cash.
15. Facebook
A lot of people tend to overlook Facebook and especially local Facebook groups. Facebook is a great place to sell not just DVDs but all kinds of used and new items.
You can list your item for free. The best part is that you can even share your listing page with your friends and family so you get eyes on your listing right away.
16. Yard Sales
Want to sell your DVDs without leaving your house but don't want to necessarily do it online?
Have a yard sale or a garage sale!
Read our post on how to have successful yard sale and maximize the amount of money you can get for each item.
17. Google
Ok, let me explain!
I'm not suggesting you sell your DVD to Google. What I am saying is that you can use Google to find people and stores that buy used DVDs in your area.
All you have to do is search on Google using a few search terms and keywords.
Examples:
"who buys used DVDs near me"
"pawn shops near me that buy DVDs"
"places that buy used DVDs"
Wouldn't that just bring up results for online stores?
No! You see, by using terms like "near me", "in person" or "locally" you are telling Google to only show you results that mention people and places that are around where you live (yes, Google automatically knows what state and city you live in, but that's another discussion altogether!).s
18. Pawn Shops
This should really be your last resort.
Why?
Ask yourself this, "how much do pawn shops pay for DVDs?"
Pawnshops are notorious for underpaying for stuff. And it applies to anything you try to sell to them. I mean, they have to, in order to make money.
I am just listing it here because it's an option. But unless you have no other choice or have a very rare and collectible item that you know its true value, don't waste your time, unless you want to practically give your stuff away for free!
19. Use Apps
There are also a lot of apps that aren't buyback platforms but are like Craigslist. You can use apps like OfferUp and LetGo to sell movies and DVDs to local buyers.
All you have to do is snap a picture of your item, add a little description and list it.
We have a big list of some of the best apps to sell stuff locally, so be sure to check it out.
So, Where Do I Sell My DVDs?
Well, as you can see, there are a lot of options. And based on your needs some may be better than the others.
Consider how many DVDs you have, whether they are rare or collectible items and whether you want to sell in person or online and choose the place that best matches your situation and sell your DVDs to them for the most money.