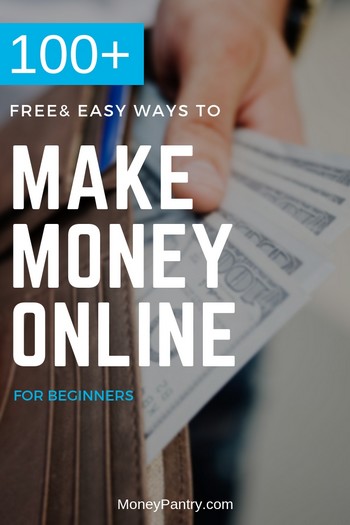 "Are there free ways to make money online?"
That's the very first question I asked myself when I first heard people talking about making money on the Internet.
And to my surprise, the answer was a big YES!
There are tons of ways you can make money right from your living room and in your pajamas without spending a dime.
Are you gonna get rich?
Want $5 Free?
Join InboxDollars for free. InboxDollars pays you to watch videos, search, shop, take surveys, and more. They have paid out $57 Million so far!

Hell, no!
But can you make some extra cash to pay a bill here and there or get a few free gift cards?
Of course, you can!
How to Make Money Online without Paying Anything
If you're looking for real, legit and honest ways of making extra money online without any investment, try some of these free online money making opportunities.
Teach English Online
With a site like VIPKID, you don't need to go looking for paying students.
This site is a huge platform dedicated to chines students who want to learn English.
As a teacher, you can set your own schedule and teach from anywhere you like.
It just can't get any easier and better than this.
Get Paid to Review Products
Sign up with Vindale Research for free and get paid up to $75 per review.
These can be anything from financial products to websites, online services, and almost anything you can think of.
There are a few sites like this one, but Vindale is by far the best one out there.
Sadly, they only accept members from the U.S.
Sell Old Books
BookScouter: If you are a bookworm like me, you probably have a few hundred (if not thousand) books gathering dust in your basement.
There is an easy way to turn those old books into cash.
Simply visit BookScouter and enter the ISBN number of any book you want to sell.
It will instantly search over 40 book-buying websites to find you the site that pays the most for your book.
Need Extra Cash for Free? If you like getting paid for surveys, and are going to join only one site, I would recommend you choose Ipsos-iSay. Ipsos is the most fun and well-paying panel. Give it a try to see how you like it. It is free anyway!

Wanna turn it into a nice side hustle?
Here's what you can do:
Online Rewards Sites
Just like many big credit card companies that reward you with cash back and points, there are websites that also do that.
They are known as GPT (Get Paid To) sites.
But unlike with the credit card reward programs, you earn points in more ways than just shopping – taking surveys, answering polls and quizzes, playing games, signing up for newsletters, visiting websites, etc.
Of course, scammers have infiltrated this area too. They set up fake GPT sites, get paid from their advertisers from your activities, but when it comes to paying you, they don't!
That's why it's important to do your research before joining any online rewards site.
Thankfully, there are tons of legitimate and paying rewards sites out there.
Here are a few:
Get Paid to Read Emails
Ok, I know it sounds very fishy.
I mean, who would pay you to read emails, right?…
Well, here is how it works…
Advertisers pay sites like InboxDollars to send traffic to their site.
In order to get you to visit the advertiser's website, InboxDollars shares some of the money they get from the advertiser with you.
Now, they send traffic to the advertiser's website in a variety of ways, but one way they do it is through "Paid emails".
They send you an email that is basically an ad promoting a particular product or service (sometimes even with a coupon or discount code for you), you click on the link in the email, your account gets credited a few cents regardless of whether or not you actually bought something from the advertiser's website.
You are paid just for clicking the link in the email.
I know you've probably read or seen ads online promising $3000 paychecks from reading emails, but that's all BS.
The truth is you won't be making much.
Most paid emails pay just a few cents.
I use InboxDollars myself and their paid emails are worth $0.5 each.
You usually get 2-3 paid emails a day.
But that's not it with these kinds of sites.
They also have many other ways for you to earn money, like shopping, playing games, taking surveys, etc.
So, they are a kind of online reward site, but they also pay you to read emails.
Mixed Bag
Here are a few ways to earn extra money that wouldn't fit into a category of their own.
Start a Free Blog
Setting up a free blog may be easy and quick, but let's be clear, there is nothing easy and quick about making money with a blog, whether a free blog or one you pay for.
It takes a lot of hard work and dedication to drive enough traffic to your blog to make any decent money.
But, if you can manage to build a popular blog, you can easily hit a few thousand dollars a month.
My first blog, BlogStash.com, started on Blogger as satrapmakesmoney.blogspot.com.
I worked day and night on that blog while keeping two full-time offline jobs.
Finally, my hard work paid off.
After almost a year of satrapmakesmoney.blogspot.com being live, the traffic I was receiving was making me enough money that it persuaded me to get my own domain and hosting, so I could be in full control.
So, I bought a domain – BlogStash.com – and in 2009 moved the blog there.
The traffic kept growing. At the highest point, I was making over $7,000 a month from BlogStash.
It's been a few years now, the traffic has gone down a bit, plus I am busy with this and a few other sites, so it doesn't earn as much as it used to, but BlogStash still continues to make me money month after month.
I haven't counted the exact number, but from my PayPal and bank account statements, I can say, till date I've made over $100,000 with BlogStash.
Yes, $100K in about 3 years, all while keeping my two daytime jobs!
You know the best part?…
It's almost entirely passive income now since I really don't have to do much anymore, except for publishing a post every week or so.
I am not telling you this to brag, I am just trying to show you that it is possible.
But it wasn't always easy, though.
In the first two years, especially, I really did work hard. I mean I spent every spare minute I had after getting off work, working on this site, writing content, promoting it, driving traffic and so on.
But it paid off and it still is paying off!
I guess what I am trying to say is that despite what you may hear online, making money with a blog is not as easy as setting up a blog and posting to it every day. It takes hard work, dedication, and most importantly, patience.
Also, if you use free blog sites to build a blog, as soon as you can afford it, get your own domain and hosting and move it there. You don't want your blog being deleted and not be able to do anything about it.
I have heard countless stories from people who worked for years on a Blogspot blog, only to have it deleted by Google (who owns Blogspot) in an instant.
So, if you can afford it, I recommend you get your own domain name and a hosting account, so you can have full control over your business.
Build your site, get it online in minutes with Drag & Drop Builder site
If you don't know how to build a site, what hosting is and all the other technical stuff, you can use a site builder company like WebsiteBuilder.com.
They have an easy drag and drop builder that lets you build a professional looking sites in less than 5 minutes for free.

You can also upgrade and pay $5.99 a month which is already cheap compared to other services. But the best part is that they also give you a free domain name and host your website for you.
It really can't get any easier and cheaper than this.
Free Platforms
Now, if you can't afford that, or want to use one of the popular free blogging platforms, here are some of the best free blogging sites that you can use to get started:
Phone Apps
App popularity has exploded in the last few years.
And while there are thousands of apps out there that will make it easy for you to shop and spend your money, there are a few apps that make you money.
Get Paid to Answer Questions & Give Advice
"Knowledge is power"!
We've all heard that. But knowledge can also earn you money.
If you are an expert on just about anything, you can put it to good use by earning money by sharing your knowledge and expertise with others through the following sites:
Freelance Gigs
One of the best ways to earn an income working from home and online is through freelancing. Perhaps the best part about becoming a paid freelancer is that you don't need to invest any money to get started.
All you need is a specific skill or a specific set of skills, your computer, and your willingness to work and deliver.
If that interests you, here are some of the best-trusted freelancing sites you can sign up with in order to get started:
Write Articles
Writing articles is a great way to put some cash in your pocket. The Internet is made of websites and websites are made of content, which means there will always be a demand for writers who can produce content.
Paid to Click
I am not personally a big fan of this because I have been scammed and robbed of my earnings many times years ago, and because there are way more scam sites here than there are legit ones.
Basically, you are paid to click on their advertiser's ads.
Some ads may get you a few cents, but usually, it's less than a cent.
They say the only way to really make anything decent with paid to click (or PTC) sites is to refer hundreds of people since you earn a percentage of your referral's earnings.
Either way, I personally think its a waste of time, but in the spirit of listing any free money making idea I can think of, I am going to list a few legit and really well-known PTC sites.
Affiliate Marketing
Another free way to earn money on the web is through affiliate marketing. Having a website or blog of your own is a plus here, but even if you don't have a website, you can still publish articles on sites like HubPages and earn affiliate income by displaying Amazon ads.
If you do have your own website or blog, all you need to do is sign up with a few affiliate networks, choose a few quality related products, and start promoting them on your site. You could either place banner ads or use contextual links for this.
Interested?…
Here are some of the better affiliate networks I myself have been using for the last 5-6 years:
Micro Jobs
Lately, micro job sites have been popping up everywhere, especially after the huge success of the first big site of its kind, Fiverr.
This is pretty similar to freelancing, but often jobs or "gigs" are smaller than what you would find on major freelancing sites.
But what makes micro freelancing sites like Fiverr very appealing is that it's not limited to graphic designers, writers, and computer gigs. You can offer almost any kind of service and make money with it. For example, on Fiverr, there is a guy who has made over $100,000 by making tough decisions for people, charging each $5.
Check out these micro freelancing sites if you are interested:
Revenue Sharing
Revenue sharing is a very clever concept that many companies have adopted. Basically, you sign up with a site, publish content (article, video, eBook, etc), the site displays ads with your content, then the earning from the ad is shared with you.
Some sites split the profit half and half, others give you 70%, and there are a few that let you keep 95% of the earnings.
This is a great way to supplement your income without having to worry about building and maintaining a website, promoting it, driving traffic, etc. All you need to do is create and submit your content. And since most of these sites are usually huge and popular, you don't have to do much to get traffic to your content.
The flip side here is that you are building a business on someone else's land. If one day they decide to close the shop, all your hard work (i.e. content) is gone.
There are some who say it's best t put content on your own site, so you can have a website of your own with lots of content in the long run. But again, if you don't want to deal with building and maintaining a website, working with revenue sharing sites is a great option.
Market Research ( Online Focus Groups)
Businesses are always in search of ideas for product improvement and new products that will blow the market away.
If you belong to a certain demographic group or live in a particular area, opportunities are aplenty if you make yourself available for such studies and focus groups for these market research companies.
Focus groups are usually conducted locally in a physical location, thus, you have to live in close proximity to be able to participate. But, there are some sites that conduct online focus groups as well.
Sell Designs
Thanks to the internet and the sites mentioned below, you don't have to be a famous designer to put your stamp on products. Anyone and I mean anyone, can earn money with this.
All you need to do is sign up with a site like CafePress, upload a design you have created, decide which items you want the design to go on (i.e. T-shirts, hats, mugs, etc), and make money selling them.
The best part about this is that you don't even have to ever touch the actual product, nor do you have to spend a dime on manufacturing these products. They do all the work for you. You just upload the design, choose the items you want your design to be on, and they'll handle the rest (i.e. manufacturing, payment, shipping, and handling, returns…).
Stock Photography
Another legit and scam free way to make money is through stock photography. Hundreds and thousands of new blogs and websites are born every day, and all these sites need pictures. And most of them use stock photography sites to find quality and inexpensive images.
You don't have to be a professional to do this. As long as you can take decent pictures, you can upload them to any of the sites mentioned below, then every time someone buys one of them, you earn money.
The best part is that 1 picture can be sold over and over again. So, imagine if you have 100-200 popular pictures on one of these sites!
Get Paid to Tweet
OK, let me be brutally honest here, if you think somebody is going to pay you $5000 to tweet an ad to your few hundred followers, you're going to be disappointed.
Sure, people do get paid big bucks for tweeting, but they are usually famous folks who have a great deal of influence on their massive number of followers.
Having said that, businesses are starting to realize that the average consumer is more likely to buy something if they hear it from their own friends and family. Which is why the sites mentioned below are now making it possible for the average tweet user to make a few bucks from tweet ads.
Sell Unused Items
Perhaps the one to make money effortlessly is to simply part away with items that you no longer need. Currently, it makes sense to me as I am planning to move from the east to the west coast. This allows me to make my move a lot easier as it earns me some pocket money.
Paid Surveys
Like focus groups, online surveys are also conducted on behalf of manufacturers and companies to gather feedback from consumers about their products and services.
Sadly, the paid survey industry is full of scams.
So, you have to really be careful with this.
A good rule of thumb is that all legit survey sites are free to join.
So, if a site asks you for sign up fee, it's either a scam or not an actual survey site but a database of survey sites basically charging you a fee for access to their list of survey sites (which b the way can be found online for free).
I have actually started my online money making journey with paid surveys about 8 years ago or so. So I do have a lot of experience, which is why I have actually created my own paid survey review site, SurveySatrap.com, where I tell you which sites are legit and pay, and which are scams.
You can check SurveySatrap for a bigger list of legit paid survey sites, but for now here are a few top survey panels I have gotten paid by numerous times over the years:
Wrapping up
Whew…
that was more than 4500 words. Yes, my fingers are very tired. I hope it was worth it and you guys did enjoy this post.
More importantly, I truly hope everyone who reads this post, finds at least one fitting money making option that they can use to supplement their income.
If not, I am sorry, but I promise that I will update this post regularly, adding new options as I come across them.
A Request:
I spent quite a lot of time researching and writing this post, hoping it would help those looking for truly free ways of making money online without worrying about getting scammed.
If it has helped you and you enjoyed it, I would truly appreciate it if you would spread the word and share it with your friends and family, on social media sites, etc.
If you look up, there are a few share buttons you can use to quickly share this post on your favorite social media sites. Thanks.
Your Turn
I would love to hear from you. Let me know what you think of these options, or if you found one that you really like.
Also, if you know of any other truly legit and free ways of earning extra money online, please feel free to leave a comment below and I will add it to the list with your name.