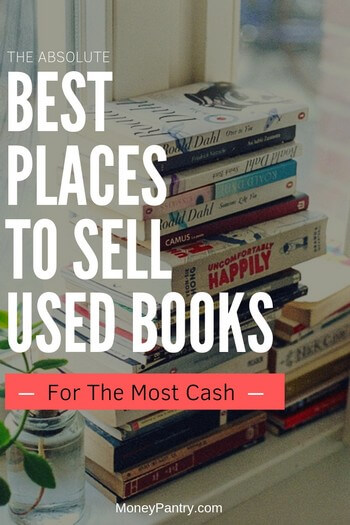 "What is the best place to sell used books for cash online?"
If you're an avid reader with bookshelves full of books, you probably wondered about selling books online as a way to make some extra cash.
Books give you knowledge. And as Lord Petyr Baelish (Little Finger) of GOT once said, "Knowledge is Power!".
But besides the few favorites that you love and perhaps go back to from time to time, the rest of these books are just gathering dust.
Well, dust them off, sell them, and make some cash in the process!
There are tons of places on the internet where you can sell those paperbacks and hardbacks that you no longer read.
Need Easy Extra $300+/Month for Free?
KashKick
: Get paid directly into your PayPal for watching videos, surfing, shopping and more.
Join KashKick Now!
InboxDollars
: Paid over $57 Million to members to watch videos, take surveys, shop and more.
Get $5 instantly!
Branded Surveys
: Get $1 instantly just for joining for free. Plus get paid within 48 hours by PayPal!
Join Branded Surveys
First Opinion
: Get paid up to $10 per survey and $300 per virtual focus groups!
Join Now!
Swagbucks
: Get paid to watch videos, shop online, take surveys and more.
Join now & get $10 instantly!
In this post, we list the best places where you can trade in your old books for cash.
But, before we get started on the list…
Should You Sell Books Online or in Person?
You might be wondering if you can get more money if you sell your old books in person, or in a local store.
For the most part, we'd suggest selling online.
The main reason for this is that places online that buy your books tend to have fewer overheads.
And, as a result, it means that they can offer you more money than a brick-and-mortar place.
Of, course this isn't always the case.
We're not going to say that you'll definitely get more selling to an online place, rather than a local place.
But, in many cases, you'll get more money for selling books online, rather than in person.
Where to Sell Your Books Online
When it comes to selling books online, there are two main ways to do it.
Buyback sites: With these websites, you enter the name of the book you want to sell, and you get a quote. If you like the quote, you ship your books to the company and get paid. This is the easiest way to sell books and the best method if you want to get cash quickly.
Online marketplaces: With these websites, you list your books for sale, and then wait for customers to buy them. This method takes longer than the one above. But, since you can set your own prices for your books, it gives you more control over how much money you earn.
Which one you choose, really comes down to a matter of personal preference.
If you'd prefer to set your own price for the books you want to sell, and don't mind waiting for the cash, then online marketplaces, like Craigslist and eBay, can be a good option.
However, if you want cash quickly, then you're better off going with buyback sites. They make it so easy to get cash for your used books!
Top Sites to Get Cash for Your Books
Below, we list the top book buyback websites and online marketplaces where you can sell used books.
Our list mostly includes buyback websites, because there are more of them out there than online marketplaces that cater to books.
We've also included a couple of places though where you can list books for sale.
1. Book Scouter
I love this website!
You simply enter the ISBN of the book, then BookScouter searches over 40 different buyer sites to find the ones that will pay the highest amount for your book.
They are especially well known for buying and selling textbooks.
If you don't have the time to compare prices on different sites one by one to find out which one pays the most money for old books, BookScouter should be your number one choice.
Still not convinced? Read my BookScouter review for more reasons why you should always check with BookScouter first.
2. Cash4Books
Cash4Books operates differently from the above-mentioned site.
Instead of creating a marketplace to make your used books available to potential buyers, they will buy them directly from you.
However, they don't just buy any book. They have to meet certain conditions.
To find out if your book meets their criteria, simply enter the ISBN of the book in the provided search box and hit enter.
You are then given an offer for the book (assuming they want it.)
If you like the offer and want to sell it for their price, they'll send you a prepaid shipping label that you can use to ship the book to them.
Once they receive the book, they'll inspect it and if approved, they'll send you the payment via PayPal or by check, depending on your preference.
Read my Cash4Books review for more details and tips on getting more money for your used books.
3. Sell Back Your Book
Sell Back Your Book works similar to Cash4Books.
Enter the ISBN and get an instant quote.
They also have a set of standards for the kind of books they buy.
Here are the kind of books they don't buy:
Advanced Readers Copies
Review Copies
Items with no ISBN anywhere on the book
Offensive and explicit material.
Incomplete sets (volume 1 of a 2 book set etc…)
Encyclopedia Sets
They do buy textbooks as well except the following kind:
Instructors Editions
Annotated Instructor Editions
Teachers Editions
What I personally like about this one is the Bulk ISBN option.
If you have a lot of books, it can get tedious to enter one ISBN, hit enter, get a price, then go through the whole thing over and over again for every single book.
With the bulk ISBN option, you can enter as many ISBN as you like and get an instant quote for each one at once.
They also have apps that make it extremely easy to sell your books for the highest price.
Instead of entering ISBN(s), you simply scan it with the app. This can speed things up immensely.
4. Amazon.com
Although Amazon is the biggest and most well-known site for selling all kinds of books, I personally think you get much less for your books than other sites on this list.
That said, Amazon is a trusted platform with hundreds of thousands of potential buyers.
So you may have a much better chance of selling your book faster than any other place.
And even though generally books may be sold for less, this is Amazon after all. People do pay much more for the same items just because it's on Amazon.
So it wouldn't hurt to list your book(s) there.
As a rule of thumb, I would only list books in mint conditions on Amazon.
Amazon Trade-In
There is another way to get rid of your old books (as well as some electronic devices) on Amazon and that's through the Amazon Trade-In program.
Unfortunately, you won't get cash for your books. Instead, Amazon will pay you via Amazon gift card codes. So if you do shop on Amazon a lot and would like to get Amazon gift cards, this isn't a bad option.
5. Blue Rectangle
Blue Rectangle is like these book buying websites mentioned earlier, but with even more flexibility.
You still need to check if they want your book in the first place.
The rest of the process is similar.
They also offer check or PayPal payments.
6. CKY Books
Another website that buys books directly from you is CKY Books.
Their range is more diverse, from fictional to non-fictional, religious books to textbooks, self-help books to travel books, and much more.
They also cover the shipping costs.
Paid via PayPal or Check.
You can also sell movies, games, and DVDs here.
7.  Paperback Swap
This website is designed for book owners to exchange their books.
You list the books that you are ready to swap and wait for an interested buyer.
You will get credit after you send that particular book out to that buyer.
You can use the credit you earned to get a free book put up by other sellers.
8.  Comic Book Classifieds
Got comic books you want to sell?
Sell on Craigslist of comic books!
This awesome comic book classified has been around since 1998.
It has been featured on tons of sites.
This is one of those sites where you can sell book worth a few dollars to books worth hundreds and even thousands of dollars.
9. Decluttr
Decluttr is a great website for selling used books.
You can also sell CDs, used phones, tablets, games, and DVDs on there.
So if you're looking to get rid of a lot of stuff, then this is a good place to do so.
You sell your stuff directly to Decluttr – which means no waiting around for a customer to buy it!
Just visit the website, and select the "sell CDS, DVDs, games & books" tab above the search bar.
Then, enter the barcode of the book that you want to sell.
Decluttr will give you a quote for the book.
There's also an app available:
The Decluttr app is actually one of the best apps for selling stuff locally and online.
The app is handy because you can use it to scan barcodes. This saves you the time of having to enter the barcode for each book that you're going to sell. If you plan to sell a lot of books, then the app is a real time-saver!
Pro tip: Read my Decluttr review for tips on how to get the most out of it.
If you are happy with the offer for the books, you can ship your items to Decluttr, for free!
10. BookFinder.com
BookFinder.com works in a very similar way to Book Scouter. So you use it to compare prices from different buyback vendors.
The layout and design of the website are much clunkier than that of Book Scouter.
So we don't recommend it as highly.
But, it's still worth doing a quick look on BookFinder to compare its offers to those featured on BookScouter.
It's a handy site for finding the highest buyback prices.
And, it's been around since 1997 and has been featured by the New York Times, Newsweek, and Forbes.
11. Craigslist
While there are tons of sites similar to Craigslist out there, CL is still one of the best sites to sell stuff locally.
If you'd prefer to set your own prices for the books you plan to sell, then check out Craigslist.
You can put up a listing and sell your unwanted books to people in your area.
Of course, you may need to meet up with the buyer in person or pay to ship the books to the buyer.
How to Sell Textbooks Online
Above, we've mentioned tons of great places where you can sell books for cash online.
While you can also sell textbooks to the places we mentioned above, in this section, we're going to list websites and apps that are particularly good for selling textbooks.
Textbooks are a huge cost for students – so wouldn't it be great if you could get some of that cashback?
Well, you can!
You can sell your textbooks online, and recoup some of the money you spent on them.
Like with regular books, when it comes to selling textbooks, there are two main ways to do it:
Buyback websites
Online marketplaces
We discussed both of these selling options above.
So they work in pretty much the same way for textbooks.
If you have a textbook to sell, you can list it for sale or sell it directly to buyback websites for some quick cash.
Let's take a look at the places where you can sell textbooks online.
12.  Bookbyte
Bookbyte has been around since 1999, mainly focusing on helping college students buy, sell and rent textbooks cheaply.
All you need is either the title of the textbook or the ISBN.
Enter either of those two in the "sell" search bar to get an instant offer.
If you like the price, click "Continue Sale" and complete the process.
They'll then email you a (prepaid) shipping label you can print out.
Once they get the book(s) you get paid via Check or PayPal, your choice.
13. Textbook Buyer
The website has a reputation associated with buying used textbooks for the past 10 years.
The company has been featured in the Wall Street Journal, and the Good Housekeeping Magazine.
It is much heralded for its fair pricing policy, free shipping, and fast payment.
In addition to used textbooks, they also buy new textbooks at special prices.
14. Chegg
Sell your old textbooks online with Chegg.
Visit the website, enter your book's ISBN number, and you'll get an instant quote for your textbooks.
If you like the quote, then just print out your free shipping label, and mail it to Chegg. Once Chegg receives your books, you'll get paid.
15. TextbookRush
This is another website where you can sell your unwanted textbooks for cash online.
Just enter the ISBN of the book you want to sell – or you can enter multiple ISBNs if you have a lot of books to sell – to get an offer.
If you're happy with the offer, then you can ship your books to TextbookRush.
It's free to do, as the company gives you a prepaid shipping label.
You get paid in cash, through PayPal, or in store credit.
16. FirstClassBooks.com
Visit FirstClassBooks.com, enter the ISBN of the textbooks you want to sell, click on the "Check Prices" button, and you'll get a quote for each book.
You can get paid through PayPal or check. After receiving your textbooks, FirstClassBooks.com will usually send payment within two business days.
If you decide to sell your textbooks to the company, then you can ship your books for free. The website provides prepaid FedEx or USPS shipping labels.
17. ValoreBooks
To sell your textbooks to ValoreBooks, visit the website, and enter the ISBN of the books you want to sell.
You can enter multiple ISBNs into the box, then click on "Get Price Quote" and you'll get a quote for all of the books that you plan to sell.
If you have a lot of books, then this is really handy.
You'll get an instant quote. If you're happy with the quote, then you can ship your items to ValoreBooks for free.
Payment is sent by check or through PayPal.
18. Barnes & Noble
A lot of people don't realize that popular book chain Barnes & Noble buys textbooks.
It's definitely worth checking out.
You'll need to have at least $10 worth of books to sell in order to sell to Barnes & Noble.
To get a quote for your books, just enter their ISBN.
Unfortunately, Barnes & Noble only allows you to enter one ISBN at a time. If you have a lot of books to sell, then this can take up some extra time.
If you decide you like the offer you get, you can ship your books to Barnes & Noble, and get paid.
19. CampusBooks
CampusBooks works in a similar way to BookScouter. With it, you can compare the prices of textbooks offered by different buyback vendors.
While BookScouter is designed for regular books and textbooks, the focus of CampusBooks is solely on textbooks.
You can enter the name of the textbook you want to sell into the search bar. Or you can search for titles using the ISBN to ensure that you are quoted the correct buyback price on the specific book and edition that you are selling.
20. Textbook Recycling
Get paid for your unwanted textbooks with Textbook Recycling.
Just visit the website, and enter the ISBN for the book that you want to sell.
With Textbook Recycling, you can enter multiple ISBNs. So if you have a lot of books to sell, then this is really handy.
Once you've entered the ISBN, you will get an instant quote for your books.
If you like the offer, then you can ship your books to Textbook Recycling. Shipping is free, depending on the value of your order.
In order to qualify for free shipping, your buyback order value must be at least $50. If the final buyback order value is less than $50 after processing, the site says it reserves the right to charge a $3.95 shipping and handling fee against the buyback total.
Also, in each order, the website only accepts a maximum of 10 low value books – those that are less than $5 in value.
21. Student2Student
This is an interesting website that cuts out the middleman, allowing students to buy and sell textbooks directly from one another.
You can sell books to students on-campus.
It's sort of like Craigslist, but it's specifically aimed at college students who are looking to buy and sell college textbooks.
Just enter the ISBN of the book that you want to sell to get started.
If you don't want to sell to students on-campus, you can also compare textbook prices at different online buyback vendors.
So when you enter your book's ISBN, you'll get both online and local selling options.
22. eBay
If you have textbooks to sell, then you could consider listing them for sale on eBay.
There is no listing fee – up to 50 items!
However, you may be charged other fees, so do keep that in mind when pricing your books.
What's good about eBay is that since it's a hugely popular website, it's likely that a customer will see your books and buy them.
If you don't need cash quickly, then consider using eBay to sell your unwanted textbooks.
How Can I Sell Used Books for Cash Near Me?
This is a common question that people have about selling their books.
It's the same with textbooks – a lot of people ask, "how can I sell textbooks near me?"
Above, we mentioned that you often get the most money by selling books online, rather than in-person.
But, selling books online isn't for everyone.
Sometimes you might not want the hassle of having to ship your books to the buyback vendor or customer who purchased them online.
You might just want to sell your books and get money on the spot.
If you would prefer to sell used books in-store, then check out the following places.
23. Half Price Books
This is a company that buys used books and textbooks.
If you're wondering, "where can I sell books near me?" then this is a great option.
Just take your books to your nearest Half Price Books store. If the store is interested in buying the books, then you'll get a quote for them.
If you like the quote, then you can accept it, and you'll get paid in cash.
It's a good way to get money for books quickly.
24. Powell's Books
If you want to sell books locally, then check out Powell's books.
It only features stores in the Portland, Oregon area. So if you live nearby, you can sell your books to one of its stores.
Take the books to the used book counter at your nearest Powell's Books store, and if the store is interested, then you'll get an offer for them.
You'll get cash or store credit.
Powell's Books does also allow you to sell your books online. You'll just need to enter the ISBN of each book that you're selling, and you'll get a quote.
If you like the quote, then you can ship your books to Powell's for free – as the retailer pays for shipping.
Payment is sent to your PayPal account.
25. Used Bookstores
Another option for selling books in-person is your local used bookstores.
Used bookstores and thrift stores may buy unwanted books from you.
Just call them and ask if they buy books. If they do, then take them into the store, and make some money!
Do a search online for local used bookstores and thrift stores near you, and contact a few of them about selling your books.
There are also book store directories you can use to find used book stores near you. Here are a few to get you started:
All you have to do is enter your city or zip code hit "search". The site then will bring up all the book shops near you with their contact info and address.
How to Make Money Buying & Selling Used Books
To make the most money selling used books, the first step is to get a book either for free or for an enough of a low price that you can profit from it by selling it.
Thankfully, there are tons of ways you can get your hands on free or very cheap books.
Here are some ways you can do that…
1. Friends and Family
If you decide to try selling books to make some money, you need to find places to get them.
One of the most obvious places is your own bookshelves and those of your friends and family.
Let friends know that you want to rescue their books, as some people simply throw them in the trash when they're finished.
You're not likely to find any high-value or rare books this way, but it should get you started.
2. Yard Sales
Yard sales are a useful source of cheap books.
Often you will get a box of books for a low price, or even free if you buy something else at the sale.
Some people watch out for rare and nice condition books at yard sales, but generally, books are not a big seller so you can build up your inventory cheaply.
3. Estate Sales
You can find a lot of books for sale at estate sales.
Some of them may be rare and collectible, and therefore not very cheap, but if the deceased was an avid reader the estate will have many books to dispose of and may offer them in bulk.
4. Libraries
Watch out for your local library having a book sale.
Periodically, libraries sell off books that no longer seem to be popular.
Some are simply worn out, and therefore not worth buying for resale, but others that never caught on may be in good condition.
Libraries have to sell the old stock so that they can make room on their shelves for the never-ceasing supply of new books.
You can also look in your local library to see if they have a book swap box. Some libraries encourage their readers to drop off books they've finished with into a communal swap bin. People swap books out on an honor basis, so you should be prepared to give a book that you can't sell in exchange for another.
5. Bookstores
In a similar way, bookstores often have a shelf of books that they are selling at a discount, perhaps for $.25 each, because they need to make way for new books on their shelves.
Just because they have decided the books need to be sold off, doesn't mean that they are not worth something to you.
6. Charity and Thrift Stores
It is worth checking in your local charity and thrift stores to see what books they have.
The price charged for them can vary, and they may not be worth buying, but it's worth having a look to see if you can find a bargain.
7. Abandoned Books
If you keep your eyes open, you may well find books abandoned in many public places, such as on park benches or in the seat pocket on an airplane.
Some people don't like to simply throw them away and hope that someone else will find them and make use of them. That person may as well be you.
A source of potentially higher value books is the college dumpster at the end of the Term.
Academic books are in high demand, but some students don't have time or can't be bothered to find buyers for them.
Others will sell them back to the campus bookstore for recycling to new students, but the amount that the bookstore pays is usually much less than the book's value, which makes the exercise hardly worth it.
8. Publishers
Surprisingly, you may find that you can get free books from publishers.
Publishers are always looking for reviewers, and while they may prefer professional reviewers, they send some review copies out to members of the public too who apply.
For example, Bethany House has a program called Bethany House Blogger Review Program where they give free books to bloggers in exchange for reviews.
You can find out about their policy by checking each publisher's website.
Note that sometimes books are marked as review copy only, and technically can't be sold. But you may be lucky and get a market ready copy.
Of course, you should do your part of the deal, and read and review the book before offering it for sale.
9. Book of the Month Clubs
Book-of-the-Month Clubs often attract new readers by offering a dozen or so books free of charge when they sign up.
You need to check the small print, as sometimes there is a commitment, such as buying one or two more books during the first year of membership, but even then you will find this is a cheap source of books.
10. Craigslist
Craigslist is one of the best sources for finding all kinds of free or cheap stuff, including free books.
Simply keep an eye on the "Free" section of your local Craigslist for people posting ads where they want to get rid of old books.
Selling Books Online: Summary
As you can see, there are so many places where you can sell your used books.
These buyback websites make selling used books so easy as well!
You just enter a few numbers, get a quote, ship your stuff for free, and get paid.
Try one of our best places to sell used books for cash online, and start making money from your unwanted books!
And if you have any experience with selling used books, or know of a great website for selling them that we haven't included in our list, then please share it with us in the comments section below.