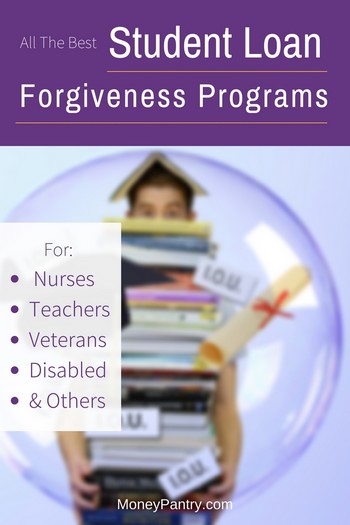 If you're as bright as we think you are, you went to school to get smarter, not to retire in debt.
You can apply that intelligence now.
For this post, we looked high and low and found many great student loan forgiveness programs that cover a variety of situations.
Don't feel alone though!
Forbes.com reports:
"Student loan debt is now the second highest consumer debt category—behind only mortgage debt—and higher than both credit cards and auto loans."
Need Easy Extra $300+/Month for Free?
KashKick
: Get paid directly into your PayPal for watching videos, surfing, shopping and more.
Join KashKick Now!
InboxDollars
: Paid over $57 Million to members to watch videos, take surveys, shop and more.
Get $5 instantly!
Branded Surveys
: Get $1 instantly just for joining for free. Plus get paid within 48 hours by PayPal!
Join Branded Surveys
First Opinion
: Get paid up to $10 per survey and $300 per virtual focus groups!
Join Now!
Swagbucks
: Get paid to watch videos, shop online, take surveys and more.
Join now & get $10 instantly!
It is unfortunate that getting an education is that expensive these days.
Some of us end up dealing with student loan debts for decades and in some cases, for the rest of our lives.
Thankfully, there is some good news…
There are programs that – depending on your unique situation – can help you get rid of that debt!
Let's see if we can find one that can help you.

7 Things to know about SLFs
Before you start looking for a student loan forgiveness program, you should know a few things.
Here are a few important things you need to keep in mind:
1. Find what applies to you!
If you're just starting to look for relief from student loans, you have just tapped into numerous options!
If you have been at this a while, you still may be pleasantly surprised.
The trick is to identify options that apply to you..
2. Think of yourself in as many ways as you can as you search for forgiveness programs.
For instance:
Do you work in a public service job? Or for a not-for-profit (501(c)(3) organization?
What field or profession are you in?
Nursing?
Teaching?
Law?
Automotive manufacturing or related work?
In what state did you attend college?
Did you attend a college or university that closed while attending or soon after you withdrew?
Whether the school closed for innocent reasons or was "busted" for fraudulent practices, there may be help for you.
Are you a veteran?
Are you disabled?
Maybe disabled and veteran?
What kind of loan did you get? Federally funded or Private?
Did you get a loan that shouldn't' have been authorized to you or for you in the first place?
Keep brainstorming! You might surprise yourself. And your bank account.
3. Don't be surprised if you see overlapping forgiveness programs.
For instance, a wide range of professions can hold public service careers. So, whether you tap into, say, professional, regional, or veteran's resources, more than one may direct you to a central assistance plan or government office.
Hey! Forgiveness is forgiveness.
It's better to learn twice of a plan that relieves your burden than not at all, right?
4. Beware of scams
There are tons of companies out there that claim to rid your life of student loan worries.
They may call it "consolidation" or "forgiveness" or other things.
If you have a federal student loan, a loan servicer with the U.S. Department of Education will help you manage your loan(s) FOR FREE.
They are at: https://studentaid.ed.gov/sa/repay-loans/understand/servicers
There are legitimate companies. But there are frauds, too.
For lists of both, see bright side and dark side near the end.
Even individuals can be fake! They may claim to be authorities on student loan debt and forgiveness but they are not!
The Chronicle of Higher Education outted "Drew Cloud" this year:
"A self-described journalist specializing in student-loan debt—often quoted through major media and online—Cloud does not even exist !!  After extensive efforts to verify his existence, the company that owns The Student Loan Report confirmed to The Chronicle that Cloud was fake."
5. Ask for help when needed
Don't be afraid to ask for help!
Just be careful to ask the right people and organizations, whether government or otherwise.
Many formal, reliable resources are sprinkled herein.
For real, rubber-meeting-the-road comments, go browse subreddits on Reddit. You'll see other folks' actual experiences, mistakes, solutions, headaches, sound tips, regrets, and more—for better or for worse!
6. Don't let the lingo confuse you
"Forgiveness," "discharge," and "cancellation" of loans are essentially the same thing, although they may apply to different circumstances.
You will like this:
They all refer to cancellation of your obligation to repay all or part of what's remaining on your loan principal and interest. (Told you you'd like it.)
OK, if you must know…
Cancellation and forgiveness generally apply when you are no longer obligated to make loan payments due to your job.
Discharge usually applies in special circumstances, like if you become totally and permanently disabled or your school closes.
7. Patience and persistence are virtues. You're going to need them.
Remember, you are dealing with federal bureaucracy in most forgiveness cases.
Complaints, misunderstandings, and unfortunate results abound when millions of people are involved.
For one person's real-world experience—involving ups and downs—check out this 12-minute podcast from the Public Library Association.
Now dive in and keep your chin up!
Public Service Loan Forgiveness Program (PSLF)
If you haven't noticed already in your quest for solvency, PSLF probably appears the most often in your research.
This is one of those forgiveness opportunities that you may qualify for from several directions—regardless of profession or no profession at all.
"Public service" is defined very broadly.
If you work for a federal, state, or local government entity, or for a not-for-profit—501(c)(3)—organization, you should qualify.  The kind of work you do does not matter.
Take a look at this sampling:
Government service at federal, state, or local levels
Military service
Law enforcement, public safety, and emergency management fields
Public health
Education—including in teaching, school libraries, and other education-based services
Public libraries
Public service with the elderly or disabled
Legal services in the public interest
However, if you work for a labor union or a partisan political organization, you're out of luck on this one.
Are you employed by a government or not-for profit organization? If so, you may be about to kiss your loan debt goodbye.
We hope you won't be lonesome when it's gone.
Does PSLF really work?
In February 2018, Agnail shared on Reddit: "Those of us who have feared that PSLF might be a mirage can take some solace that–at least for now–PSLF is real and actual borrowers have begun receiving it."
In April, PeerGyntNorge described problems with the PSLFprogram—primarily delays— but concluded: "My opinion…would be to certify qualifying public/non-profit employment as soon as possible so that you will be in the PSLF program before it is possibly altered or eliminated for new participants."
But PSFL does not work out great for everyone.
Mdwst1811 explained on Reddit:
"I had my loans with DirectLoans until about a year ago when I switched to FedLoan Servicing. At the point of that switch I was informed about needing to be in an income based repayment plan and that none of my payments got the previous 8+ years had qualified."
Note: Only Direct Loans are eligible for PSLF.
PSFL forgives the remaining balance on your Direct Loans:
After you have made 120 qualifying monthly payments under a qualifying repayment plan
Have done so while working full-time for a qualifying employer
This will help many of you, but a word of caution. For a long to qualify for PSFL forgiveness it must be a nondefaulted loan you received under the William D. Ford Federal Direct Loan (Direct Loan) Program.
Unfortunately, if you borrowed before July 1, 2010, you may have used the Federal Family Education Loan (FFEL) Program or gotten a Federal Perkins Loan. They don't qualify.
However, if you consolidate them into a Direct Consolidation Loan, you may be able to establish eligibility with further obligations.
To learn more, go straight to: https://studentaid.ed.gov/sa/repay-loans/forgiveness-cancellation/public-service#eligible-loans
Important
The Consolidated Appropriations Act of 2018 is changing certain conditions.
The Department of Education is assessing this newly enacted law and will explain the new conditions to customers as more details are available. They encourage you to check back periodically.
For more details, including updates on 2018 changes, go to: https://studentaid.ed.gov/sa/repay-loans/forgiveness-cancellation/public-service
Non-For-Profit
If you work for a not-for-profit (501(c)(3) organization, you may be able to unload your student loan.
Please see details in Public Service above.
Field or Profession
These programs are based on your filed or profession.
Student Loan Forgiveness for Nurses, Doctor, Other Medical Professions
If you're in a medical field, you must have noticed that you are in high demand.
You also have loan forgiveness options not available to everyone.
The American Academy of Family Physicians (AAFP) identifies these 5 forgiveness programs unique to medical practitioners, plus another open to most others.
The AAFP also lists the Public Service Loan Forgiveness (PSLF) Program.
The PSLF Program helps people widely beyond the medical professions. AAFP does point out that there are strict guidelines regarding which payments qualify for forgiveness, and proper documentation is essential.
Your basket of goodies is not empty yet.
The Association of American Medical Colleges (AAMC) names 69 loan repayment / forgiveness and scholarship programs!
Some programs are federal and some are state level.
10 are forgiveness programs.
35 are for repayment
12 provide scholarships
To see if one or more of these are right for you, explore further at: https://services.aamc.org/fed_loan_pub/index.cfm?fuseaction=public.welcome
And for good measure…
To reduce your debt load, Credible.com catalogs four federal programs, then programs by state, from Alabama to Wyoming. These provide options for loan repayment or refinancing.
Student Loan Forgiveness for Teachers
Teachers have multiple possibilities for forgiveness.
That's only fair!  Considering all the students they've probably forgiven for wild and woolly behavior!
Are you among the forgiven?!
Teacher Loan Forgiveness Program
According to the U.S. Department of Education Federal Student Aid site, if you:
Teach full-time for five complete and consecutive academic years
Do so in a low-income school or educational service agency
And meet other qualifications
Then you may be eligible for forgiveness of up to $17,500 !
This applies to:
Your Subsidized and Unsubsidized Federal Stafford Loans
Learn more now, at: https://studentaid.ed.gov/sa/repay-loans/forgiveness-cancellation/teacher
Student Loan Forgiveness for Lawyers
Some folks forget that lawyers are people too. They can have steep student loan debt like the rest of us.
Lawyers, you already know that you do not have it as easy as the late comedian Fred Allen quipped:
I learned law so well, the day I graduated I sued the college, won the case, and got my tuition back.
Let's see, where were we?
Oh yes, forgiveness and discharge programs like the PSLF program and IBR plan (described elsewhere herein) welcome law school graduates just as they welcome so many others.
Lawyers with student debt remaining do have a couple of special alternatives.
The American Bar Association explains as follows:
Loan Repayment Assistance Programs (LRAPs): Law School Based
LRAPs are offered to graduates from over 100 law schools.
Eligibility for most, but not all, of these programs is based on the level of your income and public interest employment.
Which law schools participate? Here you go!
Loan Repayment Assistance Programs (LRAPs): By State
Aka, Statewide Loan Repayment Assistance Programs (LRAPs)
These are LRAPs in 26 states that provide loan repayment assistance to public interest attorneys. Eligibility and assistance levels vary.
They range in size and scope.
Almost all require participants to be working in public interest law.
To see if your state can help you, and what criteria apply, check out this page on American Bar Association'S official site.
Lawyers remember: Don't stop with LRAP programs.
Review other options described above and below.
Student Loan Forgiveness for Automotive Workers
You're not going to believe this one.
This is a terrific example of finding loan forgiveness when you put on your thinking cap!
Are you an employee of a company that belongs to the Specialty Equipment Market Association (SEMA)?  SEMA is a trade association hosting a huge variety of members, like:
Manufacturers
Distributors
Retailers
Auto restorers
Street rod builders
Restylers
Car clubs
Race teams
Even publishing companies!
And more !!!
SEMA's application period is from November 1 until March 1, so you will need to apply during this window.
They notify winners by July 1.
Check out SEMA Loan Forgiveness eligibility criteria at: https://www.sema.org/scholarships/
Student Loan Forgiveness Programs by States
Forty-five states and the District of Columbia offer some form of student forgiveness program or programs.
To find out if your state has such a program, you can reach out in several ways:
Contact your state's Department of Education, State Board of Education, or equivalent.
Contact professional associations in a profession related to yours.
For example, educators can check through your school systems or state professional organizations
Lawyers can check through your state bar associations
Dentists, doctors, nurses, and so forth, can inquire with your corresponding professional medical groups
Veterans can check your state Veterans Affairs office.
What other groups might you ask for help?
For a full list of student loan forgiveness programs by state, go see The College Investor map and list.
Closed School Student Loan Discharge Programs
Question: Did your career school or college close while you were attending or soon after you withdrew?
So now you're feeling academically homeless, right?
We can't resurrect your alma mater, but we may have good news for you. You may qualify for a discharge of your remaining loan.
You have rights and options as a borrower, especially with failed schools. In this case, you have two basic options:
Apply for a closed school loan discharge
Transfer your credits to another school
The U.S. Department of Education can help you these four ways and more:
Loan forgiveness
Getting out of default
Lower monthly payments
Consolidating monthly payments
Their website name is clever:
Go to "HomeRoom," the official blog of the U.S. Department of Education.
Do you want to see if your school is on the government's "Closed School" list?
Factsheets are available for each state where a closed school was located.
Use these factsheets to help you with:
Obtaining your academic transcripts
Understanding if your state offers a tuition recovery fund
Determining if you qualify for a discharge of your student loan(s)
Knowing the steps in the loan discharge process
Transferring your credits to another school
Contacting your loan servicer.
For factshseets, go to: https://studentaid.ed.gov/sa/about/announcements/closed-school#list
For more details assistance with this unique path to forgiveness, go to: https://studentaid.ed.gov/sa/about/announcements/closed-school#list
Student Loan Forgiveness for Veterans
First, the MoneyPantry team thanks you for your service to national defense and freedom!
Next, and the reason you are reading now, you will be glad to know that there are a variety of loan benefit, repayment, and forgiveness options for veterans.
The U.S. Department of Education (ED) and the U.S. Department of Defense (DOD) summarizes these for you in the online brochure "For Members of the U.S. Armed Forces: What you need to know about your federal student loan benefits."
A few highlights unique for veterans:
In some cases (contact your designated Military Personnel Officer or representative for details) you may be able to have all or a portion of your student loans repaid by the Department of Defense.
With Deferments After Active Duty you can postpone loan repayment while you prepare to return to school following your active duty. (This can also help with some private loans!)
If you have a service connected disability, you may qualify for Veterans Total and permanent Disability Discharge (can also help with private as well as federal loans.)
Finally, if you are still on active duty, "For Members of the U.S. Armed Forces" has benefits for you too
Update: APRIL, 2018
The U.S. Department of Education and U.S. Department of Veterans Affairs announced immediate plans to simplify the student loan discharge process for disabled veterans.
They began matching borrowers on the National Student Loan Data System (NSLDS®), who have federal student loans or aid through the Teacher Education Assistance for College and Higher Education (TEACH) Grant Program, to the VA database.
If you are a match, you will be mailed a letter explaining your eligibility for loan discharge
And it will include a total and permanent disability (TPD) application.
For more information about TPD discharge, including the TPD discharge application, visit disabilitydischarge.com.
Student Loan Forgiveness for Disabled
No one looks forward to disability. But many people become disabled and live inspired lives thereafter.
In some cases, if you become disabled, you may be forgiven the burden of your student loan debt.
According to Federal Student Aid, an office of the U.S. Department of Education, a total and permanent disability (TPD) discharge can relieve you of having to pay:
William D. Ford Federal Direct Loan (Direct Loan) Programloans
Federal Family Education Loan (FFEL) Programloans
and/or
Federal Perkins Loan(Perkins Loan) Program loans
Teacher Education Assistance for College and Higher Education (TEACH) Grantservice obligation
You must provide information to the U.S. Department of Education (ED) to show that you are totally and permanently disabled.
They will evaluate and determine your eligibility for relief.
Federal Student Loan Forgiveness
Gee. I wonder which loan programs pertain to federal loans?
Most of the programs described in this column pertain to federal loans.
Most student loans are federally supported.
Private loans for education are much less often forgiven.
Here's a quick summary of federal student loan forgiveness programs:
Public Service Loan Forgiveness
Teach Loan Forgiveness
Pekins Loan Cancellation (includes Teach cancellation)
Total and Permanent Disability Discharge
Death Discharge
Bankruptcy Discharge (rare!)
Closed School Discharge
False Certification of Student Eligibility or Unauthorized Signature/unauthorized Payment Discharge
Unpaid Refund Discharge
Nearly all of these programs are described elsewhere in this piece.
However, two are here:
Do you have a Federal Perkins Loan?
There are two main ways to end this loan obligation.
Maybe cancelled based on eligible employment or volunteer service
Maybe discharged for special circumstances, like bankruptcy, a closed school (see above), death of parent on the loan or yourself, or total and permanent disability (see Disability above).
Note: The bankruptcy thing is very rare; a court has to rule on the hardship upon you.
Did you withdraw from school after receiving a loan?
If so, your school may be required to return part of the loan money. Check with your loan servicer for more information and assistance.
Private Student Loan Forgiveness
Private loans are a whole different ball game.
Unfortunately, private lenders are not in the business of forgiving loans often—they'd go out of business.
However, if you need their forgiveness, keep paying your monthly payments AND go talk to them. Explain your situation.
Even if they don't forgive your loan, they may be willing and able to restructure it, lessen the loan rate, or make other accommodations.
In worse case scenarios, disability or death may be cause for some lenders to forgive a loan. The death may be that of a parent who signed on the loan.
These aren't pleasant to think about but if they apply to you, the relief would be welcome.
Bankruptcy may work too.  But you will to prove to a court that the loan places undue hardship on you. And your plea may not succeed.
But if you have to declare bankruptcy while still having a ton of student loan dept, the forgiveness will be appreciated more than ever.
Did you get a loan that shouldn't have been authorized in the first place?
If any of the following happened to you, you should consider applying for forgiveness:
The school falsely certified your eligibility based on your ability to benefit from their training when in fact you would not benefit
You were a victim of identity theft in the loan process
The school certified your eligibility when, for reasons of physical or mental condition, age, criminal record, or other reason, you would not meet state requirements for employment in your major
The school signed your name on an obligation without your authorization or otherwise acted without your knowledge.
Income-Based Repayment Plan (IBR Plan)
This plan is initially about repaying your loan(s), not forgiving them.
But eventually this can turn into forgiveness.
And it can be very inexpensive along the way.
Federal Student Aid explains that "If your federal student loan payments are high compared to your income, you may want to repay your loans under an income-driven repayment plan.
And get this: "Most federal student loans are eligible for at least one income-driven repayment plan.
Oh boy! "If your income is low enough, your payment could be as low as $0 per month."
But remember the bureaucratic nature of this beast.
Once you get on an IBR, you don't kick off your flip flops and sip suds. You have to recertify your income every year and tend to other administrative maintenance.
Still, if you're strapped for making monthly payments, it could literally pay you to learn more at: https://studentaid.ed.gov/sa/repay-loans/understand/plans/income-driven
This site will also guide you through a few other plans that are "first cousins" to the IBR.
Final Reminders
Please remain vigilant and cautious while pursuing loan forgiveness.
Like:
Some forgiveness programs will be taxable, some will be tax-free.
Pay attention to the details of any program(s) you pursue.
Depending on your situation, taxes may be unavoidable. At least you can proceed with pocketbook awareness one step at a time. It would be painful to be forgiven, say, for a million bucks in one year, then owe taxes on that million.
We know we said this before but this is important … Beware of scams and fraudulent outfits !! They often boast official sounding names.
On the bright side:
Legitimate services are available with which the U.S. Department of Education partners. Find them here: (https://studentaid.ed.gov/sa/about/data-center/business-info/contracts/collection-agency).
On the dark side:
The Federal Trade Commission keeps a list of companies and individuals banned from debt relief:  https://www.ftc.gov/enforcement/cases-proceedings/banned-mortgage-relief-debt-relief-companies-people
If you have a federal loan, the U.S. Department of Education will help you for free.
You never have to pay for their help with student loan.
For free, they will help you with:
Forgiveness
Consolidation
Dealing with defaults
Determining eligibility for forgiveness
Other related matters.
You can find the Federal Student Aid site at https://studentaid.ed.gov/sa/repay-loans/avoiding-loan-scams#government-action
The bottom line
Your whole life is ahead of you. Removing the cloud of debt will make it a brighter path.
On the day you receive notice you will want to celebrate!
By all means!
But Reddit contributor guy_behind_the_guys offers this counterintuitive tip as you approach that big day:
"If you are … in your final years of repayment, … keep your mouth and keyboard shut. When your loans are forgiven, don't announce it on social media…. It's funny how your supposedly private social media humblebrags somehow make it into a congressman's office or as fodder for BuzzFeed's latest headline…. So celebrate the big day quietly with close friends and family and get back to work."
You owe it to yourself—and those you will touch in the years to come—to at least ask if you qualify for student loan forgiveness.
If the answer is "Yes!" you will never regret it.