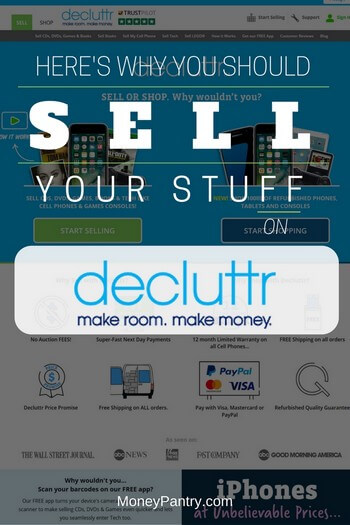 Decluttr, which is the subject of today's review, has quickly become a popular app for selling used media.
Let's face it; we all probably hang on to DVDs, CDs, books, phones and plenty of other stuff that we don't actually use anymore.
Instead, these items just take up space in our homes.
But, did you know that you could actually make a profit from them?
Really.
A website called Decluttr allows you to sell your old electronics, like CDs, DVDs, games phones and tablets
Need Easy Extra $300+/Month for Free?
KashKick
: Get paid directly into your PayPal for watching videos, surfing, shopping and more.
Join KashKick Now!
Panel Payday
: Earn up to $75 per survey. They also pay up to $50/hr for mystery shopping.
Join Now!
InboxDollars
: Paid over $57 Million to members to watch videos, take surveys, shop and more.
Get $5 instantly!
Branded Surveys
: Get $1 instantly just for joining for free. Plus get paid within 48 hours by PayPal!
Join Branded Surveys
iPsos iSay:
: If you have to only sign up for one paid survey site, go with Ipsos (high paying survyes)!
Join iPsos Now!
Swagbucks
: Get paid to watch videos, shop online, take surveys and more.
Join now & get $5 instantly!
How great is it to be able to make money from something that you don't even need, and would probably just throw out otherwise?
So, rather than leaving them in a drawer or cupboard somewhere, dust off your old phone, CDs and DVDs, and sell them instead.
Check out our review to see if the platform is for you.
What is Decluttr?
It's a website, which also offers an app, where you can sell your used stuff.
The site accepts a wide range of used items, like:
DVDs
CDs
Blu-ray
Games
Books
Phones
Tablets
How Does Decluttr Work?
One of the best aspects of the platform is its simplicity.
The process of getting an offer and shipping your items is super streamlined and incredibly quick.
Here's how selling on this platform works:
1. Get an offer
So, you have a DVD, a CD or another item that you'd like to make a profit from.
The first step is downloading the app.
You can also do this whole thing online on their official website at http://www.decluttr.com. But using their app makes things much easier and more convenient.
Here are the links for the app:
The app essentially turns your phone's camera into a barcode scanner.
This is pretty handy!
So, scan your items using the app and you'll get an offer.
Or, if you want to use the desktop version, then simply visit the website and you'll see a search box.
In the search box, enter the barcode of the item you have, whether that's a DVD or a book.
While entering a barcode does take a bit longer than just entering the title of the item, it ensures that the offer you get is actually for the item you have.
You get an instant price for your stuff.
Maybe you're not selling books, DVDs, games or CDs. Perhaps you have some tech items, like a phone or tablet that you want to sell.
You can sell these through the platform too.
Just enter the name of the item that you want to sell in the "sell tech" search bar to get an offer.
We did notice that we had issues trying to find tech items when using the search bar. Even when entering generic items, like iPad into the search bar, a message saying "no results" appeared.
Underneath the search bar, it does say "Trouble Searching? Click here to choose your tech from our drop-down list".
When you click on "click here", it takes you to another page where you can search for tech items. We'd recommend that you search for items that way if you're having trouble with the search bar.
2. Complete your order
Once you've gotten offers for your items, you need to complete your order.
At this point, you can choose how you want to get paid.
The site offers a couple of different payment methods, including:
Direct deposit into your account
Deposit by PayPal
Check
Keep in mind that your order needs to be for a minimum of $5 in order to be eligible.
But, there is a limit of 500 items per order. So, if you want to send more items than that, then you'd need to create another order. 500 items is a very generous limit for one order!
3. Ship your items
Once your order is complete, you need to ship your stuff.
This is really easy to do, but best of all, it's entirely free!
This is a huge selling point because a lot of other platforms like SecondSpin make you pay for shipping.
And, if your stuff is rejected, not only have you not made a profit from it, but you've actually taken a loss on it because you had to pay to send it.
To ship your items, you need to package them into a box. This can be any box you want.
The company sends you a Welcome Box that includes a free shipping label. You need to place this label on your box.
The whole label needs to be visible.
Make sure you don't cover the barcode.
You can't place it over any closures or seams on the package either.
And, there also can't be other shipping or tracking labels on the box.
Finally, make sure that you don't use the same shipping label for multiple boxes. Each label is unique to each box you send.
Your items will be delivered by UPS, and you have a few ways to send them.
You can learn more about your shipping options here.
4. Wait for the website to check your items
It takes about 7 to 10 business days for your package to reach the company.
Once your stuff gets to the warehouse it will be assessed to determine its quality.
If your stuff doesn't meet certain criteria, then it might be rejected.
Rules for non-tech items
When it comes to non-tech items, like CDs, DVDs, Blu-Ray, games, and books, it won't accept damaged or marked items.
They also won't accept these items if they are missing elements, like cases, jackets, inlays and artwork.
It's really important to only send items that are in good condition.
If the company rejects your items, it won't send them back to you. Instead, it will recycle them.
Read more about the terms and conditions for non-tech items here.
Rules for tech items
For tech items, there are also stipulations.
The main one is that the description of the item you gave on the website during valuation must match completely.
If it doesn't, then you won't get the price that you were offered when you placed your order.
If the company feels your item differs from the description you gave, it will get in touch with you and give you a revised offer price. You can choose to accept this offer or you can reject it.
If you don't want to take the lower offer, then the company will send your tech item back to you for free.
Read more about the terms and conditions for tech items here.
5. Get paid
Once the website receives your stuff, getting paid is a really quick process.
After it's been approved, the website issues your payment on the next business day.
Direct deposits generally clear within 3 business days of the payment being made. But, checks are slower.
Generally, you'll receive your check within 10 business days.
So, if you want to make money quickly, don't opt to get paid by check!
How Much Money Can You Make?
How much money you can earn really depends on a few factors including, how much you sell, and the market value of your items.
Selling DVDs, CDs, and Games
Here are a few examples of how much you can make from non-tech items here:
Zoolander DVD: $0.90
Scream 2: $0.15
Iron man 3: $0.60
Gears of War 3: $0.29
Grand Theft Auto 4: $1.28
Okay, so as you can see, how much you'll make selling your video games and DVDs really does vary.
So, how much you can earn selling them on the site will depend on the particular titles that you have.
Selling Books
What you can make selling your books will also vary.
Here is a couple of examples of what you can earn from a few different titles:
Pride and Prejudice: $1.13
Narrative of the Life of Frederick Douglass: $0.21
Superhuman by Habit: $0.72
Essentials of Mathematical Statistics: $1.88
Selling Tech Items
Whether it's a tablet or a phone, Decluttr will also purchase tech items.
Here are a few examples of what you can earn from selling used tech on the platform:
Samsung Galaxy Tab S2 8.0 T710 32GB: $70
Samsung Galaxy Tab Pro 8.4 T325 Wi-Fi + 4G 16GB: $35
Apple iPhone 5s (64gb): $79.12
Xbox One (1TB): $140.00
Apple iPhone 6 (128gb): $157.32
Is Decluttr a Good Place to Sell Your Used Stuff?
It is definitely a good platform to sell your old stuff.
There are so many benefits to selling through the platform, and of course, as you'd find with any services, there are things that set it back just a little.
Pros
This platform, compared to other similar websites, is definitely one of the best, for a number of reasons.
In terms of ease of use, it is probably one of the best platforms out there.
It really makes the whole process of selling used stuff so much simpler.
The site and the app are both incredibly easy to navigate.
Finding your item is easy – all you need to do is enter its barcode or scan it, and you'll get an offer instantly.
The whole process after that is quick and easy too.
This is so beneficial and definitely, makes it a worthwhile platform to sell through.
As you saw above for non-tech items, you're only going to get a few bucks for each item.
So, if you have to pay for shipping, it makes selling your stuff much less profitable and probably not worth your time.
It's annoying to have to pay for shipping yourself. This is because it's not always guaranteed that your item will be accepted.
And, if a platform does refuse your item, and you've paid for shipping, then you've actually spent money, rather than earned it.
Due to the fact that you don't pay any shipping fees at all, it's probably one of the best out there for making a good profit.
The platform pays really quickly, which is always a bonus!
Once your items arrive and go through a quality assessment process, you get paid the next day.
No waiting 3 business days, as you have to with other platforms.
It's always beneficial to get paid quickly.
It's a trustworthy platform
You might be wondering whether it's a legitimate platform.
You'll be glad to know that it is.
Decluttr is safe and trustworthy.
It has a rating of 9.1 out of 10 on Trustpilot. This is a website that features customer reviews on all sorts of products and services.
Cons
As you can see from this review, it's a really good platform for selling your used stuff.
While it does offer tons of benefits, there is one thing that sets it back.
And, that's the fact that if it doesn't accept your DVDs, CDs, games, Blu-rays, and books, then it won't send them back to you.
This means that not only do you not get paid, but you actually lose all of your stuff.
This really isn't ideal, and it's definitely the most disadvantageous aspect of the website.
For tech items, however, this isn't the case. If a tech item is rejected, the company will send it back to you for free.
Decluttr Competitors: How Does the Website Compare?
As you can see from our review, it's a pretty great platform for selling your old stuff. But, it's certainly not the only one of its kind.
There are so many platforms out there that will also buy your used stuff.
So, how does it compare?
Overall, it compares well to other similar websites. But, let's take a look at three examples in particular.
Decluttr vs Amazon
Update: Amazon Trade In no longer accepts CDs or DVDs.
Both compare pretty evenly.
With the Amazon Trade-in program, you also get paid to sell your stuff. The process of selling through both platforms is easy.
But, the only problem with the Amazon Trade-In program is that you get paid in Amazon credit.
So, you get free Amazon gift cards when you sell a book.
This is quite limiting.
If you don't really shop on Amazon a lot, or you plan to put the money you make into your savings, then this isn't really ideal.
On the other hand, Amazon is also superior in another way – it accepts a slightly wider variety of items.
Sure, with Decluttr, you can sell your DVDs, Blu-rays, CDs, games and tech items. But, that's it. With Amazon Trade-In you can trade in a wider selection of items.
Sometimes, you might find a better deal on Amazon. At the time of writing, for Gears of War 3, Decluttr pays $0.29, where you could trade it in at Amazon for $1.03.
And, for the Samsung Galaxy Tab S2 8.0, Amazon offers $100, whereas the other one only offers $70.
But, don't assume that Amazon will always offer the best deal. Certain items will be more valuable to one platform than they are to another.
So, take the time to do a bit of price comparison.
Decluttr vs SecondSpin
Decluttr prices for used stuff are pretty good and certainly compare well to other similar platforms.
For example, it sometimes offers better prices for certain items than other platforms, like SecondSpin.
You might have read SecondSpin reviews online on Reddit or other platforms. It's another platform that buys used stuff.
At Decluttr, you can get $0.90 for a Zoolander DVD, whereas you'd only get $0.15 for the same title at SecondSpin.
But don't assume that they will always offer you the better deal. You'll get more for certain items on SecondSpin than you will on Decluttr.
So, always compare prices.
Decluttr vs Eagle Saver
If you've been searching around for a place to sell your used stuff, then you might have heard about a website called Eagle Saver.
You may have read an Eagle Saver review as well and have seen that it's another good website to get cash for your used stuff.
It does offer a similar service.
Both platforms are very similar.
They both offer free shipping and are well reviewed on Trustpilot.
One of the things that set Decluttr ahead is that it accepts a wider range of items.
So, if you prefer to sell all of your stuff in one place, for convenience sake, then you'd certainly want to choose Decluttr.
Final Words
Overall, Decluttr is a good platform for selling used stuff.
It buys a range of items, it's really easy to use, and you don't have to pay to ship your stuff.
Sure, it has its downfalls, like any other platform, and it doesn't always offer the best price for items.
But, if you plan to sell some used stuff in the near future, then it's certainly one to consider.
Definitely bookmark it and then when you come to sell your stuff, compare the price on offer for each item at Decluttr and a few other places.