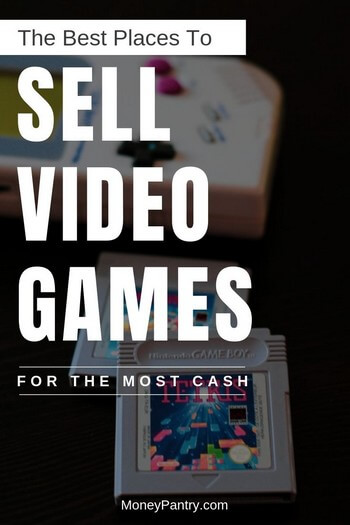 Whether you want to sell a collection of old video games that you don't play anymore or have just a few lying around that you'd rather get cash for, the good news is you can make money selling video games online and in person.
Gaming is a huge industry which is why to attract more customers, some sites pay you to play games.
Almost everyone, kids and adults, loves playing games. Some people even collect old games. These days though, with so many free online games, some people are trying to exchange their unused video games for cash.
Here are some of the best places to sell video games for cash, used or new, online and to someone near you.
Where to Sell Your Video Games Online
There are a lot of sites and apps to sell stuff near you and online these days. These are the most popular and best ones for selling video games, gaming consoles and accessories, whether you have newer games and systems like PlayStation and Wii or the old school stuff like Atari and Sega.
Decluttr is an amazing platform for selling used electronics and tech devices.
Need Easy Extra $300+/Month for Free?
KashKick
: Get paid directly into your PayPal for watching videos, surfing, shopping and more.
Join KashKick Now!
InboxDollars
: Paid over $57 Million to members to watch videos, take surveys, shop and more.
Get $5 instantly!
Branded Surveys
: Get $1 instantly just for joining for free. Plus get paid within 48 hours by PayPal!
Join Branded Surveys
First Opinion
: Get paid up to $10 per survey and $300 per virtual focus groups!
Join Now!
Swagbucks
: Get paid to watch videos, shop online, take surveys and more.
Join now & get $10 instantly!
The company has paid out over $300 million to over 6 million customers so far.
Not only you can sell video games and consoles, but you can also sell DVDs, Books, Smartphones, CDs, Tablets and much more.
Now, the only problem is that they only accept games for Nintendo, PlayStation and Xbox consoles. So if you have games designed for other gaming consoles, you are out of luck. No worries though, we have other options for you in this post.
Selling video games on Decluttr is really easy.
Here's how to get started:
Step 1: Enter the barcode of your video game case/box into the box to get an instant price for it.
Step 2: Print out the free shipping label and ship your item.
Step 3: Get paid via check, PayPal or direct deposit.
What makes Decluttr one of the best options is that it offers free shipping on all orders. It offers fast next-day payments. And with their Tech Price Promise, you are guaranteed to get the first price of your item or your items back for free.
According to the site, TradeGamesIn started in 2009 after the owners tried selling their own games and getting quoted "ridiculous" prices.
So they built a site where you can submit a list of games, get a fair quote and ship them off and get paid quick.
Here's how it works:
Start your list by entering the name of your games, consoles and accessories you want to sell. Choose the condition and the system will give you a quote for what they can pay you for each item.
After submitting your list, ship out your stuff using a free pre-paid shipping label they provide.
Within 24 hours of them receiving your shipment, you are paid (check or PayPal. Whichever you prefer).
They offer free shipping for orders over $25. If it's under $25, they give you the address to mail the package.
If you want to sell your games and get paid fast, give this one a try. You'll know exactly how much they pay before shipping your items, so you have nothing to lose.
This is a site that a lot of people don't know about but is a great place to sell video games and consoles.
Currently, you can trade:
PS3 Games & Console
PS4 Games & Console
Xbox 360 Games & Console
Xbox One Games & Console
3DS Games & Console
Switch Games & Console
WiiU Games & Console
The process is simple really. Enter your item (or find it from the list of accepted items). The site will then give you a price based on "fair market value" and if you accept it, you get paid.
They have a few different payment options which include PayPal, Check and store credit.
By the way, like them on social media to get a 5% trade-in bonus!
This is a great site where you can sell anything game related, including:
New or pre-owned physical games or unused digital downloads or game keys for Steam, Xbox One, PS4, and older consoles & handhelds.
In-Game Items & Skins
Gift Cards for Steam, PSN, Xbox, iTunes, Google Play, and more.
Blu-rays, DVDs, 4K UHD or HDX Digital Movies
Unused movie redemption codes
Accessories, Collectibles and Consoles
Now, this isn't a site that buys your video games directly, rather it's a marketplace where you can create a listing so you sell to other gamers.
All you have to do is create a free account, add your listing and once the item is sold, you ship (if its physical) or email (if it's digital) the item to the buyers and get paid.
You can withdraw your profit to your PayPal or bank account via Direct deposit.
If you're a hardcore gamer, you know that games buy and sell virtual video games accounts all the time.
With PlayerUp you can sell player accounts in PlayerUp for RPG, sports and action. You can even sell your Xbox One and YouTube accounts!
Some of the popular gaming accounts that sell for good money include Clash of Clans, Fortnite, Lords Mobile and Call of Duty Black Ops 4.
To sell, make your listing, wait for a buyer to reply, then if you both agree on everything, proceed with the transaction.
Because they have such a broad user base from various countries, they offer over 20 different payment options which include PayPal and Skrill.
By the way, PlayerUp takes 20% of the sale price as their commission.
This is a great place to sell gaming consoles as well as classic or current titles. The company has been around for over a decade.
You can sell old video games, from Nintendo, Sega, Xbox, PlayStation, Atari and much more. You can also sell retro video games like Super Mario Bros, Metroid, The Legend of Zelda and Pokemon.
Search to find what you're selling, ship your item and get paid.
You get paid via PayPal or Check within 2-4 days of them receiving your item.
If what you're selling is worth at least $75, you get free shipping since they give you a pre-paid shipping label.
DKOldies claims it is the #1 place to sell old video games for the most cash online with free shipping.
They also buy consoles.
What I like about this site is that they give you sample prices for some of the popular video game titles and consoles.
Here are a few examples:
1080 Snowboarding: $4
Mario Party 3: $28
GameCube Console w/ cords + controller: $41-$48
Wii Remote: $3
Wii U Mario Kart 8: $8
Original Game Boy: $36
As you can see, they do buy almost everything game related.
They do offer free shipping labels and 1-day payment via PayPal or check.
They also have trade-in where they give you a 20% bonus if you trade your games for store credit instead of cash payment.
If you haven't been able to sell your gaming items anywhere else because they won't accept what you have, give this one a try. They accept over 30,000+ items.
This site offers 3 options:
Instant Trade-In (Most Convenient)
Add your trade-ins to your shopping cart.
Then add your purchase to the same shopping cart.
Send your trade-in to the company while you wait to receive your purchase.
Standard Trade-In (Most Value)
Add your trade-ins to your shopping cart.
Select store credit for your payment method and checkout.
Ship your item and receive your store credit.
Sell Your Games for Cash
Add your item to the cart.
Package and ship your item.
Get paid via Check, Amazon Gift Card or PayPal.
They also have a brick and mortar store in Chantilly Virginia. So if you live in the area, you can sell in the store.
This is another site that buys video games and consoles.
Simply find your game or console from the list, added it to the trade-in cart, use the prepaid shipping label that they give you to ship your stuff. Once they receive your package, you get paid via PayPal or check (your choice).
According to the site, all trade-in orders qualify for free shipping! They email you a prepaid shipping label that you can print and use to ship your item. However, if your trade-ins total $50 or more, you qualify for a free prepaid shipping kit. That's not just the shipping label, it also shipping supplies!
Selling video games on Amazon is another option. Unfortunately, with Amazon seller fees, this isn't a good option for you if you only have a few games to sell.
However, if you're trying to sell video games in bulk or have collectible and rare items, this can be a good option.
I think eBay is the best option for collectibles, vintage or rare video games because you can auction and hopefully get the best price for your items.
People get into bidding war on eBay all the time. And that's good news for you since you are almost always guaranteed to get way more money for your games than if you sold it on other platforms.
Whether you have popular adventure games like Mario or action games like Metal Gear and Grand Theft Auto or sports games like Madden NFL or FIFA 18, give selling on eBay a try.
With Amazon Trade-In you can trade all kinds of tech-related items, including video games and consoles, for Amazon gift cards.
Unfortunately, as it is with most trade-in programs, you won't be getting the highest pay rate. If you don't mind that and like shopping on Amazon, this could be a good option as you receive the Amazon gift certificate in your email quickly and can use it to buy anything on Amazon.
Sell Video Games for Cash Near Me
Would rather sell your game and consul in person?
Here are the best places to do that.
OfferUp (review) is one of the best apps for selling stuff near you.
You can sell almost anything to the people around you.
Install the free app, take a picture of what you're selling, add a description and make your listing.
You'll be surprised how quickly you get messages from potential buyers.
Gamestop is arguably one of the biggest gaming stores where you can buy all kinds of games and related items. But what you may not know is that they also buy old and new video games, systems, accessories and even phones.
Through their trade-in program, you can sell your video games to the company for cash or store credit.
Obviously, your Gamestop trade in value is much more than what you'd get if you choose to get paid with cash instead of store credit. So if you shop at Gamestop, your best option is to trade your games for store credit so you can get more money.
Like Gamestop, Best Buy also has a trade-in program that lest you trade all kinds of tech-related items including video games for Best Buy gift cards.
Of course, you won't get a high pay rate but it's quick and easy.
To see your trade-in value, enter the UPC or title of your game in the search box on their video game trade-in page (link above). If you like the price, you can either do the trade online or in-person in a store near you.
16. Craigslist
When it comes to selling anything locally, I always recommend Craigslist.
Even if you're trying to sell college textbooks, CL is a great option.
Why?
Because it's a tried and tested method and despite there being a lot of sites like Craigslist, a lot of people still use it to buy and sell all kinds of stuff.
Plus, if you want to sell video games near you for instant cash, this is your best bet.
Not to mention, if you want to make this a side hustle you can use the free section of CL to get free video games, clean them up, take a few nice pictures and list them for sale on CL or other platforms.
All you have to do is create a free listing, add a title and description and a few pictures and wait for potential buyers to contact you.
Craigslist is also one of the best ways to sell video games for the highest price since you are selling to people directly.
Now, if you do decide to go with CL, please be careful. Make sure you meet the person in a safe and public location to exchange video games for cash. In some cities, the parking lots of police stations are actually designated spots for Craigslist transactions.
17. Local Games & Arcade Stores
There aren't that many of those left these days (unfortunately, and thanks to online sites) but there may be one near you.
Selling games to video game stores near you is especially a great option if you have rare games as these places know the true value of rare and collectible games and are willing to pay decent money for them.
To find a store that buys games near you, search on Google using search terms and keywords like:
"who buys video games near me"
"stores that buy used games"
"places that buy game systems near me"
etc.
By the way, be sure to check with arcade stores as well. Even some arcade machine stores buy games. There is a store near me that lets you buy, sell and trade arcade games and machines but they also buy and sell video games.
18. Facebook
Facebook isn't just for sharing pictures (and only posting pictures of you having fun!) anymore. Thanks to Facebook groups, you can do all kinds of stuff locally including selling.
To sell video games on Facebook, create a listing, add a few pictures and a description and wait for buyers.
The beauty of using Facebook groups is that you can sell to someone near you and get the cash quickly.
19. Pawnshops
I added this last for a reason. Selling anything to pawnshops should be your last resort simply because pawnshops are notorious for undervaluing, thus underpaying for stuff you're trying to sell.
If you've exhausted all other options and have no other choice, or just want money right now, give your local pawnshop a try.
Summary
As you can see, there are a lot of places where you can get paid to sell your new, classic and retro video games, consoles, controllers and other game related items.
And the best part is that you can sell video games online or locally in person to a person or store that buys video games near you.
Have you used any of the places mentioned in this post or other places to sell video games? Please feel free to leave a comment below.