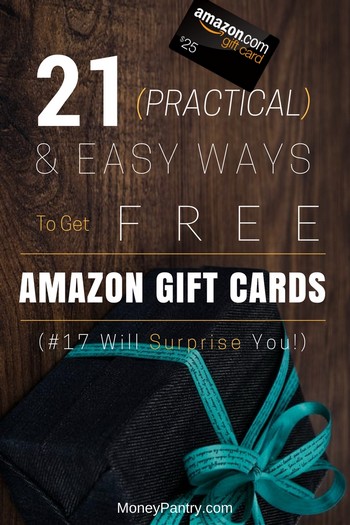 Who wouldn't enjoy a free Amazon gift card?
With "Earth's Biggest Selection" of products, it won't be that hard to spend that gift card on Amazon.
No wonder the term "Amazon Gift Cards" is searched on Google over 18000 times monthly.
So how do you get Amazon gift certificates without paying for 'em?
Use a free amazon gift card code generator?
No, those are useless!
There is no such a thing as an on demand gift card code generator that can create working and legit codes for free.
So, what gives then?
Well, there are some legitimate ways to get free Amazon gift cards.
Now, let's be clear, none of these options are going to get you truly free gift cards. But they are your best options and as closest as you can get to real "free" gift certificates.
You have to do something to get them.
Some require your time, some you have to answer a few surveys, with some you have to signup for their program, and so on.
The good news is that most of these options don't require you to do anything you aren't already doing online anyway – shopping, searching, signing up for websites and free trials, etc.
Although there is one way to get a free $3 Amazon gift card without surveys or completing any offer, but that's not sustainable – you can only do it once.
Most of the methods we are going to talk about today can be used over and over again.
Now, I've divided these methods into a few categories.
Let's start with the trade-in opportunities.
A. Trade-in (Get Amazon gift cards with no surveys or downloads)
The first option is to trade something for an Amazon gift card.
Sure, you are not getting the card for free, but with some of these options, you are trading things you no longer need or use for an Amazon gift certificate that you will use.
1. Amazon Trade-In
Amazon themselves are more than willing to take your old or unused goods.
Perhaps the best part about using Amazon Trade-In is that they will cover your shipping costs. That means that this method is pure profit for your exchange, which is always a good thing.
Your profit will automatically be given as Amazon gift cards.
Amazon is primarily looking for your electronics and electronic media. Movies, cell phones, music, music players, and other various types of electronic devices.
They are also looking for textbooks.
You can check your potential profit by searching for the thing you are seeking to trade in on their Amazon Trade-In page.
2. Cardpool
Cardpool.com is a website for trading in your unused gift cards. They accept most brands' gift cards, so you can turn something specific (like a fast-food card) into something general (like an Amazon card.)
The good news is that Cardpool will also offer you hard cash for your cards.
3. Gazelle
Gazelle.com is another place where you can trade in electronics.
Their rates are competitive, and they also offer payment through PayPal in addition to Amazon gift cards.
Gazelle is a good option for hauling off your old computers and phones, and the good news is that they also consider the care you've taken with your product when it comes to payment.
If you're someone who never gets a scratch or ding on your electronics, Gazelle will get you top dollar for your old electronics. Butter-fingered sellers beware, though!
4. Coinstar
Coinstar is a classic option that you are likely familiar with. Coins go in, cash comes out.
The good news, as we mentioned in our recent "Sell gift cards for cash near me" post, is that you can now trade coins for gift cards, including Amazon GCs.
These noisy machines are a standard in grocery stores across the country, but did you know that if you convert your change into Amazon gift cards, there is no service charge?
B. Online Rewards/GPT methods
Before we start, let's clarify: A GPT (or Get Paid To) site is one that offers you rewards points for performing various tasks.
It might be something like purchasing a product from their affiliates, or something simple, like doing surveys or watching videos.
These are good sites for earning rewards with zero out-of-pocket costs.
5. Swagbucks
Swagbucks might be the largest and most well-known of the GPT sites.
Swagbucks offers many ways to earn "Swag Bucks" (their form of reward points.) This can include surveys, promotions, and even things like electronics trade-ins.
They even have an app so you can earn free gift cards on your iPhone, Android phone, iPad, or any other device you may have. And there's nothing more efficient than being frugal on the run!
6. MyPoints
MyPoints is a GPT site that offers daily rewards for doing any number of tasks, similar to Swagbucks.
They even offer payouts for playing games, so you can have fun while you stack up the rewards points.
7. PrizeRebel
PrizeRebel is a GPT site that is known for their great support.
They also offer a unique service: You can use your reward points from their site to order straight from Amazon itself. This saves you the trouble of getting and exchanging gift cards.
Less hassle is always better, and PrizeRebel makes ordering from Amazon that much easier.
8. RecycleBank
Recyclebank is a standout among other GPT sites because they have the goal of educating and recycling.
You can earn points and redeem for prizes on Recyclebank by doing things like reading articles about eco-friendly tips and tricks.
This can be a good site to use if you're into going green, and they even offer products that are made by eco-friendly companies.
9. Mechanical Turk
Mechanical Turk (also called mTurk) is a branch of Amazon itself.
It isn't strictly a survey site, nor is it a GPT site, really.
It's more of a crowd sourcing sites.
You can actually make money on mTurk doing all kinds of short tasks.
These rewards are then paid straight to your Amazon Payments account, which can obviously be spent on Amazon goods, or even transferred straight into your bank account.
This is a good site for anyone who wants to earn a little extra money with their free time.
C. Market Research companies
Some sites are survey-only, unlike other GPT sites.
These are backed by market research companies who conduct online surveys on behalf of companies and business who want to gather feedback about their products and services from consumers.
In return for your participation, you are rewarded with cash, prizes, and of course gift cards.
Here are a few survey sites that let you redeem your earnings for Amazon gift cards.
By the way, they are all free to join.
10. Valued Opinions
This is one of the most well-known survey sites that I have actually been a member of for more than 7 years.
I have gotten $20 Amazon gift certificates via email a countless number of times throughout the years.
11. Opinion Outpost
Lots of interesting surveys from this site. You can also redeem your earnings for cash and other prizes.
12. MySurvey
Official site: http://mysurvey.com

One of the oldest online survey panels.
They also have a mobile app that you can install to take surveys on the go.
13. SurveySpot
SurveySpot is one of the oldest online survey sites and one of the highest paying survey sites.
D. Cashback methods
There are a few ways to earn Amazon cards via cash back programs.
Here are some of the best options.
14. Amazon Promotions
It's a good idea to register with amazon to receive updates about their ongoing promotions.
Amazon will regularly give options to spend money in return for gift cards, so if you're already set on a purchase, you might be able to make some money back in the process.
If you don't want to register your email, TechBargains.com tracks the available coupons, and RetailMeNot.com tracks the promo codes.
15. Fatwallet
Fatwallet is basically a promotional hub.
You sign up (for free) and they offer a large selection of coupons for various retailers.
Not only do they direct you to coupons, but they provide a readout of how much cashback you can potentially make, organized by retailers.
Using Fatwallet might net as small of a gain as free shipping or as large of a gain as 25% cash back.
16. Amazon Visa card
For those of us that pay off our cards regularly, you might want to look into an Amazon.com rewards card.
This credit card offers you 1% back on all purchases, but it also offers 2% cash back on gas purchases and 3% on Amazon purchases.
This card might be a good idea if you don't have a rewards card already, or if you're a frequent Amazon customer.
D. Passive/Affiliate reward opportunities
These options are great for those who don't really want to do anything extra other than what they normally do, like searching the web.
There is also one option for people who have a blog or website of their own that they can use to promote Amazon products.
17. Bing Rewards
Bing Rewards is a very simple method for getting free Amazon rewards.
The process is simple, you just register with Bing Rewards and get points every time you search on Bing.
There is a daily cap on the points that can be earned (to prevent fraud in the system) so you don't need to push yourself earning those rewards.
Just make the set amount of searches in a day and reap the rewards.
It's even easier if you set Bing as your default search engine, and what's better is that they offer a very wide variety of rewards, not just Amazon.
18. Google Screenwise
For users of Google Chrome. This one is actually even easier than Bing Rewards. All you do is add the Google Screenwise Chrome add-on so it can track your internet use.
They'll give you a free gift to start with, and more rewards every 3 months. This one is as passive as they come.
19. Amazon Associates
If you have a website or a blog, this is a great way to earn rewards through Amazon.
Amazon Associates program is an awesome program that allows you to earn commissions by essentially becoming the middleman.
You join the program for free. Then you are given your own unique link that you can place within your site/blog. Every time someones clicks that link and buys something on Amazon.com, you earn a commission.
And with hundreds of thousands of items on Amazon's marketplace, you can pretty much market to anyone.
You can get paid via check, or if you'd like to get your money even faster, you can convert your earnings into an Amazon gift card and cash out that way.
E. Mobile apps
There are also many apps that give you free gift cards and rewards you for a variety of activities.
Here are a few apps that pay you with Amazon gift certificates:
20. App Trailers
You earn points for watching preview trailers about apps and sharing your tips for making them better.
21. Mobile Rewards
Works just like a GPT site (i.e. complete offers and earn rewards).
Bonus: JunoWallet
This one earns you rewards for doing small tasks.
For a bigger list of money making apps, check out 28 mobile apps that will help you earn extra money.
Warning
Please be careful with sites that ask for Amazon gift cards as a form of payment.
Only use Amazon gift cards as a form of payment on Amazon.com and not on third party sites, especially if you are new to the site. There is a big scam going on that is very easy to fall for.
You can learn more about it and how to protect yourself by reading How NOT to use a gift card on FTC's website.
Final words
Most of these methods may not get you truly free (as in someone handing you one) Amazon gift cards since you have to do some legwork.
But that's about all.
You don't actually pay for the cards.
At the end of the day, with most of these, you are trading your time for free Amazon gift certificates, which if you're using your free time, isn't a bad trade at all.