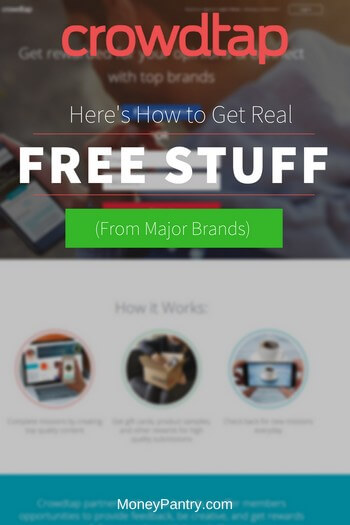 Free stuff is great, right?
What about free stuff from big brands like McDonald's, Neutrogena, and Folgers?
Even better!
Well, with Crowdtap, you can get your hands on free stuff from popular brands, and all you need to do is share your opinion.
But, that's not all – there are also plenty of other benefits to be had, which we outline below in our Crowdtap review.
What is Crowdtap?
Crowdtap is a company that brings together brands looking for valuable consumer insights, with people who are willing to:
Need Easy Extra $300+/Month for Free?
Panel Payday
: Earn up to $75 per survey. They also pay up to $50/hr for mystery shopping.
Join Now!
InboxDollars
: Paid over $57 Million to members to watch videos, take surveys, shop and more.
Get $5 instantly!
Opinion OutPost
: Want fun & high paying surveys? This is the survey site for it!
Join Opinion Outpost!
Branded Surveys
: Get $1 instantly just for joining for free. Plus get paid within 48 hours by PayPal!
Join Branded Surveys
Toluna
: Earn PayPal, Amazon & Tango e-vouchers for taking surveys (& product testing!).
Join & get 500 bonus!
Swagbucks
: Get paid to watch videos, shop online, take surveys and more.
Join now & get $5 instantly!
Share their opinion.
Test out new products.
Create content for brands.
Spread the word to their friends about brands.
It's sort of like a survey website, except there's the opportunity to get free stuff and gift cards too.
The company is pretty popular, and it was even named on Forbes' list of America's most promising companies.
How does Crowdtap work?
So, now that you know what it is, you're probably wondering, how does Crowdtap work?
Well, below, we've outlined how the platform works, and how to use it, from signing up to earning rewards.
1. Sign Up
The first step is to sign up for on the company's website and create your profile.
There are two ways you can sign up:
Sign up with Facebook
Sign up with your email address and create a password.
There are a couple of things to be aware of.
Firstly, even if you sign up with your email, you still need to verify your Facebook account with Crowdtap. You can learn more about why Facebook verification is required here.
Secondly, if your CT account was registered using Facebook, and you later change your Facebook account, then CT won't be able to switch the Facebook account you use to login.
And, finally, you have to login to your CT account using the same method you did when you originally signed up. So, if you signed up through Facebook, then you can only login via Facebook. And, if you signed up via email, then you can only login using the email address and password you used when you signed up.
Once you're signed up, you need to make sure that your profile is complete in order to be eligible for opportunities.
Make sure that you include your shipping address on your profile, otherwise, CT won't be able to send you any samples.
More than one person from the same household can have a Crowdtap account too, which is great. You just need to make sure that all accounts are authentic and unique.
Unfortunately, Crowdtap is only open to residents of the United States.
2. Complete Missions
Basically, with CT, you collaborate with big brands and in return, earn points and sometimes, even free stuff.
You do this through missions.
These missions could range from answering a quick survey to testing out a new product and sharing your opinion on it.
Types of Missions available
Below, we've outlined the different types of missions available.
These are probably the easiest type of mission.
All you need to do is answer easy questions that brands ask you.
Some of the polls will include multiple choice questions, and others might ask you to read or view a piece of content from a brand, and that share that content or answer a follow-up question.
With this type of mission, you need to take a photo of something a brand specifically wants.
For example, the photo might include the brand's product, or require you complete an activity. This is basically a way for you to make more creative content about brands.
Once you've taken the photo, you'll need to post it on the site with a caption.
These are short, open-ended questions. Brands use Text Missions to get more detailed feedback from you about a certain idea or topic.
Creative, thoughtful or useful submissions usually do the best.
With this mission type, you get an external link to something like a photo, video or blog post. Then, you need to provide your opinion on the content you've viewed.
This type of mission involves a panel of interactive questions, where Crowdtap users can have conversations about topics.
This can help brands with the development of their latest products or advertisements.
This type of mission is basically a survey. You get a series of polls about a particular topic.
This is the type of mission that garners you free stuff – so obviously it's one of the best types.
With this mission type, brands send you samples of products and in return, you share your feedback.
You have to apply for these and get approved. You might not be approved for some sampling missions, but it's certainly worth applying to them.
Read on for more information and tips on how to get sampling opportunities.
Finding Missions
What's great about CT is that it allows you choose the brands that you want to work with.
You'll be able to view missions by brand, by clicking on the brand you're interested in on your dashboard.
On the left-hand bar of your dashboard, look for the "Brands" tab. Then, hover your mouse over it, and you'll be able to see all of the brands that are available to you.
The brands will be split into two categories:
My Brands: These are brands that you've already joined.
Other Brands: These are brands that you haven't joined yet, but are available for you to join.
To join that brand's crowd, simply click on the brand you're interested in. Then, you'll see a green "Join" button on the right-hand side. Click this, and you'll join.
Once you've clicked on a brand, you'll be able to see what missions it has available.
On the dashboard, you can also view the newest available missions from brands.
What's handy is that you can sort them by type. So, if you're only interested in polls, then you can just view those, or if you're looking for sample missions, then you can just view those.
3. Earn Rewards
With Crowdtap, there are two main benefits that you get, depending on the type of mission you complete.
Free Products
While all Mission types get you points, you can only get free products through sampling missions.
And, as we mentioned above, you need to be selected to complete these missions.
Brands select users to sample products based on a variety of factors, such as demographic information, answers to poll questions, answers to application questions and sampling size.
So, you just might not be the right fit for a particular mission.
That being said, there are a few things that you can do to get more sampling opportunities:
Make sure that your profile is complete.
Keep your shipping address up to date.
Create content that is creative and unique, follows all guidelines, and features the specific brand product only.
Offer descriptive answers.
Provide high-quality photos.
A few examples of brands people have reported getting free products from through Crowdtap sampling missions include:
Revlon
Garnier
Luvsome
Marc Jacobs Beauty
Aveeno
Febreze
Unilever
Proactiv
White Castle
Almay
Points
Completing all mission types will earn you points.
How many points you earn will depend on the brand and the type of missions you complete.
You have a PrizeWheel on the left side of your dashboard.
As you earn points the wheel fills up and lets you know how close you are to earning 1,000 points.
Once you reach 1,000 points, you can cash out for a $5 gift card to retailers and brands like Amazon.
Some people claim that your first 500 points will get you the $5, rather than 1000.
How much can you earn?
Earnings on Crowdtap will vary depending on factors, such as:
The brands you work with.
The missions you complete.
How many missions you're selected for.
The number of missions that you complete.
To give you an idea, though, here are a few examples of what Crowdtap users report earning on Reddit:
One user states they've made $45, and can usually earn themselves a $5 dollar gift card each week. And, they get free samples too. And the person says that they could earn more if they completed photo missions.
Another user says that they earn $10 to $15 per month.
Another person reports that they've earned $25.
Should you Join?
Now you know how it works, and all about completing missions, and earning rewards, you're probably wondering whether it's worth using.
Let's take a look at the pros and cons:
Pros
Let's start with the pros:
It's an easy way to get free stuff: You get to try out some great products from well-known brands, and all you have to do is share your opinion. And, you get to keep the products you try out.
It allows you to earn points too: For every mission you complete, you can earn points. And, you can redeem these points for gift cards.
It's a Flexible, Easy way to make Money: Crowdtap allows you to choose the brands you want, and select the missions that you want from those brands. This means that you're able to work solely with the brands you're interested in.
Cons
The only downside is that you do need to rack up a lot of points before you can get a $5 gift card – so it's not a super quick way to make money.
However, since most of the missions are super easy, they can easily be done in your spare time.
So, if you, like most of us, waste time scrolling through the internet and social media, then spend that time on Crowdtap instead.
Closing thoughts
If you love trying out new products and don't mind sharing your opinion, then you should definitely consider signing up for Crowdtap.
Sure, you're not going to earn a lot with it, but where Crowdtap really shines is with the opportunity it gives you to get free stuff.
If you're looking to test out some new products, then it might be worth checking out.
If you're looking to earn free gift cards quickly, however, then there might be better opportunities out there.