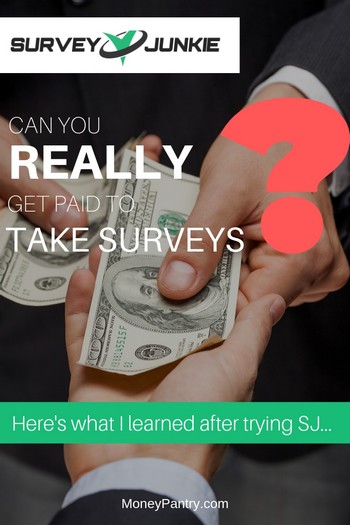 Is Survey Junkie a good way to make money?
Is it a scam or one of the best legitimate online survey companies?
Is it worth joining?
In our Survey Junkie review, we answer all of these questions and more!
From how it works, to pros and cons, we'll tell you everything there is to know about making money with Survey Junkie and let you know whether or not it's worth joining the site.
There are a lot of ways to make money online and survey websites sure are one of the easiest!
Need Easy Extra $300+/Month for Free?
KashKick
: Get paid directly into your PayPal for watching videos, surfing, shopping and more.
Join KashKick Now!
InboxDollars
: Paid over $57 Million to members to watch videos, take surveys, shop and more.
Get $5 instantly!
Branded Surveys
: Get $1 instantly just for joining for free. Plus get paid within 48 hours by PayPal!
Join Branded Surveys
First Opinion
: Get paid up to $10 per survey and $300 per virtual focus groups!
Join Now!
Swagbucks
: Get paid to watch videos, shop online, take surveys and more.
Join now & get $10 instantly!
What is Survey Junkie?
As its name suggests, Survey Junkie is a survey website much like Swagbucks (Swagbucks review). You sign up and get access to a wide range of surveys. In return for completing a survey, you'll earn points that you'll be able to exchange for money.
If you've ever searched for survey websites online, then you've probably come across SJ.
How Does it Work?
In this section, we're going to guide you through how SJ works, from how to sign up to how to redeem your points for cash!
Signing Up
Signing up is super simple.
Here's a quick overview of how it works.
Visit the website's home page here.
Then, click on the green button that says "Join Now."
A pop-up form will appear, and you'll need to complete it to register with SJ.
You can sign up with Facebook or with your email.
Then just complete the sign up steps and create your account!
As you can see, it's really easy to join Survey Junkie.
Getting Started
Once you've signed up to the site, you'll need to confirm your email address.
If you want to receive rewards, you'll need to make sure your email is verified.
Next, you'll need to complete your profile.
Completing the profile questionnaires, while not mandatory, is important.
The aim of profile questionnaires is to help you to build a comprehensive profile about yourself.
By doing this, the site is able to better match you to relevant surveys. Also, by collecting profile information, the website is able to invite you to exclusive surveys that only you and people with similar interests may qualify for.
To complete a profile questionnaire, just visit the "My Profiles" page. This can be found on the drop-down menu, in the navigation bar.
You can update your profile questionnaires at any time – just visit the profiles page again.
Taking Surveys
While you can take surveys from desktop and laptop computers, and mobile devices such as smartphones and tablets, SJ recommends sticking with the former.
Desktops and laptops give you access to a wider range of surveys.
If you use your smartphone, you are limited to mobile surveys only, and survey inventory can also vary depending on the device you use to login to your account.
So, it's best to do surveys from your laptop or PC.
Once you've signed up, you'll have access to surveys that pay!
Each survey will have a designated number of points – these points are represented inside a green button.
This is handy, as you'll be able to see what you can earn before you take a survey.
Earning Points
As a member, you earn points that have a monetary value, rather than cash right off the bat.
For each survey you complete, you earn points, as we said above.
But, surveys aren't the only activity that you can earn points for.
Points can also be earned by completing profile questionnaires, referring friends to the site, and other rewardable actions.
You can tell which actions are rewardable because a rewardable action will feature designated points displayed within a green button.
Obviously, surveys are the main way to earn points on SJ though – hence the name of the platform!
Redeeming Points
Points on SJ have a monetary value – and can be redeemed once your account accumulates 1000 points.
1,000 points is worth $10.
You can cash-out once you have 1,000 points, or you can continue to accumulate points and cash-out later for a bigger payment.
When you have enough points, you'll be able to choose the redemption option that best suits you.
Let's take a look at redemption options in more detail…
How Does Survey Junkie Pay?
The company gives you a few ways to redeem your points – this is always handy!
Here's how SJ pays you:
PayPal (available to users worldwide)
E-Giftcards (only available to users in the U.S.)
Direct bank transfers (initiated by a third-party partner – this payment option is only available in the United States).
If you redeem your points through PayPal or bank transfer, you have to redeem all of your current points.
This means that if, for example, you have $20 in your account, then you'll need to redeem the full $20.
Gift cards, on the other hand, aren't available in all denominations. Instead, you can redeem gift cards in set amounts, like $10, $15, $20, etc.
So if you have $28 in your account, you'll only be able to redeem $20 of it, for example.
You can either redeem the rest of your points for money through PayPal or wait until you've earned enough points to redeem a second gift card.
If you want to redeem some of your points for a gift card and the rest to your PayPal or bank account, then it's best to redeem through the gift card first, as you'll be able to redeem the rest of the money, if you have the $10 minimum in your account, to your PayPal or bank account.
How to Redeem Your Points
It's great that SJ has so many payment options, but how do you actually go about redeeming your points?
Well, here's a quick and simple guide:
From the navigation bar's dropdown menu, click "My Points." Or, click "Current Points" from the user dashboard. This will take you to the My Points page.
Once there, you will be able to redeem your points using one of the following methods:
PayPal
With this option, you may have to log in to your PayPal account or confirm your PayPal email. U.S. users will need to have a PayPal verified account.
To verify your PayPal account, you'll need to complete two out of three actions within PayPal:
Link and confirm your bank account
Verify your credit card or debit card information.
Provide your Social Security Number.
For this redemption option, you may also need to provide additional account verification, which is done through a brief call with one of the site's customer support representatives.
E-Giftcards
For this option, just as with the PayPal redemption option above, you may need to provide additional account verification – you do this through a quick phone call with one of SJ's customer support representatives.
Bank Transfer
To redeem your earnings to your bank account, you'll need to provide a unique U.S. bank account and routing number.
Once you've chosen your redemption method, SJ may ask you to select an email address where you want to receive the reward. And if you are adding a new email address, then you'll need to confirm it before you can proceed with the redemption of your income. SJ requires you to do this so that your reward doesn't get sent to the wrong person!
You'll need to check that the details, like the reward type, amount, and email address the reward will be sent to, are all correct. Then, you can click "Yes, Redeem," and your points will be redeemed!
If you successfully redeem your points, then a pop-up window should appear that says "Congratulations."
You'll also get a confirmation of your reward sent to the email address you provide.
Is Survey Junkie Legit?
The company has a rating of four out of five stars on Trust Pilot – this is a pretty impressive rating.
Here are a few snippets of what SJ members have said about it on Trust Pilot:
"Love this site. I never have a problem getting paid."
"Super easy way to make some money while giving your own thoughts"
"Awesome way extra money in your free time! They offer a plethora of interesting topics as well!"
"I love how simple and easy it is to redeem my point on Survey Junkie, they are legit."
"Love the variety of surveys. Initially, I was concerned about how quickly gift cards/funds would be processed. I was pleasantly surprised to find that gift card are received within a few hours of the request. I also like the fact that there's rarely a lack of surveys to complete."
"Excellent way to make some extra money. Payout is instant via PayPal once you've received $10 credit"
"Surveys are numerous, and as long as you click immediately you will get the one sent to you; if not, there are always many more! I love this site!"
SJ also has a B+ rating with the Better Business Bureau.
So, it is a legitimate company. That's not to say, however, that SJ doesn't have its negatives – we'll discuss the pros and cons of the site below.
How Much Can You Make on Survey Junkie?
It's really tough to give an exact figure for how much you can earn from SJ.
This is due to two main factors:
Each survey pays differently
You might qualify for more surveys or fewer surveys than other users on the site. Obviously the more surveys you qualify for and complete, the more money you'll earn.
Typically, you'll earn $1 to $3 per survey – sometimes though you'll earn less than a $1 per survey.
If, for example, you got two surveys a week, which each paid $3, then you'd make $24 a month (4 weeks), and about $312 a year.
So, SJ (or any other survey site for that matter) isn't going to make you rich.
But, it's a pretty easy way to earn some spending money.
You could use the cash to pay for stuff like a subscription to Netflix, Amazon Prime, and Hulu, for example.
Or, you could put the money into your savings account.
Or save the money over the course of the year, and put it towards something you've wanted to buy.
Here are some income reports from SJ users from sites like Reddit and Trust Pilot:
"I have taken surveys for $.10 all the way up to $2.90 per survey. You can't get rich, but it is an easy $10 a week at least."
"Each survey doesn't pay a lot, and some go nowhere. However, I can earn $20 a week doing surveys."
"I wish that the ones that are like 160 points would stop saying I don't qualify so i am stuck doing just the small ones so it takes me a week to get $10 but that still helps me."
"Ive been using survey junkie for a couple weeks and have already got like 40 dollars. Its great!!"
"This is a great platform for filling out surveys and getting rewards. I've received two Amazon gift cards over the course of 2 weeks, so this is really cool!"
"I have made almost 40.00 in the last two weeks..i usually use my phone but sometimes my laptop or tablet. It takes a little time but it is easy money."
While the average survey pays around $1 to $3, that's not to say that you can't earn more per survey than that; it's just not commonly reported online.
Survey Junkie Hack
Everyone wants a shortcut in life, but sometimes shortcuts leave you short-changed, or in this case, without access to any more surveys!
It's important not to try to cheat survey sites or GPT sites, as they are wising up to the techniques and tools that people use in an attempt to hack the system, so to speak.
As we mentioned above, it's really important that you complete those profile questionnaires.
Don't just sign up to the site and leave it there – you'll earn more money by having a comprehensive profile.
This is because, as we said earlier, SJ will be able to offer you exclusive surveys, based on your interests – and it's these exclusive surveys that pay more money.
So, one of our top tips for earning more on Survey Junkie is a simple one – complete those profile questionnaires!
Our second tip is to just complete as many surveys as you possibly can.
If you completed just one $3 survey each day, every day, for a year, then at the end of those 365 days, you'd have $1,095 in extra cash! More on that below in our bonus tip section.
FAQs
In this section, we're going to cover a few common questions that people have about the site.
What is their customer support phone number?
You might need to contact support over technical issues, payment, or something else on the site. There isn't a contact number, but if you visit this page, and click on "contact us" on the bottom of the navigation bar on the left side of the screen, then a contact form will appear. Just fill out the form to get assistance from SJ.
Is Survey Junkie Free?
Yes, it's totally free to join!
Why am I getting a Survey Junkie access denied message?
Some users report online that they randomly get this message. According to one Reddit user, it can happen when you fill out a survey too quickly. So take your time! Also, clearing your browser cookies may help. Make sure that you're not using a proxy either. If the issue persists, try getting in touch with the site's staff.
How to delete/cancel a Survey Junkie account?
If you decide that SJ isn't for you, then you can delete your account by contacting customer support – we mentioned how to do this in the contact number section above.
Keep in mind though that your account can't be reinstated once it's deleted. So if you do want to join the site again, you'll need to sign up using a different email address, and any points on your previous account, won't be transferred to the new account.
Is there a way to redeem without Verification?
To redeem your points to your PayPal account or to a gift card, you may have to provide additional account verification. This is pretty easy though. You just take a quick phone call with one of SJ's customer support representatives. SJ doesn't mention that additional verification is required for bank transfers though, so that could be a redemption option to consider.
How long does it take to make money on Survey Junkie?
It depends on how many surveys you complete, and the duration of each survey. That being said, making money on SJ is pretty fast. If you choose PayPal as your redemption option, then your money is processed pretty much instantly.
How old do you have to be to join Survey Junkie?
You must be at least 13 years old to join the site.
What does Survey Junkie do with my information?
According to SJ, companies spend millions of dollars each year to learn what their customers like and want. So, the information you provide in surveys will help companies to avoid investing money into products or services that may fail. Basically, companies value consumer insights, so they are willing to pay you for your opinion.
How much does SJ pay?
As we mentioned above, it's tough to give an exact figure for earnings – but expect to earn $1 to $3 per survey. This is pretty typical pay for a survey platform. Survey Junkie, very honestly, even says that you won't get rich from the site.
Is there an app for Survey Junkie?
Yes. But it seems like they only have an app for Android devices, no iOS app at the time of writing this review.
Is Survey Junkie Worth It?
Okay, so now you know how SJ works and how you can earn money with it, but is it worth it
Is it worth using to make money?
Well, it really depends.
Some people only want a few extra bucks each week and aren't too bothered about earning $100s each month.
On the other hand, some people want to make a part-time income online or even quit their job to work from home.
If you're in a latter group, then SJ might not be worth it for you.
We can't say definitively whether or not SJ is worth it for you, as everyone's different.
But, we can offer some pros and cons of the site, as well as opinions from the site's users, and our own insights to help you to make a decision about whether or not to join SJ.
SJ Pros
We're going to start with the pros because we think that SJ has a lot of them!
1. It's so easy to use!
The interface is so easy to interact with, each survey tells you how long it will take and how many points you'll earn before you get started – so no digging around the site is needed!
Its design is so clean and simple, that it just makes the whole process of taking surveys better – and if you're a newcomer, you'll definitely appreciate the platform's simplicity.
2. Get paid actual cash – and fast
Some survey sites give you gift cards. This is fine if you like gift cards, but if you want actual cash, then it's not ideal. Others pay by check, which is so slow!
Thankfully, SJ gives you the option to redeem your points for cash to your PayPal account or bank account. Redeeming your points to PayPal is so quick as well, as one reviewer on Trust Pilot notes:
"They make it easy to cash out with PayPal."
Another reviewer praises the site for how quickly it pays, "Also time to cash out is really quick!"
3. The withdrawal limit is just $10!
Many users on Trust Pilot note this advantage in their reviews – one user says:
"Other sites have higher requirements to redeem points, but with SJ it's only $10."
With some sites, you have to earn $20 or even $50 plus in some cases before you can withdraw your earnings.
On SJ, however, you only need to earn $10 and you can withdraw your money or get a gift card! This makes SJ a great platform for getting money fast.
4. It's Legit
It doesn't make you pay to join – which no survey site ever should! Any site that requires you to pay to join is usually a scam. It's well-known online, and plenty of people report earning on the site and speak highly of it on platforms, like Trust Pilot, Quora, and Reddit.
5. It makes earning some extra cash easy
While each survey doesn't pay a lot, they are simple to do and pretty much anyone can find time to squeeze a survey into their day.
You can take surveys while you're:
Watching TV.
Waiting to catch a flight at the airport.
Waiting to pick somebody up from the airport.
In-between meetings at work.
On your lunch break
Riding the train, or bus.
Carpooling with someone
On the treadmill or exercise bike.
When you're donating plasma – make money in two ways at once!
Waiting at the dentist, optometrist, or doctor's office.
Waiting to pick your kids up from school.
You can easily fit surveys into your schedule, and they require no skills or experience either. As long as you are competent with a computer and have internet access, you can make money with surveys through SJ.
SJ Cons
Survey Junkie has a lot of positives, but it also, like any other site, has its downsides.
Let's take a look at a few cons of the site.
1. Some people report they're unable to redeem their points
Quite a few users report online that they aren't able to redeem points. And, some of them say that even after getting in touch with customer support, they're still unable to get their points.
Here are a few reports from users who've had this issue:
"Site won't redeem my points nor answer my emails. Like a couple others here, I have been a member of Survey Junkie for over a year and enjoyed their surveys and had good success with earning and redeeming points.
I went to redeem my latest 1000 points and got an error message saying that I needed to contact customer support to verify my account. I have tried numerous times to do so to no avail. I'm not sure what has happened but it looks like I will not be continuing as a member. I say to anyone looking at this site to sign up with caution. There are better ones out there."
"Didn't have any problems until almost 2 weeks ago. Since then I have not been able to redeem my points. Messages are answered with an automated response that in part reads, "One of our team members must call you at the number listed in your profile to resolve your issues, which may include verifying your account. If there is no number listed in your profile, respond to us with the best number to reach you at." They have my number in my profile and I sent it thru an email. Yet, no one is calling. Next step is the BBB."
"Like someone else on here, I was blocked from redeeming the $38.42 that I genuinely EARNED. Instead, I get a message about verifying my account before I could redeem my earnings. I gave them my number…only for them to tell me that my account could not be verified…over ONE MONTH later.
I also sent e-mail after e-mail asking for them to give me a time to have my account verified as I do not always have my phone on me. But all I get are the stupid, lame excuses about how their queue of people to call is long. I used to like Survey Junkie…not anymore."
From our research, we have seen more positive comments on payment, than we have negative. So we wouldn't take this as an instant red flag.
But, we always want to be transparent on MP and let you know about the negative points, even if they aren't as commonly reported, as well as the positive ones.
If you have any issue with payment, then contact the website's customer support. Just follow the same method for contacting the company that we mentioned in the FAQ section.
2. You might not qualify for all of the surveys
On SJ, you'll probably come across the following scenario:
You pick a survey or even get sent an invite in an email, spend time answering some preliminary questions, only to find out that you don't actually qualify for the survey.
This can be annoying, as you're not going to get the full amount for doing the survey, and it can feel like you have wasted your time.
This is typical of all survey sites though, not just SJ. In our experience, in fact, it's the main annoyance of using survey sites.
A few users mention this when reviewing SJ, with one saying:
"Only complaint I have is the time it takes sometimes only to find you are not eligible for survey and only get awarded 1 point."
Bonus Tip: Hack to Earn $1000s
Above, we mentioned that by taking just one, $3 survey every day for a year, you could make over $1,000.
The only problem is that you most likely won't find a survey that you qualify for each and every day.
So, does that mean that you can't earn $1,000 plus each year from surveys?
Heck no!
Our tip is to join multiple survey websites. That way, you'll have more surveys that you actually qualify for.
A couple of survey sites that we recommend are:
Join multiple sites and you'll really maximize your survey earnings.
Closing Thoughts
As you can see, Survey Junkie is a legit website, which gives you a good way to earn. Whether or not you should join the website though is really up to you.
Our advice, based on our research and experience, would be to sign up to multiple survey sites – including SJ.
That way you increase the number of surveys you receive, and therefore your income!
Plus, if you join sites like Swagbucks, which in addition to surveys, provide other ways to earn money, like watching videos, and shopping online, you'll likely make money faster!
Hopefully, our Survey Junkie review has helped you to decide whether or not to give SJ a try.
If you have any experience, good or bad, with using Survey Junkie, then do let us know about it in the comments section below!