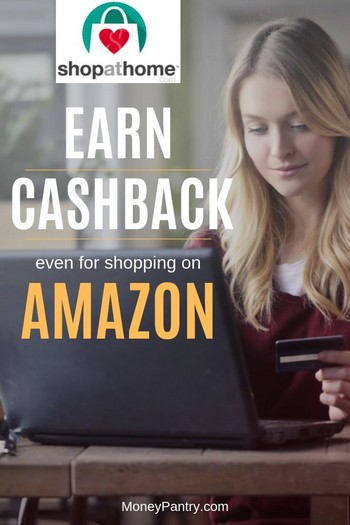 If you've ever looked at getting cashback or coupons online, then you've probably heard about ShopAtHome.
We talk about using coupons and getting cashback a lot here on MP, because we feel that they offer such an easy way to save money.
We've mentioned SAH a few times, but today, we're doing a full ShopAtHome review.
In our review, we cover everything you need to know about SAH, from how it works, to what's on offer on the site.
We even test out the site's coupons.
Finally, we answer the biggest question most people have about cashback and coupon sites like ShopAtHome:
Need Easy Extra $300+/Month for Free?
KashKick
: Get paid directly into your PayPal for watching videos, surfing, shopping and more.
Join KashKick Now!
InboxDollars
: Paid over $57 Million to members to watch videos, take surveys, shop and more.
Get $5 instantly!
Branded Surveys
: Get $1 instantly just for joining for free. Plus get paid within 48 hours by PayPal!
Join Branded Surveys
First Opinion
: Get paid up to $10 per survey and $300 per virtual focus groups!
Join Now!
Swagbucks
: Get paid to watch videos, shop online, take surveys and more.
Join now & get $10 instantly!
Is it legit?
So read on to learn more (and find out how you can get a free $10 bonus!).
What is ShopAtHome?
SAH is a website where you can find online cashback offers, coupons and promo codes. It's like many other cashback sites you find these days, but it has its differences.
There are also some surveys available on the site. Its main focus though is those money-saving coupons and cashback deals.
By the way, the site is owned by Prodege, the same company that owns the popular rewards site, Swagbucks.
How it Works
To get started, visit the website at shopathome.com (use this link and you'll get a free $10 bonus!)
If you want to take advantage of the cashback offers, you'll need to make an account.
You can actually use the coupon codes without signing up for an account though.
Signing up for an account is free, and it's super quick to do as well.
Once you've signed up for an account, you'll be able to take advantage of all the savings that the site has to offer. You can earn cash back on groceries, clothing, home and basically anything you buy at over 2000 stores that participate in their program.
The site has lots of different sections featured on the menu bar on the homepage, including:
This section gives you a list of all of the stores featured on the site in alphabetical order, along with the cashback percentage you can get, and coupons.
You can scroll through the whole list if you want to, or you can click on a letter like "A" or "B" to see stores beginning with that letter.
I like that you can view all of the stores and coupons in one place. It saves so much time, and you can immediately see whether your favorite stores are featured.
On this page, you'll find deals that are categorized, such as:
Featured Offers
All Offers
Deals from our Trusted Partners
We'd definitely say that the All Stores section is better, but this section is worth a peruse just to see those featured offers.
Coupons
The Coupons tab on the menu has a dropdown, which includes two separate sections Coupon Codes and Grocery Coupons.
This is pretty handy since a lot of people are specifically looking for grocery coupons.
Here's what the sections have to offer:
The Coupon Codes section has a list of codes for a huge range of stores.
The stores are listed alphabetically, which is always useful.
And you can even filter the coupons by coupon type, like percent off, dollar off, gift with purchase or shipping offer.
You can also filter the coupons by category, such as Apparel, Computers, and Pets.
In the Grocery Coupons section, you can find a list of grocery coupons from Coupons.com.
And, you get cashback when you redeem or print these grocery coupons.
For each coupon that you redeem at your local grocery store, you earn $0.10 cashback.
You can also earn $0.01 for each coupon you print.
A maximum of 50 coupon prints per day are eligible, but there's no limit on the $0.10 per redemption.
In this section, you can find the download link for ShopAtHome's browser extension.
It's called the Savings Button, and you can install in on Chrome.
Once installed, the Savings Button will:
Tell you how much cashback you can earn when you visit a site.
Automatically apply coupon codes. The extension will try all of the available codes for you and apply the one that saves you the most.
Overall, it's a handy tool to have for saving money online.
In this section, you can find surveys. In return for taking surveys, you'll get cashback.
You can redeem your cashback for gift cards, and for cash by check.
ShopAtHome Apps
As you'd imagine, like any other site of this kind, SAH also has apps for both Android and iOS devices. And like any other apps that save you money, they are great to have since you can use 'em quickly and easily and from anywhere since you have your phone with you at all times.
That said, at the time of writing this post, the link to their app on Apple's App Store is giving an error. Hopefully, they will have fixed it by the time you're reading this.
Available Stores & Cashback Percentage
So the focus of the company is on cashback and the biggest question you might have is "what percentage cashback can I get?"
The cashback percentage on offer varies from store to store.
Here are some examples of the stores and their cashback offers that I saw featured on the site, at the time of writing:
AbeBooks: 2% cashback.
Walgreens: 6% cashback.
Walgreens Photo: 4% cashback.
Walmart: 1.5% cashback.
Callaway Golf: 3% cashback.
Cameron's Seafood: 3% cashback.
Office Depot and OfficeMax: 1.5% cashback.
Office Designs Outlet: 4% cashback.
Onnit: 2% cashback.
Ralph Lauren: 2.5% cashback.
Red Roof Inn: 2% cashback.
Redbox: 2% cashback.
REEDS Jewelers: 4% cashback.
REN Skincare: 2% cashback.
Reservations.com: 3% cashback.
Restaurant.com: Up to 3% cashback.
Bare Minerals: 3% cashback.
Barnes & Noble: 1% cashback.
Barneys New York: 2% cashback.
Gap: 2% cashback.
JCPenney: 3% cashback.
Yankee Candle: 0.5% cashback
Target: 1% cashback
Target Optical: 6% cashback.
Textbooks.com: 2% cashback.
You can view a full list of stores featured on SAH and their cashback percentages here.
As you can see, for the most part, you're going to get between 0.5% and 6% cashback on your purchases.
How to Redeem Your Cashback
Once you have earned your cashback, you can redeem it for:
A check
An Amazon gift card
Payment to your PayPal account.
You can choose your payment method, in the My Profile section of your Account Settings. You will need to provide and verify your email address. You will also need to provide your name and mailing address.
Is ShopAtHome Legit?
SAH was founded in 1986, so it's well-established.
It seems though that in recent years, customer opinion of the platform has waned. We'll discuss that more below. First though, we're going to talk about our experience using the site, and why we think it's a good platform for coupons.
My Experience with the Site's Coupons
Overall, I found the site very easy to navigate, which is always a good thing!
I liked how many stores were featured on there too. It seemed like whichever store I searched for, whether it was Walmart or Expedia, there was a deals page available for it.
I tried several discount coupons on the site. Here's how it went:
Sephora – Free Sample Bag on any $30 order (with the code TROOPSC): This code worked, but only on Sephora Collection items. A free makeup bag was added to my order.
Loot Crate – Get 35% off your order (with the code trivia 35): This code didn't work. I got a message saying, "Invalid Coupon."
Loot Crate 30% off subscriptions (with the code KFMS): I tried a different code this time. This code worked, and I got $26.09 off my order, which was originally $86.97.
Clinique 15% off sitewide (with the code WELCOME 15): This code worked and my order went down from $78.00 to $66.30.
Michael's 40% off any one regular price item (with the code 40SAVE8419): This code worked and my $32 order went down to just $19.20.
So, out of the five coupon codes that I tried, four of them work, meaning that my success rate on the site, with coupons, was 80%.
That's pretty great. I've used sites before to get coupons, and I've had to scroll through tons of them to find even one that works.
So, I'd say that an 80% success rate is pretty good.
Overall, my experience with the coupon codes from ShopAtHome was good.
ShopAtHome Reviews by Other Shoppers
During my research, I found that the reviews of ShopAtHome were very mixed. The site had a lot of good reviews, but just as many bad reviews.
Here are what some of the site's users have to say about their experience using SAH.
Positive Reviews
Here are the positive things that customers have to say about the company:
One user on Trust Pilot says:
"NOT a scam. I'm confused by all of the people who claim this is a scam….it absolutely is NOT a scam. I've been a member for years and I've received over $2,500 in cash back. Either people are lying or they don't know how to actually use Shop At Home. I would only say that getting a hold of customer service could be easier…that's the only reason I gave 4 starts instead of 5."
Another person says:
"I love this company! I get paid for what I do best…..shop. It is so easy and then to get a check for doing something I normally do anyway. Saving the money for a mini vacation."
Another user on Trust Pilot says:
"Great online rebate. Great customer service. Received checks very fast. Good promotions for additional bonus rebates. Thank you."
One user on Sitejabber says:
"It's just so great getting some money back for shopping! I just got lucky and find this site one day, I saw they had many of the stores I shop at and with discounts and to my surprise they sent me a check! I was so happy and so was my husband, ha. I always start my shopping with ShopAtHome."
Another user says:
"I love getting money back! It's quick, easy and i get money back on things i would purchase anyway! I have received several checks from them. the only thing that would make it better is to have the choice to save up to 50.00 before getting your check instead of 20.00."
Negative Reviews
Here are the negative reviews of the site:
One reviewer on Sitejabber says:
"I've used SAH for many years not. At first, I never had any problems, then started noticing I wasn't getting credited for my legitimate shopping. OF course you can't argue with them – they win! Then, you have to have a certain amount of money in your account for payout – That's not usually a problem with me. BUT, Swagbucks (for gift cards) and Ebates are both SO much better and the payout percentage is always higher now than SAH. Save your time and move on."
Another reviewer on the site says:
"SCAM…SCAM…SCAM!!!!! I am an avid online shopper/rebate getter, and I have been clicking on SHOP AT HOME's button for over a year. Last month, I got tired of not seeing my rebates, so I complained. My compensation…$.12. I have removed this from my computer and will be sure to tell EVERYONE I know…Facebook, Twitter, LinkedIn, Email…You name it, I will put it up there. BEWARE!!!!! BEWARE!!!!! BEWARE!!!!! SCAM>>>SCAM>>>SCAM"
Another user on Sitejabber says:
"Sometimes its works and sometimes it doesn't. I didn't get cash back from a large appliance purchase. I was told repeatedly that another site was credited as the originating site therefor it was not their issue. This has happened more than once and generally on larger items. I get the same song and dance that it's not their issue but the suppliers and they can't give what they don't get. I just ordered something in January and had to now file a "wheres my cash back" because it was not credited and I just made another large purchase and tracked the track back to be sure it came from their site so we will see how it ends up but I am not hopeful as this seems to be a regular thing. I have had much better luck with coupon cabin."
Another user on Sitejabber says:
"I have earned ~ 5,200 in cash back for the last 7 years, using 6 or 7 different cash back sites, so I know the rules and am always very careful. Please, be careful too when using the site as your cash back platform. I have experienced so many problems with them that I stopped using them as my go-to cash back site. Recently, they refused to credit my account for an order placed on Amazon.com. The reason they gave me makes no sense. The more I tried to explain why, the more they argued with me. I think about 1/3 of my clicks are not paid or result in incident tickets. I never experience any issue with Ebates.com for instance. I cannot possibly make mistakes only when I use ShopAtHome. Should you experience a problem with the site, they will tell you that the merchant did not credit ShopAtHome for your order. It's usually the answer they always give. Be suspicious and don't believe them. Another problem. I contacted the company about cash back not being credited, and the customer service rep who dealt with my case/ticket kept arguing with me, spamming my inbox with more and more emails to make his/her point. I have never seen that before. This is highly unprofessional. So disrespectful!"
On Trust Pilot, there are also negative reviews from customers, like this one:
"Very shady business practices SCAM! SCAM! SCAM! stay away from them. Very shady business practices. They used be trustworthy, not anymore. My $40 cashback has no record, they no longer show history so they can easily steal your money. Hope they go bankrupt soon and then they can enjoy stolen money."
And this review:
"Total Scam. They should be Prosecuted. I have been owed a $139.00 in cash back for over three months. Each time I inquire they claim "next month". Total scam, no customer service. Liars and cheats. Ebates is the way to go. Ebates is honest. ShopAtHome is not. Total Scam Artists. Should be in jail. I will be contacting the Attorney General and additional Consumer Protection Agencies."
It seems like while the coupons on there are good, as I found when I used the site, the cashback offers are inconsistent.
Obviously, this is a concern. If a site says you'll get cashback, you should get the cashback.
Overall Verdict
Like the reviews of the site, our overall verdict of ShopAtHome is mixed.
The coupons are great. We had no issue with those.
However, the inconsistency with getting cashback that many users report is definitely a concern, and one that SAH clearly needs to address.
So, overall, for coupons, we'd recommend using SAH, but for cashback, we would suggest you proceed with caution.
Ebates (now called Rakuten) has always been one of our favorites for cashback and has much better reviews. For cashback we'd recommend using Ebates instead. Read my honest review of eBates for tips and hacks to earn the most cashback anytime you buy anything online.
Overall, we wouldn't discount SAH altogether. We'd bookmark it as one of your coupon sites, but be careful when it comes to the site's cashback offers. For cashback, we'd give it a miss!
Have you used the site or their app? If so, how would you review ShopAtHome? Share your experience of the site with us in the comments section below. And, let us know what your favorite cashback platforms are.