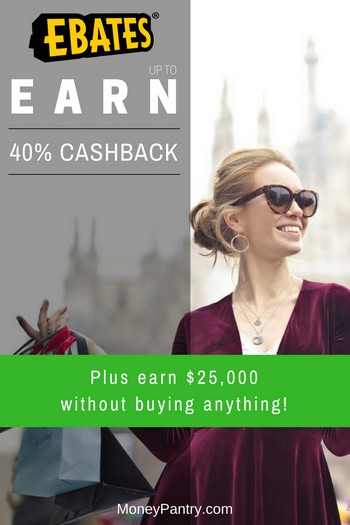 In this review of Ebates, you'll learn all you need to know to get the most out of Ebates.
Ebates is hands down the best way to earn cash back and find huge discounts when shopping online.
It is the largest, free member-based savings program in the United States.
Over 10 million members have earned more than $800 million in cash back from the money-saving site!
One member earned more than $2,100 cash back by making purchases via Ebates Shopping Trips.
Joining Ebates is free and easy.
Keep reading to learn how to get your first Big Fat Check from Ebates! You can thank me later.
Update: Ebates is now known as Rakuten.
How Ebates Works
You never pay a membership fee.
You can earn an unlimited amount of cash back.
There are no rebate forms to mail or reward points to count.
You shop via the site, and Ebates sends you a quarterly cash back check or makes a deposit in your PayPal account.
It is that simple!
Sound too good to be true?
Well, it isn't.
When you click a link to shop at a store, there's a good chance that store is paying for your click.
Stores pay Ebates a commission for getting members like you to shop at their websites.
Unlike search engines or social media sites, Ebates shares the love with you in the form of cash back.
Earning Cash Back with Ebates
Founded in 1998, the savings program has had plenty of time to build relationships with thousands of retailers.
This means even more cash back opportunities for you.
Even better – the Better Business Bureau (BBB) gives Ebates.com an A+ rating, so you know you're in good hands.
Signing Up
Joining Ebates is simple and free, and you can earn cash back as soon as you sign up.
Here's how to join in less than 60 seconds:
Step 1: Visit Ebates.com to become a member.
Step 2: Click the green Join Now button in the upper left-hand corner.
Step 3: Submit your email, home address and a password. Voila! You're a member.
You can also join using your Facebook or Google account.
Where to get it
Like most sites these days, Ebates also has apps.
But it also has an awesome browser extension for most major browsers, known as the Ebates Button.
The extension makes it easy to earn cash back every time you shop online.
But the best part is that it also finds and applies the latest coupons and promo codes at the checkout automatically at over 2500 stores. It is just like the Honey coupon app but the difference is that here you also earn cashback.
Ebates browser extension for:
Chrome
Firefox
Safari
Edge
Ebates Rewards app for:
Ebates sign up bonus
Ebates gives a $10 Welcome Bonus to all new members.
You must place a qualifying order of at least $25 within 90 days of joining to earn the bonus.
This is an easy 10 bucks, so don't blow that deadline and miss out!
How to earn cash back
With Ebates, you can earn cashback almost every single time you buy something online.
That's what makes this site great.
It's like you get free money every time you shop.
To do it, you have to go through the Shopping Trip process.
Which basically means visiting the store you want to shop from through Ebates.
You create an Ebates Shopping Trip every time you click on an Ebates link to earn cash back at a store:
At Ebates.com
In an email from Ebates
On the Ebates App or
With the Ebates Cash Back Button via the browser extensions.
You only receive cash back if you start a Shopping Trip with Ebates first.
Once you're notified the cash back has been activated, just shop like you normally would.
You can visit My Account to view your Shopping Trip history.
It includes all your Shopping Trips, even if you don't make a purchase.
The most important thing to remember
Remember – you must click through an Ebates link every time you shop to earn cash back!
Be sure to look for the pop-up confirmation.
If you click through Ebates and make a purchase, then return to the store later to make a second purchase, you must start another Ebates Shopping Trip in order to earn cash back.
Also, be sure not to accidentally switch browser windows. If you do, you will not get your cash back.
This is the number one mistake new members make.
You can verify that you have started an Ebates Shopping Trip by visiting My Account.
But, cash back cannot be verified at the time of purchase.
If you keep forgetting to go to Ebates.com before your purchase, download the Ebates browser extension.
Its cash back button pops up automatically on any site where Ebates Cash Back is available.
It finds and applies coupons for you, as well.
Other ways to earn with Ebates
There are several additional features and tools you can use to make even more money.
Double Cash Back
First, check out the Double Cash Back tab at Ebates.com.
It features offers like:
5% cash back at Amazon.com
4% cash back at Banana Republic
7% cash back at Avenue
6% cash back at Barneys New York
and too many others to list!
Refer-A-Friend Bonus
Like with rewards most sites, referring friends also earns you extra cash.
Now, normally, you earn $5 for every person you refer.
But it doesn't end there…
You also earn a bonus.
And the more people you refer, the more bonus you earn.
For example:
1 referrals gets you $5 + $20 bonus = $25 in total
2 referrals gets you $10 + $40 bonus = $50 in total
100 referrals gets you $500 + $1,500 bonus = $2000
1000 referrals gets you $5,000 + $20,000 bonus = $25,000
As you can see, you can earn up to $25,000 each year in referral bonuses.
How to refer you friends
Ebates assigns you a unique link when you sign up.
Just visit the Refer-A-Friend page to find it.
Then send that link to your friends via email, text message or social media.
If they sign up via your link and make a qualifying purchase within one year of signing up, you both earn rewards!
You get paid $25, and they get $10.
Your friend can also provide the email you use on your Ebates account when they sign up.
Check "Your Referral Activity" at the bottom of the Refer-A-Friend page to see if your friends have accepted your invite.
Their referral program is actually one of the most underrated ways of earning money here.
I make a few thousand dollars every year from all the people I have referred to the site.
In 2017 alone, I earned $4055 in referral bonuses!
Now, I realize not everybody has a site like MoneyPantry where they can share their referral link, but there are many ways to refer people.
Ways to refer more people
You can email your referral link to your friends and family.
You can post on your blog.
You can share the link on your social media pages.
Your Use word of mouth. Just make sure to give them the link. Your referral URL is short and very easy to remember. It will look something like this: ebates.com/r/yourname
etc.
What makes this whole thing special is that almost everyone shops online these days.
And everyone likes getting cashback without the hassle of filling out cashback forms.
So you don't have to really convince anyone about the benefits of joining.
I mean who wouldn't' want to get cash back for buying things they were going to buy anyway!
Ebates Cash Back Visa Credit Card
The Ebates Cash Back Visa Credit Card allows you to earn unlimited additional cash back rewards and has no annual fee.
Simply using your Ebates credit card anywhere (online and off) to activate your cash back.
By using the card, you will earn an additional 3% cash back on orders place through Ebates and 1% all other purchases.
In-Store Cash Back
Link your credit or debit card to your account and you can earn cash back even when shopping in brick and mortar stores.
After linking your card, search for In-Store Cash Back offers and activate them before shopping in the store with your linked card.
Hot Deals
Ebates.com features a Hot Deals drop-down menu.
You can find some serious discounts and even freebies here!
1. Free Gifts
Who doesn't want a free gift?
Ebates shares a daily list of select merchants that want to give you a free gift with your purchase!
You also earn cash back on these purchases. Yes, please!
For example, right now you can get:
A Google Mini free from Lowes when you buy any Nest Thermostat plus 1% cash back
Buy 5 get 1 free jeans from American Eagle plus 2.5% cash back
Buy 2 get 1 free hair care from Sally Beauty plus 4% cash back
A free gift from Shein with a $59+ order plus 6% cash back
Buy 3 get 1 free beer mugs from Tervis plus 5% cash back
and much more!
2. Free Shipping
The Hot Deals menu also features a Free Shipping link.
You can find a ton of free shipping deals with cash back here, like free shipping:
On orders of $35+ at Target plus 1% cash back
On orders of $25+ at Old Navy plus 4% cash back
Everyday anywhere on orders of $99+ at JCPenny plus 3% cash back
On all orders at Shoes.com plus 25% off and 6% cash back
On all personalized gifts at Things Remembered plus 6.5% cash back
and on many other items!
3. Gift Cards
Buying a gift card makes gift purchasing easy.
Hot Deal gift cards are the gifts that give to you, too!
You can shop gift cards with cash back from this link.
For example, currently purchasing gift cards from:
Ancestry.com earns you 7.5% cash back
Best Western earns you 2.5% cash back
The Container Store earns you 4% cash back
Fandango earns you 2% cash back and
1800FLOWERS earns you 10% cash back.
There many other retailers from which to choose!
4. Buy One, Get One
BOGO is awesome enough, but Ebates adds cash back to sweeten the deal.
Example offers include BOGO:
Jeans at Target plus 1% cash back
Graphic tees at Aeropostale plus 6% cash back
Books at Barnes & Noble plus 2% cash back
Women's panties at Hanes plus 4% cash back
Tanks and swimsuits at Hot Topic plus 2% cash back
and too many other offers to mention!
Remember, these offers change daily, so be sure to check back for more freebies.
Travel Purchases
Travel is expensive!
You can earn some pretty significant cash back by booking airline, hotel, car or other travel reservations via Ebates.
Once you finish your trip, the company confirms payment.
You normally see your cash back from travel in My Account within 3 months of your trip.
You can beef up your vacation-drained bank account with it!
How does Ebates work with Amazon
If you're like me and shop on Amazon often, you'll be glad to know that you can also earn cashback when you shop on Amazon.
Now, unfortunately, you don't earn cashback for every purchase.
Cash Back is only available for select departments.
Here are a few examples of available categories and offered cashback at the time of writing this post:
Clothing 3.5% Cash Back
Handbags & Wallets 3.5% Cash Back
Luggage 3.5% Cash Back
Shoes 3.5% Cash Back
By the way, make sure to visit Amazon through Ebates before adding anything to your cart, otherwise according to the company, "Items added to your shopping cart before clicking from Ebates will not earn Cash Back."
How does Ebates pay you?
As I mentioned earlier, you are paid via their famous "Big Fat Check" or PayPal.
Verification can take a few hours or several days, depending on the store.
Once the retailer confirms your purchase, the rebate will be applied to your account.
You'll get an email confirmation, and you can view your cash back balance any time.
Once you earn at least $5, there are 3 ways to receive your payments:
Big Fat Check sent to you
PayPal payment
Big Fat Check sent to someone else.
You can choose your payment method under your Account Settings.
No matter which method you choose, getting paid is completely free.
Ebates will pay the balance of your earned cash back every three months.
You don't have to request a check or do a dang thing.
Did you notice that you can have your Big Fat Check sent to someone else?
You can send it to a charity, organization or another person.
How nice!
Ebates reviews from Reddit
One Reddit user claims to earn at least $20 a month via Ebates while making minimal purchases.
Another combines Ebates cash back with other deals to save and earn like a pro.
Most users agree that Ebates is a great way to earn cash back and discover great deals.
Some think the site is great for paying off holiday debt and adding extra income to a strapped budget.
Think of all the cash back you'd earn if you did all your Christmas shopping via Ebates!
Members also love the coupons Ebates features.
The site lists coupons and promo codes for each participating store.
Navigating Ebates is easy, and Member Services is available to help if any difficulties do come up.
Bottom Line
Any shopper can appreciate Ebates.
Since you can save online and in-stores, this free cash back program is truly a dream come true.
Other cash back sites make you jump through hoops for minimal earnings.
Not Ebates. Signing up is a breeze, and shopping via the site is effortless and fun.
And, they don't call it a Big Fat Check for nothing!
Hopefully, this review has convinced to get on board.
Seriously, what are you waiting for?
Earning cash back with Ebates is a no-brainer!