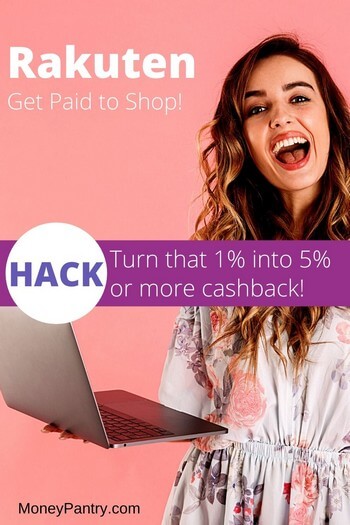 Do you like to shop? What if every time you went shopping, you got a chunk of your money back? Who wouldn't like to get paid for shopping, right?
In this Rakuten review, we'll be looking at one of the top cashback websites that claims it can do that very thing for you. We'll see whether it's legit or not.
What is Rakuten: Rakuten Company Review
Rakuten is a cashback service that offers its users the chance to earn up to 40% cashback when they buy products through them. They also offer coupons and discounts that you can use in addition to the cashback.
You might be thinking this sounds familiar. If so, you'd be right! The service used to be called eBates, but was acquired by Rakuten in 2014 and took its new parent company's name. They still offer the same great deals as before and have worked hard to update the website so that you can more easily save money.
How Does Rakuten Work?
Joining is very quick, easy and absolutely free.
Here's how:
Need Easy Extra $300+/Month for Free?
KashKick
: Get paid directly into your PayPal for watching videos, surfing, shopping and more.
Join KashKick Now!
InboxDollars
: Paid over $57 Million to members to watch videos, take surveys, shop and more.
Get $5 instantly!
Branded Surveys
: Get $1 instantly just for joining for free. Plus get paid within 48 hours by PayPal!
Join Branded Surveys
First Opinion
: Get paid up to $10 per survey and $300 per virtual focus groups!
Join Now!
Swagbucks
: Get paid to watch videos, shop online, take surveys and more.
Join now & get $10 instantly!
Step 1: Visit Rakuten.com and click the "Join Now" button.
Step 2: Submit your email address and a password. You can also join using your Facebook, Google or Apple account.
Step 3: Start shopping and earning cash back!
Once you signed up, there is no waiting period for account approval or any of that nonsense. You can start shopping and earning cash back the moment you sign up.
And don't forget to add your PayPal account to your profile so you can accept cash payouts from the site.
Rakuten Welcome Bonus
This might just be one of the most popular features of this already popular cashback site. As soon as you sign up, they give you a $10 welcome bonus.
No matter which option you choose, signing up gets you the choice of either an automatic 10 dollar credit on your account or a 10 dollar gift card to Walmart.
The app
You might be asking yourself, is the app worth downloading?
On top of its website, the company has an app available for both Android and iPhone. The site is good if you're a big online shopper, but the app is mandatory if you want to go to an actual brick-and-mortar store.
Plus, if you're done with shopping and need a bite to eat, you can use the app to get 5% cashback at more than 10,000 different restaurants.
Rakuten Stores
The number of sores that have partnered with the company is impressive, to say the least.
According to the company, currently, you can earn cashback at over 2,500 stores online. So no matter what you are shopping for, chances are the store you want to buy it from, is on that list.
To give you an idea, here's a sample list of stores that work with Rakuten.com:
Amazon
Walmart
Target
Kohl's
Ace Hardware
Nordstrom
Macy's
Turbotax
Bath and Body Works
They have stores in all the major shopping categories including travel, hotel, auto, books, clothing, sports and outdoor, beauty supplies and more.
How Much Cashback Can I Earn?
You can earn a LOT of cashback from online stores, actually. The site advertises up to 40%, but as of this writing there are sites on Rakuten that you can earn up to 60% cashback on. That's more than half your money back!
Currently, the top offerings are:
e-File– 28% cashback
The New Yorker– 30% cashback
TaxSlayer– 37.5% cashback
Ladder (sports nutrition)– 40% cashback
Norton Antivirus– 40% cashback
McAfee– 40% cashback
Kaspersky– 40% cashback
Joy+Glee– 40% cashback
NordPass– 50% cashback
LifeLock– 60% cashback, plus a coupon for 25% off your first year.
What's the catch?
One limit to using Rakuten is that the cashback offers and discounts are from specific stores. You aren't able to just shop everywhere.
Another catch is that you have to shop through their site or through the app to get cashback. If you forget or click on the wrong link? That's money down the drain.
You have to be careful when you shop if you are trying to use this service to save money. If you take the time to shop at the right stores and remember to click the shopping link Rakuten provides, you should be fine.
Other Ways to Earn Money
There are several additional features and tools you can use to make even more money.
In-Store Shopping
Another hugely underrated feature of the site is its In-Store Cash Back feature.
That's right, you can also earn cashback shopping in person at select stores, just like you do online.
Here's how:
Login to your account or open the app and activate the in-store offer.
Then link a credit card to your account so it can track your purchases.
Then when at the store, use the same credit card to pay for your purchase.
Once the store confirms your purchase (few hours or days) your account gets credited with the appropriate cash back amount.
Wanna earn even more cashback?
Use one of your credit card that gives you cashback or rewards for using it. That way you get cashback from your credit card company and cashback from Rakuten (more on that later!).
Double Cash Back
First, check out the Double Cash Back tab.
There is a section on the site named "Double Cash Back Stores". In this section, you'll find a list of stores that offer more cashback than what they usually offer. For example, Dick's Sporting Goods usually offers 1% cashback, but at the time of writing this post, they are offering 5% cashback.
Her are a few more example:
5% cash back at Amazon.com
4% cash back at Banana Republic
7% cash back at Avenue
6% cash back at Barneys New York
The stores in the Double Cashback section change from day to day. So be sure to check back often so you don't  miss out on extra cashback.
Refer-A-Friend Bonus
Like with rewards most sites, referring friends also earns you extra cash.
Rakuten has (I believe) one of the most generous referral programs.
For every friend you invite who joins and spends $25, you will get $25 and your friend gets $10. It's a win-win situation!
And the more people you refer, the more bonus you earn.
For example:
1 referrals gets you $5 + $20 bonus = $25 in total
2 referrals gets you $10 + $40 bonus = $50 in total
100 referrals gets you $500 + $1,500 bonus = $2000
1000 referrals gets you $5,000 + $20,000 bonus = $25,000
As you can see, you can earn up to $25,000 each year in referral bonuses.
To get your unique referral link, visit the Refer-A-Friend page. Then send that link to your friends via email, text message or social media.
How Does Rakuten Pay You?
The company pays its users in two ways:
PayPal
Check (They call it "Big Fat Check"!
There is a $5 minimum requirement for cashing out, meaning you have to have at least $5 in earnings to request a pay out.
Once you have $5 in your account, you can choose whether you want to be paid via PayPal or Check.
You can choose your payment method under your Account Settings.
The Rakuten Payment Schedule
Now, there is one downside to their payment system.
If you have been using rewards or other similar cashback sites, you are probably familiar with the standard payment system. There is a minimum requirement, but once you hit that minimum, you can request a payout and you can do that as many times a year as you like. There is no limit to the number of times you can ask to be paid provided you've hit the minimum cashout requirement.
Rakuten, however, has a limit. It only pays you quarterly. So every three months, they'll either mail you a physical check or send you the balance to your PayPal account (whichever you choose).
Here's the Payment Schedule:

This is a bummer for those of who like fast or instant payout surveys and rewards sites, but there is actually an upside to this. You get 3 months to accumulate your earnings so once you get paid, you get a big lump sum instead of just a few dollars here and a few dollars there.
Now, to make sure you get your cash back payment, take a moment to add your mailing address to your account. This is important especially if you like to get paid via Check, but the company says it is also important for PayPal payments. Your mailing address is also used to send you tax forms at the end of the year, assuming you earn more than $600 with them in a given calendar year. And depending on how much you shop online, earning $600 in cashback is not that hard!
To add or update your current address go to your Account Settings. (In the App, go to "Choose How to Get Paid.")
How to Increase Your Earnings
If you think of this site just as another cashback site that earns you a little cash back on every purchase, you are going to miss out on a lot of money.
There are actually a lot of ways to earn more than the standard cashback offered.
Here are a few tips to do just that.
Earn an extra 3% cashback with Rakuten Visa Credit Card
One of the easiest ways to increase the amount of cashback you earn from the site is by using the Rakuten Visa Credit Card. With this card, you earn an extra 3% on top of what you already earn on every purchase you make.
Plus, you'll receive a $10 cashback bonus after the first purchase with the card.
If you plan on using Rakuten as your main cashback site, it makes sense to get their Visa Credit Card.
This card has many other benefits as well. You can learn am more about it and apply for the car here.
Book your travel through Rakuten
Most people think cashback sites only give you rebates for buying physical goods online (books, clothes, electronics, etc), and they are correct when it comes to most cashback sites. But Rakuten is different. It even gives you cashback for booking your travel through them.
You can earn cash back for booking:
Flights
Hotel
Rental Car
Vacation Rentals
Cruise
Things to Do
Etc.
The amount of cashback you get varies based on each company.
Examples include:
VRBO: $10 cashback
HotWire: 3% cashback
Priceline: 4% cashback
Expedia: 3.5% Expedia
To book a travel related event, click on the "Travel & Vacation" tab on the homepage. Then search for the company you want to book for, click on the link to visit the website and then book as you normally would. A few days later, your account will be credited with the appropriate amount of cashback.
Buy gift cards from Rakuten
Here's a simple way to increase what you earn:
Go through Rakuten and buy a gift card for a store you want to shop at so you earn cashback for that gift card.
Then shop at that store through Rakuten paying with your gift card and earn cashback for that purchase.
Install the Rakuten button
If you have a hard time remembering to visit Rakuten before shopping online, install their free browser addon on your browser.
Once you install and activate this browser extension, it will alert you when a site you are shopping on is eligible for cashback. It's an easy way to never miss out on any cashback.
The browser addon is available for Chrome, Firefox and Microsoft Edge browsers. To get yours, go to rakuten.com/button.
Rakuten Hack
There is an easy way to actually double, triple or even quadruple what you earn from the site.
Here's how:
Let's say you want to buy something on eBay and you have a Target Red Card (or any other credit card that gives you cashback).
Step 1: Use your card to buy an eBay gift card from Target. Your Red Card will get you 5% discount right there. But instead of going directly to Target.com, login to your Rakuten account and visit Target.com through it. That way, you earn 1% cashback from Rakuten as well.
Step 2: Then, use that gift card to buy what you wanted on eBay, making sure you, again, go through Rakuten first which gets you an extra 5% cashback on eBay purchases.
Step 3: Enjoy all that extra cash you just earned by thinking outside the box!
You can use this method with other rewards and cashback credit cards as well.
How Does Rakuten work with Amazon
If you're like me and shop on Amazon often, you're probably wondering if Amazon is on Rakuten and whether you can earn cashback on Amazon purchases or not.
Well, up until last year you could. In fact, you could get decent cashback for Amazon purchases in different categories such as:
Clothing: 3.5% Cash Back
Handbags & Wallets: 3.5% Cash Back
Luggage: 3.5% Cash Back
Shoes: 3.5% Cash Back
Unfortunately, that all has changed in March 2020.
So why isn't Amazon on Rakuten anymore?
Here's what the company says:
"Please note: on March 20, 2020 Amazon transitioned from offering Cash Back on certain categories to offering Coupons Only. We realize the news of Amazon not offering Cash Back at this time is difficult. To help ensure you can get the things you need, we have increased your Cash Back rates at over 150 other stores. We are in this together and are hoping Amazon is back soon."
So to sum it up, as of writing this review, you can not earn Amazon cashback through Rakuten but you can still get coupons and promo codes. Hopefully, they'll bring it back soon.
Now, all is not lost. You can still earn cashback for Amazon purchases. Here are a few other ways to earn Amazon cashback on your purchases.
How Does Rakuten Make Money?
This might sound like its too good to be true. After all, why would a site like this offer you money?
It's simple really. Rakuten is an affiliate marketing company that makes money by getting commission from online retailers for sending them customers. You can think of affiliate marketing company as a sort of online middle man
Every time somebody goes through Rakuten to shop at any store, that store gives the company a percentage of what the shopper spends at their store/website, Rakuten then uses some of that money to pay you the shopper).
So in reality, it is a win-win situation for both you and Rakuten. You're both making money off companies that need the advertising that Rakuten provides.
Alternatives to Rakuten
Here's the thing…
While Rakuten offers some of the best cashback percentages on the internet, it doesn't offer the best rate for every single online store. And that's why having a few alternative cashback sites as back up is importation in making sure you always get the most cashback.
Thankfully there are a few great sites like Rakuten that offer the same kind of cashback (in some cases even higher amounts ) as well as discount codes that will get you the best deals on the internet.
Here are two sites similar to Rakuten that I think are the best alternative cashback sites:
Wikibuy is somewhat new to the scene. It is a product of Capital One, so you know they put a lot behind it.
WikiBuy is a free browser extension that helps you save money automatically by always finding the best price for thousands of items (even on Amazon).
You don't have to lift a finger! Once you install the WikiBuy add on, then every time you are shopping online, it automatically searches all the coupon databases online and finds and applies the one that gets you the most savings. It really is easy and simple.
And that's not all. You can also earn rewards by linking one of your credit cards to your account and using it the pay for qualifying transactions. Rewards are known as WikiBuy Credits which you can use to get free gift cards through Wikibuy.
You can read my WikiBuy review here for more details and how to get the most out of it.
Note: You don't have to link a credit card to use WikiBuy for saving money. This is only if you want to earn rewards on top of saving big.
Unless you've been living under a rock, you know about Swagbucks. And if you are not using it, you should!
Not only it pays you for taking surveys, watching videos, playing games, and more. It also gives you cashback on hundreds of thousands of online stores.
The main difference between the two is that unlike Rakuten, Swagbucks gives you points that you can redeem for gift cards. Read my detailed Swagbucks review to find out all the ways you can make money with it. Plus a quick guide on how to earn your first $758.25 with Swagbucks!
Rakuten Reviews & Ratings
If you're considering investing your time in a site like Rakuten, usually it's best to get a variety of opinions on the subject.
Generally, reviews of the site are good. The Better Business Bureau grades them at a solid "A," which is better than a lot of cashback sites I've seen.
Customers on the BBB's site have given it a little over 4 stars out of 5 on average. About the same goes for Trustpilot, a popular review site, which has an average of 4.3 stars for its customer reviews.
This user in particular praised their customer service for their quick response to his problems. They "researched my concern, got back to me in minutes, and totally resolved my issue to my benefit."
Other users have less positive things to say. For example, Adrian W. gave it one star, saying that "after referring my mother, the website initially gave the bonus to us both but soon […] removed the bonus without a comment."
There are also a lot of reviews based on personal experience from Reddit users who earn cashback with Rakuten. Some of them also offer great hacks and tips for maximizing your earning.
One Reddit user claims to earn at least $20 a month via Rakuten while making minimal purchases.
Another combines Rakuten cash back with other deals to save and earn like a pro.
Most users agree that this is a great way to earn cash back and discover great deals.
Some think the site is great for paying off holiday debt and adding extra income to a strapped budget.  Think of all the cash back you'd earn if you did all your Christmas shopping via the site!
Members also love the Coupons section where you can find great promo codes and deep discounts on hundreds of products and brands.
So is Rakuten Legit?
Oh yes, absolutely. Rakuten is not a scam. It is as legit of cash back site as a legit cashback site can get.
It is a legit site that can offer you a decent amount of cashback from hundreds of thousands of online and offline retailers. It seems that being acquired by another company hasn't changed its reliability, which is nice to see.
I highly suggest you take advantage of cashback sites. It's like getting If you are going to buy something, you might as well go through a site that gives you some of what you are going to spend, as cashback. It's basically free money!
I hope this honest review of Rakuten has helped you in deciding whether or not it's worth if for you. If you have been using the site, please leave a comment below and let us know how you rate and review Rakuten.