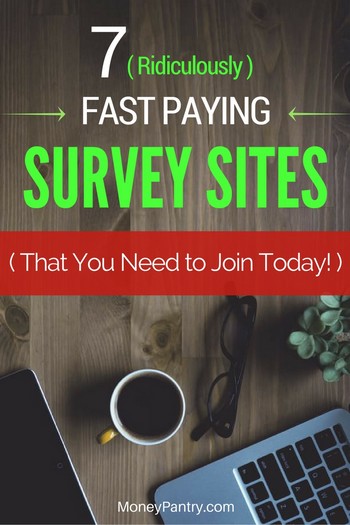 Taking surveys for money isn't a get rich quick scheme, but it's an excellent way to earn extra money on the internet.
And while there are many scams out there, there are also tons of legit online survey sites backed by real market research companies that follow the Code of Standards and Ethics established by CASRO (Council of American Survey Research Organizations).
But even with the surveys that actually pay, there are two big problems:
1.  Fast payout! To be precise, lack thereof.  The majority of survey sites take way too long to pay. Don't you hate it when you finish a survey then you have to wait a whole month to receive your payment – whether it's PayPal, Check or an Amazon gift certificate?
And then there is the other issue…
2. Minimum payment requirement! Again, most sites set a very high threshold that you have to reach before you can request a payment.
Wouldn't it be nice if you could get paid cash to your PayPal instantly for surveys?
Wouldn't it be nice if you didn't have to wait weeks and months until you reach the minimum requirement?
The good news is that there are a few fast paying survey sites that you can combine with slow paying ones (more on that strategy later) to create a nice little side income for yourself.
---
1. Mindswarms
Where to join: MindSwarms
Payout minimum: None
Payout speed: 24 hrs (PayPal payment)
If you hate filling out surveys but love watching videos and getting paid for it, you're gonna love this one!
MindSwarms has video based surveys. Every video survey contains only 7 questions that can take anywhere from 5 to 20 minutes to complete.
But here is the shocker…
MS is one of the highest paying survey sites.
How much do they pay per video survey?
A whopping $50!
Yes, that's $50 per survey you complete.
And that' not even the best part…
Th best part is you get paid in PayPal within 24 hours which compared to some sites seems like instant payment.
MindSwarms is a legit company that not only has some of the highest paying surveys, but it's also one of the fastest paying survey sites out there.
This is one site you don't want to miss!
---
2. Swagbucks
Where to join: Swagbucks
Payout minimum: 85 points ($1)
Payout speed: Up to 10 days but usually much faster
I have written about Swagbucks a few times already here on MoneyPantry. In my recent Swagbucks review, I even shared a simple strategy that will help you earn an extra $758,25 a year.
Swagbucks, although not an exclusive paid survey panel per se, is the biggest online reward program on the planet.
That means you can make money with it in many different ways including:
taking surveys (obviously)
shopping
playing games
watching videos
doing offers
searching
and more
The reason Swagbucks is on this list is because it has a very low payout requirement of just $1 if you're getting a gift card.
Here are a few example gift cards you can get quickly:
$1 KarmaKarma gift card: 85 points
$3 Amazon gift card: 300 points
$5 Amazon gift card: 500 points
$3 eBay gift card: 300 points
Earning 85, 300, 500 points on Swagbucks is very easy and can be done in a matter of a day or so. Take a few surveys, do some of your holiday shopping through them (which also gets you cash back), a few searches, and a few other small activities and you are there.
The best part…
MoneyPantry readers can get a $5 sign up bonus now.
---
3. Quick Rewards
Where to join: QuickRewards.net
Payout minimum: None
Payout speed: 12 to 48 hours
As you might imagine from the name, this site is in the business of fast payouts!
Quick Rewards is one of the lesser-known survey sites but with a very loyal group of users.
And for good reasons – the site is famous for quick payouts.
I have been a  member of QR for probably more than 7 years (although I don't use it that much these days since I'm focused on MoneyPantry). I have had times where it seemed like I got paid immediately (within 15 minutes) in PayPal.
There is no minimum set. You can even redeem a few cents if you wish.
And surveys are not the only way to make money here. You can also get paid for shopping, doing trial offers, playing games, answering trivia questions, and much more.
---
4. Pinecone Research
This is a panel that people wait for months to get into (they don't accept members year around, they only open doors from time to time.) and when they do they all love it.
Pinecone used to pay only cash, $3 per survey.
They would send out a check for $3 as soon as you were done with a survey.
They have since changed the cash and $3 rule. Now the pay depends on the length and topic of the surveys and you earn points that can be redeemed for cash and gift cards.
But their quick payout system hasn't changed. They still do pay you after every survey, although you can "bank" your points so you can redeem for bigger prizes.
---
5. Opinion Outpost
Where to join: Opinion Outpost
Payout minimum: $10
Payout speed: within 24 hours
This is an awesome paid survey panel by SSI (Survey Sampling International), one of the world's biggest market research companies.
You may be wondering why I am adding a site that has a $10 minimum payout requirement. After all, there are many other survey sites that have much lower payout requirement.
The answer is…
Fast payments!
They claim they pay within a day, but I have heard of reports where members got their PayPal payments instantly.
---
6. Paid Viewpoint
Where to join: Paid Viewpoint
Payout minimum: $15
Payout speed: Within 72 hours (PayPal)
Paid Viewpoint is one of those low-key sites that has been around for a while. It shows up in just about any list of survey sites.
And rightly so – it's a legitimate panel that pays its members, more importantly, it pays on time, every time.
There is just as much money to be made on this site through surveys as there is through referrals, so if you have multiple people in your life who are looking for this type of option, then you're in luck (it's $25 per person, after all.)
---
7. Instant Cash Sweepstakes
The company behind Paid Viewpoint is also responsible for this site. But this one is a little different in that you earn cash for answering short but fun polls.
Each poll you take earns you cash – a few cents per poll. However, you will also receive credits that you can use to enter the daily prize drawing which gives $50 every day to a lucky winner.
This is a more contest-based way of doing the online money thing, which suits some people's style better.
The best part about it is that you can withdraw your earnings as soon as you hit $2.
They pay via PayPal within 1-3 days.
---
A better strategy
I know we live in an instant gratification world.
And I know we would all rather use survey sites that pay quickly, but if you just join a few quick paying ones, you are going to miss out, by a lot!
You see, the reason many sites take their time in paying members isn't because they are scams or they just enjoy making people wait. This is mainly so they can analyze the results and avoid paying the ones that didn't read questions or were involved in some fraudulent activities.
There are some rules and guidelines they need to follow to ensure the integrity and quality of their survey results.
By not using those sites, you lose out on a lot of extra cash.
And let's not forget that individual survey sites may have a few available surveys a month that you may qualify for. By joining multiple sites, you can increase the number of surveys you qualify for.
That's the secret of those who make a substantial amount of extra cash every month through online surveys.
So be sure to join a few dozen sites so you can make even more money in your free time. They are all free to join anyway.
Hack for quickly joining multiple sites
If you are worried about the time it takes to sign up for that many sites, use tools like Roboform to quickly fill out registration forms.
Roboform has free and paid versions, but the free one is more than enough.
If you don't want to install a software on your device, then see if your browser has an add-on.
Most major browsers do:
Final Words
There you have it – our list of fast paying surveys.
Please feel free to let us know if you know or are a member of any other survey site that pays instantly or very quickly.