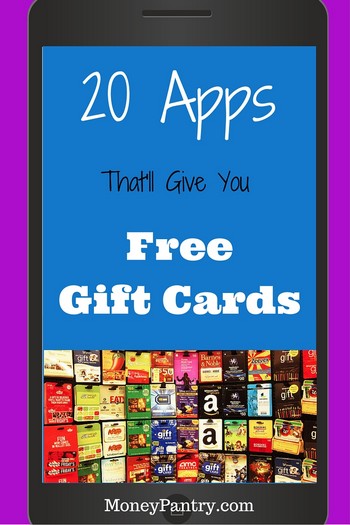 Gift cards are a great thing to have around.
While they're not quite as useful as cash, there's something extra convenient about having credit you can use in a certain place.
Since gift cards are becoming more and more popular in today's world, I've gathered a list of ways to help you earn gift cards.
This is a bit different from lists I've done in the past – like the where we shared a list of our favorite top money making apps.
Today, we're focusing specifically on apps to earn gift cards.
For today's on-the-go consumer, these apps are a great way to monetize your down time.
It goes without saying that you're going to need a smartphone to take advantage of these opportunities.
Those of you on strict data plans take note of which apps stream video and which ones don't!
Almost all of these apps are available for both Android and iOS devices. Though there are a few that are only available on either Android or iOS platform.
1. CoSign
If you're like most people, you should be using CoSign.
What I mean by that is if you already upload pictures to social media sites – Pinterest, Facebook, Twitter, Instagram, etc – you can turn your habit into cash and gift cards.
Here is how it works:
Whenever you upload an image to a social networking site, tag it with some information (price, brand, etc) about the product(s) in the picture – your jeans, hats, handbags, sunglasses, shoes, etc.
If any of your followers buy any of the items in your picture, you earn a commission of up to 35% of the product price.
The app started with a focus on fashion. But you can now also tag products from other categories – household goods, tech products, food, books, movies and more.
The minimum required for cashing out is $40.
This is very lucrative especially when you consider the commission you can earn with pricier items.
Once you have $40 in your account, you can redeem it for gift cards, check or PayPal payments.
If you are already posting pictures to social media, this is an easy way to monetize your habit.
Download the app:
2. MyPoints
MyPoints is one of the original online rewards programs.
The site itself started as a kind of cash back site where members would earn cash back for shopping online.
Over the years, MyPoints slowly morphed into a very popular all-in-one reward site where members can earn points for taking surveys, playing games, shopping, trial offers, and much more.
Once you have enough points you can redeem for gift cards as well as cash. You can even use your points for travel miles.
The best way to get started is to sign up through MyPoints.com first.
Then install the app so you can earn points even while on the go.
Download the app:
3. Lucktastic
Like playing scratch off lottery?
If so, you want to install Lucktastic.
It's a 100% free app that lets you virtual scratch-off lottery.
You can actually win real money, up to $10,000.
But the best part is that every time you play, you earn tokens which can be exchanged for gift cards and other prizes.
You can come back every day to get your free tickets (they give a handful of tickets daily) to scratch off.
If you win something, great, if not, you still earn 5 to 10 points for each game you play.
The company makes its money by displaying ads. You are not required to click on any ad or purchase anything.
If you like playing scratch off games, this is a safe way to spend a few minutes a day getting it out of your system (so you don't waste money buying real scratch off tickets).
If you win the prize, awesome. If you don't, you still earn points that you can exchange for gift cards.
Download the app:
4. FreeMyApps
There are hundreds of new apps created every day. FreeMyApps is a great app that rewards you for trying out some of them.
Here is what you do:
Download the app first. Every time you log in, you'll see a list of sponsored apps. If one interests you, click on it and download it to your device.
Once installed, launch it and use it for at least 30 seconds to earn a certain number of credits.
You can then redeem your credits for gift cards like Amazon, Google Play, Xbox, and many more.
Download the app:
FreeMyApps app for iOS (Use your Safari browser on your Apple device and go to FreeMyApps.com to download the iOS version.)
FreeMyApps app for Android
5. Viggle
Viggle is making something that most of us would love to be able to do, possible, and that is getting paid to watch TV.
The way it works is very simple, really…
You check into any live TV or streaming program and earn Perk Points. The more you stay watching, the more points you earn.
It's that simple!
Viggle will sometimes promote certain shows, and you'll get more points for watching those.
If you want more points, you can also take part in activities like trivia.
You can redeem your Perk Points for gift cards for over 800+ stores and websites.
If you don't want gift cards, you can exchange your points for cash with their prepaid debit card, Perk Plastik.
Not bad for just watching TV.
Download the app:
6. Shopkick
ShopKick is an app that has been growing in popularity recently.
Shopkick has two ways to reward you:
You can either get your points by purchasing stuff through the app.
Or you can get points for walking into certain stores or doing little activities like scanning bar codes.
The reason only certain stores will do is because Shopkick actually works to install beacons in these locations so that it can tell its users are in the store.
So when you enter a store to use Shopkick, you'll know that the opportunities available are specific to the store you're in.
You can absolutely earn points without doing any shopping. However, if you choose to purchase things, you'll earn more points faster.
The key idea is that Shopkick uses the points as an incentive for checking out certain stores and brands.
If you're into the stuff they promote, this is a win-win opportunity!
These points can be redeemed for gift cards, but can also be used to get other prizes like vacuum cleaners, electronics, or even subscriptions to your favorite magazines.
Download the app:
7. Perk
Perk is like a few different apps all packed into one.
You can earn points for watching TV, taking quizzes, playing games, searching, shopping, and more.
Each of these features has their own stand-alone app. So based on how you want to earn points, you have to decide which app you want to use.
The easiest one is probably PerkTV which rewards you for watching TV.
No matter which one you go with, you can redeem your points for 100s of gift cards from Amazon, Walmart, Gap, Starbucks, Target, and many more!
Download the app:
8. JunoWallet
This is a very consistent app that should meet your gift card needs while you're out and about.
You can earn points in a variety of ways, including:
Playing Games
Watching Videos
Doing Surveys
Making Calls
Inviting Your Friends. Level I, II, and III Rewards.
and many more!
You can redeem your JunoCredits to get gift cards like Google Play, Amazon, iTunes, Xbox, Playstation, Nintendo, Starbucks, Nike, and many more.
While JunoWallet isn't particularly unique, it is very reliable, which makes it the clear choice for many people.
Download the app:
9. ReceiptHog
No one can explain what this app is all about better than the company behind ReceiptHog:
Receipt Hog is a fun and rewarding way to turn receipts from everyday shopping into cash – no matter where you shop or what you buy!
The basic idea is that you take a picture of your receipt and earn rewards for each picture.
Now, there are 3 different kinds of receipts:
Coin-Receipts: Receipts from retailers that primarily sell fast-moving consumer products. Think grocery stores, drug stores, clubs, super centers, etc. These receipts are the ones that directly earn you coins.
Spin-Receipts: These are receipts of the stuff you buy from all other retailers – like department stores, home improvement stores, office supply stores, etc. These receipts will earn you a Spin for the Hog Slots, which gives you a chance to win prizes with every spin.
Sweepstakes-Only Receipts: All receipt fall into this category as well as their own category (Coin-Receipts and Spin-Receipts). Every receipt earns you an entry into their monthly sweepstakes drawing for coins – you can win up to 5,000 coins!
You can then redeem your coins for PayPal cash and Amazon gift cards. They recently added magazine subscriptions as an option as well.
Receipt Hog also rewards you for being a consistent user. While the entry-level users will only have the option of taking pictures to earn points, more advanced users will be allowed to do surveys and feedback questionnaires for points, too.
Download the app:
10. Slidejoy
With SlideJoy, all you have to do is use your phone as usual, while earning cash and rewards.
Each time you unlock your phone, you will get a card containing news or ads on your lock screen. Simply slide right to unlock your phone and use it as usual. That's it!
You earn rewards for simply having trending news and ads on your lock screen.
You can redeem your rewards for gift cards or cash via PayPal.
Download the app:
11. CashCrate
CashCrate is another long-time running online reward program that is now making it easy for anyone to earn rewards on the go, with their awesome app.
Like Swagbucks and other sites like Swagbucks, CashCrate also rewards you for taking surveys, playing games, shopping, watching videos, and more.
For very activity, you earn a certain number of points. The points can be redeemed for cash or gift cards.
If you really want to drive up your earnings with this app, you'll want to take advantage of the shopping and trial offers.
Download the app:
12. Panel
Panel is a newer survey and rewards site/app compared to many others.
You earn points for taking surveys, connecting your social networks and referring your friends.
Points can be redeemed for Amazon gift cards on the spot, but you can also enter sweepstakes with your points to win gift cards for things like PayPal, Visa, and Starbucks.
Download the app:
13. Mobee
Rather unique to this list is Mobee, the mobile mystery shopping service.
With Mobee, you'll be assigned to go out and investigate a store's merchandise/service and then give a report on it via the Mobee interface.
Another good thing about Mobee is that they have a quick recognition of your actions. They'll reward you within 24 hours for anything you accomplish and you can immediately redeem it for gift cards or tickets to your favorite events.
Download the app:
14. Ipsos Mobile
Here at MoneyPantry, we talk a lot about Ipsos iSay, and for good reasons. It's one of the best paid survey sites around.
Now they made it even better by introducing their app which lets you take surveys and earn rewards even when you are out and about.
They have some of the highest paying surveys. Although rare, getting paid up to $50-$60 for a single survey isn't unheard of.
You earn points for every survey you take. Once you have enough you can redeem your points for gift cards and other prizes.
Download the app:
A well-known survey app, iPoll, lets you earn money for doing missions (surveys) on the go.
Surveys will ask you multiple choice questions about a certain topic. It might be about a well-known business if you're at home, or it might be about the businesses that you're near.
iPoll is known for having a lot of tasks to do while you're out in the world. If you're in a town center, you might get as many as 8 or 10 offerings at once.
You can cash out for gift cards (Amazon, iTunes, etc) once you have earned $10.
Download the app:
Swagbucks is among the better apps that are available for making money on the go.
Swagbucks is one of our favorites because it offers so many different ways for you to earn rewards – from searching and playing games to shopping, surveys, watching videos, and more.
You can redeem your earnings for gift cards, PayPal, and other prizes.
Download the app:
Swagbucks actually has a few different apps actually (like Swagbucks TV, Swagbucks Answer, Swagbucks Local, and a few more). The best way to start using them is to join the site first, then decide on the app. You can install all 3 if you want.
CheckPoints is an app that operates in a way that is almost identical to Shopkick. So you get the same sorts of options, the ability to scan products or check out stores or make purchases to earn points.
CheckPoints surpasses Shopkick in terms of task availability, though.
It also offers quizzes and videos as a method of earning points.
You can redeem your earnings for gift cards for places like Amazon, WalMart, McDonald's, and many others.
Download the app:
18. App Trailers
App Trailers is a simple and easy-to-use app that rewards you for watching videos.
Usually, you'll be watching a 30-second advertisement about a different app, or giving your feedback on a video.
The points you earn are redeemable for gift cards, although you can also ask for an instant PayPal payment.
Download the app:
19. Points2Shop
While it may sound like this is a shopping rewards app, Points2Shop actually offers a few other ways to earn points, too.
You can earn virtual points or cash with your everyday online activities – shopping, playing games, surveys, and more.
Using Points2Shop's mobile app you can turn any downtime – doctor's office, waiting in line somewhere, waiting in the mechanic shop while your car gets fixed… – to gift cards and cash.
The thing that sets Points2Shop apart from similar services is that they offer a huge variety of prizes that you can redeem for. Even super-expensive ones, like new game consoles and other electronics!
To make it easier to get started, first visit the link above and sign up with Points2Shop on their website, then install their app so you can use it on your phone and on the go.
Download the app:
20. Gift Wallet
With Gift Wallet, you earn points by installing and launching apps, playing games and watching videos.
Once you earn enough points, you can exchange them for gift cards for Google Play, Amazon, iTunes, and others.
Download the app:
Final thoughts
These apps offer an easy way to turn your downtime into free gift cards.
Think about it, how much time you spend waiting in line, in dentist/doctor's office, and other places where you have nothing to do but wait?
Install some of these apps and earn some free gift cards and a little bit of pocket money instead of just wasting your time!
There are a lot of apps out there that are competing for your business. So if you don't like one, no hassle, just delete the app and try a new one.
There is almost definitely an app that you can enjoy that will help you earn gift cards for very little work.