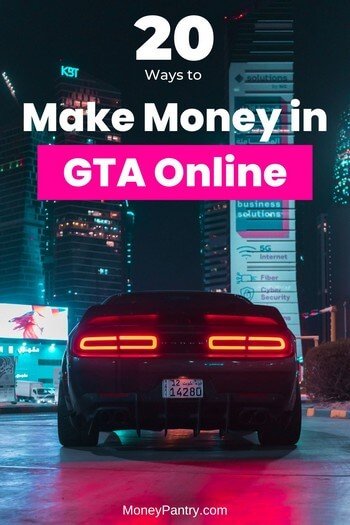 Before we get to exactly how to make money in GTA 5 Online, for those unfamiliar, Grand Theft Auto 5 is the seventh main entry and the fifteenth installment in the popular video game series and even more than a decade after its release, the game is still incredibly popular.
To date, Grand Theft Auto 5 has broken 6 sales world records according to the Guiness World Records.
Some of the records the game has broken include the highest revenue generated by an entertainment product in 24 hours and the fastest entertainment property to gross $1 billion.
GTA broke the mold of the previous installments by enabling the player to follow the story of and play as three different protagonists – a retired bank robber called Michael De Santa, a street gangster called Franklin Clinton, and a drug dealer and gunrunner (and somewhat lunatic) called Trevor Phillips. This differed from the previous installments where players would only follow one character.
GTA Online is the online component of GTA 5. It is the game's online multiplayer mode that allows up to 30 players to explore its open world environment and participate in a variety of different cooperative and competitive game modes.
Knowing how to make money in GTA Online is so important because it's such an integral part of the game.
Need Easy Extra $300+/Month for Free?
KashKick
: Get paid directly into your PayPal for watching videos, surfing, shopping and more.
Join KashKick Now!
Panel Payday
: Earn up to $75 per survey. They also pay up to $50/hr for mystery shopping.
Join Now!
InboxDollars
: Paid over $57 Million to members to watch videos, take surveys, shop and more.
Get $5 instantly!
Branded Surveys
: Get $1 instantly just for joining for free. Plus get paid within 48 hours by PayPal!
Join Branded Surveys
iPsos iSay:
: If you have to only sign up for one paid survey site, go with Ipsos (high paying survyes)!
Join iPsos Now!
Swagbucks
: Get paid to watch videos, shop online, take surveys and more.
Join now & get $5 instantly!
It's needed for many things like purchasing a property. And property is expensive, yet crucial for getting started in a variety of activities on GTA Online.
Whether you want to purchase a yacht or an underground bunker, you're going to need money!
Sure, you could just purchase a GTA Online Shark Card to boost your in-game bank account. However, GTA Online Shark Cards cost real money and you shouldn't have to spend real money to be able to enjoy the game.
How to Earn Money in  GTA 5 Online
Thankfully, there are lots of ways for you to make money in the game, and we'll cover 20 of them in the list below.
1. Heists
Potential income: $400k per hour
Heists are one of the best ways to make money in GTA. Not only are they profitable, but they're also really fun. There are numerous heist missions available in the game that can grant players various amounts of money.
The most profitable heist in the game is the Cayo Perico Heist. The payout for the Cayo Perico heist varies due to multiple factors.
The minimum you can earn from the Cayo Perico Heist is $1,078,000. The maximum payment is $4,570,600.
Although the Cayo Perico Heist is the most profitable heist, they're all worth doing if you're looking to boost income in the game.
2. Gunrunning
Potential income: Between $39k and $80k per hour
Although GTA Online Gunrunning has been in the game for a while now, it was a significant update that introduced these giant underground bunkers that would act as bases of operations.
Bunkers are the center for all things Gunrunning. They are also essential in the game for storage space. You can even purchase the Mobile Operations Center to run your illicit business while you're on the move in San Andreas.
Gunrunning is one of the more lucrative activities in the game. However, getting all of your start up equipment means that you have to invest quite a lot.
It's worth it in the long run though. And, once you get your enterprise up and running, your bunker will keep producing Gunrunning income while you're off doing other missions and activities. So, it's sort of like a passive income stream.
You could make up to $80k per hour (including expenses) with Gunrunning, but this is assuming that all supplies are stolen instead of paid for too.
3. Motorcycle club
Potential income: $40k to $80k per hour
Another option you can try is starting a Motorcycle Club. Motorcycle Clubs are a gameplay element in GTA Online that was introduced in the Bikers update. It allows players to start a Motorcycle Club and carry out tasks while hiring other players as prospects and promoting their ranks.
You can start a Motorcycle Club as president from the corresponding option in the interaction menu.
It's important to note that there are costs involved with starting an MC Club. For example, you'll need a clubhouse that costs at least $200k.
You can buy or steal supplies for your club. Buying supplies is more time effective. Once you have your supplies, your staff will begin production and turn them into stock while you're doing other activities in the game. You can then use the laptop in the business building to sell your product when it's ready via a delivery mission to make a profit.
There's no monetary bonus for selling full stock. And, if you leave the product too long, your stock will grow to the point where the sell mission will require multiple people. So, selling frequently is the best strategy if you are a solo player.
Having an MC Club gives you more options for earning money, such as Cocaine Lockup or Meth Lab.
Cocaine production is one of the most profitable, but sell missions often take longer to complete. The cheapest cocaine business costs $975k to buy.
This option is great for making a passive income, so you should have the club running in the background while you make active income from other activities and missions in the game.
4. VIP Missions
Potential income: $150k per hour
Once you start an organization as a VIP or CEO from the interaction menu, you can select "VIP Work." Then, you'll be able to choose from a range of free roam missions to complete. Doing these VIP missions can help you to increase your hourly earnings. They're particularly good as filler jobs. Some good missions to try include Headhunter, Hostile Takeover, and Sightseer.
5. Become a bodyguard
Potential income: $5k every 15 minutes
If you are hired as a Bodyguard by an active VIP, then this can become a really profitable money-making scheme in the long run. It's a pretty fun way to make money in the game.
Not only can you earn $5k every 15 minutes for working as a bodyguard, but you also get payouts on top of that for the jobs that you and your VIP complete together.
While the pay rate for this job might not seem like a lot at first, it starts to add up after a while. Most of your earnings will come from bonuses from completing challenges and jobs.
If you can get hired by a VIP that is money hungry, determined, and experienced, then being a bodyguard can be a good way to make money consistently.
6. Time trials
Potential income: Up to $100k per race
Time Trials are short races from one location to another location. The goal of these Time Trails is to beat a par time. You'll be rewarded with money and reputation.
These trials are a great option if you enjoy driving and are good at it. This could be a profitable venture for you. A purple corona will highlight the starting point and you'll be able to see this on the map as a purple stopwatch icon.
There are no checkpoints, which means that players are able to take any path that they want to in order to reach the finishing point. The race is live and one-man only, which means that other players can see the player racing in the freemode session. In order to avoid interruptions by others, the player is switched to passive mode.
If you take a wrong turn or run out of time, you can hold F (PC), Y (Xbox One), or Triangle (PlayStation 4) to restart the race. You will then be placed at the purple corona and have the option to start the race again.
These free-roam races against the clock can be a good way to earn. Each week, you'll be able to do a new time trial in between any other money-making activities or missions that you are doing in the game. Races can pay $50k to $100k, so this can be quite profitable. But, you do need to have confidence in your driving skills to have success with this option.
The Time Trials are unique and change every week (real-time). Once you have beaten the par time, the Time Trial becomes unavailable and reappears after a while. Any further successful attempts you make at beating the par time will then only give consolation money, which is between $1,000 and $4,000.
7. Nightclubs
Potential income: Up to $10k per hour
One of the best businesses that you can operate in GTA Online when it comes to making money passively in the game is nightclubs.
However, nightclubs require quite a large investment since many of the best nightclubs cost more than $1 million to buy.
Running a profitable nightclub isn't too difficult either since players don't need to do much except keep the popularity of their nightclubs in check and do a few management missions to increase awareness about their nightclubs.
The amount of money you make will depend on the popularity of your nightclub. Running a nightclub might not be as profitable as Gunrunning is, but it's great for making a passive income.
8. Daily objectives
Potential income: Up to $30k per day
One of the best things you can do if you're wondering how to make money in GTA 5 Online is to complete the Daily Objectives. So many people overlook these but they can be so profitable. They really are worth your time.
You can receive $30,000 for completing all three daily objectives. That's quite a lot of cash. If you complete all Daily Objectives for seven consecutive days, you can get $150,000 instead of $30k. That's pretty awesome, right?
If you complete 28 consecutive days you can earn $750,000.
To access your Daily Objectives in GTA Online, you should go to the Interaction Menu, and then select the "Daily Objectives" option.
Completing the Daily Objectives really is one of the easiest ways of earning cash in GTA Online, and it typically doesn't incur any entry costs. That being said, fee payment for individual objective activities may be required, such as bribing cops and causing chaos, which costs $5,000 for example.
Daily Objectives refresh with a new set of three objectives at 6am UTC (2am EDT, 7am BST, 11pm PDT).
The objectives will consist of at least one job to participate in and one activity to perform.
Many activities can be done solo or in solo/invite only lobbies, but not all of them. This means that while solo players may be able to complete single sets of objectives frequently, it can be difficult for them to complete the 7 or 28 consecutive day stretches on their own. This is because of the random nature of the objectives which often include ones that require interaction with other players.
Overall, this is a super easy way to earn more money in GTA Online and these bonuses really add up over time.
9. Stealing from convenience stores
Potential income: $100 to $1,200 per store
Robbing convenience stores can be a good way to make some quick cash. However, it's a little dangerous since you'll have the cops after you. With the right vehicle or some friends though, it can be an easy and fast way to make some cash.
It's a good idea to rob as many stores as you can, as quickly as you can, and use a helicopter.
A helicopter makes for a fast getaway vehicle, which makes it easier to lose the cops – at least until you get to the point where you have police helicopters on your tail.
You can steal from a convenience store solo pretty easily, and it's even easier with a partner.
Some stores have more than one register and these are worth shooting open to grab some extra cash. Robbing different stores with yield different payouts.
10. Selling cars
Potential income: $500 to $9,500 per vehicle
One of the easiest ways to make money in GTA Online is to sell stolen vehicles. It's one of the faster ways to make money as well.
Payment for unmodified vehicles varies from $500 to $9,500. The amount of money you earn varies depending on the type of vehicle that you sell. Typically, luxury couples and SUVs are the most valuable. Also, cars you should look out for include the Modded Sandking, Baller, Felon GT, Dubsta, and the Sentinel.
Mod shops tend to purchase stolen cars for around 10% of the retail price.
It's important though to be aware with this method there is a cool down period. You can only sell a car every 48 minutes. If you keep an eye on the time though, this can be a very easy and quick way to earn money. And, it doesn't require a ton of effort either.
11. Jobs
Another great option you should try is jobs. These can net you a decent profit.
So, you should participate in various types of jobs in the game, such as Races, Deathmatches, Captures, Last Team Standing, and Parachuting.
Jobs are scattered all over the map. The easiest way to find them is on the menu. Each of the jobs can be accessed via the Jobs list on the Pause menu.
This is one of the more interesting ways to earn money in the game. Jobs are great for beginners who don't have much cash because they don't require a start-up fee.
12. Acid lab business
Potential income: $237,600 to $335,200 for a full supply
The Acid Lab business is a criminal career that you can use to earn money. Basically, the player sells Acid to earn money.
The Acid Lab business was introduced in the Los Santos Drug Wars update. The maximum payout from it is pretty good.
Selling all of the supplies without any upgrades gives players $237,600. If you have the equipment upgrade installed, then you can earn $335,200. These figures don't include a High Demand Bonus for playing in a Public Session. This can be a good way to earn money, but the lab does cost $750,000.
With the Acid Lab business, you need to obtain supplies that you can later sell. Players can steal the supplies or purchase them from Mutt for $60,000.
GTA Online players can get the Brickade 6×6 related to this business by completing all First Dose missions. Then, you will need to complete the "Setup: Acid Lab Equipment" mission and then spend $750,000 to install everything. Then, you can either steal supplies for the business or purchase them.
13. Special cargo
Potential income: Up to $150,000 per crate. Up to $286k per hour.
Players in GTA Online can earn money with the Special Cargo warehouse.
It is essentially an underground facility unit that allows players to store stolen contraband until it is sold to a dealer.
In order to start the Special Cargo missions in the game, you will need to own a CEO office and buy a Special Cargo warehouse. After you have registered as a CEO, you can start the mission from the laptop in your office.
You can purchase a warehouse in GTA Online at one out of 22 locations around Los Santos.  All of them come with a different total capacity to store products.
Warehouses are available in three different sizes, small, medium, and large. The amount of money you can make with Special Cargo depends on how many crates a warehouse can store at a time.
Here's what each warehouse can store:
Small warehouses: 16 crates
Medium warehouses: 42 crates
Large warehouses: 111 crates
Special Cargo missions can be completed in two steps. Upon starting the mission, you will need to collect supplies for your warehouse.
You either go and steal them from a location on the map, or you can buy them from the SecuroServ website.
Once you've stocked the warehouse, you will need to export the products to earn money. You need to deliver the bought or stolen products to the given location.
How much money you earn depends on how many crates you sell at a time:
Selling one crate at a time generates $132,000 per hour.
Selling two crates at a time can generate $189,000 per hour.
Selling three crates at a time can generate $286,000 per hour.
14. Vehicle cargo
Potential income: $30k to $100k depending on the vehicle
Another business that pays well in GTA Online is the Vehicle Warehouse. It can be incredibly lucrative.
Vehicle warehouses were added to GTA Online as part of the Import/Export update.
A vehicle warehouse is an underground storage facility, where you can store luxury vehicles until they are sold to a dealer. This warehouse cannot be raided by NPCs or other players, so you don't have to worry about having your hard-earned rewards disappear.
To start a vehicle cargo business, you will need to own a Vehicle Cargo Warehouse, and to do that, you will need to own a CEO Office and register as a CEO via the SecuroServ option in the interaction menu.
Once you're registered, go to the computer in your office and purchase a vehicle warehouse. The cheapest one is $1.5 million.
When you have purchased a warehouse, you need to source a vehicle from the same computer you used to set up the Vehicle Cargo Warehouse.
Once that is done, you can access the Warehouse at any time to complete import/export missions. It's important to note though that players are only able to export a vehicle from the warehouse laptop. To source vehicles, you'll need to access the CEO office computer.
So, you go to the computer in your CEO office, select "Vehicle Cargo", then "Source Vehicle." The vehicle will range from the top range to the standard range randomly.
Once a vehicle is sourced, a text message will be sent to your in-game phone, which includes the info on the vehicle and a picture. And the Assistant will call you to describe the task on exit from the office.
You'll need to complete a mission to steal a vehicle and drive it back to your vehicle warehouse. But, you'll need to be careful when you drive it back as any damage will result in repair costs, which will cut into your profits.
You'll encounter obstacles as you go for the vehicle. When delivering a vehicle, NPCs may pursue you and open fire, or you may become wanted by the police.
You should try to keep the car in good condition to avoid high repair costs and to keep your profits intact.
Then, you can use the laptop in the vehicle warehouse to export the vehicle that you sourced via a delivery mission to make a profit.
There are three types of Vehicle Cargo that you can source, which are Standard Range, Mid Range, and Top Range. Each one can be exported for different sums of money, ranging from $30,000 to $100,000.
15. Franklin's Payphone Hits
Potential income: Up to around $15k per mission
The Contract DLC introduced a series of missions where players receive payphone calls from Franklin. In these missions, Franklin calls you to tell you to eliminate specific targets whose deaths will influence the stock market.
These missions are quick to do, taking only 15 minutes each to complete, but they can be pretty profitable. Each mission pays up to $15,000, and players can expect to earn around $70k in total.
16. Premium races
Potential income: $20k to $100k per race
You can make money in GTA 5 Online by competing in premium races. You can either drive to the location of the premium race, which is a golden stunt wheel on the map or hover over it and start the job from the map.
Premium races require 8 players to begin. These races are only available for a limited amount of time, and you need to pay a $20k entry fee if you want to participate.
So, you are having to part with quite a bit of cash for this one. And, you have to finish in the top 3 or you don't get any money at all. If you can finish in first, second, or third place though, you'll win money.
Here's how much you could win:
First place: $100k
Second place: $30k
Third place: $20k
You need to have excellent driving skills for this one to be profitable. If you are a good driver, it's a great way to make money fast in GTA 5 Online.
17. Gang attacks
Potential income: Up to $2.5k per location
You can make money in GTA 5 Online with Gang Attacks. Gang Attacks are unlocked at rank 18 via an introductory phone call from Martin Madrazo. In the phone call, he requests that the player wipe out his enemies in their hideouts and encourages the player to keep whatever loot is found. There are more than 50 Gang Attack locations around San Andreas, which you can encounter as you drive around.
Some are easy to come across as you travel your usual routes, but others may require you to go a little out of your way to find them. Also, some gang locations are only active at specific times of the day.
During a Gang Attack, you'll need to defeat several enemies in order to complete it. You usually need to defeat 15 enemies to complete the Gang Attack. In some attacks though there can be as few as 15 enemies or as many as 30 enemies. A counter will appear in the lower right corner though that shows you how many enemies there are.
During a Gang Attack, there will be several supply crates that are located around the area. These crates contain weapons, ammo, and snacks that restore health. Also, they usually contain $500 per crate. The number of crates you get is usually relative to the number of enemies that are attacking you. These crates are useful if you need supplies quickly during the battle. The faction that you fight will impact what weapons your enemies use, so The Lost MC, Hillbillies, Merryweather, Vagos, etc. all come with different challenges.
After you have dispatched all gang members and the Gang Attack is over, money and weapons from the crates will be left behind for a short period so that you can collect them. Collecting this should equal between $1,000 and $2,500 plus whatever petty cash your dispatched enemies have dropped.
18. Contact missions
Potential income: $18k to $23k per mission
In GTA Online, various characters from the main story will contact you with work opportunities. Characters that can contact you with work include Lamar Davis, Gerald, Simeon Yetarian, Ron Jakowski, Trevor Philips, Lester Crest, and Martin Madrazo.
These missions can be great for earning money. It can be a good idea to have a couple of friends help you out with these missions though, as many of these missions can be quite challenging, particularly if you're not properly armed. These jobs can provide a consistent form of income, especially with the right team.
These jobs have a final payout of approximately, $18,000 to $23,000.
19. Mug other players
Potential income: Up to $10k
One option to try if you want more money in the game is to simply steal it from other players. Once you reach level 50, you'll be able to call Lamar Davis to send the Mugger after a specific player. This costs $1k.
The caller cannot be in passive mode to hire a Mugger, and potential targets must not be in a safe house at the time.
The Mugger will run up to the player with a knife, knock them down, and then steal whatever amount of cash they have in their wallet at the time. So, the targeted player will have up to $10k stolen if they haven't deposited their money into their bank account. The cash stolen will vary depending on the player's level, but no cash will be stolen if it has been deposited.
This can earn you a lot of money. However, it is not a dependable money-making method since many players will avoid walking around with a large amount of cash on hand. Some players though can be more reckless and carry larger amounts with them, so this can be profitable provided that you target the right players.
20. Bank your money
Potential income: Keep your earnings intact
In order to prevent the previous scenario of getting mugged from happening to you, it's important that you bank your money. You need to get into the habit of instantly banking any cash that you have on hand.
If you don't, then you risk having any money that you've worked hard to earn stolen from you. Some GTA Online players are ruthless and will go after your money. So, you don't want to be holding large amounts of cash in your wallet.
It's awful to get mugged by a player right after you've finished a high-paying mission. So, save yourself the hassle and be sure to bank your money.
After you have made money, browse the internet, and then bank your cash via the Maze Bank app.
Closing Thoughts
GTA 5 is a fun game, and the online component of the game opens up even more ways for you to enjoy the game. Money is an important part of GTA Online so it's good to know that there are lots of ways to bring in cash on the game.
And hopefully now that you know how to make money in GTA 5 Online, you'll have even more fun playing the game!