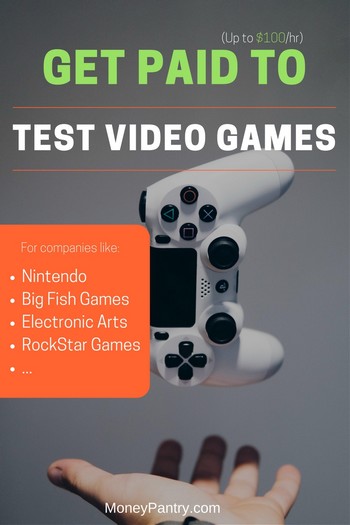 How would you like to get paid to test video games?
If you like and play a lot of video games, this is right up your alley.
According to the 2016 annual report by The Entertainment Software Association, the average gamer spends just under 7 hours a week playing video games.
And we spend quite a bit on games.
$23.5 billion to be exact!
But there are ways to make this a little less expensive habit.
You can even get paid to play games!
There is also another way to make money (and get premium games for free)…
…paid video game testing!
Why would gaming companies pay me to test games?
There are thousands of video games available in today's market.
And every day, hundreds more are introduced.
Some flop, some succeed, and a few become big hits like Guitar Hero, Halo, Final Fantasy, Wii Fit, Grand Theft Auto, SSX, and Metroid.
Now, designing and production of video games is a long process.
It takes a lot of time, effort and money.
So it's essential for the software companies behind these games to eliminate any issues before the replace the game to the masses.
Imagine how pissed you'd be if you paid $50 for a game only to have to deal with bugs and errors.
To avoid losing loyal customers (and revenue,) video games companies, like any other smart software company, conduct tests before they actually release the product to the market.
This isn't limited to just gaming companies, most companies do this. For example, Facebook pays you up to $500 for any bugs you find on their platform.
By having beta testers test the products, companies can find and fix potential bugs and errors before it gets too out of hand.
This is almost like market research and those paid surveys where you get paid to share your opinion about products before they are released to the market.
Of course, you won't find many video game testers who would do this for free.
To entice gamers to participate, they reward them with money, prizes and free games.
Interested?
Let's get you familiar with how it all works and how you can become a paid video game tester.
What exactly do you do as a game tester?
As a tester, you have one job and one job only…
Play games and report any bugs, errors, or glitches you come across.
That's what it comes down to.
Of course, there are a few specific things that they want you to look out for.
Some of the features that testers need to inspect are:
compatibility
compliance
functionality
localization and beta
regression load
locating faults that may cause crashing of console, freezing of games, erasing of programs or distort visuals.
It's really a fun job.
Sure, you may not always get a testing job for a game you like. but sometimes you may get lucky and get assigned to test play one of your favorite games.
Either way, you play the game!
It's a simple process that can be broken down into 4 steps.
Here's how it works:
Play the game, looking for bugs and errors.
When you find a bug, you'll have to reproduce ("repro") it.
Type a bug report via the provided form (usually part of a bug-tracking software.)
Submit your report to the developers of the game so they can fix it.
In some cases, the game developers may contact you for more details.
Game tester salary: How much money can you make?
The amount of money you can make as a game tester really varies.
You can get paid hourly or an annual salary.
Either way, the pay rate varies based on a few factors like the game company hiring you, your experience, geographical location and so on.
You can expect anywhere from $10 per hour to $100 per hour.
According to Gamasutra Salary Survey, the average annual salary of a tester is about $54,833.
Now here is the interesting part…
According to the same survey, for those with over 6 years experience, the salary went up to $62,885 a year.
So, just like in most other industries, entry-level workers are paid less than those with more experience.
Sidebar: If you own a lot of games and want to make some fast cash, check out our post on best places to sell video games for cash.
How do you become a video game tester?
Normally, you can find video game tester jobs on third-party platforms that specialize in connecting testers with software companies.
That said, manufacturers of video games – Namco, EA Sports, Sega, PlayStation, Capcom, Sony, Konami, Apple,… – also offer video game testing jobs from time to time.
Most don't have a dedicated panel where you can sign up year round, but there are a few that do.
It's important to note that in most aces you won't be hired as an employee. Game testing jobs are offered on a contract basis. Meaning, you'll be working as an interdependent contractor.
Read to get started?
Here are a few companies offering video game testing jobs:
1. Nintendo
Working with Nintendo is a gamer's dream.
We all know Nintendo, one of the biggest names in the gaming industry.
Many of us grew up playing Nintendo games such as Super Mario and Contra.
Nintendo hires testers through two different contractors/temp agencies – Parker Staffing Services and Allegis Group.
Unfortunately, they do not offer off-site beta testing or remote video game testing jobs.
All their current positions  are located in Redmond, Washington
Where to apply:
2. VMC – Global Beta Test Network
Want to be the first to play big games?
This is the platform for you!
The Global Beta Test Network is a community of hundreds of gamers from all over the world that help gaming companies test their games through the process known as "Stress Testing."
Through VMC, you get to play and test AAA multiplayer console games.
To qualify, you must:
Be at least 18 years old
Sign a non-disclosure agreement
Be able to focus and follow instruction
Behave professionally at all times.
These are paid jobs, although they don't mention how much exactly you get paid (I'm guessing it's because the pay varies based on the test.)
Compensation is an hourly rate based on where you live.
You receive your payment via PayPal 45 days after the end of the project.
Where to apply:
3. RockStar Games
Even if you're not a gamer, you've provably heard of Grand Theft Auto. RockStar Games is the company behind it and many other top games.
RockStar is looking for "passionate, enthusiastic and self-motivated individuals" to join their QA (Quality Assurance) teams in various cities.
Currently, they have openings in 2 cities:
Lincoln, United Kingdom
San Diego, California
in Lincoln across our day and night shifts.
You must be at least 18 years old, and you may be asked to complete a video interview as well.
Keep an eye on their career page for openings in other cities.
Where to apply:
4. Blizzard
Blizzard is one of the top game designers/developers. Some of their most successful games include World of Warcraft, Diablo, and StarCraft.
They hire games testers as temporary workers.
They don't have open potions year round, but they do from time to time.
To get notified, keep an eye on their Careers page.
If you like working in the gaming industry, they have other open positions for Animators, Designers, Character Artist and more.
Where to apply:
How to find more game testing jobs
The companies mentioned above aren't the only game (pun intended) in town.
Remember we said most game companies don't have a dedicated panel?
So how do they find testers for their games?
Ads on a job site!
When they need testers, they simply put ads on job search engines.
And that's where you can find more legitimate game testing jobs.
All you have to do is g to your favorite job site and search for terms like:
"game tester jobs near me"
"game tester jobs at home"
"game tester jobs no experience"
"entry level game tester jobs"
…
I found a few dozens of openings on some of the top job search sites.
Here are some of the available game tester jobs on:
In just a few minutes, I was able to find available testing jobs for some of the biggest game development companies like Big Fish Games, C2S Technologies, RockStar North and Blizzard.
If you're serious about wanting to make money as a game tester, I'd definitely keep an eye on these sites.
Tips for success
Here are a few tips to help you get that dream job.
Unfortunately, remote testing jobs are rare. Most companies require you to show up in their studio somewhere and play the game under controlled situations.
So, living in big cities, especially tech and software hubs, like San Francisco, is your best bet for landing a beta tester job.
Reports from Houston Chronicle suggest that major cities like Los Angeles, New York and Seattle offer maximum opportunities for working as a game tester.
Learn to speak the language
Game developers look for people who are passionate and talented about games.
You should get familiar with gaming terminology and trends.
If you are already an expert on certain types of games, try some new games.
It will be helpful for you to learn how to write a test report, be aware of the ongoing trends in the industry.
And if you ever find an internship opportunity for a gaming company, do not mess it up!
Some companies don't require degrees or years of experience. You may be able  to find entry level jobs.
That said, having a degree in software development, computer programming or graphic design is a great tool for landing, not just a testing, but any other job in this industry.
Scam Alert: Game-Testers.net
Finding legitimate game testing jobs is kind of hard, which is why a lot of people fall for scams.
One of those is Game-Testers.net.
The site claims you can make $50 to $150 an hour playing games from anywhere.
But here is the catch…
You have to actually pay to join the site!
They charge something like $50 for "membership fee!"
I mean, what legit company that is hiring people, charges you to work for them?
And you know what you get for it?
Nothing!
All you get is a guide on how to get started (just like what you're reading now, for free!) and links to major game development companies like Microsoft and Activision.
So, please stay away from this one and others like it.
In general, if it sounds too good to be true, it probably is.
Resources
When researching for this post, I came across a lot of great resources that I think are very helpful for anyone interested in making money as a game tester.
Here are some of them:
Your turn
Have you ever been paid for testing video games?
Would you do it if you were offered a job?
Please feel free to share your experience when it comes video game testing jobs and whether or not you think you can make decent money doing it.