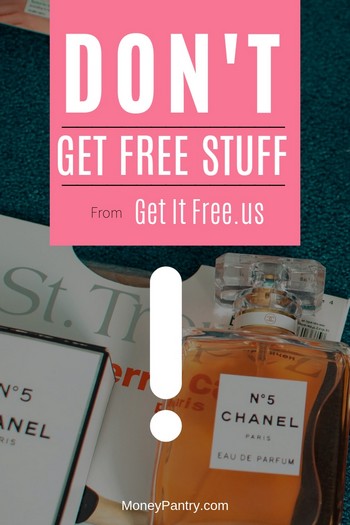 Is Get It Free legit?
That's the question a lot of people have about one of the oldest websites to get free stuff on.
The website claims to send you free stuff.
Some items are sent by Get It Free and others are sent from third-party websites.
In our Get It Free review, we tell you everything there is to know about the platform, from how it works to what types of freebies it offers.
Most importantly though, we're going to let you know whether it's a scam or legit and why there are better sites out there, based on our research.
Need Easy Extra $300+/Month for Free?
KashKick
: Get paid directly into your PayPal for watching videos, surfing, shopping and more.
Join KashKick Now!
InboxDollars
: Paid over $57 Million to members to watch videos, take surveys, shop and more.
Get $5 instantly!
Branded Surveys
: Get $1 instantly just for joining for free. Plus get paid within 48 hours by PayPal!
Join Branded Surveys
First Opinion
: Get paid up to $10 per survey and $300 per virtual focus groups!
Join Now!
Swagbucks
: Get paid to watch videos, shop online, take surveys and more.
Join now & get $10 instantly!
What Is Get It Free?
Get It Free (which is actually getitfree.us and not getitfree.com) is a website that offers freebies, deals, coupons, and sweepstakes.
Basically, it's designed to save you money and get you free stuff.
And who wouldn't want free stuff without paying disguised fees.
The website offers its own freebies, but it also gathers freebies and deals from third party websites.
Getting Free Stuff From Get It Free: How It Works
On the Get It Free website, there are 6 sections on the navigation bar.
These are:
You'll find a list of freebies here.
Examples include:
The freebies are neatly presented, but you can't filter them by category or anything.
Instead, you have to just click "next page" and keep scrolling through freebies.
However, you can search for specific offers using the search section of the navigation bar.
When you find an offer you like, click on it, and a new page will load that provides more information on that product.
If you want to redeem an offer, just follow the instructions that are posted underneath the offer description. To get started, click on the "Redeem Now" button.
Then, in your basket, click on "Redeem Freebie."
At this point, a new page will appear – this page could be on the third-party website that's hosting the offer.
Just follow the instructions on the page or complete the required forms, and click submit.
What Types of Freebies are Available?
The website advertises freebies in a wide range of categories.
At the time of writing, a few examples of freebies advertised on Get It Free were:
Skincare serum from SkinCeuticals.
Garnier sheet mask.
Puppy or Kitten Starter Kit from Purina.
Burger with purchase at Johnny Rockets.
Pass to Gold's Gym.
Custom three-piece gift set with purchase from DermaBlend.
24 pack of bottled water at ShopRite.
Basically, there are freebies featured on the site across a wide range of categories, like makeup samples, food, beverages, skincare, pet-care, and household supplies.
Get It Free also gathers coupons from sites like Coupons.com.
There are coupons available, at the time of writing, for brands, such as:
Colgate
Arm & Hammer
L'Oréal Paris
Garnier
Huggies
Just click on the coupon you're interested in to redeem it.
Again, as with the freebies, you can't filter the coupons.
In this section, you'll find products at a great discount, rather than free stuff.
You can view products that are reduced in price across a wide range of categories.
At the time of writing, deals on offer included:
Save 37% on a Granite Spice Grinder
Save 29% on a Hamilton Beach Coffee Maker
Save 33% on a Acer Flagship 15.6″ HD Premium Chromebook
Save 54% on this Lasko 36″ Tower Fan with Remote Control
Save 54% on this Fiskars Big Grip Transplanter
Save 32% on Cascade Complete ActionPacs Dishwasher Detergent
Save 25% on this Dragon Touch K10 Tablet
Save 31% on a Cast Iron Pizza Pan
Here, you'll see a list of sweepstakes that you can enter to win prizes.
A few examples of sweepstakes on offer at the time of writing include:
Enter to Win a Sandals Resort Vacation
Enter to Win a Mohawk Home Area Rug
Enter to Win Yankee Candles
Enter to Win a 2019 Ford Mustang
Enter to Win an iPad
Enter to Win a Louis Vuitton Purse
Enter to Win a Polaroid Mint Pocket Printer
Enter to Win a Ford F-150
Enter to Win a $500 Whole Foods Gift Card
This section is basically a collection of videos. So, it won't save you money, but it may keep you entertained.
In this section, you'll find articles on saving money and other tips on personal finance.
Is Get It Free Legit?
While I can't say that Get it Free is an outright scam, I can't say that I recommend it either.
Here at MoneyPantry, we always try to research the companies and websites that we review thoroughly, taking into account reviews from people who've used the site so that we can deliver a review that's hopefully honest, unbiased, and useful.
While scouring Trust Pilot, BBB, and other sites while researching this post, much of what I came across about Get It Free was negative. And on Reddit, there wasn't really much information from users at all.
First of all, with the Better Business Bureau (BBB), the company has an F rating, which is pretty awful.
Secondly, user reviews are pretty bad as well.
That's not to say that there were no positive reviews of the site.
The Positive
On Trust Pilot, the platform has four out of five stars.
At the time of writing, 64% of the reviews on Trust Pilot rated the website "Excellent."
There's also a four star rating from Sitejabber.
These positive reviews of the company weren't what I came across elsewhere, unfortunately.
The Negative
Aside from Trust Pilot and Sitejabber, I struggled to find many positive ratings or reviews of Get It Free.
Amid the positive reviews, even on Trust Pilot and Sitejabber where the site had a better rating, there were hundreds of negative reviews.
Here's what the main complaints were.
1. Not Receiving Freebies
What I most commonly saw people complaining about when discussing Get It Free was that they simply never received their free stuff.
For a website that claims to give freebies, this is a pretty big flaw.
One user on BBB says:
"I signed up for the company's free samples, which were guaranteed by providing various personal information, and never received said samples in the mail. I filled out my information again and one month later still received nothing. This seems like a scam just to collect people's personal information and sell it."
It isn't just one user saying this either. There are hundreds of complaints like this across multiple platforms.
On Sitejabber, one user says,
"They never send you what they say you won not only that they're supposed to pay you and then not making the payments also I paid for books to be shipped to me and they never came"
Another Sitejabber user says,
"I haven't gotten anything Free! A scam. Stay away! This is a scam and I want to report them! Does anyone know who to report them to? Other than letting friends on Facebook know and hopefully they will share with their friends and around & around it goes."
On Complaints Board, there are also similar reports from users.
One says:
"Offering free samples that they never ever ever send out. I've been filling out surveys for 6months and I mean diligently filling out surveys daily to get free samples and still haven't received not a single sample from them!!! It's all a scam."
On the website, the company does mention in small writing at the bottom of the homepage:
"Deals, coupons, freebies, samples, and other offers (collectively "Offers") change often. We cannot guarantee that you will receive any of the Offers that you request, as Offers are subject to availability and are often made by other entities. Offers distributed by GetItFree are limited in quantity."
While offers do, understandably, change, the website could make more of an effort to keep its offers up to date to prevent customers from missing out.
If lots of customers report that they aren't getting free stuff, then why include those offers on the site?
It's not as though qualifying for your freebies is easy either, which brings us to our next complaint…
2. Having to Fill out Tons of Surveys to Get Free Stuff (Which Again, Often Never Arrived Anyway)
The catch with Get It Free is that you usually have to fill out surveys, sometimes a few, in order to get the free stuff.
That's not too bad if you're actually going to get something for free.
However, if you go through tons of questions and surveys and don't even receive anything, that's going to leave you feeling frustrated.
This complaint was on pretty much every platform I checked.
One reviewer on BBB said:
"I clicked on a link to earn an ****** gift card worth 100$ if I completed a survey and made a purchase. I did both and was never returned to the original page to collect the gift card. I spent a lot of time trying to get any of the so called freebies but only got tons of texts and emails that started immediately. I would like the gift card I was promised and to be removed from all call, text, and email lists associated with this company."
Again, I found this complaint on other platforms.
On Sitejabber, one user says:
"Says free samples but I haven't recieved not one thing I've done survey after survey still nothing . I don't know why it's called free samples if there ain't any"
Another says:
"I have finished survey after survey. I have received text messages stating I have gifts. But it just takes me back to more surveys. No gifts."
This Sitejabber user says:
"I never received anything from their site. I have taken all the darn surveys, one after another and I'm sick of them. How many questions about me do I have to take in order to get a free sample. I have filled out all of the question it's been a year and I haven't gotten anything. Hope that they back up their promise and send me my free samples. Asap."
One user on Complaints Board says:
"This website "Get it Free" is a total scam. They direct you to one survey after another, and slowly extract vital information from you. I have never received one item from them, although I have gone through numerous surveys and questionnaires. I highly recommend staying far away from this bogus site"
On Trust Pilot, one user says:
"OMG survey after survey and then you click continue to free sample which never happens they just keep giving you page after page of offers Been doing this for months and nothing ever comes from it!!! Extremely frustrating"
3. Getting Inundated with Emails Every Day from the Site (And Unable to Opt Out)
Another common complaint was that after answering surveys on Get It Free, people received tons of emails from the company – some people felt as though it was spam levels of email too.
And that it was difficult to unsubscribe.
One user on BBB says:
"I received many emails per day from this service. I have selected "unsubscribe" from their emails, but the link is broken. I have also emailed the business directly, but haven't heard back. The company is breaking Spam laws by not having a functioning "unsubscribe" button."
Another user on the platform says:
"I do not want anything from this company– I have tried dozens of times unsubscribe from their daily annoying emails with no success. I have sent them numerous emails asking, demanding to be removed with no success. This company is terrible– I would never do business with them and do not want to be harassed by their daily emails clogging up my email account."
On Sitejabber, users have similar complaints.
One says:
"I agree with all the other reviewers. sooooo many texts and solicitations via my e- mail. repeated survey questions and no confirmation on my "free gifts" I too have done the click on the free gift and done as directed to get more questions. Ask me go ahead ask me have I received anything but teXts and more offers!!!! BIG NO!!!!"
Another Sitejabber user says:
"CAUTION WARNING WARNING SCAM SCAM SCAM do not get in this trap…they will not stop contacting you with the junk trash adds no matter how meny times you ask the un subscribe will not work CUSTIMER SUPPORT IS GOOD FOR NOTHING I have ask over 50 times to stop bothering me they WILL NOT STOP"
The concern many users had was that Get It Free was simply using these freebie offers to get information that could be sold to third parties:
On BBB, one user says:
"I signed up for the company's free samples, which were guaranteed by providing various personal information, and never received said samples in the mail. I filled out my information again and one month later still received nothing. This seems like a scam just to collect people's personal information and sell it."
One user on Sitejabber says:
"Another spam website.They make you do lengthy surveys, sell your information and don't give you any free samples.The five star reviews here are fake."
Another says:
"i never received any free sample.. this is just to get our info!"
On Complaints Board, another user is concerned the site is just taking their information, saying:
"It's a total scam, the only thing free is the survey information they get for free. I've tried for 6months. The offers in emails are NEVER offered on the site, and when you finally DO get to samples and request them, they never come. DONT WASTE YOUR TIME."
There could be some truth to this complaint as Get It Free does state in its privacy policy that it shares your information with third parties. This is not uncommon, but in exchange for sharing your info, users should at least get the free stuff they were promised.
Is it Worth It?
I've reviewed a lot of companies and never have I come across one that doesn't have a single bad review.
Unfortunately, you can't please everyone, and there's always going to be someone that complains, even about super legit companies.
However, when those complaints are so common and on so many platforms, you have to start questioning a company's quality.
This is the case with Get It Free.
As you can see above, there are so many bad reviews, all saying the same thing (the above reviews were just a handful out of the hundreds of bad ones I came across during my research), and the company's BBB rating is abysmal.
That's why we wouldn't recommend using Get It Free. There are better platforms out there for finding free stuff.
Get It free Alternatives
One place we would recommend checking out for free stuff is The Krazy Coupon Lady. Not sure about the KCL? Read my Krazy Coupon Lady review to see the top 10 reasons why you should use it.
We also have a few posts that offer tips on getting free stuff and give you a list of hundreds of companies that offer freebies.
Here are a few posts to check out:
Closing Thoughts
We're not saying that Get It Free is a scam. It does have some good reviews online, and on some platforms it has a high rating too.
But when you have so many reviews that complain about the exact same thing, such as not receiving free stuff, having to answer tons of surveys in exchange for nothing, and receiving spam emails, and such a high volume of complaints, then it's likely that the site isn't a great one.
That's why we'd recommend using other platforms. Of course, if you want to try it, then it's up to you, but as you can tell from this review of Get It Free, we give it a miss. Try our alternatives for finding freebies!