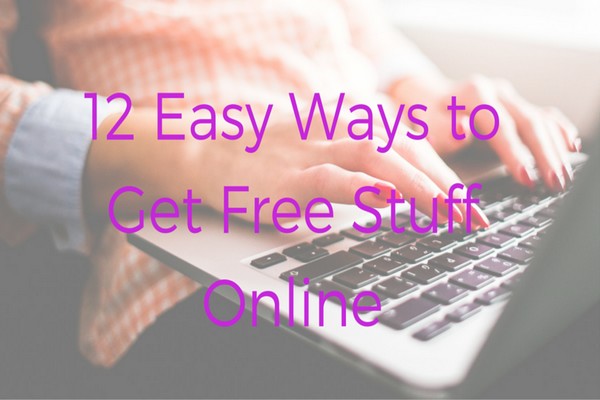 Not many would complain about laying their hands on free stuff.
I, for one, have no problem with it.
But it can be messy if you try to do that online.
First off, there are often tons of forms to be filled out, before you can contemplate about your chance of getting these stuff free.
For example, although there are many ways to get free stuff without surveys, there are some companies that would want you to offer your opinions in some sort of surveys, while some companies would insist on some intimate information that you are not comfortable to give out.
While free stuff idea may be good to start with, there could be times when your time and effort spent quickly negate any good feeling that is associated with free stuff.
But there are always methods of actions that can get you free stuff online.
I will show you some proven ways (or sources) to do just that:
BzzAgent prides itself for using the good old fashion word-of-mouth approach to promote products. The tactic essentially revolves around how one can benefit using products or coupons that were sent to him or her free of charge.
The whole point about you being a Bzz Agent is to blow the trumpet of new goods and services that you are given the first chance to try out for free.
There are two ways for you to do your work:
either "share the Bzz" with others directly,
or produce a favorable report on the products that you previously sampled.
However, your Bzz (in other words, your feedback and opinions on your experience with the sample) has to be scrutinized and signed off by the site.
When it is deemed fit enough to be viewed by others, the buzz will then get forwarded to another site called MyPoints, where you begin to earn points.
It is an excellent arrangement; first I get to try out the new products for free at BzzAgent, then I start to derive income at MyPoints by sharing and airing my observations on those free stuffs I received earlier.
The earnings come in the form of gift certificates offered by MyPoints.
This site is useful in that it organizes all the deals into some sort of categories (in fact, there are some 60 categories on offer here). That definitely helps on the navigation aspect.
Surely enough, time would be essential if any item can be put out online and deemed freely available.
At the point of writing, the totally free category shows these items for now: Free Total Cereal, Magazine subscription, free bread and many more links.
One category on the website is dedicated to free samples, and many more would link to coupons sites all over the internet.
This site almost tracks all attractive deals on hourly basis. As I write this piece, the site displays comprehensive listings on free diapers, air plane miles and magazine subscriptions.
Two things, that I think, drive the popularity of this site. First, the site is embedded with clickable links, so we can take immediate action and save much time along the way. If a deal has passed its expiry time period, it also has indication on that.
Need Extra Cash for Free? If you like getting paid for surveys, and are going to join only one site, I would recommend you choose Ipsos-iSay. Ipsos is the most fun and well-paying panel. Give it a try to see how you like it. It is free anyway!

Customers can get a sample of physical products and even services without cost here. They are usually makeup products, deodorant plus some domestic services.
As the name implies, this is especially helpful for moms. The freebies on offer here include bagels and everyday household items like laundry sheets and even diapers.
If you believe strongly you should at least sample those items first before you make a purchase commitment, then this site is for you.
They are well represented here, from energy bars to drugs, and toiletries, cosmetics and many more.
Volition is perhaps directly responsible for driving the freebie market online.
Originally started by Ray Sola more than 10 years ago, I have been a regular patron over a big part of the last 8 years. It does not restrict itself to just freebies opportunities. It also guides users on point earning opportunities online, providing links to survey participation and various online business opportunities.
Be sure to check out their "Stuff I Found" forum here in order to be kept abreast on some of the latest and greatest free offers available.
Volition gets my top vote when evaluating both money saving (through the freebies presented) and money making (via the work-at-home links) capacity.
MomsView could link you up to a great variety of free products, online coupons and printable coupons. Sure enough, its big selling point is definitely its amazing collection of coupons here.
Always check out this site before you head for your marketing or take your love ones to dine and wine. The focus is clearly on moms and there is even a forum set up to facilitate networking for moms, and they are free to talk about everything that centers on family-related topics.
As you do your major house cleaning, I am sure you would have come across used items that you no longer desire, or those that you deem as having served out its useful life in the household, even though they may be in working condition.
I have written previously you could actually sell these "junks" to derive some quick cash. But there is now another spin on it: you can now bring these items to FreeCycle and give them away to those who may have need for your old stuff. At the same time you keep a look out for those things you may need there.
In other words, it is kind of like barter trade, but we are talking about a much bigger collective pool of buyers and sellers (in traditional sense), so you no longer trade with somebody who is interested in your stuff and at the same time have something that you want.
Frankly, such exchange facilitated by FreeCycle makes it easier to get rid of products you don't want and find stuff that you need. And it is always comforting to know that people can still make good of the stuff that is no longer in use by you, not to mention the money I have to fork out to unload them!
JustFreeStuff works exactly like its namesake: everything you find here can be yours for free.
The website is organized into categories, thus make it easy for you to navigate on items that you are looking for.
The site is essentially a directory service with multiple links to the actual sites that hold the freebies — from magazines, coupons, sweepstake entry and many more. I must admit I really disapprove on how they present their information.
Seriously, I think they can use some help to make their presentation clearer. By simply replacing those hard-to-read fonts with more friendly fonts, many of their users would be thankful for that.
HouseParty is an interesting website you can approach if you are thinking about hosting real house party, with the intention to promote certain products, goods or services (if the description is too clumsy an attempt on my part, just simply think of Tupperware parties).
With their help, thousands of people have successfully hosted house parties, and along the way promoted some fantastic products as diverse as Barbie toys, DVDs, electronic gadgets and household electrical appliances.
Obviously, they impress on the range of freebie products they carry, but they also score well on how to make your party hip, by supporting you with attractive decorations, napkins and other essential items.
As the name suggests, its main target is the teens and students, but many freebies here transcend that particular demographic group, which can just be very useful to everyone else.
The site first focused on magazine subscriptions and free cosmetic samples. Nowadays, you can find a mind boggling array of products being exhibited there.
Things to Keep in Mind
• Never assume anything. Scrutinize every fine print. Sometimes "free" doesn't really mean free!
• Have a separate email account as you plan your strategy to lay your hands on free stuff online. Trust me, a lot of scammers would be interested to get to know you, once you announced your intention
• Make time to read through all the terms and conditions. Even if these stuffs are understandably free, there may be a shipping charge (or handling fee) that is to be borne by you. Some may impose unreasonable conditions in order for you to get your stuff free, like you have to cancel some active subscription of certain magazines, in order to receive your free magazines.
• At no time you should reveal your social security number
• At no time you should share your bank information
• Having an anti-virus program installed and constantly updated would be helpful
• Apply common sense. If all signs suggest that a particular deal is too good be true, it probably is.
Final Words
True enough, it will take time for you to identify and subsequently sign up for all of those preferred websites. But you would appreciate the payback on your labor, especially if you simply love samples, coupons and free offers.