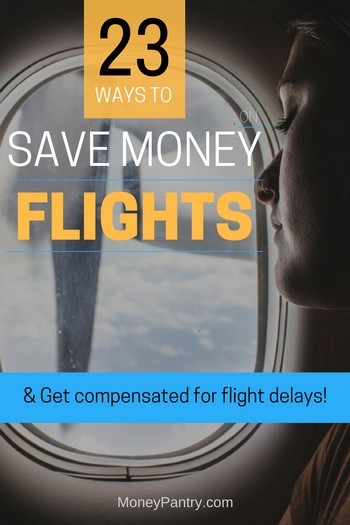 Let's face it, the cost of flying is pretty high.
And, factor in fees on top of your basic airfare, and you can end up paying a lot.
Don't worry though – there are plenty of things you can do to save money on flights.
In our post, we've included tips, stats on the cheapest times to fly, and tools you can use to ensure that you always get the best deal on airfare.
These tips may not help you travel the world for free, but they will help you save $100s and even $1000s on airfare.
So, check out our post and start saving!
Need Easy Extra $300+/Month for Free?
KashKick
: Get paid directly into your PayPal for watching videos, surfing, shopping and more.
Join KashKick Now!
InboxDollars
: Paid over $57 Million to members to watch videos, take surveys, shop and more.
Get $5 instantly!
Branded Surveys
: Get $1 instantly just for joining for free. Plus get paid within 48 hours by PayPal!
Join Branded Surveys
First Opinion
: Get paid up to $10 per survey and $300 per virtual focus groups!
Join Now!
Swagbucks
: Get paid to watch videos, shop online, take surveys and more.
Join now & get $10 instantly!
1. Shop for tickets on a Tuesday or Sunday
According to numerous sources, the day you shop for tickets can have an impact on how much you end up paying for them.
In a report, Expedia states that the weekend is the ideal time to purchase airplane tickets. It states that Sunday, in particular, is the optimal day, as the best deals can usually be found on that day.
In contrast, travel comparison website FareCompare states that the best time to book a U.S. flight is on Tuesday, around 3.pm. Eastern time. It states that since many U.S. airlines release weekly sales early on Tuesday, causing competing airlines to match prices, you'll generally have the most deals to choose from.
Of course, this won't always be the case. Sometimes, there will be great deals available on other days of the week. But, taking a look on Sunday to Tuesday is a good rule of thumb for getting some great deals on a flight.
Even if you don't book a flight on those days, it doesn't hurt to look.
2. Avoid the pitfalls of dynamic pricing
Here's why…
When you shop online, you likely assume that everyone sees the same prices.
However, as I explained in our "Online Shopping Hacks" post, that's not true.
When you look on an airline's website (or any website for that matter) it collects information about your browsing habits. It usually does this through cookies.
Airlines can use cookies to track what you search. And, if you've viewed a particular flight a few times, then this tells the airline that you definitely want to fly and they might bump up the prices.
This is known as dynamic pricing.
Now, there are a few ways around this:
Delete your browser's cookies before you shop.
Use one browser, like Google Chrome for example, to search for and view flights, and use a different browser, such as FireFox, to actually book the flight.
Use the private browsing function of your web browser to view flights, and then your browser's regular function to book the flights.
The above methods should ensure that you avoid the pitfalls of dynamic pricing.
3. Fly on the right days
According to FareCompare, Tuesdays, Wednesdays and Saturdays are usually the cheapest days to fly.
But, notice we used the term "usually"
This is because the above is not true for every single flight.
So, while the general consensus is that Tuesdays and Wednesdays are the cheapest days to fly on, that isn't always the case.
And that's when are next tip comes in.
4. Use price comparison tools
It takes a lot of effort to search through different flights from multiple airlines to find the best deal.
That's why it's such a good idea to use a price comparison tool.
With these tools, you can instantly compare the price of different flights, side-by-side. So, you can view the best prices, all in one place, without having to search through multiple airline websites.
And, as we mentioned above, since the price of flights does vary significantly, depending on what month, day or even time you fly, and various other factors -price comparison tools can really come in handy.
Using them, you can not only see the best deals, but you can also see the cheapest days to fly – saving yourself a lot of cash.
For example, you could compare the cost of travel from a Tuesday to a Saturday, versus travel on a Thursday to Sunday, and see which one is cheaper.
Here are a few tools you can use:
They are so useful for finding the best deals on flights.
Plus, Skyscanner even gives you a graph view of the cheapest days of the week to fly.
And, it lets you know the cheapest months to fly as well.
5. Set price alerts for the flights you're interested in
Setting a price alert for the routes you're interested in is a great idea.
Airlines often drop their prices, so it's easy to miss out on deals.
When you set up an alert, however, you can get notified of any price changes via email or push notifications.
Both Kayak, and Skycanner, which we mentioned above, allow you to set up price alerts.
6. Or use price predication tool, Hopper
There's a really interesting app called Hopper that can help you to save money on flights.
Using Hopper, you can save up to 40% on airfare. This app analyzes up to 15 billion flight and hotel prices every day. Then, it predicts what price will be the cheapest in the future, with 95% accuracy.
Since this app predicts the cheapest times to travel, using it, you can save so much money.
According to Hopper, people save an average of $50 per flight.
This tool also allows you to set up price drop alerts.
7. Avoid peak season flights
Peak season flights can really end up costing you a lot of money.
And, peak season in one country will be totally different for another.
For example, in Australia, peak season is considered to be Christmas time.
In Spain, peak times are the summer months.
It's a good idea to check the peak times for the place you plan to visit and then avoid traveling during those times.
Often, the fall, winter, and spring, (aside from Spring Break weeks), are better times to travel in the U.S.
8. Book at the right time
We often assume that last-minute flights will save us the most money.
But, this isn't always the case.
In a 2018 study, which analyzed 917 million flights, it was found that the best time to buy a ticket is 70 days in advance.
Now, of course there are other factors to keep in mind, like we mentioned above; such as the day you shop for flights, the season you want to travel during and the days you actually fly on.
But, overall, booking your flight far in advance can save you a lot of money.
9. Consider booking two, one way flights
In the past, it used to be that round-trip flights were always the cheapest.
But, nowadays, that isn't always the case.
So, before you opt for a return flight, consider two, one-way flights instead.
It could work out cheaper, so you should definitely compare the cost of the two.
10. Fly out and back with different airlines
And, relating to the tip above, if you do compare the cost of two one-way flights, then don't be afraid to choose different airlines to fly out and back with.
This can also work out cheaper.
And, with tools like Skyscanner, searching for flights from different airlines is pretty easy to do.
11. Consider flying from a different airport
Don't assume that flying out of your nearest airport will be the cheapest option. Look at airports that are slightly further afield as well.
Even when you factor in the cost of a train, bus ticket or car rental to get to the alternative airport, it still may work out cheaper.
Most comparison tools, such as Skyscanner, allow you to search nearby airports, and will let you know how much it costs to fly from different airports.
12. Fly at unpopular hours
Consider flying during undesirable hours – so very early or very late in the day.
Since most people don't want to fly at the crack of dawn or super late, these flights often have unfilled seats.
So, this means that early and late flights are generally cheaper than flights during regular business hours.
13.  Be flexible with the length of your trip
Another good way to get a flight for a better price is to be more flexible with the length of your trip.
Sometimes, staying at your location for seven days might work out cheaper than staying for five, or the other way around.
So, if you're not too set on a particular date, then consider varying the length of your trip.
When you come to browse flights, make sure that you do a few different searches for different dates.
Some tools allow you to get search results for flexible dates. You might be able to save yourself hundreds of dollars.
14. Check out cashback, coupon and deals websites
With cashback websites, like Ebates.com, you can get a percentage of the cost of your flight back.
And, deals/coupon websites like, Groupon, can also provide some great savings and discounts on travel, including flights and hotel stays.
Here are a few cashback, coupons and deals platforms to check out:
15. Don't Rule out Booking Directly with the Airline
Comparison websites are great places to find deals on flights.
But, don't rule out the airline's actual website as well. Since many airlines want customers to book directly through their site, they offer deals that you won't find on travel search sites.
So, you can find some really great deals on there.
And, as many airline rewards are only offered if you book your flight directly though the airline's website, then this is a good way to build them up.
16. Look out for Hidden Fees
Thanks to hidden fees, a seemingly great deal might work out much more expensive that you initially thought.
Some things you might be charged for is checking bags, booking fees, and boarding early.
So, before you book your flight, make sure you learn what's included and what's not included in the cost of the booking.
Most airlines outline their fees on their websites.
17. Get a Credit Card that offers Travel Rewards
If you're in the market for a new credit card, or have been considering getting a credit card, then get one that offers travel rewards.
There are lots of them out there, such as:
With most travel rewards cards, you earn points when you book hotels or flights.
You can later redeem these points for statement credit.
This is such a good way to get a percentage of your spending back.
18. Consider a Flight with Stops
Sure, flying direct is more convenient. But, if a layover doesn't bother you too much as it gets you a cheaper flight, then consider taking an indirect flight.
You could save hundreds of dollars.
19. Contact the Airline Directly for a Discount
Many airlines offer discounts for seniors, college students or active military personnel.
Most airlines even offer discounts if you're traveling to an immediate family member's funeral. So, contact the airline you'd like to fly with and inquire over the phone.
The airline might not offer any discounts, but it doesn't hurt to ask.
You could also look online to see if the airline advertises such discounts on its website.
Tips to save money on Last Minute Flights
Most of the tips above will also help you to save on airfare that you book last minute.
We also mentioned above that booking a flight in advance actually saves more cash. But, there are still some great last minute savings to be had.
So, below we've included a few tips you can use to save money on last minute flights specifically.
20. Subscribe to Airline E-mail Alerts
This is such an easy one, but it's effective.
Sign up to get emails from airlines.
Various airlines often feature last-minute flights at discount prices via email.
You won't always see the flights you're interested in, but you won't miss out on last-minute promotions and flash deals.
21. Follow Airlines on Social Media
Another really easy to way to get great last-minute deals is to follow airlines on social media.
Many airlines post last minute deals to their social media accounts, and if you're not following them, then it's easy to miss out on great savings.
So, here are a few to get you started:
If you're wondering how to save money on flights last minute, then consider following airlines you like to fly with.
22. Save money on last minute flights
There are a few websites out there that you can use to find last-minute flights that can save you money.
Here are a few to check out:
By the way, be sure to browse Reddit from time to time for last minute cheap flight hacks that actually work. Redditors are always sharing tips and hacks that has worked for them.
23. Look for Hidden City Flights (But, be careful about it!!)
A trick that can save you so much money is to look for hidden city flights.
A hidden-city flight refers to any flight where you have a layover, but instead of going to your final destination, you get off at the layover destination and miss the final flight.
With this type of flight, the layover is actually your target destination.
Let's say, for example, that there's a fight available from New York to San Francisco. It costs $300. Then, there's a similar flight from New York to Seattle with a layover in San Francisco, which costs just $200. So, it works out $100 cheaper.
If you're planning to go to San Francisco, and you search on Skiplagged for flights, it will show you both flights. If you opt for the cheaper flight, then you stop at the layover, which is San Francisco, rather than going to the final destination, which is Seattle.
Now, doing this is perfectly legal, but airlines have started to crack down on it.
In fact, U.S. Airlines actually sued Skiplagged for helping consumers to find these types of flights.
So, you do need to be careful.
Here are a few things that you should be aware of:
Only take Carry-On Luggage: Your checked luggage will end up at the final destination and not the layover destination. So, don't check your bags. Instead, stick with carry-on bags only. But, make sure you're one of the first to board the plane to make sure there's enough cabin space.
Don't Associate a Frequent Flyer Account: This is because the airline might invalidate any miles you've accrued with them.
Don't Overuse Hidden-City Flights: Do not take a hidden-city flight on the same route, with the same airline, multiple times within a short period of time.
Never buy a Round-Trip Ticket: If you don't get off the plane at the final destination, then the airline will cancel the rest of your trip. So, don't buy a return flight.
All of that being said, looking for hidden city flights is one of the most useful booking hacks out there. Just keep the above in mind.
Now, as for finding these types of flights, there's an interesting site you can use. It's called Skiplagged.  It's an airfare search engine. But, what sets it apart from other similar sites, like Kayak and Expedia, is that it shows you hidden-city flights.
Visit the website to start searching.
Or, use the app:
With Skiplagged you can also:
View fare changes for flights.
Get alerts when fare prices drop.
Get last-minute deals on hotels.
Bonus: Get compensated if your flight is delayed
Flights get delayed all the time and for various reasons.
The good news is that many airlines actually compensate you if you are one of the unfortunate passengers whose flights were delayed.
But contacting airlines directly may be time consuming for a lot of us. Fortunately, there are tools and apps that make it very easy to do this. Some even file claims on your behalf.
Here are a few apps & websites that help you get compensated for flight delays:
For more, check out our Flight Delay Compensation post.
Closing thoughts
If you want to go on vacation or fly to see your family, but don't have a lot of money to spend, then keep these tips in mind.
They can really lessen the financial burden of flying.
As you can see, there are so many ways that you can save money on flights. You just have to know what tools are out there.
And, if there's one main takeaway from this post, it's to always compare prices.
This is the most important thing that you can do.
Flying out on particular days and at particular times can save you money. But, ultimately, it's not as easy as flying out on x day at x time is the cheapest.
Price comparison tools are so handy, so shopping around really will save you the most money.
Of course, keep the other tips in mind as well.
And, if you have a tip for saving money on airfare or a handy website or app that we haven't mentioned, then let us know in the comment section below.