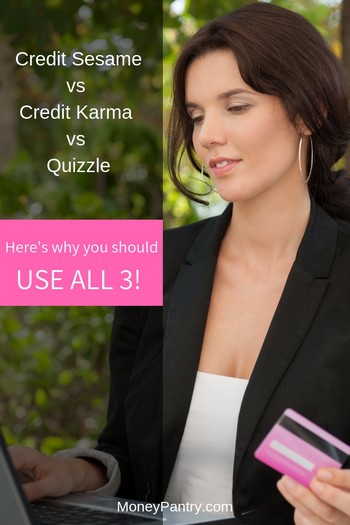 There are a lot of sites like Credit Karma, Credit Sesame and Quizzle out there. But these three seem to be the most talked about.
And whether they want to admit it or not, Credit Sesame (review), Credit Karma (review) and Quizzle are first cousins.
They have more similarities than differences.
If you are considering which one offers the most accurate score and reports and which is the best one for you, here's a quick all-in-one review of all three as we compare Credit Karma vs Credit Sesame vs Quizzle to help you sort them out.
Before we get to the differences and similarities between these services, let me do a quick overview of each of these sites and their main offerings.
Quizzle
Quizzle is one of the major free credit score check sites like Credit Karma and Credit Sesame that not only gives you 100% free credit score, it also gives you free credit report, quarterly, so 4 times a year.
Need Easy Extra $300+/Month for Free?
KashKick
: Get paid directly into your PayPal for watching videos, surfing, shopping and more.
Join KashKick Now!
InboxDollars
: Paid over $57 Million to members to watch videos, take surveys, shop and more.
Get $5 instantly!
Branded Surveys
: Get $1 instantly just for joining for free. Plus get paid within 48 hours by PayPal!
Join Branded Surveys
First Opinion
: Get paid up to $10 per survey and $300 per virtual focus groups!
Join Now!
Swagbucks
: Get paid to watch videos, shop online, take surveys and more.
Join now & get $10 instantly!
What I like about Quizzle is that you don't even have to have your credit card info on file to use it.
They use TransUnion credit bureau for your report. But unlike most credit check providers that use the FICO model for credit scores, the company uses the VantageScore model.
There are differences between FICO and VantageScore models, but that's beyond the scope of this post. If you like to know the difference between FICO and VantageScore and the third less-known one, RiskScore, read this.
Other features & tools of Quizzle include:
One of the best features of Quizzle is their awesome set of Credit Builder tools. As the name suggests, these tools help you build your credit history and increase your score.
Credit Trending: This is another really useful tool. It helps you see the direction of your overall credit (history, score, credit utilization, etc).
Credit Comparison: With this tool, you can compare two reports from your last four so you can see exactly how your score has changed and what caused those changes.
Credit Timeline: This one is for the nerds among us who like charts and graphs. It illustrates your fluctuations on your credit score over time using charts and graphs.
Score Analysis: This is an awesome feature that basically analyzes your score and gives you tips and suggestions on how to raise your credit score.
All these tools and features are free. However, Quizzle has a paid plan known as the Quizzle Pro ($8/mo) which offers additional services like credit monitoring and more frequent score check. If you just want to check your score and keep an eye on things, the free plan is more than enough.
Credit Karma
Most of you have probably heard of Credit Karma once or twice. You've probably seen their TV ads as well. It is one of the original free credit monitoring services of its kind.
With CK, you can get your estimated credit score 100% free. But that's not all. They also offer other services including identity theft tracking and protection, free automatic credit alerts, email alerts that notify you of important changes to your credit and more.
The estimated score you get from CK is based on the reports from the two of the three major credit bureaus (TransUnion and Equifax).
Credit Karma has a few great tools (more on that later) but their best tool is their free credit simulator. It is a useful (and fun) tool that basically lets you see how your score changes based on the actions you take. For example, changes in your score if you're late on a payment, apply for a new credit card, pay off a credit card, get a new mortgage, etc.
This is a great tool that I personally think is the best feature of Credit Karma and very underrated. This tool essentially helps you make educated financial moves that will help your overall credit, saving you a lot of money (we all know better credit means lower interest rates).
Other features & tools of Credit Karma include:
Debt Repayment Calculator: A simple but useful tool that lets you see how long it will take you to pay off your credit card debt based on a few details like your current monthly payment.
Simple Loan Calculator: A great tool that helps you figure out your estimated payments for different loan amounts, interest rates and terms.
Amortization Calculator: As the name suggests, this tool will amortize your debt and display a breakdown of your payment which includes interest paid, principal paid and loan balance over the life of the loan.
Credit Sesame
Just like the other two, this one also gives you free credit score (and details on what has impacted your score) and credit monitoring.
Credit Sesame uses VantageScore basing it on reports from one of the major credit bureaus, TransUnion.
Just like CK, CS also has a few great features including email alerts when there are changes to your score or TransUnion credit report.
For those of you who prefer using apps, Credit Sesame has apps for both major platforms that lets you access everything on your phone.
Other features & tools of Credit Sesame include:
Free Identity Theft Protection: Yes, it is 100% free! All registered members get $50,000 in identity theft insurance and fraud resolution assistance.
Credit Card Suggestions: As with all companies like this, CS will use your information to find and suggest the best credit cards for your unique financial situation.
The Best Rates Available: Looking for the best car insurance, personal loan provider or even investment account? CS will help you find it with just a few clicks.
CS also has apps for both Android and iPhone.
How are they the same?
When you go to any of these three company's websites, you'll see a different look but find several key features in common, like:
Free credit score reports
This one feature alone is at the heart of nearly all other services offered by both these companies.
Monitoring services
For example, they'll track if your credit profile has changed for any reason—for better or worse.
Recommendation services
Are you sure you're getting the best loan deal available to people with your credit profile?
The best credit card rate?
Credit Karma, Credit Sesame and Quizzle can suggest the best loans for you.
Or lower interest rate credit card that fits your profile.
And they can recommend ways to improve your credit status.
Each harvests your data from one or more of the 3 major credit reporting bureaus: Equifax, Experian, and TransUnion. Then they report that data to you in their unique formats. Neither one creates your credit reports or profiles all by themselves.
BBB Rating
The Better Business Bureau scores them pretty close together.
Credit Karma seems to be more substantial. They've been around longer—since 2007, compared to 2010 for Credit Sesame.
And Credit Karma boasts "over 75,000,000" members.
Credit Sesame claims an unspecified number of "millions" of members.
Need a ringing endorsement?
Credit Karma gets a unique pat on the back, of sorts. They received the trust of the U.S. government's Consumer Financial Protection Bureau (CFPB).
This past year the CFPB chose Credit Karma to work with them on Project Catalyst.
This has been a project to improve understanding of financial well-being as defined by consumers ourselves! Using this research, they made a public tool—the CFPB Financial Well-being Scale. Check it out for yourself.
Differences between Credit Karma, Credit Sesame & Quizzle
What differences between these services really, well, make a difference?
Free ain't always so free.
Credit Karma
Credit Karma does seem to offer more that's really free.
A thorough scan of their website finds no charges or fees for any of their services, tools, or products.
However, a Reddit community member refers to charges she ran into:
After explaining how her "overall experience was great" at Credit Karma, she said this:
"I dislike that sometimes I'd like to see who's viewed my report, what some of my alerts are, and access details to other comparable scores, but the website requires you to purchase these features and I'm not willing to do so."
Credit Sesame
Credit Sesame does give good services for free, but they seem to have more ways to charge you too.
For example…
Their free identity theft insurance is a basic protection. But if you want more extensive coverage, you're going to pay for it.
And they have 3 ways to offer you more general services beyond their basic plan: Advanced Credit, Pro Credit, and Platinum Protection plans.
Each gets more expensive, of course.
So, I'd say Credit Karma is truer to "always free" than Credit Sesame.
Quizzle
Quizzle also gives you free credit score and report. They also have a great free feature called "Credit Builder Tools" that is made of a few awesome tools that are extremely useful for improving your credit.
Just like the other two, Quizzle also has paid plans that go above and beyond the basic score and report check. Their Pro Plan will cost you $8 a month but offers much more including 24/7 credit monitoring and more frequent score checks.
Should I pay for extra features?
At the end of the day, if you are, like me, just trying to use these tools to keep an eye on your overall credit, the free version of each of these companies is more than enough.
I haven't tried the paid plans so I can not say on whether or not they are worth paying for.
Identify Theft Protection
Now we're getting to a major filter for your decision making.
Credit Sesame provides $50,000 worth of free identify theft protection insurance.
Many people think the question is "when" not "if" your identity will be stolen one day.
So, having ID theft protection insurance is huge.
"Free" is for the basic coverage. If you want more extended coverage, you will pay for it.
Credit Karma provides ID monitoring to see if your data has been breached somewhere, but they do not insure against any losses.
Quizzle also offers a $1,000,000 Identity Theft coverage.
Free tax filing!
And here's another major filter—this one in Credit Karma's favor.
Credit Karma helps you file your taxes! This service gets 4.7 stars out of 5 stars as reviewed by more than 122,000 reviewers.
Credit Sesame does not appear to give you anything like this, nor does Quizzle.
Is Credit karma, credit sesame or Quizzle more accurate?
So which one offers the more accurate credit score and reports?
Now, before I answer this question, it's important to note that these companies give you a free "estimated" credit score. That is to say, your actual score may be a little different.
But here's the good news (and answer to the above question)…
The estimated score is pretty close to the actual numbers, maybe just a few points up or down. So no matter which site you go with, you'll get an estimated score that closely matches the actual score.
How can they offer free credit scores & reports?
All three companies mainly earn their keep by connecting you to financial vendors, like:
Banks
Mortgage companies
Credit card providers
And other related vendors.
See one you like?
When you sign up with a vendor for a product or service—like a new credit card or car loan—the vendor usually pays them a fee.
So, that doesn't cost you anything with Credit Karma, Credit Sesame or Quizzle.
Of course, the vendor may have a fee—but they may be free too.
Here's more good news…
All three companies are motivated to introduce you to services you will really find helpful—for your unique situation. Otherwise, they are wasting their time, yours, and the vendors.
Where can I get my full credit report for free?
For those of you who don't know, you don't have to pay to get your detailed credit report from the three major credit bureaus.
According to The Fair Credit Reporting Act (FCRA), you are entitled to one free credit report once a year from each of the three bureaus ( Equifax, Experian and TransUnion)
And the only legitimate place where you can get this for 100% free is annualcreditreport.com.
The bottom line
In my opinion, all these three companies provide highly useful services to someone in decent financial shape already.
But neither one is geared to really aid someone needing fast financial crisis intervention.
Could the deciding factor be as simple as this:
"Do I want Credit Sesame's free identify theft protection insurance more?"
"Do I want Credit Karma's free tax filing more?"
"Do I want Quizzle's free Credit Builder tools?
If one of these means a whole lot more to you than the other, that may be all the answer you need.
Sign up for the one that means the most to you.
But before you decide, how about answering one more question:
Are you the kind of person who wants to get second opinions from medical doctors about a medical condition?
If "yes," then you may be a candidate for signing up for second opinions about your financial condition, too.
In other words, you might want to sign up for all three services.
No kidding!
Get the best of all three. They are free anyway.
While most of what they offer are similar, they each offer unique services and features that can help you get a more accurate overall picture of your credit.
Doing so will help you make a well-informed decision about that next loan or new credit card.
So to end this review of Credit Karma vs Credit Sesame vs Quizzle, no matter which one you go with, you'll benefit. But if you want to get the best of all three services, sign up for all of them especially since they are free anyway.