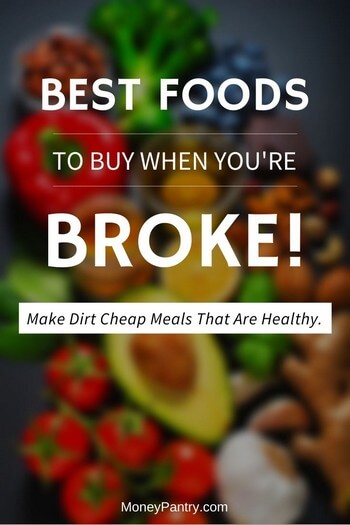 It's no secret that millions of Americans struggle to afford groceries for themselves and their families. If you're wondering what foods to buy when you're broke, then this is the article for you. We'll show the best ingredients to buy so that you can cheaply feed yourself while maintaining a healthy diet.
Many people believe that eating healthy isn't possible on a budget. While it is true that ordering fast food or buying junk food is faster, it's actually not cheaper. According to The New York Times, buying groceries is actually a better choice for both your health and your wallet.
The Cheapest Foods to Buy on a Budget
The following are foods that you should either stock up in your pantry or learn to start cooking with. Keep in mind that some of these foods are cheaper in one part of the country and more expensive in another.
Of course, you don't have to buy all of this all at once. That would be unaffordable. However, building up some useful recipes that use these items will help you in the long run, as you'll be able to cook cheaper meals that are still healthy and delicious.
Dry Goods and Carbs
Let's start with the simple stuff. These are staples you can keep for a long time. Plus, you can add a lot of this stuff to dishes to make it spread more between servings.
1. Rice
You can add rice to any meal to make it last longer for leftovers. It's filling, cheap, and lasts a long time. Plus it basically works with almost any type of meat or vegetable pairing. Here are 21 budget-friendly rice recipes.
Need Easy Extra $300+/Month for Free?
KashKick
: Get paid directly into your PayPal for watching videos, surfing, shopping and more.
Join KashKick Now!
Panel Payday
: Earn up to $75 per survey. They also pay up to $50/hr for mystery shopping.
Join Now!
InboxDollars
: Paid over $57 Million to members to watch videos, take surveys, shop and more.
Get $5 instantly!
Branded Surveys
: Get $1 instantly just for joining for free. Plus get paid within 48 hours by PayPal!
Join Branded Surveys
iPsos iSay:
: If you have to only sign up for one paid survey site, go with Ipsos (high paying survyes)!
Join iPsos Now!
Swagbucks
: Get paid to watch videos, shop online, take surveys and more.
Join now & get $5 instantly!
2. Oats
Oats are such a useful breakfast staple. There are dozens of different ways to make oatmeal that actually tastes good. It's healthy for you too!
3. Whole Grain Pasta
Pasta pairs with most sauces and meats without any issue. A dollar box can usually last for 4 to 6 servings, which is great when you're trying to feed a bunch of kids on a budget.
4. Quinoa
This grain is a little more expensive than rice but it is still super affordable, especially when you add it to other meals. It's very filling and healthy for you.
5. Whole Wheat Sandwich Bread
Sandwiches are versatile and can work for any meal of the day. If you find yourself in a pinch for money, a loaf of bread can go a long way in a week. Here are some sandwich recipes that cost less than $1 to make.
6. Popcorn
I'm actually not talking about the microwave bag kind. Buy yourself the poppable kind and make it over a stovetop. Now you have a healthier snack that you can top with cheese, spices, or eat plain.
7. Grits
Depending on where you are in the country, grits may seem like an odd choice of food.
There are a number of reasons it's so useful though:
It's cheap
It pairs well with breakfast foods
It's high in fiber
8. Box Mac & Cheese
While making your own mac and cheese is super easy and cheap to do, I understand that sometimes there's not enough time in the day to dedicate to making a full meal. Box mac and cheese is cheap and can easily be upgraded with these recipes!
9. Saltine crackers
Saltine crackers help make simple meals a lot more filling. A can of tomato soup might not keep you full for long, but adding some crackers to dip in it will keep you feeling full longer.
10. Proteins
When you're doing your grocery shopping for the week and you have a tight budget, you need to carefully choose the ingredients you're going to work with. Proteins are a must-have, but you want to find a source that isn't going to break your wallet.
11. Ground Turkey
Are you wondering what you should eat when you're really broke? Ground turkey works excellently for almost any meal.
You can:
Turn it into meatballs
Put it over salads
Use it for homemade taco fixings
Cook it in stir-fried veggies
Mix it with rice
12. Pinto Beans
After being cooked, they can work well on their own or be mashed for a spread. They taste delicious in soups or with ham. Here are some cheap recipes that use pinto beans. 
13. Black Beans
Black beans can be put in salads, eaten as a side dish, mixed with rice, or put in soups. They are quite healthy for you and taste delicious when seasoned.
14. Lentils
These are technically healthier than rice. They go well in soups and salads. Best of all, you can freeze the leftovers if you need too!
15. Garbanzo Beans (chickpeas)
These are super cheap. Sometimes you can get a whole can of them for less than 50 cents. They go great in soups. You can also blend or mash them up with seasoning to make hummus.
16. Eggs
Eggs are so healthy for you and can work with any type of meal. Check out all these amazing egg recipes, most of which are less than a dollar per serving!
17. Almonds
Almonds have a number of health and nutrient benefits.
They contain:
vitamins
minerals
protein
fiber
You can also get a decent amount of your daily protein just from eating a handful.
18. Chicken Thighs
Wanna make dirt cheap meals that are tasty? Chicken is our friend!
Chicken is a great meat to use with basically any meal or recipe. It's cheap and high in protein. This garlic butter baked chicken thigh recipe is excellent to try!
19. Chicken Legs
Another chicken-related food is legs. These make perfect drumsticks and are also easy for people who need to pack lunches for school or work. Here's a recipe to try out! 
20. Whole Chicken
Cooking a whole chicken does take a lot of time, but you could get a lot of use out of a whole chicken. There's enough meat there to last a long time and you can use the leftovers to make soup broth.
21. Canned Meats
It's understandable that a lot of people aren't fans of canned meats. However, it's worth noting that they are cheap and can be cooked with other foods to make a delicious meal.
You can get canned:
22. Tuna
Salmon
Chicken
Ham
Pork
Spam
23. Peanut Butter
This costs $2 – $3 and can easily last at least two weeks. When you're done with it, don't throw out the jar. Make some overnight oats in it to have a peanut-butter oatmeal breakfast!
24. Ground Beef
This is a simple ingredient that's quick to cook. It's a staple for people who need to stretch out their meals.
You can make:
25. Sausages
Sausage is very flavorful meat that you can add to normally bland or cheaper foods to make them taste more delicious.
26. Turkey
Next time there is the sale, stock up on turkey and freeze it. It keeps for a really long time.
It also is a good source of:
Protein
Selenium
Niacin
Vitamin B6
Phosphorus
Zinc
27. Tofu
A lot of people don't like tofu because they don't know how to cook with it. There are lots of different types of tofu that you can try. The great thing about tofu is nutritional and takes in the flavor of whatever you are cooking with it.
28. Vegetable Rice
Vegetable rice is a great option for you if you are trying to spend less money on food while at the same time trying to reduce your calorie intake and lose some weight.
Compared to white or brown rice, veggie rice is very low in calories at around 60-80 calories per 10 oz.
You can get a 10 oz veggie rice from most grocery stores and even Walmart for around $2-$3 per bag. Each bag gives you 2-4 portions.
Milk & Dairy
Calcium is important for your daily diet. This is especially true for any kids in the family.
Here are some cheap ways to get dairy in your diet.
29. Powdered Milk
You might think this product is weird. After all, what could you use powdered milk for?
Well, there are lots of uses, such as:
Coffee creamer
Oatmeal
Soups
Gravy
Smoothies
Pudding
30. Milk
When you buy milk, try to get the store brand stuff rather than the over priced brand-name milk.
31. Yogurt
The importance here is not to buy the single-serve boxes. Instead, buy a large plain container and then flavor the yogurt yourself using things like honey, jam, or frozen fruit.
32. Cottage Cheese
According to Healthline, one cup of low-fat cottage cheese provides the following:
Protein
Phosphorus
Sodium
Selenium
Vitamin B12
Riboflavin
Calcium
Folate
Cottage cheese honestly isn't that flavorful. However, you can eat it with fresh fruit or in pasta.
33. Cheese Singles
I'll be the first to admit that I love cheese. I understand why some people wouldn't like cheese singles. However, you can get nice sliced cheese if you know what you're looking for. Check out this list of the best cheese singles you can buy.
Fruits & Vegetables
This is what most people consider the expensive part of any food budget. It doesn't have to be that way though. You can get really nice produce for cheap if you know what you're looking for and shop for things in season.
34. Apples
Here's my advice with apples: only buy a few at a time so they don't go bad or mushy before you can eat them. A few slices with your meal can make a sweet treat and get you the vitamins you need.
35. Bananas
The three best things about bananas are that they're cheap, a great source of potassium, and versatile.
You can:
Eat them plain
Put them on peanut butter sandwiches
Use them in smoothies
Freeze them to make dairy-free "ice cream"
And so much more!
36. Frozen fruit
If you have a blender, this is an excellent product to use for smoothies instead of fresh fruit. All you need is some bananas and ice and you have yourself a healthy, vitamin-rich drink.
37. Canned fruit
Fruit that has been canned can have an unpleasant texture that turns people off. However, it tastes good if you mix it with things like yogurt, baked goods such as pies, or ice cream.
38. Lettuce
Lettuce is a perfect filler for salads. If you can't afford to use an entire container of spinach for two measly salads, add in some lettuce to spread it all out more.
39. Potatoes
Potatoes can be served a multitude of ways in a ton of different recipes. They're a cheap way to add to a recipe to make the meal last a longer number of servings.
40. Onions
Onions have been used as food for thousands of years in many civilizations. They're a perfect way to introduce flavor to a dish without drastically increasing the calorie count.
41. Kale
Kale has often been called a superfood because of its amazing nutrient levels. According to Healthline, a single cup of raw kale contains:
Vitamin A: 206% of the daily value
Vitamin K: 684% of the daily value
Vitamin C: 134% of the daily value
Vitamin B6: 9% of the daily value
Manganese: 26% of the daily value
Calcium: 9% of the daily value
Copper: 10% of the daily value
Potassium: 9% of the daily value
Magnesium: 6% of the daily value
If you want a cheap way to really get a lot of nutrients in your diet, this in the food for you.
42. Spinach
This is a low-calorie plant that is packed with lots of fiber. You can add it to salads, soups, and sandwiches to make them more nutritious.
43. Broccoli
This is an easy to cook veggie that can go into any number of meals. Even just steaming it with some herbs and adding a bit of butter is a fast way to make a side dish that's healthy and delicious.
44. Cabbage
If you're wondering what can you cook for $5, look into recipes that feature cabbage as the main ingredient. You can usually get a whole head of cabbage for less than a dollar and its high in nutrients. Check out this tasty recipe that only costs $4 to make. 
45. Carrots
According to FoodCoup, carrots on average cost about $0.77 per bag. They can be added to soups, salads, stir-fries, or even just roasted on their own.
46. Canned vegetables
They're cheap, easy to find, and useful to cook with. The texture might not be great for picky eaters, but if you mix it in with pasta or rice, you'll barely notice.
47. Tomato Sauce
Another ingredient that can make a dish cost less than $5 is tomato sauce. Some cheap pasta, a can of sauce, and a few herbs can be filling and delicious.
48. Frozen vegetables
Next time you are shopping, check out the cheap bags of frozen veggies you can find in the freezer section. Usually, you can buy them for less than a dollar and they have multiple servings.
49. Sweet potatoes
Sweet potatoes a delicious ingredient for side dishes or even as the main ingredient for a meal.
They are cheap, can be bought in bulk, and are a good source of:
Vitamin A
Vitamin C
Vitamin B6
Manganese
Potassium
Fiber
Baking Supplies
Learning to bake is an extremely useful skill if you are trying to work with a tight budget. Baking usually only takes a few ingredients and allows you to make multiple servings for cheap.
You want things like:
Sugar
Baking soda
Flour
Cornmeal (Here's a recipe that only costs $2 to make cornbread!)
Baking powder
Yeast
Miscellaneous
These are foods you can buy that don't fit the above categories but are still useful to have in your pantry.
56. Vinegar
You might be wondering, why would I buy vinegar? Well, it's actually a great ingredient for making your own salad dressing. It lasts a long time and you can combine it with various spices and oil to make it tasty. Here's a recipe to try out. 
57. Seasonings
The number one thing you should have in your pantry is seasoning. Things like onion powder, garlic, ginger, and cumin can completely change a basic dish of beans and rice into something tasty and still affordable.
58. Tea Bags
Tea is a good way to save money on drinks if you are someone who likes to spend a lot of money on soda or juice. You pay less per drink and you can sweeten it yourself with sugar or honey.
59. Bouillon Powder
Bouillon powder or cubes is a delicious way to make soup taste good without spending money on meat or expensive soup stock.
Final Thoughts
After this list, you should be ready to plan out the perfect set of meals to fit your budget. Shopping for food for the week can be stressful, but it doesn't have to be!
If you don't know what to cook for yourself, I highly recommend checking out this free cookbook by Leanne Brown. All the recipes in Good and Cheap are designed for people who are trying to eat well on just $4 a day.
Now that you know what to buy when you go shopping, find out how you can save even more money. Here's an article from us that shows you the absolute best ways to earn cash back off grocery shopping.