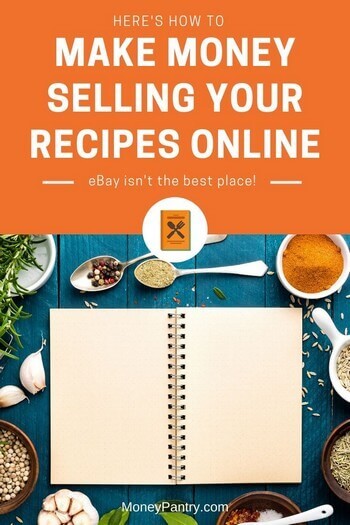 Do you come up with unique and tasty recipes all the time?
Do you like to experiment in the kitchen and come up with new recipes or improve your grandma's old recipes?
In this post, we'll show you how to make money from selling your recipes.
Not everybody is a world class chef. A lot of people can "cook" but making food that people want to eat takes talent. A good recipe is the foundation for creating delectable dishes, which is why despite thousands of available free food recipes out there, people still pay for unique and quality recipe ideas and cookbooks.
A lot of people sell their recipe ideas on eBay, but that's not the only or even the best way. These days, you don't even have to have a full-on cookbook to get paid. You can get paid for individual recipes.
What do I need to start selling recipes online?
Here's what you'll need to start sharing your mouthwatering cuisine with the world.
Need Easy Extra $300+/Month for Free?
KashKick
: Get paid directly into your PayPal for watching videos, surfing, shopping and more.
Join KashKick Now!
InboxDollars
: Paid over $57 Million to members to watch videos, take surveys, shop and more.
Get $5 instantly!
Branded Surveys
: Get $1 instantly just for joining for free. Plus get paid within 48 hours by PayPal!
Join Branded Surveys
First Opinion
: Get paid up to $10 per survey and $300 per virtual focus groups!
Join Now!
Swagbucks
: Get paid to watch videos, shop online, take surveys and more.
Join now & get $10 instantly!
You don't have to be a culinary king or queen, but to create recipes that help you make appetizing food, there are a few things you want to make sure you cover.
At the very least, a basic understanding of culinary terms.
Knowing how to mix ingredients that go well together.
Knowing how spices can affect the appearance, taste, texture and aroma of food.
Obviously, you need to know cooking measurements.
How long the whole process and each step should take.
Good quality photos (especially of the needed ingredients and the end results).
Having these things covered will help you greatly in developing concise and easy to follow recipes that end in delicious meals. One that even a guy who only knows how to cook one thing – steak on the grill- can follow!
Being clear in your instructions is very important especially when it comes to baking. They say cooking is an art while baking is an exact science, so a missing ingredient is no good.
How much is a recipe worth?
So, how much do you charge for recipe development?
Deciding how much to sell your recipes for is one thing a lot of people struggle with.
People pay anywhere from $5 to $50 for good recipes with quality pictures and instructions. But there is no clear cut guideline for it. It depends on many factors, including whether or not you want recipe royalties or just upfront cash.
I personally suggest you look at as an entrepreneur. Entrepreneurs price their product by considering a lot of factors including, how much time and money it takes to create the product.
How much do you value your time and talent? How much do you think your product will make the buyer's life easier? How much time and potentially money will your product save the buyer?
These are a few things yo consider when pricing your recipes.
That said, in the beginning, I would suggest going with a modest price based on the average of what other similar recipes sell online. Once you've established yourself and have shown to be a quality recipe maker, you can charge more.
How to Get Paid to Write Recipes
Here are ways you can make money selling your recipes online and offline.
1. Enter recipe contests
Yes, contests!
Believe it or not, there are actually contests for recipes. And you can win some great prizes including cash.
Here are two sites you want to check out:
These pages act as a directory for recipe contests and sweepstakes where they share all the current contest and link to contest entry pages and deadlines.
2. Sell to food magazines
Food-related magazines are incredibly popular. And what better place to showcase your food creativity than a food magazine?
And if you think "No magazine is going to pay me for my recipes!", think again. Magazines pay for unique recipes all the time. Where do you think they get all their "special" recipes from?
Here are a few magazines that pay for your recipes:
By the way, food magazines aren't the only kind of magazines that pay for submitting tips related to food. Other magazines may also pay. Your favorite magazine might be one of them. It won't hurt to simply ask them.
Please keep in mind, magazines aren't going to automatically pay you for submitting your recipes. The magazine will have to accept your entry in order for you to be published and paid.
By the way, there are also other places where you can submit your recipes for exposure. You don't get paid but it's a good way to get some exposure and your name out there. And how knows, if you can come up with really original and great tasting meals, this may lead to a sweet gig with some of these companies as they are always looking for recipe developers and food writers to add to their team.
Here are two examples:
3. Sell to Food Companies
Yes, you can actually contact food manufacturers and see if they'll buy your recipes.
One great tip to keep in mind is to use ingredients and products that the company actually makes.
Food manufacturing companies love to buy recipes that use their products. It's an easy way for them to get more customers.
For example, if you're developing an Italian dish, use a specific brand of pasta sauce. That will increase your chance of selling it to the manufactures of that particular sauce.
Now, it's important to keep in mind that most companies may not advertise that they pay for recipes or have dedicated pages on their site with detailed info. But you can simply use their contact info to get in touch and pitch them your idea.
Some of the top food companies include:
Tyson Foods
Kraft Foods
P&G Food Industries:
Kellogg's
You can find a bigger list here.
4. Sell on Fiverr
Fiverr started as a gig site where anyone could sell any kind of service for just 5 bucks but it has since morphed into a huge platform where you can charge way more than 5 bucks.
Since there are a lot of people already doing this, give yourself a better chance at succeeding faster by targeting niche audiences. Meaning create and sell recipes that cater to a specific group of people.
Like people who are into diets like:
Low Carb
High Protein
Vegan
Vegetarian
Barbeque
Nutritious juices
Etc
Signing up is free and takes less than a minute. Once you've joined, use the provided instruction to create your first listing. You can get inspirations by looking at popular sellers and how they format their listing (hint; add pictures!)
5. Sell on Reddit
Reddit is one of the most popular sites on the planet. Millions of people use it every single day. And there are hundreds of subreddits dedicated to various topics and groups.
Happily for us, there are also many subreddits where you can buy, sell and exchange all kinds of good digital products (like a cookbook eBook!).
There are also food-related subreddits where you can't necessarily sell anything but you can network with other like-minded people and learn things that could lead to business opportunities.
Example subreddits:
You can search for other subreddits by simply using a keyword followed by the word "reddit" on Google. Like, "how to sell recipes Reddit".
6. Sell your specialty recipes
These sites will pay you for specialty recipes.
Cooking for Engineers
This is a site for people with an analytical mind. People who "like to ask not just How? but also Why?". If they accept your submission, you get paid between $10 to $20 per submission.
You can submit your recipes here.
Recipe Yum
This is a site focused on sharing recipes for cuisines from around the world. You can sell anything from Asian and Indian to Mexican, Mediterranean, Middle Eastern and African food recipes. The exact amount you are paid is based on the number of people who read your article. According to the site, an average submission earns around $10.
You can submit your recipes here.
7. Start a food/cooking YouTube channel
There is a reason there are tons of food channels and shows on TV. People like watching other people cook.
I'm not suggesting you go get a TV show. Although that would be great, it's not easy.
But you know what is easy?
Starting a YouTube channel.
It's free and there are tons of videos that can help you with everything from how to get started, how to film yourself, how to promote yourself and everything you need to succeed.
Popular food YouTubers (like this guy who makes a living with videos of him traveling and eating food all over the world) rake in hundreds of thousands of dollars every month. The more views you get, the more money you make.
If you have the skills and can come up with interesting and one of a kind recipes, creating cooking videos is a great way to cash in.
Monetizing your videos is very easy through YouTube's own system. Of course, if your channel becomes very popular, food manufacturers may even sponsor you and pay you to use their products in your videos.
8. Sell recipes on Facebook Groups
There are Facebook groups for almost everything.
Your best bet is finding groups that act as a meeting place for bloggers, stores, restaurants, freelance writers and content creators. It's a great way for you to sell your recipes to bloggers, stores, restaurants or just individuals.
Some of the popular groups include:
You can find more by searching on Facebook.
9. Publish a Kindle Cookbook
Getting recipes published is easier than ever with free self publishing platforms like Amazon Kindle.
I just published my first Kindle book. So I know it's not that hard to do.
You can do the same by compiling a few of your own unique recipes into a book and selling it on Amazon Kindle.
There are tons of people who are making money selling all kinds of recipes and food-related books on Kindle.
With Kindle, you don't have to worry about hiring a publisher, nor do you have to spend much on marketing. Put your recipe book together, find a proofreader to make sure everything looks good, upload it to Kindle, wait 12 hours for it be approved, and once it's live, get the word out.
Recipe books do sell very well on Kindle.
If you can manage to give readers truly unique recipes, you can not only make good money with the first book, but you also get some loyal readers who will buy your future books as well.
10. Sell recipes to blogs
Another easy way to earn money by selling recipes is by marketing your product to food bloggers.
Do a quick search for a list of food blogs, use their contact page to pitch your idea.
Sure, not every single one of them will want your product, but many will.
If you can get on an especially popular blog and your submission becomes popular, expect tons of other bloggers reaching out!
11. Sell recipes on Etsy
A lot of people think Etsy is only for selling handmade arts and crafts. But you can also sell sauces, baked goods, pet food, snack and of course recipes!
You can either create and sell individual recipes and cookbooks or meal plans for various budgets and lifestyles (like meal plans for people who are trying to lose or gain weight
Take a look at Etsy's Food & Drink category to get an idea of what kind of products sell best.
12. Start a food blog
Food blogs are all the rage these days. Many food bloggers clear 6 and 7 figure incomes easily. Obviously, not every person who starts a food blog is going to make that kind of money, but having your own unique recipes and sharing it with your readers is a huge factor in how popular your blog becomes and how much you can make with it.
There are a few ways you can monetize your blog.
Here are a few ideas:
Sell individual recipes to your readers.
Create a cookbook using your own unique recipes or popular ones that you improved upon.
Put ads on your website.
Sell other people's products as an affiliate and get a cut of the sale as your commission.
With so many great tools and blogging platforms, it's easier than ever to start a blog. You don't need to know HTML, CSS and other computer languages to start. Read this guide on how to build your first blog.
13. Become a freelance recipe developer
Freelancing is a great side gig that can also be turned into a stable income source.
There are hundreds of thousands of food-related websites and blogs out there. They all constantly need new content which is why freelance food writers are always in demand.
The best part about this is that you don't have to just write about recipes. You can get paid to write about anything food and drink related.
Here area few good freelancing platforms you can get started with:
SimplyHired
Problogger
Upwork
Problogger
Freelancer
To find clients that are looking for writers, visit each of these sites and search for terms like "recipe writer".
Here's what Freelancer.com brings up when you search for recipe writer jobs.
14. Sell on your own site
If you don't like the idea of sharing your earning with a third party, creating your own eCommerce site and selling your recipes there is your best bet.
To get an idea of the kind of site you can create, check out BetterBaking.
This site was founded by Marcy Goldman in 1997. She started out by giving away her recipes for free. A few years in, once she had developed herself as an authority in the niche, she created a subscription plan for her newsletter where she charged people $39.99 for full access to the newsletter and all her recipes.
She also sells her recipes individually for $2.49.
BetterBaking is still going strong. In fact, it is still one of the most popular sites when it comes to paid recipes.
15. Sell on Instagram
There is a reason food is a popular topic on Instagram, Pinterest and other picture-based social media sites. We like seeing pictures of yummy foods as much as we like eating them.
That makes Instagram the perfect place to market your work.
Here's how you can get started:
Step 1: Create a dedicated Instagram account just for your food business.
Step 2: Cook meals using your own recipes.
Step 3: Take and post a lot of pictures of food you make.
Step 4: Once you gain followers, start selling your recipes.
Now, this is easier said than done. It does take a lot of work. There is a lot of competition, but you can do it. The "secret" is constantly creating new posts accompanied by a lot of high quality, visually pleasing pictures. Pictures sell!
In each Instagram post, link to your blog, Etsy shop, Kindle book, eBay or whichever place you use to sell your work.
16. Sell to restaurants
This is another overlooked option that takes a little legwork and maybe even cold calling. Restaurants are always looking to spice up their menu and add new items to their list of appetizers, entrées, and desserts.
To their To make it easier and get your feet wet, start with your local restaurants (preferably small family-owned local establishments).
If you have a great recipe that matches the kind of food a restaurant offers, get in touch and ask. It really is that simple.
If they like it, they may even offer you a long term gig as their recipe developer where you come up with new ones. This could turn into a very sweet gig.
17. Selling Recipes on eBay
eBay was one of the original places for selling stuff. Because of that, the market is so saturated that it really is hard to stand out.
It takes a lot of hard work and dedication to make a successful recipe selling business on eBay. Don't get me wrong, marketing and promoting your business and product is hard no matter which platform you choose, but with eBay, it's a little harder, plus eBay fees are just crazy.
That said, it still is a great place to do business. And if you go with the following recommendation, it'll be as easy as a set-and-forget kind of deal.
If you're already using Etsy, Fiverr or other platforms to sell your work, simply copy-paste your listing over to eBay. It will take you just a few minutes to do so. So even if you don't do that great on eBay, you really have nothing to lose since you don't have to spend a lot of time creating new tiles and descriptions and taking quality pictures. Just use what you already used on Etsy or other sites.
Final Thoughts
As you can see, there are a lot of options for selling recipes online and offline.
Now, obviously not everyone is going to make a living doing this, but you can easily make a little extra cash doing something that brings you and the people who use your recipes delicious food and happy tummies!