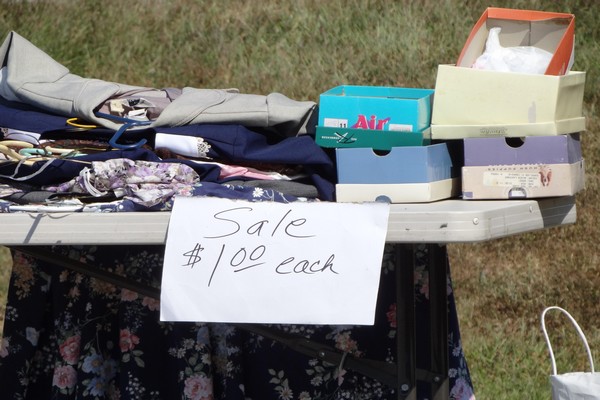 Having a garage sale is often done more out of necessity than out of desire.
We'd all like a little more money, and little more free space, but there's no denying that picking through all your stuff, hauling it outside, and selling it for pennies on the dollar is a daunting prospect all on its own.
You probably remember what all this stuff cost, after all, and accepting fractions of its original value isn't too easy to do.
You'll probably only end up with a couple hundred dollars at most.
That is if you don't put some creativity and effort into making it a successful garage sale.
There are however things you can do to increase your chance of selling most of the items and getting the most money for 'em!
Need Easy Extra $300+/Month for Free?
Panel Payday
: Earn up to $75 per survey. They also pay up to $50/hr for mystery shopping.
Join Now!
InboxDollars
: Paid over $57 Million to members to watch videos, take surveys, shop and more.
Get $5 instantly!
KashKick
: Get paid directly into your PayPal for watching videos, surfing, shopping and more.
Join KashKick Now!
Branded Surveys
: Get $1 instantly just for joining for free. Plus get paid within 48 hours by PayPal!
Join Branded Surveys
First Opinion
: Wanna get paid for every single survey (+ high paying online focus groups) with cash or direct deposit? This is for you!
Join Now!
Swagbucks
: Get paid to watch videos, shop online, take surveys and more.
Join now & get $5 instantly!
If you have a smashing success, you might even be able to make a 4-figure income from your yard sale!
My girlfriend and I made almost $1000 in a 2 day garage sale a few years back by simply following these principals.
Let's take these in order.
1. Think about how to get the word out
What's the most important part of any sale?
Well, that people know it exists, of course!
If you want people to come to your garage sale, you need to get the word out in a major way.
It's not unheard of to place a small newspaper ad in anticipation of a garage sale, but you're going to want to go a step up from that if you are looking to pull in serious sales.
Make an event on Facebook, sound out some tweets, take a selfie while you prepare the sale and post it to Instagram.
It doesn't matter what you do, necessarily, as long as it raises awareness and builds anticipation for the event.
Don't forget to use social media in addition to telling your friends, because every person who knows will assist your cause.
2. Make some simple signs to direct shoppers to you
The more words you have in your sign, the more words the people passing by are going to need to read.
Since most of the people you'll be trying to direct towards you are going to be driving in their cars, you don't want to bog them down with some heavy reading.
It should say only one or two words:
"SALE"
"GARAGE SALE"
Don't put your address, don't put your phone number, don't even put the times unless you're running a really tight schedule.
Just let them know there is a sale and put an arrow towards where you are.
A person who wants to shop at your garage sale won't care about those extra details, they've probably gone to a garage sale before and they'll know what to look for.
Ideally, you should write on a bright board. A neon yellow should do the trick; it should contrast with the color of the words on the sign.
Pro tip: Have someone drive around at some point and make sure all the signs are still up. There is always the chance one could fall or get vandalized, and a top-tier garage sale is prepared against that.
3. Pair up with other people
This is an easily overlooked part of a killer garage sale.
If there's one thing that lets people know you're having a sale (and builds interest in that sale,) it is the spectacle. One person sitting out on their driveway having a sale is a normal enough sight, but three houses in a row all sitting out with their stuff, having a sale?
Now THAT is a spectacle, and you'll have people pulling overall up and down the block to come see what the commotion is about.
You don't even have to pair up with your neighbors, necessarily. You might just want to pair up with someone who lives in a more frequently traversed part of town than you.
If your friend lives on the main street and you live out in the boonies, it's an obvious choice to have the sale at your friend's house.
Don't underestimate the concept of synergy just because you're having a sale – working with other people CAN and WILL positively impact your bottom line!
4. Emphasize what you're selling!
This one could also be put another way: if you can, definitely decide on a theme.
If you (or your partners) have a lot of one type of item, like camping equipment, include that detail when you're advertising.
This has the benefit of bringing in niche buyers, or customers who will specifically seek out the stuff you have.
You might draw them in with these camping stoves you're selling, but once they're already there, the chances increase exponentially that they'll stay and check out your other wares.
Even if you've already sold out of the goods they wanted, the moment they've walked up to your sale, the chances have increased that they'll look at your wares (provided they aren't upset about missing the goods they wanted.)
This can go for anything that people might want to buy. It might be old electronics, it might be kids' clothes.
If you've got it, flaunt it!
5. All about garage sale pricing
Or just agree with yourself, if you don't have partners.
The bottom line in a garage sale is that you're selling your stuff for roughly 15% of what it was worth originally.
Maybe down to 10%, maybe up to 25%, but almost never more and sometimes even below.
A good guiding rule is that if you think it's still worth over 25% its original value, and anyone would go out of their way to buy it (for a specialty item like a ring or an antique) then you shouldn't be selling it at the garage sale.
Go look at an online auction house like eBay to sell your higher-end wares.
The sad truth is that even if it's worth a $1000 dollars, nobody is going to pay more than $100 for it at your garage sale.
Customers are looking to fill up their arms for 10 or 20 dollars and leave, so you should keep that in mind when you make your strategy.
A lot of people will go the "label and price" route for pricing. This has its obvious advantages, like sparing you from having to come up with a price when a customer asks and creating a unified system of value within your sale.
The downside (and all the options have this downside) is that once you name a price, the customer will see a haggling point.
Garage sales are a renegade land, people are willing to fight for the lowest price, or even steal your goods (discussed below.) You'll need to be prepared to haggle right back, regardless of what pricing strategy you use.
Garage sales tend to attract bargain hunters.
Labeling your goods is time-consuming, and it has the disadvantage of telling the customer how much you think the item is worth. Sometimes you get a higher offer if you don't give away your value for the item.
How about not pricing anything?
This leads us to the second option, not pricing anything.
This is a classic way to do it, with some clear advantages and disadvantages.
The obvious advantage is that, if you have any haggling skills, you've brought the power into your domain.
It also gives you the option of selling items you find absolutely worthless and waiting for someone to make you a good offer.
If you'd labeled that old vacuum cleaner, you might have said it was worth a dollar, but the next customer along might offer you 5 bucks. That's perhaps the greatest advantage of the no-label system.
Of course, the downside is that you might get out-haggled.
Having no labels is a route for people who aren't afraid to upset people by fighting for a higher price (and you better believe that people are going to get upset about that.)
If you get any sale-sharks sifting through your goods, and they don't have labels, you might be about to get taken to the cleaners by their ruthless haggling skills.
You'll definitely want to label your goods.
Be prepared to mark items down as the sale goes on.
People who wouldn't pull over for your sale might pull over if everything is suddenly 25% off.
You've seen it in retail environments, after all, and it absolutely applies here.
Think about ways to move more of your goods in fewer transactions. Sell things in bundles, offer to throw in extra things for less money. Set up an "everything $1" table and move items through it as the sale goes on.
People are suckers for that $1 price tag.
Have you ever seen little displays of candy or other cheap goodies placed in random locations throughout a store?
Well, this isn't by chance, this is a very real and very serious retail tactic called "one dollar at a time."
There is a much higher chance that a customer will spend $1 on 10 separate $1 items, than that they will buy a single $10 item.
Use this piece of psychology to your advantage to maximize the most of your goods at a sale.
The golden rule of garage sale pricing
Remember that the golden rule of pricing for a garage sale is that you are moving product more than you are selling for high margins.
Nobody is going to buy your old and used DVDs at half price.
They better be a quarter price, or a tenth price, before anybody is going to take a peek.
And be honest with yourself – if you wanted the stuff, would you really be selling it at a garage sale?
If the answer is yes, you might want to reconsider the sale altogether.
6. Find some valuable items to put up for sale
Consider these your "spotlight" items for the sale.
Having a few truly valuable things to sell will impress upon the customers that you're doing something other than just moving your old stuff – you're selling real goods that have a clearly tangible value.
A few antiques, some fancy old equipment, or maybe even an art print. Any high-ticket items will increase the appeal of your garage sale, and make it seem more credible.
If you're a really cynical sort, you can haul out your best items and refuse to sell them. After all, the good items WILL get people's feet on the street and over to your sale.
If you are going to sell the big tickets though (which is recommended) you need to reconcile the difference between them.
If it's still really valuable on its own, you should find some private buyer to take it from you.
You shouldn't be losing 90% of your profit just to sell at a garage sale.
7. Display items like a retail store
Retail stores aren't arranged randomly, not by a long shot.
There were serious thought and planning that lead to those aisles being where they are.
Don't overlook the basics of your retail shopping experiences!
Organize items into categories and place them all together. You're looking to display absolutely as MUCH as you can.
Don't leave things in boxes, don't leave them folded or sitting to the side.
Your wholesale is a storefront that you're using to bring people in and it should reflect that.
If you want to have a sale like a pro, do all this in addition to keeping it somewhere you can keep a good eye on it.
This will reduce your "shrink," or loss of items you didn't get paid for whether due to theft, or simple mishandling by customers.
8. Hype it up!
Marketing is a big part of increasing garage sale profits.
We mentioned earlier that nothing attracts buyers like some good old spectacle.
Well, it's so important that it's worth mentioning twice!
The spectacle is at the heart of any good sale.
You don't want people to just know about your sale, you want them to know and WANT it.
Finished setting up your store?
Good.
Now don't let anyone in.
You wait and make them wait because anticipation is the spice of life. People attract people, so the first few people you get waiting around are going to attract more people to wait around.
You might even want to take it to the highest extreme – put up a velvet rope across your driveway, and give your shop the impression of being worth people's time.
People are willing to pay more simply because of how you make them feel about your store.
Have you ever been in a high-class department store?
The interior design and smell of perfume is no mistake, these were all calculated by a very well-educated person who knew exactly how to make the store seem classy, and make the goods seem worth their high price tags.
Emulate these tactics and make your sales space as appealing as possible, you'll get people rushing at your goods the second you let them in.
9. Try selling on weekdays
We all know that Saturdays and Sundays are "the garage sale days."
And it's true, the sale hunters will be out and actively searching on those days. But if you try opening on a weekday, you'll have far fewer garage sales to compete against.
Imagine those same sale hunters, innocently driving by as they do errands before work… and then they see your sale.
You bet that's going to open their eyes!
It'll mean you have the shoppers' undivided attention.
Use this tactic in addition to opening early so you can catch the parents on their way to and from school.
Parents are a prized demographic of the garage sale, so maximizing your approach with them is going to do you a world of good.
10. Watch out for theft!
OK, you've built your frenzy and opened your sale!
The only thing left to do is sell, right?
If only!
This one is really unfortunate, and I wish it didn't deserve a place on this list, but it absolutely does.
When you remove the security of a retail atmosphere, suddenly people become very willing to break laws, and they're not afraid to violate your space to do so.
Lock your house behind you.
Keep all the money on your person, and make sure you have some literal deep pockets.
The $20 that spills out of your skinny jeans is NOT going to be returned to you by a passerby, at least, it wouldn't be safe to count on that.
Lay out your goods in a way where you can watch everybody, and it's almost a given that you need multiple people posted around the sale to discourage theft.
If it's just you, whether you're a big scary guy or a little lady, people are going to try to take advantage of you.
For this reason, you're also not going to want to let people into your house.
Finally, you need to watch out for people who arrive in groups. Group scamming is the most common type of scams.
One person will run distraction while another does the stealing. This is another good reason to get multiple pairs of eyes on your goods.
11. Make it a party!
The last note might have been a little dour, but the bottom line is that you want your customers to have fun.
Do everything you can to increase the spectacle of your event.
Have some free cookies, or brownies, and fill up some dixie cups with drinks.
If people are having fun, talking to you, and talking to other customers, they're going to spend more money in the bottom line.
Injecting a little bit of money to make the event more fun will pay for itself completely because people simply spend more when they're happy.
If you have any musicians in your family or friends, invite them to come play while you have the sale.
People are absolutely nuts for live music, and at the very least, those musicians might serve as an extra pair of eyes to discourage theft.
Final thoughts
If you manage to combine many (or all) of the tips above, you'll be looking at a far more successful garage sale experience.
A sale across 3 houses with free cookies and live music, featuring big-ticket items and items that are clearly displayed by theme?
You can't say that wouldn't be capable of making you a 4-figure income!
Apply yourself in preparing the sale, and insert your creativity where you can.
Every little bit of effort is going to equal out to more cash in hand at the end of the day.