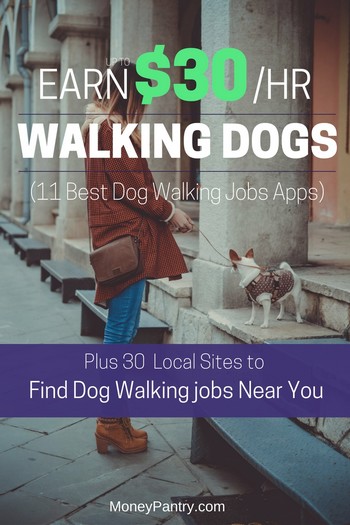 Becoming a dog walker is an awesome way to make money with a job that makes you happy.
If you love dogs, a dog walking job is a treat!
It used to be that babysitting and pet sitting were viewed as jobs for 15 year olds or even kids younger than that, to enable them to make some extra cash in their free time. But these days, it's a gig that pays surprisingly well!
The good news is that there is no shortage of clients.
According to the ASPCA, as of 2017, there are roughly 78 million dogs owned in the United States which equates to about 44% of all households living with a canine friend.
A total of $5.24 billion was spent in these households just on services like pet sitting, boarding, grooming, and walking in 2016.
Need Easy Extra $300+/Month for Free?
KashKick
: Get paid directly into your PayPal for watching videos, surfing, shopping and more.
Join KashKick Now!
InboxDollars
: Paid over $57 Million to members to watch videos, take surveys, shop and more.
Get $5 instantly!
Branded Surveys
: Get $1 instantly just for joining for free. Plus get paid within 48 hours by PayPal!
Join Branded Surveys
First Opinion
: Get paid up to $10 per survey and $300 per virtual focus groups!
Join Now!
Swagbucks
: Get paid to watch videos, shop online, take surveys and more.
Join now & get $10 instantly!
These businesses have been one of the only stable sources of income throughout the years.
Here's why…
Even in times of depression, the pet care business holds firm, if not grows.
Knowing that dog walking can be recession-proof means that there will always be an opportunity to make money and doing so by working at a job you love.
So how do you get involved and what can you expect?
The following list of sites and apps will give you an idea of how to enter this business and make money.
Nation-wide Companies
These apps and websites work nationwide. Although the businesses are online, they will match you with local dog owners who are in need of dog sitters.
1. Rover
Rover covers many cities across the US and insures all of its employees.
Working for Rover you can expect to earn $15-$26 an hour as a dog walker once your account is created.
2. Fetch! Pet Care
Fetch! is much like rover but more clientele-based.
The company itself does the matching between owner and walker.
Expect to make $9-10 (plus tips) an hour.
3. Wag!
Wag Walking offers its own training and once you become wag certified you will be insured.
You can expect to earn $13-$17 an hour.
4. Local Dog Walker
Once you the walker join this website anyone looking for a dog walker will be able to view your profile.
For a small fee – either per job or an overall fee – the connections available in your area are endless.
5. Petsits
Much like LocalDogWalker this site offers a huge network of both walkers and those in need.
Having said that you will need to do your own advertising as well insuring yourself.
The good thing is that you have the option for a lifetime membership as well as selecting the insurance and advertising that works best for you.
6. Care
Care.com offers a huge registry with average earnings of $11 an hour.
Once again you will need to create a profile which allows you to be connected to potential employers.
7. Petsitter
With over 125,000 dog walkers listed on their site, Petsitter allows you to post yourself and be chosen out of the group.
Of course, customers can refine their choice until they find the walker they like (hopefully you!) and then begin contact with their choice.
8. DogWalker
Update: DogWalker is no longer in business!
For less than $1 a week you are able to promote and advertise yourself as a dog walker as well as any other services you may provide.
DogWalker also does a lot of self-promoting advertisement which allows them to receive many hits from search engines such as Google which in turn promotes you.
9. Walkio
Much like Fetch!, this site allows you to sign up as a dog walker.
The site itself will tell you when and where you are needed.
Customers are also able to set appointment times as well as set up weekly schedules allowing walkers to set their schedule based on clientele.
10. Pet Sitter's Center
This site allows you to set up a website for $20 a year and become part of their databank of walkers and sitters.
Customers can then find you based on a location search.
 11. HoliDog
HoliDog lets you set your own schedule and availability. You can also set your own rate.
They say an average part-timer earns about $30 a day.
Dog Walking Jobs Near You
"How do I find dog walking jobs near me?"
While these websites and apps are great at connecting people all over the nation, there are plenty of local opportunities depending on where you live or work.
Local companies may be a better option as they offer employment, full or part-time, and can be easier than trying to start your own dog walking business.
Here are local dog walking opportunities in some of the major cities around the country:
New York City
The original dog walking service was offered here so it makes sense that you can earn up to $45k a year as a dog walker in the Big Apple.
In business since 2009, this company utilizes one hour walks for their walkers, are insured, and offer other services such as getting pets to and from vet and grooming sessions.
With a large front office, Mixy assures that their socialized or private walks are always done according to the schedule. They also offer puppy walks and puppy training. Of course, they offer training for all of their walkers.
Promoted as insured and trained walkers Swifto uses private walks and tries to use the same walker with the same pets every day allowing their walkers to build a rapport with their charges.
Working the hours 8:30-6:00 Monday through Friday as a dog walker may allow the walkers time to work nights or weekends. This company believes that being a member of a pack and socializing with other dogs is important so expect to walk 3-5 dogs at once.
Different from the previous this company only uses private walks. Again the walkers are put through training and will be insured by the company. If you are willing to work weekends there is a bonus for the walkers that choose to.
Los Angeles, California
LA also boasts a great opportunity for professional dog walkers as you can expect to earn $40k a year as one.
Servicing West Hollywood this company is insured by the Pet Sitter Associates offers 15,20, and 30 minute private walks. If you are willing to work early mornings, late evenings, or weekends there is a bonus available.
Once they have gone through training, walkers can expect to be available 365 days a year, are insured, and offer sitting service as well.
Earn: $1,000-$1,500 per month
A member of Pet Sitting International this company was started by a pet owner that had a bad experience boarding her pet. She began the insured and bonded business in order to make sure pet owners never have to worry about the quality of their care. They are very flexible when it comes to how and where the pets will be walked.
Existing on the west side of Los Angeles this company walkers learn exactly what each pet needs and adheres to the plan created individually.
Offering 30, 45, and 60 minute walks PeaceOfMind walkers give food and water to dogs after their exercise and send a detailed text or email, along with a picture, to the owner after every service. They also offer pet taxi and escort services.
Chicago, Illinois
In Chicago a professional dog walker earns on average $25k a year.
Earn: $15 per hour on average
Utilizing GPS tracking walkers use 30 and 20 minute walks as well as check-ins multiple times a day. This would be perfect to cover your own neighborhood as the check-ins are only 15 minutes long.
Covering most of the Windy City, walks can be half an hour to an hour long. Walkers do walk more than one dog at once and can also serve the same household twice in one day. Their "spaw" service is also a great way to make money and includes services like brushing, teeth cleaning, and baths.
Walkers or this company use 15 to 45 minute walks, occasionally walk more than one dog at once, are insured and bonded, and feed, water, treat and medicate their charges.
Earn: $950-$1500 per month
In operation since 1996 and with over one million (WOW!) pet visits and walks under its belt, this company trains its walkers and also expects them to keep detailed notes and records of their experiences. This company also puts a lot of stock into the connection between walkers and pets because, as they say, "real friends rub bellies."
Working the north side of Chicago, from 10 AM to 6 PM walkers use half an hour time periods to exercise the pets. They also offer 15 minute break periods to assure pets don't have accidents inside the home. Additional money may be made outside of this designated time and on weekends and holidays.
Atlanta Georgia
Atlanta has a lot of options that can earn you up to $30 an hour!
Covering all of Brookhaven this company offers insured walks, breaks, or even just time spent with the pet indoors. Individual walks are available as are neighborhood walks so pets can enjoy their friends from around town.
Promising in rain or shine, sleet or snow, this company understand the importance of pet exercise and require that their walkers do the same. 50 minute and 25 minute visits/walks are available as well as 15 minute food/water/potty checks as well. Walkers also have the option to wok anywhere between 8 AM and 8 PM.
Walkers for this company work for either half an hour or an hour and can also be responsible for sitting and sleepovers as well as taxiing. A simple app assures that walkers for this company are always in the loop and readily available to their customers.
Serving Brookhaven, his company provides twenty minute visits with walks included as demand requires. They also take care of more than one pet at once as required. These walkers also have the job of watering plants and getting mail when customers are out of town. Surely tips would be a large part of the income working for this company.
Offering both dog walks and runs these walkers must be in excellent health as well as a devotion to keeping the same schedule with pets every week. This company offers 20 minute walks as well as half an hour and 45 minute runs. Walkers may deal with more than one pet at once as well.
Houston, Texas
In Houston, $39,000 is the average yearly wage of dog walkers.
Covering a large part of north, central, and west Houston this company offers 15 and 30-minute walks as well as taxi services. Bonuses for weekends, holidays, and emergency visits. Nine years in business, bonded and insured, this company also provides training for their walkers.
Earn: $850-$1250 per month
Covering almost all of Houston this site offer 30, 45, and 60-minute dog walks, 30-minute jogs, or hour-long trips to the park. They also offer grooming and taxi services.
Seattle, Washington
Seattle offers a large selection of pet walkers and you can expect to make $15 per hour.
Over twenty-five years in business this company has built a huge clientele in Seattle and offers walks as well as trips to dog parks so walkers can expect something different with each pet. Outings to the park are always with more than one pet and half an hour walks will be personalized to each household.
Boston, Massachusetts
In Boston, you can make around $33,000 per year walking dogs.
20, 30, and 60-minute walks are available at this location with additional fees for weekends and holidays (higher pay for walkers) and walkers generally only walk one to three dogs at a time so now large packs to handle however excursions to dog parks may include more pets.
Winner of Angie's List Super Service Award, this company provides training to its walkers and you can expect to work either one-on-one with pets or in larger groups. Walking and running are services offered and this company attempts to keep walkers with dogs so that pets are more comfortable leaving home without their mommy or daddy.
Walkers are chosen when they show they are reliable, honest, and life-long pet lovers/owners. Their services include 20 and 45 minute walks with a surcharge for additional pets as pet transportation and trips to the pet store in case owners don't have the time. This company is also one of the very few where employees help in planning and executing pet birthdays as well as incorporating pets into weddings.
Miami, Florida
Dog walkers in Miami can expect to make about $13/ hour.
Covering Miami as well as Broward and Palm Beach, this site offers up to an hour long walk with 15-minute intervals. They charge a little more for weekends, before 7 AM or after 7 PM, and also short-term notification appointments. Also available are check-ins, taxiing, sitting, and grooming.
Earn: $1,000 per month average
PAWS offers 15, 30, and 60 minute walks as well as half an hour long runs. They also offer playtime in the customer's backyard.  A rather convenient addition is the refrigerator log that allows the customer to know when the dog walker was there (less hassle for the walker).
This company offers walks on hourly rates, trips to parks on hourly rates, check-ins, and full-service visits that include potty breaks and feeding/watering.
15,30,45, and 60 minutes walk, 30 and 60 minute runs, and a weekly scheduled "pack play," are part of the services offered by this company. Walkers can expect to have a setlist of customers and, since the company offers a Monday through Friday discount, to see most of their charges every day of the workweek.
What helps you get these jobs?
Of course, the more experience you have with animals be it at a veterinary clinic, kennel, or doggie daycare increases your chances of landing a dog walking job.
Also, the International Association of Canine Professionals offers courses to certify you in dog walking.
This would be a very good idea if you were going into business for yourself as it gives you more credibility when looking for clientele.
Why dog walking?
Even though there are quite a few sites to help you make money with pet sitting and dog walking the surface has hardly been scratched.
The number of companies that are hiring for dog walkers is infinite as the business continues to grow; not to mention starting your own business and joining the growing community.
Besides the obvious health benefits for yourself and the cash in your pocket, you can go home at the end of the day knowing that you helped either a pet owner or the pet itself.
A survey done in 2016 showed that one in five dog owners walked their pet, a rather troubling statistic as we all know all animals need exercise.
With a little motivation and a lot of love anyone can make money, or a living, being a dog walker and besides, a dog is the only thing in the world that will love you more than you love yourself.
Make money for local shelters & organizations
Whether you walk dogs to make a living or just to make your best friend happy, I'm sure you support local shelters and animal care organizations.
Here's an easy way to give more back:
Join Wooftrax!
This app allows you to make money for your local shelter or organization by walking dogs.
Once the Walk for a Dog app has been activated they will keep track of how many walkers each organization has.
At the end of the month a check will be sent to the beneficiary based on walkers, miles walked, and the number of walks.
If you're walking dogs anyway, you may as well install this app and give something back to local shelters and organizations.
Dog walking jobs for 14 year olds?
When it comes to summer jobs for students and kids, pet sitting has always been one of the top options.
It is also one of the very first side hustles most kids and teens do to make money.
When researching for this post, I found a lot of kids – as young as 11, 12, all the way up to 13, 15 and 16 years old – asking if apps like Rover allow kids to make money.
Most of these apps and sites only let walkers 18 years and older in.
That said, traditional methods – letting friends, family and neighbors know you can walk their pets – still works. So as a teen, your best bet is to rely on word of mouth and making your clients and their pets happy.
Final Thoughts
While dog walking may not be the road to riches, you can certainly earn a decent living or some extra cash in your spare time.
Not to mention, getting some good exercise in as well!
I'd also like to mention that if you like hanging out with dogs (because dogs are totally cool) but aren't worried about making extra money that way, consider volunteering at your local shelter.
Shelters across the world are full of dogs waiting for their forever homes, and they are always in need of volunteers to take the pups on walks or just spend time playing together.
I regularly volunteer at a local shelter, and it is a really fun and rewarding experience!