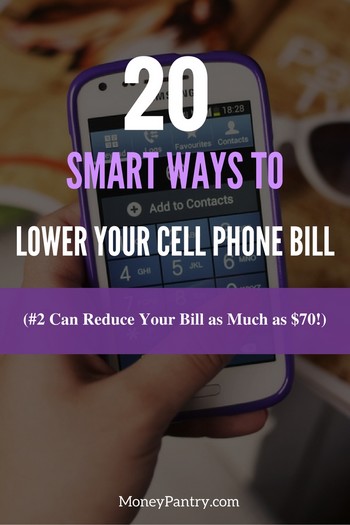 "How can I reduce my cell phone bill?"
If you're part of the 50% adults in the U.S. (and 66% of consumers aged 18 to 29) who according to statistics own a smartphone, you've probably asked yourself this question once or twice.
In the past couple of decades, cell phones have evolved from a convenience to an absolute necessity for most people.
And, they're a pretty expensive necessity. As mobile phones have become more prevalent and more integrated into people's daily lives, monthly cell phone bills have increased.
According to statistics, the average American pays between $120 and $148 per month for their mobile phone through the country's four largest carriers – Verizon, AT&T, Sprint, and T-Mobile.
Over the course of the year, that adds up to a pretty substantial amount.
Need Easy Extra $300+/Month for Free?
KashKick
: Get paid directly into your PayPal for watching videos, surfing, shopping and more.
Join KashKick Now!
InboxDollars
: Paid over $57 Million to members to watch videos, take surveys, shop and more.
Get $5 instantly!
Branded Surveys
: Get $1 instantly just for joining for free. Plus get paid within 48 hours by PayPal!
Join Branded Surveys
First Opinion
: Get paid up to $10 per survey and $300 per virtual focus groups!
Join Now!
Swagbucks
: Get paid to watch videos, shop online, take surveys and more.
Join now & get $10 instantly!
So, what can you do to lower your cell phone bill?
Well, getting rid of your phone altogether isn't really an option!
But, there are still plenty of ways that you can own a phone and keep your bank balance intact!
Here, we've compiled 20 things that you can do to save money on your cell phone bill.
1. Consider Your Phone Habits
One of the simplest ways to save money on your cell phone bill is to choose a plan that best fits your usage habits. Otherwise, you might end up paying extra for text messages, minutes and data that you won't use.
If you only pay for what you actually need, you'll significantly reduce your cell phone bill.
So, the first step is to find out what you're actually using in terms of minutes, data, and texts each month – here's what you need to do:
Monitor your phone habits during the past few months. This is pretty easy to do. Most cell phone carriers now allow you to view your minutes, text message and data usage.
To find out where to check your usage, simply type the phrase "check cell phone usage" followed by the name of your carrier – e.g. "check cell phone usage T-Mobile", into a search engine.
But, if you don't want to analyze your phone habits yourself, then there are websites and tools out there that will do it for you, like Tariffic.
Once you have a good idea of your usage patterns, it's time to find a plan that suits your needs.
Trying to compare the hundreds of cell phone plans out there can be a pretty tedious and frustrating process.
But, if you use tools to do it for you, then you can avoid exasperation!
Comparison websites allow you to input information about your phones habits, and then find plans that best suit your needs.
Essentially, they do the heavy lifting for you.
Here are a few comparison sites you can use:
These sites let you input information about your phone habits and current plan. They analyze your phone habits, and present you will a list of plans that best suit your needs.
Most of these sites allow you to filter the results by plan types, like contract versus prepaid, carrier and price.
2. Switch Cell Phone Plans
As stated at the beginning of this post, customers who use big phone carriers, like Verizon and Sprint pay more than $120 per month for their cell phone plan.
But, did you know that you can get cell phone plans that are as low as $15 per month?
It's true – if you're willing to switch to another carrier, you can reduce your bill to $70 or much less per month.
We have a post that lists 11 of the cheapest cell phone plans out there – one carrier even offers free service, so check it out.
3. Make Your Calls and Text Over Wi-Fi
Why use your minutes to make phone calls when there are apps available that let you do it for free?
One of the easiest ways that you can significantly reduce your cell phone bill is to make your calls and send your texts over Wi-Fi.
You'll get more mileage out of your minutes, and you won't have to worry about the cost of sending text messages either.
Here are some great apps, tools, and services that you can use to call and text others for free:
It's important to keep in mind that you can only call and text people using the above apps if they have those apps too. So, for example, if you want to send a text to someone through WhatsApp, then that person will need to have the app too.
If you have an iPhone, then you will be able to send free texts to other people with iPhones through the iMessage service, and use FaceTime to video call them for free!
4. Consider a Prepaid Plan
Generally speaking, prepaid cell phone plans are cheaper than your traditional annual contract.
Often with a prepaid plan, you pay half the amount you would for a contract plan, but you get most, if not all, of the same features.
And, many consumers realize this, which is why, over the past few years, there's been a huge surge in US consumers switching to prepaid phone plans.
A lot of prepaid plans are with smaller carriers, like Cricket Wireless.
But, don't assume that because the carrier is smaller, their coverage will be worse. Simple Mobile, for example, runs off the T-Mobile 4G LTE Network, so you get similar coverage.
Also, many of the larger carriers now offer prepaid plans as well, like AT&T and T-Mobile.
Prepaid plans are cheaper, but they sometimes do come with some drawbacks. For example, with some prepaid plans, you might not get as large a selection of devices as you would with an annual contract.
5. Keep Track of Your Minutes
If you want to keep cell phone costs down, then make an effort to keep track of your minutes.
It's easy to accidentally exceed your minutes, and end up with a bigger cell phone bill than you expected – that's why tracking your talk time is so important.
A lot of cell phone carriers allow you to view your minutes used each month and many of them offer tools like the cell minute tracker for AT&T.
To find out where to check your cell phone minutes, simply type the phrase "check cell phone minutes" followed by the name of your carrier – e.g. "check cell phone minutes AT&T", into a search engine.
6. Stick to the Basics
Do you really need data or could you just stick with Wi-Fi?
Do, you need unlimited international calling if you rarely phone people abroad?
The answer is probably not!
Extras can be costly, and most of the time, they're essentially unnecessary.
Ditch extras like ringtones, streaming videos, games, GPS, and premium voicemail.
These extras might seem small, but they can really add up and have a big impact on what you pay for your cell phone each month.
7. Reduce Your Data Usage
One of the simplest ways to cut down your cell phone bill is to reduce your data usage and use Wi-Fi instead!
While the numbers vary when it comes to data usage statistics, one thing is clear – people use much less data than they think they do:
According to Nielsen, the average U.S. consumer uses just 733 MB of data each month.
According to Verizon, one of the country's biggest cell phone carriers, its average customer uses just 1 to 2 GB of data per month.
Mobidia, a company that analyzed data from hundreds of thousands of consumers found that on the average U.S. consumer uses 1.8 GB of cellular data every month.
So, don't think that you need a plan with excessive amounts of data, as you're probably not using as much as you think you are.
Plans that include a lot of data are usually much more expensive.
If you don't use much mobile data (you should know how much data you use each month because you should be tracking your phone usage habits), then choose a phone plan that offers just a couple of GB's of data.
And, if you can, try to get a plan that doesn't offer any data at all!
Plans without data are significantly cheaper.
For example, Republic Wireless offers a range of budget-friendly plans that are much lower that what you would pay with a larger carrier.
But, if you choose a plan without data, you'll save even more. One of Republic Wireless' plans offers 2GB of data and costs you $30 per month, whereas another plan offers the exact same features, except you don't get any mobile data, for just $15 per month.
That's half the price!
If you are going to use mobile data, make sure that you're not paying for more than you need.
And, be careful with doing things like streaming videos, as this uses up to 6MB of data per minute, and playing fast-action games, as this uses 1MB per minute of game time.
And, don't forget to turn off data roaming!
Apps and other programs on your phone can use mobile data without you realizing, so always disable data roaming on your device.
8. Choose a Plan with Unlimited Texts
If you use for phone mostly for texting, then consider choosing a plan that offers unlimited texts. The cost of text messages can really add up, and if you're on a plan with a limit, and you exceed it, then it can really increase your cell phone bill.
Here are a few carriers that offer plans with unlimited texts:
So, if you do a lot of text messaging, then a plan with unlimited text messages is definitely your best option.
9. Bundle Services
Bundling services is an easy way to save money on your cell phone bill. So, consider moving all of your services, like your cell phone, cable or satellite, Internet, and home phone to one provider and you'll likely get a bundled service discount.
Just contact the service provider you plan on moving all of your services to, and ask about a bundle discount.
10. Use 4-1-1 Alternatives
Did you know that dialing 411 from a cell phone can cost you $1 or more! That's pretty substantial.
So, to avoid these charges, try one of these two free options instead:
11. Avoid Calling Toll Free Numbers
Toll-free numbers aren't free when you make them from your cell phone. And, as most toll-free numbers leave you waiting on hold for at least a few minutes the cost of just one call can be pretty hefty.
So, always avoid calling these numbers from your mobile.
Use your landline to make calls to toll-free numbers instead.
12. See if You're Eligible for a Discount
Did you know that certain cell phone carriers offer discounts to consumers? It's true. While all carriers have different criteria when it comes to who is eligible, some of them provide a discount to the following consumers:
Those who work for, or are affiliated with, a certain company, employer or organization.
Students
The disabled
Veterans
Examples of carriers that offer these types of discounts include Verizon Wireless and AT&T.
You will need to check your eligibility with your particular cell phone provider to see if you're eligible.
13. Consider a Plan with Rollover Minutes
Cell phone plans that offer a set amount of minutes are good if you know how many calls you make each month on average.
But, the problem with minute-based plans is that many of them don't allow you to transfer unused minutes from month to month.
So, you don't get to keep those minutes you've already paid for.
That's why choosing a plan with rollover minutes is such a good option. These plans allow you to rollover unused minutes from the previous month to the next month.
14. Ask for a Better Deal
As the expression goes, "if you don't ask, you don't get". And, the same is true when it comes to mobile phone plans.
Simply asking for a better deal could save you a significant amount on your cell phone bill each year.
Cell phone companies always compete with each other for customers. So, they're willing to offer deals to bring customers in and retain the loyalty of their current customers.
You just need to be willing to ask and negotiate.
Simply contact your current cell phone provider and tell them that you're considering moving to another carrier because they can offer you a better deal.
State that you're a loyal customer, so you'd prefer to stay with them, but as you can save money by moving elsewhere, you'd like a discount on your current plan.
Often, they'll give you a discount to keep your business.
Also, keep in mind that cell phone companies change the plans they offer frequently. So, a deal you got a year ago that might have sounded great back then, might have been replaced by something even better.
But, your cell phone carrier isn't going to tell you that.
This is why it's so important to call your provider and ask about promotions, changes to plans and other plans that might help you to lower your monthly costs.
15. Watch out for In-App Fees
Most people don't realize that many apps, even the free ones, can charge you. Arguably, one of the worst culprits for this is freemium games.
These games are free, but charge you money if you want to do extra things. Often, people don't realize this and are surprised when they get a bigger cell phone bill at the end of the month.
Freemium games and other apps that charge you money for certain actions are particularly troublesome if you have kids.
After all, most kids don't realize when they're being charged for something.
The best thing that you can do to avoid in-app fees is to turn off in-app purchases.
You can usually do this through your phone's settings. A quick Internet search for the term "how to turn off in-app purchases" yields plenty of results for both iOS and Android devices.
Doing this prevents you or your children from making any accidental or impulse purchases.
16. Use In-Network Calling
If you tend to make a lot of calls using your mobile phone, and you can't always do it through Wi-Fi, then consider using in-network calling when possible.
In-network calling is when you call someone on the same network as you. It's sometimes called mobile to mobile calling.
Many cell phone companies, like Verizon Wireless, allow you to call other customers on the same network, for free, without using your minute allowance.
So, if you and your family or friends make a lot of calls to each other, then it can be worth switching to the same provider and using in-network calling.
17. Use your Landline More
Unless you have a plan with unlimited calls, using your landline more often, particularly for local calls, can really save you a lot of money.
If you don't plan on utilizing Wi-Fi for your calls, then the landline really is your best option.
Even though it seems more convenient and quicker, resist the urge to call from your mobile phone if there's a landline available.
18. Look for Free Versions of Games and Apps
Games can be fun and apps are useful, but the frequent purchase of them, even if they're small can really add up each month.
So, where possible, choose free games and apps, and check to see if there are free versions of the games and apps you want.
Often, you'll find that a free version of a game you want is available, and while some offer fewer features, many are exactly the same, but you'll just have to view advertisements during the game.
19. Switch to a Family Plan
Splitting the cost of a cell phone plan among family members can save you quite a bit of cash each month.
For example, T-Mobile, at the time of writing, offers a solo plan of 2GB of data, for around $50 per month, but if you switch to a family plan for a family of four, you'll pay around $120 per month for 6GB of data each, which is just $30 per person.
That's a savings of $20 per month!
So, consider switching to a family plan and you could save money on your cell phone bill.
20. Double Check your Cell Phone Bill
Cell phone invoices can be pretty confusing. But, understanding your invoice and what each charge is for could really cut down your monthly bill.
Many cell phone providers add sneaky charges to their monthly bills, meaning consumers rarely pay the price listed for services on the provider's website.
Some consumers are charged for things that they don't even realize that they signed up for, like roadside assistance.
So, always take the effort to thoroughly check your cell phone bill each month. If you see any charges that seem unusual, then contact your provider and inquire about them.
There are also services you can use like Validas. This is a service that will analyze your invoice, identify errors and give you ways to reduce your bill.
Final Word
Having a cell phone doesn't have to be detrimental to your bank balance. You just need to be smart when it comes to choosing a plan, and when using your phone.
Follow these simple tips, and you could cut down your cell phone bill significantly.