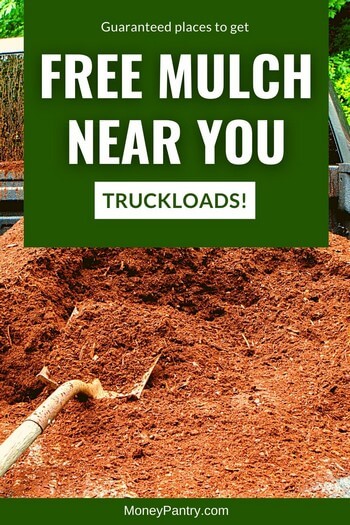 If you're wondering, "where can I get free mulch near me?" then we've got you covered.
Mulch is really important for keeping your garden in prime condition. According to the United States Department of Agriculture, "Mulching enriches and protects soil, helping provide a better growing environment."
Mulch can be made from a variety of materials, including:
Woodchips
Whole bark nuggets
Sawdust
Grass clippings
Leaves
Stone
Straw
And a ton of other materials.
You may be looking to save some money on maintaining your garden though and an easy way to do that is by getting your mulch for free.
In today's post, I'll cover ways to get mulch for free!
Need Easy Extra $300+/Month for Free?
KashKick
: Get paid directly into your PayPal for watching videos, surfing, shopping and more.
Join KashKick Now!
Panel Payday
: Earn up to $75 per survey. They also pay up to $50/hr for mystery shopping.
Join Now!
InboxDollars
: Paid over $57 Million to members to watch videos, take surveys, shop and more.
Get $5 instantly!
Branded Surveys
: Get $1 instantly just for joining for free. Plus get paid within 48 hours by PayPal!
Join Branded Surveys
iPsos iSay:
: If you have to only sign up for one paid survey site, go with Ipsos (high paying survyes)!
Join iPsos Now!
Swagbucks
: Get paid to watch videos, shop online, take surveys and more.
Join now & get $5 instantly!
Where to Get Free Mulch Near Me
Here's where you can get free mulch near you.
1. ChipDrop (Free mulch delivered near you!)
If you don't have a pickup truck or a vehicle large enough to go pick up a truckload of mulch yourself, you probably wondering "where can I get free mulch delivered near me?"
Well, then you should definitely check out ChipDrop. The company will deliver free woodchips right to your doorstep!
ChipDrop works with local tree companies working in your area and lets them know that you would like some woodchips. Then, the next time their truck is full, they can pull up your information through the ChipDrop's service, and deliver the woodchips right to your driveway, even if you're at work.
Visit the site, and you'll be able to place a single request for arborist woodchips. ChipDrop then sends it out to all the participating tree companies in your area. Once you receive your woodchip delivery, ChipDrop will automatically remove you from the list so that you don't get multiple loads. If you do want another load, then you can just login to your account and place another request.
Handily enough, ChipDrop has a basic quality control process so you can have at least some idea of the quality of material that you're going to receive.
It's a really easy process for getting woodchips. Just request them on the site, and participating crews will be able to view your request and deliver woodchips next time they're working nearby.
2. Craigslist
Whether it's woodchips, straw mulch, or grass mulch, you're sure to find a selection of different mulches on Craigslist and they're free!
Yes, I've seen so many people giving away mulch on there. Finding free stuff on Craigslist, including mulch and woodchips is very easy.
To find it near you, just go to your city's free Craigslist section.
Then head to the "For Sale" section.
Under this section, click on "Free."
Type in "Mulch" in the search bar. If you're looking for a particular type of mulch you can enter that, for example "free straw mulch" or "free woodchips."
You'll then get listings near you. It's a really easy way to get mulch for your garden.
3. Ask tree companies or tree surgeons
Tree services and surgeons take down lots of trees (obviously!), meaning they have wood and woodchips to offer.
You can just contact tree companies near you and ask if they have any woodchips to offer.
They may be able to deliver it right to you.
By the way, this is also one of the best ways to get free firewood near you.
4. AboutTrees.com Free Mulch Program
Looking for free woodchips for your yard? Visit AboutTrees.com.
AboutTrees.com has a free mulch program. Through the program, you can request mulch from tree services when they are working close to your neighborhood.
Just fill out the form online, and your request will be made available to all the tree services who use the app in your area. It's a great way to get free woodchip mulch.
5. OfferUp
Up until just a few years ago, Craiglist was the best and one of the very few places to get free stuff near you. But now, with so many apps, it's easier than ever to find local freebies.
OfferUp is a website where you can buy and sell stuff near you. The website has a section for freebies as well. At the time of writing, there were lots of people giving away mulch through the site.
6. Save fallen leaves
Leaves make for great mulch. So don't throw out leaves or burn them – it's like throwing away or burning free mulch. In the fall, when the leaves start falling from the trees, save them up. Then you can shred them up and spread them throughout your garden. They'll work really well, feeding your plants, improving your soil, retaining your garden's moisture, and of course fending off weeds.
7. Freecycle
Freecycle is a website where people can give away stuff and get stuff for free. It's a great premise that promotes recycling. You may be able to find someone giving away mulch in your area. So have a browse on the website.
Freecycle is also great for finding free pallets near you.
8. Save grass clippings
Grass can make for a good mulch. Just make sure that you don't use fresh grass, as the nitrogen can burn your plants.
Next time you mow the lawn, put your grass clippings in a pile. Then you can use them to mulch next year's garden.
This is such an easy way to get mulch for your yard!
9. Facebook Marketplace
Next on the list we have Facebook Marketplace. This is an online marketplace where you can buy and sell stuff in your neighborhood. The website also has a great section for free stuff.
At the time of writing, I saw tons of listings for mulch on there with everything from stones to woodchips available.
I'd definitely recommend having a browse on there if you're looking for mulch nearby.
10. Use old newspaper
Newspaper can make for great mulching material. Just make sure that you stick with the black and white pages because the color pages can contain inks that aren't safe for your garden. Also avoid glossy pages.
Just run the pages through a shredder or shred them up yourself and carry them out to your garden.
It's such a great way to recycle old newspapers.
11. Check local programs
Many cities and places throughout the country have programs where they'll give away mulch for free.
Have a search of your town's, city's, or county's name, followed by "free mulch program."
Here are some examples of free local mulch programs:
Sometimes, these are "self-serve" events, so you may have to bring your own shovel and containers. Many places will have the mulch all bagged up and ready to go though.
12. Use broken paper bags
Do you have some paper bags from the grocery store that have broken?
If so, shred them up and use them as mulch. This type of mulch works much like wet newspaper, except it can be a little more durable.  You could also ask at grocery or home improvement stores to see if they have any broken bags that they'd be happy to give you.
This is a pretty easy way to get some mulch for the garden.
13. Ask local landscaping companies
Local landscaping companies may have mulch to offer you. Just ask them if they'd be willing to drop off their landscaping debris at your place after a job. That way, you'll have plenty of mulch to last you throughout at least a season if not most of the year, depending on how much you get.
These companies often have leaves, grass clippings, and other stuff you could use for mulching your garden. Local landscaping companies may be happy for you to take this unwanted debris off their hands!
14. Recycle old cardboard boxes
Many of us get lots of stuff delivered to our homes, meaning we have a ton of cardboard boxes in our home that we just put into the recycling.
If you have some boxes, like the ones you get from Amazon, for example, you can use them as mulch. Just rip them up as much as you can, and then spread them around your garden.
Cardboard can make for great mulch because it tends to last longer than newspaper and paper bags do.
And if you don't have enough of them, you can always use our tips for getting free cardboard boxes!
15. Pine Needles
Do you live in an area with pine trees? If so, you could use the pine needles for mulching your garden. There are tons of pine needles in areas with pine trees and they make for fantastic mulch.
16. Use Stable Sweepings
If you live near stables or have one yourself, you could use the sweepings as free mulch.
Just contact the stable owner and ask if you can have the sweepings. You may have to sweep up yourself, so this one could require a little effort on your part. Not all places will require you to sweep up yourself though.
Offer to carry away the sweepings.
Some stables will be happy to have some free work done or to just give you the sweepings!
It can be great for your yard.
17. Invest in a woodchipper/shredder
If you have a pretty large yard or a lot of areas that require mulch, it can be a good idea to invest in a wood-chipper/shredder. It could save you money in the long-run.
These machines make it easy to shred up any yard debris and turn it into mulch. You can also get free wood/logs from places and use that to create woodchips.
Mulch FAQs
Okay, so now you have some places to get mulch for free, you may have some questions about the whole mulching process.
Well, in this section, I'll answer some common questions about mulch…
What are the benefits of mulch?
Mulch is good for gardens for a number of reasons:
It helps your soil to retain moisture and regulate its temperature
Mulch can help the soil to better retain moisture. This is because mulch can reduce the amount of water that evaporates from your soil.
This means that you don't have to water it as often. It basically protects your soil from the sun. It also helps to regulate soil temperature.
It protects plants against hot weather
When a plant's roots are shaded by mulch, it will be able to better handle hot, sunny days.
It protects against weeds
Mulch can suppress weed growth. So if you want your garden looking pristine and weed free, you should definitely use mulch. Since a thick layer of mulch prevents sunlight from hitting any weed seeds that are in the soil, the weeds never sprout. Mulch also stops airborne seeds from taking root.
If you use mulch, you won't have to remove weeds as much.
Mulch provides nutrients to the soil
Depending on the type of mulch you use, and the type of soil you have, it can provide nutrients to the soil.
When should I use mulch?
Okay, so when exactly is the best time to mulch your garden?
The best time to mulch the garden is mid-Spring.
You should give the soil time to warm and lose the winter cold.
Make sure to avoid mulching right after rainy weather because you don't want to trap too much moisture beneath the mulch. So mid to late April can be a good idea.
It's a good idea to do a top up in late summer/early fall before frost begins. Adding more mulch between late August and September can be a good idea.
What is the best mulch to use?
There are lots of different types of mulch. As I mentioned above, you have everything from woodchip mulch to straw mulch.
Which is the best mulch to use though?
Well, it really depends on your needs.
For flower and vegetable gardens, these types work great:
Wood mulch
Grass clippings
Leaves
Over time, these will break down and add nutrients to your soil, which is great. Also, if you have heavy clay soil, this process can lighten it, helping your garden to thrive.
Straw mulch is great for vegetable gardens too, especially raised beds. Just make sure that the straw doesn't contain hay because hay contains seeds that can turn into weeds in your garden. Just ask the supplier about this before you buy – if the supplier doesn't know, then don't buy it.
Stone mulch can work well for landscaping purposes, simply because it looks more formal and its weight helps it to stay in place during hard rains and other tumultuous weather conditions.
How much mulch should I use?
Proper mulching is very important. Just how much mulch you should use depends on the type of mulch that you're using.
The faster the mulch decomposes, the more you should use. Be careful though, because while you want enough mulch to keep sunlight from hitting weeds, you don't want to use so much that it prevents water from reaching the roots of your plants.
Here's a quick guide to help you out:
Stone, newspaper, and wood mulch: 2 to 3-inch layer
Grass clippings and straw mulch: 3-inch layer
Should I remove old much?
Removing mulch defeats one of the purposes of mulch, which is to decay and mix with the soil.
So you don't need to remove it. You can ruffle the old mulch before you add more because this will prevent it from forming a hard surface that deflects water, instead of retaining it.
Should you put down mulch every year?
Since mulch breaks down over the course of a year, it's important that you reapply it each year. Springtime is best, as I mentioned above.
What type of mulch you use will also determine how often you have to reapply it.
For example, stone mulch isn't going to decompose or get washed away by the rain.
But straw mulch and grass clippings will both decompose fast, and as they're lightweight, strong winds or rain can cause them to shift around as well. So you may need to add more as needed to keep the right depth.
As mulch works best when it's applied thickly enough to protect plant roots from too much sun, but not so thick that it stops water from reaching them, it's important to keep an eye on how much is there. Recheck the mulch in the fall to ensure the layer is still thick enough.
Do I need to pull weeds before mulching?
Mulch doesn't actually kill weeds. It just prevents the seeds from sprouting. Basically, it can stop your garden from getting weeds in the future, but it won't remove the ones that are already there.
That's why it's important to remove weeds before you apply the mulch. You can hand-pull them after a rainfall or irrigation, dig them up, or spray them with herbicide. Don't apply the mulch until the weeds are completely dead.
What can I use instead of mulch for my garden?
If you can't find mulch and woodchips for free and they are too expensive and out of budget for you, there are actually many mulch alternatives you can safely use.
Here are a few examples:
Straw or Hay
Pea Gravel
Leaves
Grass Clippings
Pine Needles
Pumice rock
Landscape Fabric
Cardboard or Newspaper
Rubber Mulch
Compost
Obviously, the alternative you can use depends on your needs. What are going to to use mulch for and why?
For example, if the purpose is to avoid weeds, cardboard boxes can be a great alternative to traditional mulch. So if you are going to use something besides mulch, make sure it is the best alternative for your specific needs.
Happy Gardening / Landscaping!
If you want your garden to thrive, it's good to know that you can get your mulch for free! Using these sources, you can essentially get an unlimited supply of free mulch.
You can spend less and save more on your garden and lawn now that you know how and where to get free mulch and woodchips near you.