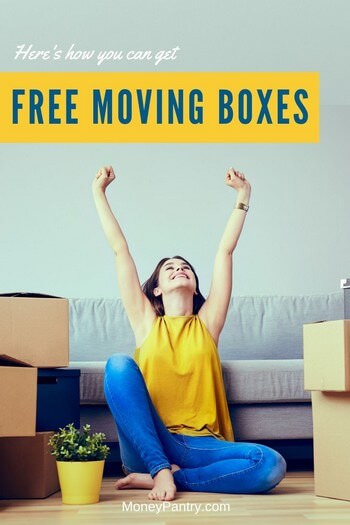 A person in the United States can expect to move 11.7 times in their lifetime.
And each time, it's not cheap which is why it pays to find ways to save money when moving.
Moving is not only a lot of work. It's also costly!
From renting a storage unit to hiring movers, the process of relocating to a new place comes with lots of expenses. (By the way, you can use these moving tips & hacks to make your job easier!)
One of the most annoying things to hand over your hard-earned money for though is cardboard boxes.
No one wants to have to pay for a cardboard box, let's face it. Once you've moved, you're left with a bunch of boxes you're just not going to use again.
Need Easy Extra $300+/Month for Free?
KashKick
: Get paid directly into your PayPal for watching videos, surfing, shopping and more.
Join KashKick Now!
Panel Payday
: Earn up to $75 per survey. They also pay up to $50/hr for mystery shopping.
Join Now!
InboxDollars
: Paid over $57 Million to members to watch videos, take surveys, shop and more.
Get $5 instantly!
Branded Surveys
: Get $1 instantly just for joining for free. Plus get paid within 48 hours by PayPal!
Join Branded Surveys
First Opinion
: Wanna get paid for every single survey (+ high paying online focus groups) with cash or direct deposit? This is for you!
Join Now!
Swagbucks
: Get paid to watch videos, shop online, take surveys and more.
Join now & get $5 instantly!
If you're moving though, you're going to need them. Fortunately, cardboard boxes are one moving expense that you can get for free near you or online.
Where Can I Get Boxes for Free Near Me
Here's where to get free moving boxes.
1. Craigslist
If you ever wondered, "where can I get free moving boxes near me?", the first place you should look at is the good 'ol Craigslist.
Just do a quick search for boxes in the free section (found underneath the "for sale" heading) for your city. You'll see lots of moving boxes.
Here are some examples of free sections on CL:
You can also post an ad asking for free boxes in the "Wanted" section of your city's Craigslist.
Near the end of the weekend or the beginning of the week, after people have finished their move, are good times to scour Craigslist for boxes.
2. Walmart
If you're willing to visit your Walmart store late at night, you could get some moving boxes. Walmart unloads its new shipments late at night. If you can stay up until 10 p.m. head to your local Walmart for free boxes.
Boxes are available every day of the week too!
3. USPS.com
If you're relocating to a new home, you'll definitely want to check out the free boxes offered by the USPS.com.
The USPS.com provides free shipping supplies including cardboard boxes. These ship in 5 to 7 business days.
You can get a pack of 10 or 25 boxes! They're available in lots of different sizes too.
Browse the selection here.
4. Office supply stores
Office Depot and other office supply stores are good for getting boxes at no cost. Since office supplies are often packed with strong and solid boxes to keep products safe, office supply stores are an awesome place to find sturdy, robust boxes that are perfect for packing a variety of household items.
The best time to score boxes from Office Depot is on Tuesday from midday to 3 p.m. as Tuesday is the store's first freight day of the week.
5. Freecycle
Freecycle is a website where people can get stuff for free and give away stuff too. It's worth having a look on there to see if anyone's offering boxes.
You can also join your local Freecycle group and let people on the site know you're looking for moving boxes. You'll get a response if any are available.
6. Barnes & Noble
Books are heavy, so they need strong boxes for transport. You can go into your store and ask for some of these sturdy boxes for your move. The best time to ask is on Tuesdays since this is when the store gets new shipments.
7. Art and craft stores
Places like Jo-Ann Fabrics, Hobby Lobby, and Michaels have lots of boxes you could take for your move. Check with these stores, and other arts and craft stores in your area to see if they have any cardboard boxes you can take.
8. Walgreens
Walgreens is another place to visit for boxes. The best time to stop by your local Walgreens is on Tuesdays since that's when the store receives its big shipments. You could go in-store around midday to ask customer service, or you can call ahead and ask the employees to save some free boxes for you.
9. Auto supply stores
One of the best places to find free large moving boxes is at auto supply stores. For larger boxes, these can be a goldmine. Check with auto part stores, like Auto Zone, O'Reilly's, NAPA, Checker, and Advance. Just ask at your local auto supply store and they'll generally be happy for you to take their unwanted boxes off their hands.
10. Letgo
LetGo is a website that allows people to buy and sell things locally. It's not just for buying and selling though. LetGo also has a free section where users can give stuff away.
Visit the free section here and do a search for boxes.
11. Rite Aid
Rite Aid sometimes provides moving boxes. Just visit your local store early Saturday morning to get them. This is the best time to ask because the store gets its shipments on Friday nights.
12. U-Haul's Take a Box Leave a Box program
U-Haul provides a drop location in all of its company stores and many independent U-Haul Dealers. Here, customers can drop off their reusable moving boxes and other customers can take and use these boxes for free!
Basically, it helps customers to not only save money on moving expenses, but it also encourages people to reuse boxes.
Check with your nearest U-Haul to see if there's a Take A Box, Leave A Box program available.
13. U-Haul Box Exchange
If there are no boxes available near you through the Take A Box, Leave A Box program, try the U-Haul Box Exchange instead. It allows you to search for free moving boxes near you.
Learn more about the program here.
14. Trader Joe's
Okay, so another store you may want to check with is Trader Joe's. The best time to get boxes from Trader Joe's is either first thing in the morning, or in the evening time at around 8 p.m. The store has a wide variety of different sized boxes to choose from.
15. Local recycling centers
Check with your local cardboard recycling center for boxes. A lot of centers have a designated area where people can drop off their gently used boxes for other people to reuse.
To find a recycling center near you, use Earth911's recycling search tool.
16. Safeway
At Safeway, you can get boxes if you ask early in the morning. Since boxes generally come into the store between 4 a.m. and 5 a.m. you'll have the best chance of getting them at around 8 a.m. once the employees have unloaded the boxes and have some to hand out for free.
17. Bars and restaurants
Ask at local bars and restaurants for free moving boxes. Since bars and restaurants stock large quantities of liquor, glass bottles, canned goods and plenty of other goods, they're the perfect place to get sturdy boxes in a variety of sizes
18. Whole Foods
Get boxes from Whole Foods. Just visit early in the morning before they compact their boxes to make sure that you don't miss out.
19. OfferUp
OfferUp is like LetGo where people can buy and sell stuff locally. It also has a free section where people can give away stuff. Browse the free section here to find free moving boxes near you.
20. WinCo
Call or visit your local WinCo store and ask the manager if they have any boxes they'd be willing to give you. They may set aside some for you.
21. Your workplace
You might be able to get some boxes at your workplace. Just tell your manager that you're planning to move and are wondering if they have any clean boxes you could have. Just ask them to set some aside for you when they do become available.
22. Albertsons
Albertsons does recycle its boxes and gets credit for them most of the time. So, they're not always available from the store. However, it's still worth giving your local store a call because they may still be able to put some aside for you to pick up.
23. Local bookstores
I mentioned above that Barnes and Noble is a good place to visit for boxes. Bookstores in general though are awesome for boxes. Contact local bookstores and ask if they have any boxes they can set aside for you. If you have a lot of books to move, it makes sense to contact bookstores for moving supplies!
24. Costco
Although Costco generally reuses most of its cardboard boxes, your local warehouse may still set aside some for you. Just call and ask! What's great about getting boxes from Costco is that they're available in a variety of sizes. The only downside is that many of their free boxes have open tops.
25. Liquor stores
For boxes that are sturdy ask at your local liquor store. Since liquor stores get shipments of alcohol, they have lots of robust boxes available. These are perfect for your heavier items on moving day! Call in the morning to ask if they have any available and to find out what time you can pick them up – stores need time to unload and break down all the boxes.
26. Local grocery stores
Check with local grocery stores. Some of them have boxes, like apple boxes for example, that are perfect for moving fragile items.
27. McDonald's
Did you know that McDonald's fries arrive frozen in boxes? This means that McDonald's fry boxes don't get greasy or smelly, making them ideal to use as moving boxes.
These boxes are strong and are ideal for hauling heavy items that require a smaller sized box. The best time to call is early in the morning before they break down the boxes and put them in the trash. Ask your local store to put some aside for you.
28. Starbucks
Next on our list, we have Starbucks. Since Starbucks gets a couple of shipments each week, they'll likely have boxes available on a weekly basis. Go into your local coffeehouse to ask or call ahead to see if the employees will keep some boxes for you.
What's great about getting them from Starbucks is that the company has boxes in a variety of sizes. So, you can get your hands on some larger boxes, or whatever size you need! Friday, when Starbucks gets its largest shipments, is a good day to get boxes – and you can get a coffee to energize you for the move while you're there!
29. Local schools
Surprisingly, schools get a lot of deliveries. You could call local schools and ask if they have any boxes they'd be willing to give you.
30. 5miles
Like LetGo and OfferUp, 5miles is a buying and selling platform that also has a section for free stuff. You could get your hands on some free boxes that you can use to store and move your stuff in.
Browse the free section here.
31. Facebook
Reach out to community groups on Facebook and you could get some free boxes. All you have to do is ask!
32. PetSmart
Ask at your local PetSmart whether they have any boxes you can take off their hands. The best times to ask are on Tuesdays and Thursdays when stores have the most boxes available. It's best to go early too, like before 10 a.m. for the best chance that boxes are actually available.
33. Apartment complexes
Another place to check is apartment complexes. Whether it's your own or a local one, apartment complexes tend to have boxes available, since people are always moving in and out.
The only downside to this is that for the most part, people dump these boxes near or in the dumpster. If they're near the dumpster, then you should be able to pick some up no problem.
The trouble is when the boxes are actually in the dumpster. Dumpster-diving isn't always permitted. You shouldn't just go into someone else's trash and root around.
So, when it comes to getting boxes from apartment complexes, I'd highly recommend that you ask to take stuff from the dumpster first, rather than just diving in there. You don't want to get into trouble!
And, always wear protective gloves when going through dumpsters.
If you don't mind reaching into a garbage bin, apartment complexes are a good place to look. Boxes from inside a dumpster wouldn't be my go-to for moving my stuff, but each to their own!
A good alternative is to put up a flyer at a few complexes near you asking for moving boxes. Then you don't have to take anything out of the dumpster!
34. Petco
Next up we have PetCo. Go in on Monday morning at around 9 a.m. and you should be able to get your hands on some free boxes.
35. Nextdoor
Nextdoor is a website where people in the same neighborhood can exchange information, goods, and services. This means that you could find some free moving boxes locally.
Browse Nextdoor here.
36. Dollar Tree
Dollar Tree may set aside boxes for you if you just ask! The best days to ask are on Tuesdays and Wednesdays as that's when Dollar Tree gets its deliveries. What's great about getting boxes from Dollar Tree is that you can get a variety of sizes.
37. Local pharmacies or chemists
It's not just Rite Aid where you can get boxes – many local pharmacies or chemists will likely provide you with free moving boxes too. All you have to do is ask.
38. Target
Get free moving boxes from Target. These boxes can be used to haul everything from your books to your clothing. The best days to visit are on Monday, Tuesday, and Wednesday, as these are the days that Target gets the most shipments. Call before noon on those days and ask the employees to set aside some boxes for you.
39. Garage sales or yard sales
People haul their stuff to garage sales and yard sales in boxes. Then they sell that stuff. So, they're left with a bunch of empty boxes. Ask sellers for these empty boxes and they'll likely be happy for you to take them off their hands!
Use Garage Sale Finder here to find a garage sale or yard sale near you.
40. Kroger
Next up we have Kroger. Kroger and stores operated by Kroger, like Fred Meyer, sometimes provide boxes. These are grocery boxes that usually have lids – so they work perfectly for moving your stuff. While Kroger stores don't generally save any boxes, just ask an employee on the produce department for free boxes they've emptied.
The best time to go into the store is at around 5 p.m. Just ask and the employees will likely be happy to give you what they have.
41. Home supply stores
Home supply stores, like Bed, Bath and Beyond, Bath and Body Works, and IKEA have a consistent supply of boxes. Call home supply stores near you to ask if they have any boxes that they'd be willing to give to you for free.
Lesser-known local home supply stores are also just as good for getting boxes. Just call up and ask!
42. Gas stations/convenience stores
Gas stations sometimes have boxes available. Just give your local gas station/convenience store a call to see if they have any available. They won't always have them, but it's still worth asking, even if you only get a few more to add to the boxes you already have.
43. Friends and family
My final tip for getting free moving boxes is simple – ask your friends and family!
I know that in the past that I've had to just recycle plastic and cardboard boxes that would have made for ideal moving boxes.
Just ask people in your family and your friends if they have any unwanted boxes you could take off their hands. It's likely that they will have some that they'd be happy to give to you at no cost.
Happy Moving!
Yes, moving is a pain and it can be pretty expensive. One thing you don't have to spend money on though is moving boxes. That's one easy way to save money when moving out to a new place.
My husband used to work in a grocery store and he said that people would always come in asking for boxes and he'd be happy to set them aside for people.
That's the thing; a lot of the time, sometimes, to get free stuff, all you have to do is ask!
Let us know in the comments – did you get your moving boxes for free?
If so, where do you recommend getting them?
And, we hope that you have a hassle-free move to your new place with lots of free moving boxes in tow!