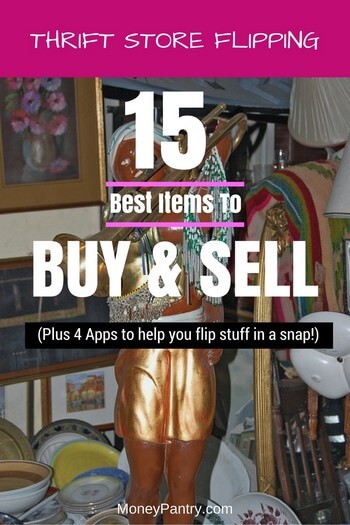 Buying stuff from thrift stores and reselling them on eBay or other places is a great way to make money.
The term "Thrift Store Flipping" refers to the process of buying something from the thrift store with the plan to resell it for a higher price.
And it can be a profitable venture – if you do it right.
While it's rare to come across thrift store finds worth millions, flipping has become a source of income for many people. Just take a look at Alexandra Marques. She makes $5,000 per month reselling clothes and accessories from the thrift store on a website called Poshmark.
If you're considering reselling thrift store finds, then make sure that you opt for items that are going to sell well and valuable items too.
We've put together a list of some of the easiest and best thrift store items to resell – and tips on flipping these items for a profit.
Need Easy Extra $300+/Month for Free?
KashKick
: Get paid directly into your PayPal for watching videos, surfing, shopping and more.
Join KashKick Now!
InboxDollars
: Paid over $57 Million to members to watch videos, take surveys, shop and more.
Get $5 instantly!
Branded Surveys
: Get $1 instantly just for joining for free. Plus get paid within 48 hours by PayPal!
Join Branded Surveys
First Opinion
: Get paid up to $10 per survey and $300 per virtual focus groups!
Join Now!
Swagbucks
: Get paid to watch videos, shop online, take surveys and more.
Join now & get $10 instantly!
1. Name Brand Clothing
Name brand clothing is one of the best thrift store items to flip for a profit.
Often, you can find clothes from jeans to dresses, from big name brands, like Ralph Lauren, Nike and Calvin Klein.
And, even though these clothes are from well-known brands, they're often sold at pretty reasonable prices.
People are usually willing to pay more for name brand clothing. So, you can easily pick up a piece from a well-known brand like Adidas or Coach for a low price, and then sell it for a much higher price on a site like eBay.
As people often search for certain brand names online, like Abercrombie and Fitch, for example, brand name clothing often sells really well.
It's a fairly easy way to make a tidy profit.
Keep in mind that you won't always find clothes from well-known brands at thrift stores. You'll have to sift through a lot of generic stuff. But, if you take the time to have a good look, often you'll be surprised by what you'll find.
2. Frames
Another item to look out for at the thrift store is frames.
Often, thrift stores sell paintings and other framed artwork. But, it's not the artwork that you should be paying attention to – it's the frame.
Often, the frame can be worth more than the artwork itself, especially if it's ornate or antique looking.
And, picture frames are highly sought after, both online or offline, so they're a good item to resell.
Even if you don't like the picture or the artwork in the frame, you should still buy it for the frame alone.
3. Books
Books are one of the best thrift store items to resell for a few reasons:
they're pretty easy to find
you can ship them easily
and they're in demand
You can sell books on sites like eBay and Craigslist and at garage sales.
But, you should also consider selling them to book-focused sites, like BookScouter.com.
Getting books in a set or collection is also a good idea because you can often sell them for a much higher price than what you paid for them at the thrift store.
When you are buying books, make sure that you check what condition they're in and inspect them for any rips, tears or missing pages.
Unless it's a highly collectible book, most people won't pay for a book that's in poor condition.
Plus, many places that sell books won't accept books if they have tears, so make sure you check thoroughly. A little wear and tear is okay, though.
4. Textbooks
Another thrift store item that's worth reselling is textbooks.
These sell pretty well online.
College textbooks are a good choice because students often look for books at cheaper prices – just make sure that you're not buying an outdated edition because you might not be able to resell it.
Textbooks can be sold on sites like eBay and Craigslist, but there are also other sites to sell textbooks on as well.
Here are a few:
5. Pyrex Dishes and Cookware
You wouldn't think it, but one of the most valuable things you can pick up at the thrift store is Pyrex dishes and cookware.
There are tons of people on sites like eBay and Etsy that love vintage Pyrex and are willing to pay a pretty good amount of cash for it.
You can sell each piece individually or you could sell a whole set and make an even bigger profit.
6. Older Technology
Whether it's on eBay or at a garage sale, older tech pieces are highly sought after.
While you might overlook an old stereo sitting on the shelf at your local Goodwill or that camera that you write off as junk, older technology can actually be really valuable.
And, at the thrift store, you can often find a lot of it – and many of these pieces are in good condition.
Here are a few things that you should look out for in particular:
Record Players
Record players are really trendy now, so if you can pick one up for a good price at your local thrift store, then you'll probably be able to make a tidy profit if you resell it.
Some people report paying just $10 for a record player at the thrift store, and reselling it for $30 on eBay.
Cameras
Cameras are also good to flip for a profit, especially if they're vintage.
Also, look out for camera lenses. Even if you see a camera that's priced low, you could still sell the lens that's attached to the camera.
Many older lenses still work on newer SLR cameras, so if you find a cheap camera, with a good lens, it might be worth buying.
Stereos
Another old-tech item to look out for is stereos.
A lot of people on sites like Etsy love them, especially if they're vintage.
Video Game Consoles
You might not take much notice of that old Nintendo at your local thrift store, but it will likely get attention online.
A lot of people love old video game consoles and many people even collect them.
Also, don't count a piece just because it's not in perfect condition. People often buy old-tech, even if it's broken, for the parts alone.
Plus, many old laptops can easily be refurbished.
7. Video Games
Buying and selling video games can be a pretty profitable venture. Plus, their small size and light weight make them a dream to ship.
If you can find any video games for current generation systems, like the Xbox One or the PlayStation 4, at the thrift store, then you could make a profit selling them on eBay.
Also, keep an eye out for old video games too.
As mentioned above, people love playing on old video consoles. Just make sure that the game is older or new – the oldest and the newest games tend to sell best.
Don't go for games for consoles that are only just outdated, like the PlayStation 2. Instead, opt for games for classic games consoles, like Nintendo and Atari 2600.
Retro games from the 80s and 90s sell particularly well.
8. Records
Vinyl albums are very collectible, meaning you can make quite a profit from them if you purchase the right ones.
And, records are also really trendy nowadays – they've had somewhat of a resurgence with the millennial generation.
So, there's definitely a market for them. If you are going to buy a record at the thrift store to resell it, then make sure you do your research beforehand.
Make sure that you look up an album online to see if it has value.
Here's what you should keep in mind when shopping for records to resell:
Music records tend to sell much better than those that contain spoken word.
Genres like early rhythm and blues and jazz tend to be valuable and sought after.
Classical orchestral performances are also popular.
Keep in mind that records from all musical genres can be popular, as there are die hard music fans out there that will pay a lot for records from their favorite artists – especially older ones.
Before you buy a record, you should also check the condition it's in. If you can get a record in mint or near mint condition, then you'll be able to make a greater profit on it. Records in very good or good condition will also sell well.
9. Maternity Clothes
Another thrift store item that can be surprisingly profitable is maternity clothes.
While with maternity clothes you might not get as much per unit, as you would with say a rare record, there is a big demand for them.
Expectant mothers will often look online on sites like eBay for maternity clothes, as they get a better deal.
So, there's a big market there.
Plus, clothes are easy and fairly cheap to ship, compared to other items.
Aside from the fact that there's a big market for them, there's also another reason why maternity clothing is such a good thrift store item to flip.
Maternity clothes aren't worn for long. So, they haven't undergone too much wear and tear. This means that they're generally in good condition when you find them at the thrift store.
10. Clothing with Tags
One of the best thrift store items to flip for profit is clothing with tags.
If you can find a piece of clothing at a thrift store that still has its tags on, then you should snap it up as soon as possible.
When you resell something, it's great to be able to put "new with tags" on the listing – as this attracts a lot of buyers.
It's a great marketing tool essentially.
In fact, on sites like eBay, there are people who specifically search for clothes that still have their tags.
Whether it's a dress or a shirt, if it has tags, you're likely to make a profit from it. In fact, generally, you can get more for the same piece of clothing, just because it has a tag.
11. Mugs
Another valuable item that's often overlooked at the thrift store is mugs – particularly the older ones.
If you can find a vintage mug from a well-known brand, like Starbucks for example, or one that features a well-known character, like Snoopy for example, then you could make a good profit on it.
So, next time you're at the thrift store, take a look at the old mugs.
You never know, you might find a 60 cent mug that you can sell for ten bucks on eBay.
12. Board Games
Did you know that vintage board games are highly sought after on platforms like eBay?
Really!
Of course, the condition of the game and the year it was made will have an effect on how much of a profit you make, but it's always worth taking a look.
Before you purchase a game, take a quick look your Smartphone to estimate its value.
A quick Google search can turn up a lot of results, but you could also check out these sites for more information on vintage board games:
And, check out this post on how to spot valuable board games.
13. Lego
Lego has been around for decades, and it's as popular as ever today. That's why it's a great item to resell.
Always check your local thrift store to see if they have any in stock.
All types of Lego sell well, but figures from well-known TV shows and movies sell particularly well, as do collections of vintage Lego.
If you can find a full set or a big collection of Lego at the thrift store, then even better.
Overall, Lego is an item that you could make a good profit from, especially if you resell it online. You can specially make good money selling Lego on eBay.
14. China
Fine China can sometimes be found at the thrift store.
And you can often pick it up for a low price, but get much more back for it if you resell it.
Make sure that you look for a stamp or an embossed sign underneath, as this is a sign that it's valuable.
15. Silver
You should definitely be on the lookout for anything silver when you visit the thrift store. Sometimes, real silver can end up on the shelves at the thrift store.
And, no matter what form it takes, whether it's a goblet or a fork, it can still be valuable.
Look out for markings, or anything that looks slightly tarnished, as it might be sterling silver.
A quick and easy way you can check if something is real silver is to perform the ring test.
Here is how:
Real silver rings when you tap it. So, gently tap the items with a pen, pencil or a quarter and see if it rings out.
If it creates a high pitched ring that lasts a couple of seconds, you may have silver in your hand.
Of course, that's not a definitive test, but it can give you an indication.
Where to Resell Thrift Store Items
Items from the thrift store can be sold both online and offline.
Offline, garage sales and flea markets are good places to sell stuff. But, often the Internet is the best place.
Online, you get access to a wider demographic of customers. So, if you have an item like a record, then you're more likely to find a person who's looking for that specific record online.
Similarly, a person who's looking for clothing from Ralph Lauren will likely type in that specific phrase when they're browsing eBay. And, if you have a piece of Ralph Lauren clothing on sale, then they'll find your listing and potentially buy it.
Essentially, the Internet makes it much easier for you to get an item in front of the right audience.
General marketplaces like eBay, Craigslist and Etsy are great places to resell thrift store items. But, if you've got something specific, like a book to sell, then consider selling them on a site that caters specifically to book lovers.
Tips on Flipping Thrift Store Items for a Profit
Buying stuff at the thrift store to sell it for a profit can be really lucrative – but you need to make sure that you do it well.
Here are a few simple tips on flipping thrift store items:
Items Don't Have to be as Old as You'd Think to be Classified as "Vintage"
As mentioned above, vintage items, whether it's a mug or a video game console can be really valuable. But, an item doesn't have to be as old as you'd think to be considered vintage.
Stuff from even the early 90s can be considered vintage. So, don't think that something has to be from the 40s in order to be classified as vintage.
If you see any items from even the 70s to 90s, then make sure you buy them ASAP.
Follow Local Thrift Stores on Social Media
One of the most effective ways to find good thrift store items to resell is to keep up to date with what your local thrift store has in stock.
And, one of the best ways you can do this is by following them on social media.
Check to see if any thrift stores in your area have a profile on Instagram, Twitter, Facebook or Pinterest. If they do, make sure that you follow them.
Often thrift stores post updates about new stock, so it's an easy way to get the heads up on what's in the store.
Consider Clothing Lots
The best way to make money selling thrift store clothes is to opt for name brand pieces.
But, another way to increase your profits is to opt for a clothing lot.
With a clothing lot, you gather a few items that have a common theme – so you might combine pieces of women's summer clothing, all of which are in the same size, and then sell that as a lot.
Other examples include:
Shorts
Maternity Clothing
Winter Gear
Infant Clothing
Clothing lots can be profitable because they're popular with customers looking for more than one piece. Plus, you if you combine a couple of brand name items with generic pieces, then it makes it easier to sell the no-name pieces.
Another good aspect of clothing lots is that you can save on shipping costs.
Keep an Open Mind
If you go into the thrift store with something too specific in mind, then you'll often leave empty handed.
Try to keep an open mind.
Go in there looking for something that's profitable and marketable – but don't put too many restrictions on what that item is.
For example, if you go in with the sole purpose of finding a picture frame, but there aren't any in there, then don't leave the store.
Instead, consider some of the other items on the list above, whether that's a mug or a board game and a take a look around for them – you never know what unexpected gems you might find.
Visit Thrift Stores Frequently
If you want to get the best deals at the thrift store, then you need to visit them frequently. Thrift stores restock the shelves often throughout the day – so don't think that you have to go super early to get the best deals.
The best time to visit a thrift store is when it's quiet – as this gives you the time to thoroughly browse the store and inspect items properly.
Weekdays tend to be less busy than weekends, so if you can try to visit on a weekday.
But, if you can't visit then, just go on the weekends. As long  as you visit frequently, you're likely to a find a few great pieces to resell.
Take Advantage of Apps
If you really want to make a profit from flipping thrift store items, then you'll need apps to help you.
There are a few apps out there that can help you to determine whether an item is valuable and whether something is worth buying – this is invaluable if you're new to thrift store flipping, as it can be hard to tell with the naked eye whether something's worth purchasing.
Here are the apps that you should consider using:
eBay is a good place to get an idea of an item's value.
So, let's say you find a maternity dress in the thrift store. You can simply get out your phone and use the eBay app to find maternity dress listings, and you'll be able to see the price of those listings.
It's an easy to see what's selling and how much it's selling for.
The eBay app is particularly useful if you plan to resell items on the platform.
Like the eBay app, the Amazon app gives you an easy way to get a feel for any products you come across at the thrift store.
When you're in the thrift store, you can use the app to research any items that you come across and get a better idea of their value.
With the app, you can easily search, browse product listings, read reviews and get product details.
Flow Powered by Amazon
Often at the thrift store, you'll come across an item that you're interested in selling, but you can't find it on eBay or Amazon – either because it doesn't have a barcode or because you just don't know what it's called.
And, in that situation, an app that comes in really handy is Flow.
With the app, which is powered by Amazon, you can analyze products around you.
Simply point your camera at the item, and the app will analyze the product's features. Then, it finds it for you on Amazon.
It doesn't always work, but it's always worth giving it a try.
Flow is available for both Android and iOS devices:
BookScouter
If you plan to resell books or textbooks that you find at the thrift store, then you should definitely download the BookScouter app.
BookScouter is a website where you can buy and sell books and textbooks.
It's also a pretty excellent comparison tool.
With the app, you can simply scan the book's barcode, and you can see buyback prices from more than 30 companies online. It's an easy and quick way to determine the resale value of a book.
BookScouter is available for both Android and iOS devices:
Give the Customer What They Want
When you first start selling thrift store items, it can be hard to know which type of items you should sell. You might find that an item you don't particularly like yourself sells really well online.
It's important to remember that online, there's a market for everything. So, don't feel like you have to stick with one type of item. Experiment with a number of different items in this list.
After you start selling, you'll start to see which items are popular.
Once you discover a type of item that sells really well, like video games for example, then make sure that you stock plenty of it.
Check Items Thoroughly Before You Buy Them
It's really easy to miss small faults on items – but it can end up costing you, as thrift stores don't generally offer refunds.
So, that's why it's so important to take the time to check items in your cart thoroughly, before you go to the checkout.
If you do that you can identify any faults, like rips or tears. Stained clothing can often be washed, so it's not too big of a deal.
Consider Your Profits
Whenever you are thinking about buying something, you really need to ask yourself how much profit you will be able to make.
You want to make enough so that the cost of shipping is covered, as are any associated fees, like eBay and PayPal fees, and so that you end up with a good profit for all your work.
Final Word
Reselling items you buy in the thrift store – whether from the Salvation Army, Good Will, Value Village or any other local second hand store or even consignment shop – is a good way to increase your income, if you do it right. So, make sure that you look out for the items on this list the next time you visit the thrift store.
And, if you've tried thrift store flipping before, let us know in the comments below what items you've had the most success with.