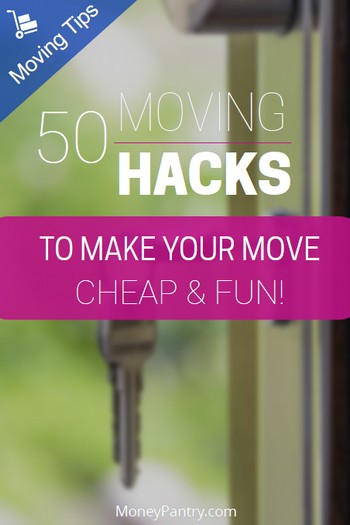 Don't you hate the stress of moving?
I mean moving an average of 7,400 pounds worth of stuff is a lot.
Top that with the expensiveness of moving (average of $12,459 according to the The American Moving and Storage Association), and you are in for a treat!
If you don't take the time to plan and organize the process, then you're in for a pretty stressful time come moving day.
To help you have a successful move, we've gathered an awesome list of moving tips and hacks.
These tips will not only help you save money when moving but will also save your sanity.
Need Easy Extra $300+/Month for Free?
KashKick
: Get paid directly into your PayPal for watching videos, surfing, shopping and more.
Join KashKick Now!
InboxDollars
: Paid over $57 Million to members to watch videos, take surveys, shop and more.
Get $5 instantly!
Branded Surveys
: Get $1 instantly just for joining for free. Plus get paid within 48 hours by PayPal!
Join Branded Surveys
First Opinion
: Get paid up to $10 per survey and $300 per virtual focus groups!
Join Now!
Swagbucks
: Get paid to watch videos, shop online, take surveys and more.
Join now & get $10 instantly!
We cover everything, like:
tips on how to keep your fragile items safe
easy ways to pack for moving
where to sell your unwanted stuff
packing tips for moving in a hurry
when to shut off your utilities
where to research moving companies
how to make sure you have everything you need when you get to your new place
moving checklists and more.
So, if you're looking for moving tips and checklists, as well as easy ways to pack for moving, our in-depth guide has all the hacks you need.
1. Make a master moving checklist
This can help you stay organized.
After all, when moving houses, you'll find that you have tons of different things you need to do and remember.
So write down everything you need to do, whether it's "shut off the cable" or "buy packing tape" on a piece of paper or enter them into an app, like Wunderlist.
Even small tasks and details should be written down, so nothing slips your mind.
You can create your own checklist, or you can print out a copy of this moving checklist.
2. Map out what you need to do on a calendar
Doing this lets you know exactly what needs to be done and when it needs to be done.
It's the next step up from your master checklist.
Keep it simple, like "Friday: Buy packing supplies" and "Monday: Sort through bedroom closet"
3. Create a moving binder
Keep all of your moving-related paperwork and estimates in there.
It'll help you to keep your important documents organized.
4. Make copies of your most important documents
It might seem tedious, but if any important documents get damaged or even lost in transit, at least you have a copy of them.
Copy things like birth certificates, passports, insurance papers and any other important documents you have.
Keep them separate and easily accessible when moving.
5. Hire movers at least a month in advance
Planning your move is much easier if you do this.
You have a set time to plan your move for.
It gives you time to properly organize everything and get your important tasks done in time for moving day.
6. Get estimates from a few companies
It's a big mistake to hire the first moving company you look at. Ask for estimates from at least three moving companies.
Don't forget to ask about extra charges and policies too, so you get a clearer picture of how much the move will cost.
7. Research moving companies before you hire
Did you know that moving companies are one of the most complained about businesses in the United States?
Really!
If you are thinking about hiring a company, make sure you research it first.
Check out the Better Business Bureau, Yelp, and movinghelp.com for references, complaints, and reviews on moving companies.
Also, check out the FMCSA website to learn about your rights and to find out if a moving company is registered.
8. Choose your moving dates wisely
This can determine how costly and stressful your move is.
It's generally cheaper to move midweek or mid-month.
Moving between September and May is also less expensive.
Saturdays tend to be busier for moving companies, so trying to move at the weekend can be a bit chaotic.
9. Give family and friends notice of your move
If you're not hiring movers, and your friends or family are helping you instead, don't leave it until the last minute to let them know about your move.
Give them a month's notice.
10. Schedule cutoff times
Doing this ensures that you aren't paying the electric bills for your old place a month after you've moved out.
So, call up your cable, Internet, electricity, gas, phone and any other utility providers at least a week before moving day to schedule disconnect times.
11. Cancel services
You don't want to pay for services you're no longer using.
So, about a week before you move, cancel the newspaper home delivery, lawn services, and any other services you pay for.
12. Change your address at least two weeks before you move
This is might seem obvious, but it can easily slip your mind.
Change your address with all service providers, even for small stuff, like Amazon or PayPal.
13. Research banks, schools, doctors and dentists if you're moving to a new area.
This makes the transition to your new place a lot smoother.
Make sure you have all of the right paperwork to transfer and set up new accounts.
14. Use up the food you already have at home
Don't go grocery shopping too much in the last two weeks before the move.
You don't want to have a ton of food to move.
It's not only awkward, but food can easily go bad during transit and end up in the garbage.
So, use up what you already have in your refrigerator, freezer, and pantry. And only buy what you really need.
15. Make a packing supplies list and stock up
Shop online, go to the hardware store or visit the dollar store.
Make sure your list is thorough. Think about every possible item you'll need for a smooth move, like packing tape, extra screws and bubble wrap, and write them down.
16. Be stringent when it comes to your belongings
Resist the temptation to take absolutely everything with you.
The less you have to pack, move and organize, the easier your move will be.
If you haven't used something in a while, get rid of it.
17. Set aside the stuff you want to sell
If you've got a few unwanted pieces that are in good condition, then consider selling them.
Check out our post on selling stuff online.
18. Donate unwanted items
Set aside a box of stuff you want to donate and drop it off at a local charity shop.
A lot of charitable organizations will even come to your home to pick up the items you want to donate.
This saves you the time of having to take it there yourself.
Check out DonationTown.org to set up a pickup.
19. Measure your furniture and doorways at least a week before moving
If you do this, you'll know which pieces of furniture fit out of which door, and it will be much easier to plan your strategy for moving day.
And if you'd rather buy new furniture instead of moving all the old ones, read our post on the best places to sell furniture.
20. Be creative with your boxes
Using baskets, laundry bins, suitcases, storage bins, carry-on bags and hampers to pack your stuff can make the move easier.
You don't have to buy as many boxes or go on a hunt to find free empty boxes to move your stuff. Plus, bulky, awkward to pack items like hampers and woven baskets now have a use.
21. Take a photo of your electronics, before you take them apart and move them
It makes setting up your TV, monitor and other electronics so much easier.
You don't have to try and remember where all the wires go, as you can just check your photos.
22. Categorize your stuff when you're preparing to move
Rather than trying to clear out every room and pack up in a couple of days, start packing up weeks before the move.
Sort things by category at first, rather than by room.
For example, start clearing out all of your books. Scour every room and look on every shelf in your home until you've got all of your books in one place.
Then, do the same with your DVDs, then your clothes, etc.
23. Pack boxes by room and category
It makes unpacking at your new place so much easier.
So label what's in the boxes and what room they'll be going into.
Make sure you unpack by room at your new place too.
24. Don't just label the top of your boxes
Labels should be easily visible. So, make sure you label the sides of the boxes, as well as the tops.
If you do this, you'll be able to see what items are in what box, regardless of how they're stacked.
25. Color code your stuff
Using a color-coded system can make moving a bit easier.
Pick a color for each room, and label the boxes accordingly.
This makes it easier for the movers to know where to put your stuff.
You don't have to do this, but if you're a visual learner it's a good idea.
26. Create your own box handles
Simply cut handholds in two sides of the box.
This is really easy to do, but it makes moving your stuff so much easier!
All you need is a utility knife. You can find out how to cut the box handles here.
27. Give your stuff room to breathe
Packing your items too tightly can cause breakage.
Fragile items, in particular, can break if they're packed too compactly.
28. Wrap small items in socks
This simple trick cushions your stuff and keeps it protected.
Plus, you save on packing materials!
29. Stop toiletries from leaking by using Saran Wrap
Remove the lid of your bottle, then, wrap a Ziploc bag or a piece of Saran Wrap over the top. Then, simply put the lid back on.
It's really simple, but it's really effective at preventing leaks.
30. Pack your dishes vertically
Rather than packing your dishes horizontally, stand them vertically instead.
Cushion them with bubble wrap to prevent breakage.
31. Protect fragile items
Taking a few extra steps to keep your most fragile items safe is well worth it.
Use plenty of packing paper, bubble wrap or even blankets to protect fragile items.
Pack each item separately, so they're all fully cushioned.
For extra protection, consider placing stuffed animals, blankets, pillows, linens and other soft items into trash bags, and put them next to fragile items in the moving van.
32. Store heavy stuff in small boxes
If you've ever tried moving a huge box filled with textbooks, then you'll know how awkward it can be!
So rather than carrying large boxes full of heavy stuff, fill small boxes with heavier items instead. Then, use the larger boxes to store light items, like pillows and linens.
Doing this makes carrying heavier items more manageable. This is one of the simplest, but most useful house moving tips.
33. Keep the small parts of things you have to take apart organized
Trying to remember what screw came from what piece of furniture can be really annoying, especially when you just want to get set up in your new place.
An easy way to keep any small parts of things you have to take apart, like kitchen tables, mounted flat-screen TVs or curtain rods organized is to store them in sandwich bags.
So, for example, if you take apart the kitchen table, then put any small parts from it into a sandwich bag, and label it "kitchen table".
34. Keep your cords organized
Wrap your cords up and place a zip tie or twist tie on them to make them more compact and easier to store.
Then, place them into a sandwich bag, and label them accordingly.
35. Avoid wrapping stuff in newspaper
Newspaper seems like a good, cheap packing material, but it's too messy.
The ink from the paper can easily stain your stuff.
36. Use Saran Wrap to keep jewelry displays intact
Simply wrap it around your jewelry display.
It will keep it protected, and you can move it as is – you won't have to clear and set up your jewelry display again.
37. Use rolling luggage to pack heavy stuff
For heavy items, rolling luggage is fantastic.
Place your heavy items inside, and simply roll the bag onto the moving truck and into your new home.
No heavy lifting required!
38. Use plastic wrap to make packing and moving quicker
You can use plastic wrap on drawers, to keep drawers shut.
This way, you don't have to empty them out to move them.
It can also be used on any other items you don't want to empty and would like to keep intact during the move.
This is one of the best packing tips for moving in a hurry!
39. Turn off your refrigerator at least 24 hours before moving it
Otherwise, you'll have a nice messy pool of water on your hands during the move.
40. Plan your route
Whether you're moving to a new neighborhood, a new state or across the country, you need to make sure you plan an efficient route.
You don't want to waste time on moving day, so figure out the best way to get to your new place.
41. Put the stuff you'll need right away in a clear box
Anything you and your family will need right away when you get to your new home, like snacks, toilet paper, bedding, phone chargers, eating utensils and hand soap should be placed in a clear box.
42. Pack an overnight bag
When it comes time for bed, you're not going to want to unpack all of your things.
So, pack a personal overnight bag that contains all the essentials, like pajamas, a change of clothes and toiletries, for your first night and first morning in your new place.
Every member of the family should have their own personal overnight bag.
43. Prepare a cleaning kit for moving day
It should contain cleaning supplies, like sponges, cleaning products, and a dustpan.
Then you can use it to do one final clean of your home on moving day and clean your new place when you get there too.
44. Make sure everything is packed and ready to be moved before the movers or your friends show up.
Otherwise, everyone will have to wait around, and that's not ideal for anyone involved.
45. Stack and load boxes by room
If you load boxes from the same room together, like all the bedroom stuff together and all the kitchen stuff together, it makes unpacking at your new place so much easier.
So, load boxes in groups according to the rooms you put on the labels.
46. Load the heaviest stuff first
Try to load the heaviest, biggest stuff first, like furniture and appliances.
It's easier to fit in the lighter stuff in around the heavier items.
47. Don't assume you need to lay stuff as it normally sits
A sofa flipped up on one end takes up much less space than it does if you were to place it as it normally sits.
48. If you're renting the place take photos of your new place before you move anything in
That way you know what existing damage there was before you moved your stuff in.
So, if there's ever any question about damages, you have photos to prove you didn't cause it.
49. Make your bed right away
Moving is a tiring process, no matter how well you plan or how organized you are.
The last thing you want to do when it comes to bedtime on moving day is to make the bed.
So, as soon as you get to your new place, make your bed. Then, when it comes to the end of the day you can just get right into bed – hassle free!
50. Show your movers some appreciation
Whether you hired a moving company or enlisted the help of your friends and family, always be a good host.
Offer drinks, snacks and pizza breaks, or get takeout.
Just take care of the people that help you move.
Bottom line
Taking a bit of extra time to get organized, and really plan your move can really save you a lot of time, hassle, and stress in the long run.
Moving can be tough, but if you follow these house and apartment moving tips, it will be so much easier!