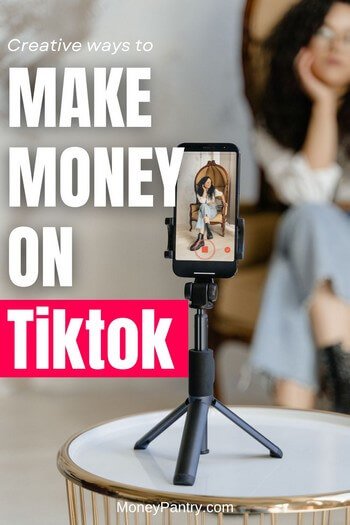 Looking to tap into the exciting world of TikTok and turn your passion into profit?
In this comprehensive guide, we'll show you exactly how to make money on TikTok. From viral content creation to brand collaborations, we'll explore the top strategies that can help you monetize your TikTok presence and achieve financial success.
Since launching on the international market in September 2017, TikTok has become a global phenomenon. To say that this social media platform is popular would be an understatement.
TikTok has 689 million monthly active users globally. That number doesn't include users from China either, as the app there operates under a different name. The Chinese version is called Douyin. Together Douyin and TikTok have 1.29 billion active users worldwide.
TikTok is widely known as a place where people can make and share short videos. People can make videos in all sorts of genres, like dance, comedy, and education.
So the question is, "Is there any way to make money from TikTok?"
Need Easy Extra $300+/Month for Free?
KashKick
: Get paid directly into your PayPal for watching videos, surfing, shopping and more.
Join KashKick Now!
Panel Payday
: Earn up to $75 per survey. They also pay up to $50/hr for mystery shopping.
Join Now!
InboxDollars
: Paid over $57 Million to members to watch videos, take surveys, shop and more.
Get $5 instantly!
Branded Surveys
: Get $1 instantly just for joining for free. Plus get paid within 48 hours by PayPal!
Join Branded Surveys
iPsos iSay:
: If you have to only sign up for one paid survey site, go with Ipsos (high paying survyes)!
Join iPsos Now!
Swagbucks
: Get paid to watch videos, shop online, take surveys and more.
Join now & get $5 instantly!
The answer is yes! There are actually quite a lot of ways to make money with TikTok.
How to Make Money on TikTok
Here are the best ways to use TikTok to earn money.
1. Join the TikTok Creator Fund
TikTok has a Creator Fund that eligible users can join to earn money from their videos on the platform.
To be eligible to join the Creator Fund, you will need to have at least 100,000 "authentic," as TikTok puts it, video views in the last 30 days.
The funds that each creator can earn are determined by a variety of factors, such as the number of views and the authenticity of those views, and the level of engagement on the content. Content must also be in line with the company's Community Guidelines and Terms of Service.
TikTok says that the Creator Fund total varies daily and is dependent on the number of videos that are published by its community that day, so this will fluctuate based on the amount of content being published.
The Creator Fund is not a grant or an ad revenue sharing program, like the YouTube Partner program for example.
Instead, Creators receive funds based on a variety of factors from their videos. TikTok states, "Creators will know that performance on TikTok is dynamic – it changes naturally – so your funds will ebb and flow in the same way."
So, this means that your earnings may not be consistent. The Creator Fund definitely shouldn't be your only income source on the platform. Also, if you're just starting out, you won't be eligible to join the Creator Fund, as you need to have at least 100,000 views in the last 30 days to be able to participate.
The original Creator Fund launched in 2020 and aimed to grow the fund to $1 billion over the next 3 years.
Some creators have criticized the fund for its low payouts. So, as I said, it's best not to use the Creator Fund as your sole source of income on the platform.
Only those who're based in the U.S. the U.K., France, Germany, Spain, and Italy can join the TikTok creator fund.
2. Sell merch
One way that you could make money with TikTok is to sell your own merch.
Now, you will need to have a decent sized following for this opportunity.
With this, you can monetize your audience directly.
Basically, you create merch, like t-shirts and phone cases, and sell it directly to your followers.
Now, I know that selling your own merch might sound difficult. I mean, where do you even start with printing products, right?
Well, fortunately, you can use a print-on-demand service to handle everything for you.
All you need to do is upload your designs, and when a customer purchases an item, the company will print that item and ship it to the customer for you. This means that you don't have to print any products yourself, you don't need to ship anything, and you don't need to invest in stock upfront.
Here are some good print-on-demand companies:
You can add a link in your bio to the site where you're selling.
3. Use TikTok ads to reach new customers
If you have a blog, eCommerce store, email list, or a TikTok Shopping tab, anything you want to drive more traffic to basically, then consider using TikTok ads.
You can use TikTok ads to drive traffic to your eCommerce store or whatever it is that you want to increase visibility for. Since TikTok has millions of users, you can reach a ton of new customers with your ads there.
TikTok offers various different types of ads, such as in-feed ads, image ads, video ads, and brand takeover ads.
4. Do some affiliate marketing
Affiliate marketing is a good way to make money online because it allows you to earn money selling products, without you actually having to create any products of your own.
After all, sourcing products, housing them until they sell, etc. can be time consuming and often expensive. Affiliate marketing on the other hand gives you a way to sell products without the cost and hassle of dealing with physical products of your own.
With affiliate marketing, you join an affiliate program and get affiliate links for products. You can get affiliate links for products in a wide range of categories, from beauty products to electronics. You can even get affiliate links for services like VPNs and website hosting.
Then, you can post your affiliate links in various places online, such as:
Blog posts
A product resources landing page
Videos
Social media platforms, including, TikTok
When someone clicks on one of your affiliate links, they're taken to the product page, just like they normally would be. The difference is that if they make a purchase, you will receive a commission on the sale.
So, you earn money selling other people's products. You can leverage TikTok in your own affiliate marketing venture by creating content related to the affiliate products you're selling.
Sharing your affiliate links on TikTok is a great idea as it means that your links can be found by anyone who's searching for content in that niche, and you can earn a commission if they make a purchase.
Unfortunately, TikTok doesn't usually allow you to just place a link in your TikTok videos or captions. Instead, you'll need to include a link in your TikTok bio. Once you have a link in your TikTok bio, you'll be able to mention it in your videos.
TikTok keeps changing its stance on whether or not you can add links to videos, but right now, it's not an option, so add it to your bio instead. You could consider upgrading to a business account too. These allow you to place a clickable link in your profile, and give you access to other benefits.
5. Promote songs
Many videos, most actually, on TikTok have an accompanying background song that creators can lip-sync and dance to. If you have a large following, you can leverage this by having musicians pay you to promote their music in your videos.
If your video gets a lot of views or even goes viral, then the musician's song also gets a lot of views or goes viral. This means more downloads, concert ticket sales, and merch sales. You can use TikTok to promote your own music too if you're a musician.
6. Create sponsored content
Brands and companies want to get their products and services in front of their target audience. They want to bring awareness to their products and services. One of the ways they do this is through influencer marketing.
Companies will pay influencers to promote their products and services on social media platforms like Instagram, YouTube, and, of course, TikTok.
If you have a large enough following on TikTok, then you may be able to work with brands and get paid to create sponsored content for them.
You could work with brands to create sponsored content specifically for TikTok, or you may be able to garner a higher rate for sharing a sponsored blog post or social content from other platforms with your TikTok audience too.
Once you have a good following on TikTok, start researching to find companies in your niche. Then, approach them for sponsorship opportunities. If you have a decent following and good engagement on TikTok, then it will be easier for you to find brands that are willing to pay you to promote their products or services.
This is a great option if you are an influencer, blogger, or creator with a large following. However, you don't have to have a huge following to get sponsorship opportunities, as smaller brands still pay to work with micro-influencers, provided that have good engagement from users.
7. Send traffic to your blog
TikTok can be a valuable platform for bloggers. e sued to drive traffic to your blog, Tiok Tok can
As a blogger, you're able to earn money from the ads on your site, affiliate links, and sponsored content. The more traffic that you can get to your blog, the better since more traffic results in more views on ads, more people to potentially click on your affiliate links, and the potential to open up more sponsorship opportunities.
If you have a blog, you can use TikTok the same way you'd use other social media networks, like Facebook, Twitter and Pinterest to send traffic back to your blog.
You should consider incorporating TikTok into your traffic building strategy to help to drive revenue.
You can create content on TikTok that aligns with what your potential audience is looking for. For example, if you have a blog about books, and you can create useful videos on TikTok that are related to the keywords that your audience is looking for, then a person who's headed to TikTok to look for book content can see your posts, click through to your blog, and then be able to learn from your blog.
8. Become a brand ambassador
Being a brand ambassador is similar to creating sponsored content. The difference is that brand ambassadors tend to work with brands over the long term rather than just in a one-off post.
As a brand ambassador, you will create videos for a brand and in return, you'll get paid and/or receive free products. Consider what your favorite brands are, and get in touch. Many businesses and brands have exclusive ambassador application pages on their websites. So, have a look around brands' websites to see if they have a brand ambassador application or program you can join.
9. Start a Patreon
You can make money from your TikTok account by starting a Patreon account. Provide free content through your TikTok account, but encourage your followers to support you on Patreon to get access to premium content. This could include things like exclusive content, live chats and hangouts, and behind-the-scenes peeks.
It's important to ensure, however, that your content on Patreon is valuable. People are paying for it after all, and you don't want anyone to regret their purchase after they've signed up.
10. Build and sell TikTok accounts
If you can build TikTok accounts successfully, then you could make money building and selling them.
There are lots of creators, brands, and businesses who're looking for a head start on the platform and if you can build TikTok followings, you can get hired by them.
Think about the industries that might want to purchase a lucrative TikTok account. Then, make accounts based on that. Don't make these accounts personal. You don't want followers becoming attached to your face and name. Instead focus your content on the industry you're targeting, like cars, beauty products, or electronics, for example.
11. TikTok Live
Many TikTok creators earn money through TikTok LIVE. TikTok LIVE allows users and creators to interact in real time. You will need to be aged 18 or more to go LIVE and send and receive gifts during a Live video.
You can make money with TikTok LIVE by turning on the Gift function.
It's important to note that LIVE and Gift functions are currently not available everywhere.
TikTok awards Diamonds to creators based on the popularity of their content. One way for Creators to collect Diamonds is to receive Gifts from viewers on their LIVE videos.
LIVE Gifts is a feature that, once activated on your account, allows your viewers to react and show their appreciation for your LIVE content in real time.
During your LIVE video, your viewers can send virtual Gifts that will pop up on the screen.
At the end of your LIVE video, you'll be able to see the total number of Diamonds collected in your LIVE summary.
Once you collect Diamonds, you'll be able to get a Reward Payment in money or virtual items.
To be eligible to collect Diamonds through LIVE Gifts, you will need to meet the following requirements:
Live in a location where LIVE Gifts are available. This feature is not available everywhere.
Be 18 years of age or older (or 19 in South Korea)
Have at least 1,000 followers and your account must be at least 30 days old.
Have an account that is in good standing and adheres to the site's Community Guidelines and Terms of Service.
Here's how you can access LIVE Gifts:
In the TikTok app, tap "Profile" at the bottom.
Tap the "Menu" button at the top.
Tap "Creator tools," and then tap "LIVE Gifts."
Tap "Go LIVE" and follow the instructions provided.
Here's how you can view your Diamonds balance:
In the TikTok app, tap "Profile" at the bottom.
Tap the "Menu" button at the top.
Tap "Settings and privacy," and then tap "Balance."
Bonus Tip: Look out for New Methods of Monetization from TikTok
Compared to YouTube, TikTok is a pretty new app, so it's often changing the ways that users can make money through the platform. There are lots of ways to leverage TikTok to make money indirectly, like from a blog or on Patreon.
TikTok does offer a couple of direct ways to make money on the platform, like its Creator Fund and LIVE Gifts.
Recently, the company introduced TikTok Pulse, which is basically an ad-revenue sharing program. However, it doesn't seem to be particularly lucrative, especially when compared with YouTube's Partner program.
According to Fortune, the payouts for TikTok Pulse have been incredibly low.
Fortune interviewed seven TikTok Influencers, all of whom had followings of at least 100,000, and none of them reported earnings that exceeded $5. So, yeah, $5 is pretty low and why TikTok Pulse didn't make it on our list of ways to make money on TikTok.
While TikTok Pulse may not be worth it, TikTok often brings out or trials new money-making initiatives for its creators. So, it's certainly worth keeping an eye out for.
Often, TikTok posts information about new money-making methods on offer on the platform in its Newsroom.
How Much Money Can You Make on TikTok?
TikTok creators can earn $100s or $1,000s per month.
There are many ways to make money on TikTok, and the amount of money you'll earn depends on factors like which methods you choose such as selling merch, creating sponsored content, or joining the TikTok Creator Fund, the number of followers you have, and how engaged your community is.
So, it's difficult to give an exact number. I did a lot of research and read reports from TikTok creators to see what they earned. Below, I've included 12 examples from real TikTok creators on how much they earn on the platform.
TikTok earnings example 1
One TikTok creator in a Reddit post broke down their income for the month.
Here's what they said:
"Deal 1: $1,000 to post a video on my page.
Deal 2: $850 to post a video on my page.
Deal 3: $225 to make 3 short videos. These were only content creation. I do not have to post these on my page.
Creator Fund: About $50 with 2+ million views on the month."
TikTok earnings example 2
In response to the above TikTok creator post on Reddit, another user states that they aren't charging enough, saying:
This is really helpful to me as almost all my money is made from TikTok. thank you! especially about charging higher, I only charge $100-200 per vid, it's really good to know I can charge higher. :)
TikTok earnings example 3
In this Reddit post, this TikTok creator outlines their earnings for different income streams on the platform, saying:
"I have 26k (took me 2 years to grow that) I make about $300 on each live (lasting an hour or two) I make about $15-$30 from brands that give me a link and I make commission, and I make about $150-$300 from brand deals through Tiktok marketplace."
TikTok earnings example 4
In the same Reddit thread, another TikTok creator breaks down their income on the platform, saying:
"I make TikTok videos in the Crypto niche & I keep it 4 Brand deals a month; making around $10,000+ a month. This is only from the Brand Deals as the Crypto/ Financial niche is big on TikTok these days.
And making use of my audience, I provide 1 on 1 session that gets me enough amount that I reinvest back into the Account.
Patreon membership gets me from $500-1000 a month.
I have also launched an Amazon store where I crossed $20k in sales in just a month.
Always try to expand whenever you're given an opportunity. That's what I did. Although I wasn't alone doing all this by myself. I had an amazing team working beside me, helping me achieve all these financial results.
How long did it take me to achieve these results? Hardly 8-10 months."
TikTok earnings example 5
Another TikTok creator on the same thread, says of their income:
"4000 In the last 20 days. Could have been a lot more too. Went from 16.9k to 135k followers in that time."
TikTok earnings example 6
Again, in the same thread, another TikTok creator shares their income, saying:
"I have 65K and I make all my money from brand deals. Per sponsored video, I charge $500. My growth has been faster recently because I upload 3 times a day."
TikTok earnings example 7
In this post on Reddit, this creator outlines their income on TikTok, stating:
"Brand deals. Currently sitting at about 130k and pulling about 4k per month. I can charge about $1,000 per video. It's a personal account so brands are willing to pay more for an "influencer" to directly push their content rather than a general page. Just a theory. I know someone with 50k that made $8,000 last month – all brand deals. What you can charge varies from page to page and niche to niche – hope this helps!"
TikTok earnings example 8
In interviews with Business Insider, TikTok creators shared how much they earn from brand deals, song promotions, live streams, the Creator Fund, and ad-revenue sharing. The earnings examples from this point on are all shared through those Business Insider interviews…
Through the Creator Fund, creator Hank Green stated that he was paid what amounted to between $0.02 and $0.03 for every 1,000 views on TikTok.
TikTok earnings example 9
Personal-finance influencer Preston Seo, who has more than 2 million TikTok followers, earned a total of around $1,664 from the Creator Fund between January 2021 and May 2021. His TikTok account earns from $9 to $38 a day on average.
For brand sponsorships, Seo says he charges about $600 per sponsored post on TikTok.
TikTok earnings example 10
Atlanta-based TikTok creator, Symphony Clarke, who has about 200,000 fans, says that she charges between $350 and $600 for a sponsored post.
TikTok earnings example 11
Alex Ojeda, who has around 8.3 million followers on TikTok, has a starting rate of $20,000 for a sponsored video on the app.
TikTok earnings example 12
TikTok-creator trio Nicole, Natalie, and Nika Taylor, who have over 12 million followers, charge $750 to promote a song in a single video, $1,400 for two videos, and $2,000 for three videos.
For micro influencers with fewer followers, rates for promoting songs are more variable but can fall anywhere from $20 to $150.
What is the Best Way to Make Money on TikTok?
There are so many ways that you can make money on TikTok. From my research, it seems like brand sponsorships are the most lucrative choice, earning some creators $100s or even $1,000s per post. Live streams can also be pretty profitable.
TikTok is also good for sending traffic elsewhere, like to a blog, or Patreon.
Where TikTok falls short compared to other platforms, like YouTube for example, is with its own monetization methods. The Creator Fund isn't particularly profitable. The YouTube Partner program is much more profitable, and it allows users to earn money for the ads that play on their videos. The Creator Fund is pretty vague in terms of what it actually pays out. So, really, creators are not going to make money solely through the Creator Fund.
Overall, brand sponsorships, using TikTok to drive traffic to a blog, and participating in TikTok LIVE are some of your most profitable options.
Really though, the best way to make money on TikTok is simply the method that works best for you.
If you're not interested in going down the "influencer" route, then trying to get brand sponsorships won't be a good option for you. Instead, you might want to try using TikTok to drive traffic to another money-making venture, like a blog or eCommerce store.
If you do have a large following and are interested in working as an influencer, then, of course, getting those sponsored content opportunities is going to be a good way for you to make money.
Final Word
As you can see, there are many ways to monetize your use of TikTok. And since the social media network is still relatively young, the sooner you get in, the better your chances of making more money. Plus, you'll be ready to take advantage of any new way to make money on TikTok that emerges.