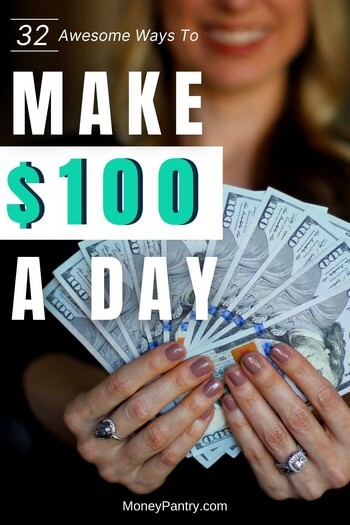 If you're reading this, you probably need to find ways to make money fast. Perhaps you want to learn how to make $100 a day.
Plenty of us would like to make more money. But we just don't know where to start. In today's post, I'll list some of the best ways you can make $100 a day online.
This list offers something for everyone, whether you're looking to sell something online or get into writing.
(Please note that most income figures are reported from PayScale, Glassdoor, and Salary.com, and although they were accurate at the time of writing, they may change in the future.)
How to Earn 100 Dollars a Day Online
Here are the best ways to make your first $100 a day.
1. Make $100 dollars a day online without investment via Freelance Writing
Let's start with freelance writing. Since many freelance writing jobs don't require you to have experience or any qualifications, it's something that even beginners can get started with.
Need Easy Extra $300+/Month for Free?
KashKick
: Get paid directly into your PayPal for watching videos, surfing, shopping and more.
Join KashKick Now!
InboxDollars
: Paid over $57 Million to members to watch videos, take surveys, shop and more.
Get $5 instantly!
Branded Surveys
: Get $1 instantly just for joining for free. Plus get paid within 48 hours by PayPal!
Join Branded Surveys
First Opinion
: Get paid up to $10 per survey and $300 per virtual focus groups!
Join Now!
Swagbucks
: Get paid to watch videos, shop online, take surveys and more.
Join now & get $10 instantly!
You will need to have good writing skills and some samples to show prospective clients.
Pay in freelance writing does vary a lot.
You can be paid per hour, per word, or per article. You can choose to write for private clients, usually website owners or business owners who need to hire a writer to create content for them.
Sites like UpWork and PeoplePerHour are good for finding private clients.
Or you can write for a writing website, like:
Textbroker – It pays you from 0.7 cents to 5 cents per word.
Verblio – Your pay starts at $10.50 for a 300 to 400 word post. After that, your earnings vary depending on word length. You can write articles that range from 300 to 3000 words.
BKA Content – This website pays you $8 to $18 an hour.
Like I said above, some websites and clients pay per hour. The average freelance writing pay is $24 an hour.
As a freelance writer you'll create things like:
Blog posts
Articles
Press releases
Product descriptions
Resumes
Social media posts
Meta descriptions
If you can find a client or a website that pays well, you can make $100 a day as a freelance writer.
And if you want to make $100 a day with PayPal, freelancing is a good choice as most freelancing platforms do pay with PayPal as well as other payment options like a direct deposit to your bank account.
2. Start your own phone case business
If you have more of an entrepreneurial spirit, then you may want to consider starting your own phone case business.
The mobile phone accessories industry is a huge growing market.
Sellers who make their own phone cases can bring in six figures or sometimes even seven figures from their business.
I'm not saying that's what you'll make, but with some hard work, you could bring in $100 a day from your own phone case business.
When you first start out, you may not make much cash, but as you build up your business, you'll likely start to see profits.
If you're interested in this option, then check out How to Start a Phone Case Business: The Ultimate Guide from Shopify.
You could sell your stuff through Shopify and you can use a company like Printful to print your designs on demand.
You can also sell your phone cases on places like Etsy and Amazon Handmade.
3. Resume writing
When they're looking for a new job, some people will hire someone to write their resume for them.
So you could become a resume writer and easily make $100 a day in this job.
Since many resume writing jobs are freelance-based, they can easily be fit into your current schedule.
The best part though is the pay. Since resume writers earn about $23 an hour, in just over 4 hours, you'd earn $100!
Pay will vary depending on the client or company you work with.
And some places might pay you per page or per assignment, rather than hourly.
Here are a few places to find resume writing work:
You could also start your own website where you advertise your resume writing services, and you can promote your services on social media.
You don't need a certification to be a resume writer, although it can help to increase your chances of being hired.
If you'd like to become a certified/trained resume writer, then check out these sites:
Some jobs may require you to have a degree instead of or in addition to a certification.
There are many clients though that don't require you to have any qualifications. And instead, they just prefer you to have a good selection of resume writing samples, or resume writing experience.
This means that you can still get started in this career, even if you don't have a certification or a degree.
Just check with the client or company you plan to work with for details on what qualifications if any, you're required to have.
4. Sell online courses
Next on the list is one that you should definitely consider – selling courses!
Everyone has some sort of skill or some topic that they're knowledgeable about, whether it's gardening or web design.
Whatever subject it is that you know well, you could create a course on it and sell it to people online!
I like this option because you usually enjoy the topics that you're knowledgeable about, so this gives you a way to make money doing something that you love.
Anyone can get started with selling courses online. You just need to have some awesome course content, like articles, videos, PowerPoint presentations, and whatever other mediums you want.
You'll need a PC of course too!
Then you can sell your courses online on one of these sites:
You could make $100 a day selling courses online.
How much money you earn from your courses will depend on factors like how many courses you sell, the price you sell your course for, and the platform you sell through.
According to Skillshare, its top teachers bring in more than $3,000 a month! First-time teachers earn around $200 during their first month.
5. Peer-to-Peer Lending
Peer-to-peer lending gives you a way to earn a passive income while also helping someone out.
This type of lending involves you loaning money to a person who couldn't qualify for traditional financing. You earn interest from the money that you loan out.
There's a website called the Lending Club that connects borrowers and investors. I would recommend checking that out if peer-to-peer lending is something you're interested in.
The Lending Club gives you a lot of freedom. You can choose how much you want to lend and how many loans you want to offer.
I'll level with you here; this option isn't for everyone.
Only try this one if you can afford to loan out money in your current financial situation.
And keep in mind that lending money will always come with risks.
It can be a good idea to distribute the money you lend over a few different loans. For example, having five $200 loans would be less risky than having one $1,000 loan.
According to statistics, you'll see returns of 5% to 9%.
6. Invest in crowd-funded real estate
Investing in real estate is something that a lot of people dream about. For many of us though, it's just not affordable.
If you've never had the means to invest in a property, you might want to try crowd-funded real estate.
It makes investing much more affordable.
One website to check out if you're interested is Fundrise.
For just $500, you can get started with investing through Fundrise.
While there is an investment upfront, in the long run, you can see some big profits.
This option won't be for everyone, but if you have to money to invest upfront and are interested in the real estate business, give this one a try.
It allows you to invest in real estate without the hands-on hassles that come along with being a landlord.
7. Podcasting
Podcasts are incredibly popular. So why not get in on the market?
You could make $100s by starting your own podcast. Just center your podcast on a particular topic, and start building an audience.
Podcasters make money through sponsors and advertisers.
And if you don't think this can make cash, just look at Joe Rogan. In May, 2020, he made a podcast deal with Spotify for more than $100 million!
Crazy, right?
Sure, the Joe Rogan Podcast is one of the most popular out there. But still, it shows that this can be a lucrative industry.
Of course, you'll need to learn about how the podcasting process works.
There's a handy step-by-step guide on how to start a podcast from ThePodcastHost.com, which you can check out here.
8. Influencer
You might want to consider becoming an influencer if you have a large following on YouTube or on social media sites.
Up until late 2015, the word Influencer didn't really have much interest.
In late 2015, early, 2016, influencer culture begin to emerge – this is reflected in searches for the term "influencer" on Google.
Since then, the popularity of influencers has skyrocketed.
In May 2019, the term "influencer" was officially added to the dictionary, displaying how much influencers have risen in popularity in recent years.
And there's plenty of money to be made.
In fact, brands are set to spend up to $15 billion on influencer marketing by 2022.
That's pretty crazy, right?
As an influencer, you get paid to promote brands on your social media account, blog, or YouTube channel.
You will need to have a following to get started with this one, of course. So start building a following on social media or on your blog to get started.
Here are a few places where you can find work as a brand influencer:
Influencers who have large followings can earn $1000's or even tens of thousands each month.
That's pretty impressive, right?
In fact, sponsored posts can pay anywhere from $50 to more than $50,000!
And the average influencer can take home anywhere from $30,000 to $100,000 a year.
You can get paid for promoting stuff like food, clothing, beauty products, hotels and more on your social media pages.
Of course, you may not be making that amount of cash, but if you can build up a substantial following, there's no reason you can't bring in $1,000s.
9. Sell your own t-shirts
Selling your own t-shirts is a really good idea.
And you don't even need to start up your own business or print t-shirts or anything like that.
You can work with a company that handles everything for you, like:
Handling customer orders.
Printing t-shirts.
Shipping items.
All you need to do is upload your designs.
Sites that'll handle everything for you include:
Just upload your designs and wait for customers to buy your stuff.
There's no reason that you can't make $1,000s selling t-shirts online.
These sites offer an online marketplace where you can sell your stuff.
And since they already have a customer base, you don't need to worry about finding people to buy your stuff.
Of course, if you want to, there's no reason why you can't set up your own website where you sell your t-shirts.
Having your own online store allows you to keep more of your profits since places like Amazon take a commission for printing the products and for other services.
10. Purchase an existing website
Many people dream of having their own website that earns them $100s every day.
But to make money from a website you need to get lots of traffic.
And this isn't always easy.
If you don't have the time to build up your own website, you may want to consider purchasing an existing one.
You can purchase an established website that's already getting traffic and making money.
This way, you don't have to spend any time or effort building up the site as you would if you were to start your own website. Instead, established websites will bring in money from the start.
I'd recommend you check out Flippa if you're considering purchasing an existing website.
I've seen sites in the past listed for sale on Flippa that say they make $1,000 to $4,000 a month.
Have a browse on there to see what's for sale and how much profit the listed sites earn.
11. Be an eBook author
Being a novelist is something that many people would absolutely love to do.
But you have to get an agent and a publisher to actually get your book out there.
Well, that's not the case anymore.
Now, anyone can be an author thanks to Amazon's Kindle Direct Publishing (KDP) program.
All you need is your imagination and a word processor to get started.
Write your story, get someone to design an awesome book cover for you, and you'll be able to list your book for sale on Amazon.
It's so simple.
And really anyone can get started with it.
All it takes is a great story idea and of course a lot of hard work at the keyboard.
Once the hard work is done though, you can make money from your book over and over again.
This is an awesome passive income stream.
Get a few books out there and you can make even more money!
What's great about Amazon is that the royalties it offers are higher than those offered by traditional publishing houses.
You get 35% to 75% royalties on your books.
This can be a super profitable venture, with many authors bringing in $1,000s from their books.
In fact, there are now thousands of self-published authors taking home royalties of over $50,000! And many hit six-figure sales!
12. YouTuber
I watch a lot of videos on YouTube, whether it's about cats, games, or writing.
And I'm sure you do too.
With more than 1.8 billion users every month, YouTube is an incredibly popular platform.
You can turn YouTube in a full-blown career that earns you $1,000s!
And if you ever wanted to know, "how to make $100 dollars fast as a kid", this is your answer. There is no shortage of stories of kids (literally 7, 8, 9, 10, 11…years old kids) who are making crazy money on YouTube.
While YouTube isn't very forthcoming with how much money its content creators earn, there are estimated figures online that suggest for every 1,000 views, YouTubers earn from $0.25 to $7.
You can use this tool from Social Blade to estimate your YouTube income.
When you first start out, you won't make cash from your videos. But once your channel gets enough views, you'll become a YouTube Partner and you'll make money from the ads on your videos.
If you're interested in making money on YouTube, you can read about the YouTube Partner Program here.
YouTubers also make sponsored content for brands and promote products in their videos to make money.
What's great about YouTube is that anyone can get started with it. Do you like Minecraft or Skyrim? Then start making videos about gaming.
Maybe you enjoy cooking? Then start your own cooking channel.
Some people just film their daily lives and upload it as vlogs. People like to see how other people live.
Once a video is uploaded, you can make money from the ads on it, over and over again.
And there's no reason you can't make $100 in one day from your YouTube channel.
13. Proofreading
Have you got an eye for typos?
Then you may want to give proofreading a try.
Proofreaders edit everything from books to blog posts to make sure that they do not include any typos, spelling mistakes, or grammatical errors.
Some places only hire people who have a degree, however, others don't require you to have one.
Making $100 a day as a proofreader is totally possible!
Since proofreaders earn $17 an hour on average, you'd only need to work 5.8 hours to earn $100!
Proofreading can pay anywhere from $11 to $28 an hour, according to reports. But places could pay you even more than that.
Here are some websites that offer proofreading work:
Make sure you read my proofreading guide for more proofreading jobs and tips on how to get started.
14. Voiceover work
Have you ever been told you have a voice for radio?
Well, then you might want to give voiceover work a try.
Voiceover actors provide narration for things like tutorials on YouTube, eBooks, and documentaries.
You could make $100s doing this!
And there are lots of ways to get into the field.
You can find work on sites like:
Or you could advertise your services on Fiverr.
You could also consider promoting your services on your own website and social media accounts.
If you can find steady work, you could easily make $100 a day from this.
Voiceover artists make $30 an hour on average, meaning you'd only have to work just over 3 hours to earn $100!
15. Teach English online
Help people while making money through teaching engine online.
This is also known as teaching English as a second language (ESL).
You can do this online, right from your own home.
And there are plenty of websites that'll pay you.
Here are some places where you can find working teaching English online:
Some places require you to have a certification, or a similar qualification or teaching experience to get started. Some places may also require you to have a degree.
But there are some sites, like Cambly, that don't require you to have any qualifications, meaning that anyone can get started with teaching English.
Just make sure that you check the specific requirements for the place you plan to work with.
Since ESL teachers can earn anywhere from $12 to $39 an hour, with the average pay being $20 an hour, making $100 a day with this is totally possible.
If you earned $20 an hour, you would only need to work 5 hours to make $100!
16. Virtual assistant
Virtual assistants handle all of the jobs that a regular assistant would do except they work online.
You can easily make $100 a day as a virtual assistant.
You just need to know where to find work.
Here are some great sites for finding work as a virtual assistant:
Since virtual assistants earn $10 to $27 an hour, with the average income being $15 an hour, there's no reason you can't make $100 in a day doing this.
If you made $15 an hour, you'd only need to work 6.6 hours to make $100!
17. Sell on Etsy
Next on the list, we have selling on Etsy.
For selling handmade items, it's a great platform. On there, you can sell bracelets, clothing, furniture and other handmade, refurbished, or antique items.
All you need are some great products to sell.
Just set up your Etsy store to get started.
I'd recommend you read this article from Esty on how to open your store if this is an option you're considering.
18. Transcriptionist
Doing some transcriptionist work is another option to consider, especially if you're a good typist. Transcriptionists will listen to audio and then they'll type what they hear into a document.
Here are a few places to find transcriptionist work:
Because transcriptionists earn $16 an hour, making $100 a day should be totally possible. Work just over 6 hours and you'd have your $100!
Some places will pay more than $16 an hour too!
19. Non-fiction eBooks
I mentioned that Amazon KDP was great for making money if you're a fiction writer.
Maybe fiction's just not for you though?
That doesn't mean you can't make money with KDP though. You can also sell non-fiction books through the program.
Since people love to learn stuff and better themselves, non-fiction titles, like how-to books, also sell well.
There are plenty of topics you could write a non-fiction book about, like working out, photography, or organization.
Just publish it through KDP and you'll start making money.
Once you've put in the upfront effort of writing and publishing the book, you can keep making money from it each time it sells. This makes it a good way to earn a passive income online.
Like with fiction books, having a few non-fiction books for sale is a good thing. The more books you have up for sale, the more money you'll make.
20. Web design
Next on the list we have web design. Freelance web designers create websites and apps that offer a great experience to customers.
To be a web designer, you will need to be knowledgeable about CSS and HMTL.
If you're looking to get into this field, I'd recommend the following resources:
You can find web design work on sites like UpWork and Freelancer.com.
With average earnings at $31 an hour for web designers, you could make $100 in just over 3 hours! This means that you can easily make $100 a day as a web designer. Pay can vary of course from $28 an hour to $34 an hour.
21. Online coaching
Online coaching could be for you if you enjoy teaching others.
If you're skilled and passionate about a particular subject or field, you can leverage this as an online coach.
Start your online coaching business and you can make money from it.
You could offer your services with one-on-one coaching. You'll need to start your own website so that you have a place to offer your coaching services. Having social media accounts is also ideal, and not just for promoting your services. You could also set up a Facebook group, for example, for your community.
Of course, you'll need to have the right credentials for whatever it is you plan to coach if you want to draw in customers. For example, if you have a successful blog, you could coach people in how to build a blog and make money from it.
If you're an expert in your field and people often ask you for advice, you should consider charging people for coaching. Remember that your time and your advice are both valuable.
Online coaching, depending on your field and level of expertise, can be a pretty lucrative field.
According to SchoolOfCoachingMastery.com, coaches can earn $100s, with these figures reported on the site:
Executive Coaches make $325 per hour.
Business Coaches make $235 per hour.
Life Coaches make $160 per hour.
22. Affiliate marketing
Selling stuff is a popular way to make money online.
If you're not interested in selling your own products though, you may want to try affiliate marketing instead.
With affiliate marketing, you sell products from websites through affiliate links. When a customer uses one of your affiliate links to purchase an item, you earn a commission on the sale.
Commission can range from 1% to 75% or even more than that in some instances.
You can post and promote your affiliate links through:
Social media posts
Articles
Videos
A comparison review site.
A product resources page
Landing pages – this is a website with a static sales page.
Blog posts
Newsletters
There are lots of affiliate programs out there. Here are some to consider:
These programs give you affiliate links, which are links to products or services that have a unique affiliate ID attached to them. You'll earn money when customers use your links to purchase stuff.
What's great about Amazon's affiliate program is that the customer doesn't need to purchase the specific item that you linked them to in order for you to make a profit.
If a person clicks on your link to view a product on Amazon for example, but instead they end up purchasing something else, you get a commission on that product instead.
For example, you might link to a camera, but the person ends up purchasing a laptop. You'd earn a commission on the laptop sale.
Lots of brands and retailers actually have affiliate marketing programs of their own. Two examples are Target and Bluehost.
So you could consider which brands you like and would like to promote and have a quick search online to see whether they have an affiliate program.
Just open up Google or whatever search engine you use, and enter the term "[brand name] affiliate program."
So you might enter "Target affiliate program" into Google for example.
23. Sell on Amazon with FBA
Would you love to start selling stuff with Amazon?
Amazon gets more than 200 million unique monthly visitors! That's a lot of people looking to buy stuff.
I'd recommend checking out Fulfilment by Amazon (FBA) if you're interested in selling through the platform.
FBA is a program that you can use to sell items through Amazon.
Here's how it works:
Choose a product you want to sell. You'll need a place to get your stuff from. Some sellers use wholesale websites like Alibaba.
Have your items delivered to an Amazon fulfillment center.
Amazon will handle everything else for you. It will ship your stuff when it sells and even handle customer service.
It makes selling on Amazon pretty easy.
Now, because it is providing you with a service, Amazon will charge you fulfillment fees. You can read this page to learn more about these fees.
So consider starting your own FBA business if you'd like to make $100 a day online.
24. Sell apps
Another way to make $100s online is through selling apps. You could start up your own business creating and selling apps if you're a skilled app designer.
If you would like to get into the mobile app design industry, but don't yet have the skills to do so yet, then I'd highly recommend you check out these resources:
Just create an app and put it up for sale, and you'll earn money each time someone purchases your app. This makes it a pretty good passive income idea.
You could easily make $100s selling your apps online.
25. Sell on eBay
Since eBay is a hugely popular platform with more than 182 million users worldwide, selling on there can be incredibly profitable.
You could start selling stuff on eBay and make $100s.
You could start by selling some items from your home that you no longer need. Of course, if you're looking to make $100 a day, you will have to expand and source products from other places, like wholesale sites where you can buy in bulk and sell the items individually, and thrift stores where you can find inexpensive products.
You will be charged seller fees on eBay, including a fee when your item sells and a fee to list your product, although your first 200 listings are free per month in most categories.
Read this page to learn more about eBay's seller fees.
26. Data analyst
Companies often hire contractors to do data analysis for them. This means that if you have the right credentials and experience, you could make $100s as a data analyst.
You can find lots of data analyst jobs online on sites like UpWork.
I'd highly recommend you check out these resources if you'd like to become a data analyst:
Data analysis courses from edX.org.
Udemy data analysis courses.
Data analysis courses from Coursera.
Pay for data analysts varies depending on the company you work with and what industry you're in. Just to give you an example, a business data analyst makes $28 an hour on average, and pay can fall between $25 and $35 an hour.
Work just over 3.5 hours, and you'd earn $100!
27. Copywriting
Next on the list we have copywriting. Copywriters write promotional materials for businesses. This can include things like:
Websites
Ads
Newsletters
Press releases
Direct mailings
Commercials
Although many copywriters have a degree in subjects like advertising, English, communication, or marketing, a degree is not always required.
Many clients will simply ask for some copywriting samples that demonstrate your skills.
If you'd like to learn more about copywriting, visit this page.
There are plenty of websites online where you can find copywriting work, like:
What's great about working as a copywriter is that many clients hire you on a freelance basis. So if you have other commitments like college or a fulltime job, this can easily be fit into your schedule.
Copywriters earn $24 an hour on average. So with this gig, you could make that $100 in less than 5 hours! Income can fall between $22 and $28 an hour.
28. WordPress Website Consultant
Many businesses use WordPress to build their web presence and may hire someone to help them to set up their websites.
You could make money as a WordPress website consultant if you're experienced with setting up websites on WP.
Once you've set up a website for a business, you could even choose to offer additional services, like generating traffic to the business's site.
29. Start a blog
Having a blog can make you $100 a day. There are many people who make $1,000s from their blogs every month.
Now, blogging does not make you money from the outset.
You have to build up traffic and of course, post great content on there on a regular basis.
So blogs do require consistent work.
If you're consistent though and put in the effort, you can make $1,000s from your blog. Some bloggers even grow their sites into a six-figure business.
What's great about blogging is that you can create a blog on pretty much any topic that you want to, from parenting to traveling.
Whatever topic it is that you're interested in, create a blog about it.
To get started, you'll need a platform where you can upload your content, like WordPress.org and Blogger.com.
Aside from that, you need to have a domain name (your site's URL) and hosting to host your site. You can purchase domain names and hosting services on sites like Bluehost, HostGator, and GoDaddy.
When your blog is launched, you can make money from it in lots of different ways. You could use affiliate links like I mentioned above. Or you could put ads on your blogs. One popular ad network to work with is Google AdSense.
It puts ads on your site and pays you when people view or click on these ads. You can also work with brands to create sponsored content like we mentioned in the Influencer section above.
The more visitors you get to your site, the more money you'll make because you'll have more people seeing your ads or affiliate links. And brands like to work with websites that have large followings. So put in the time to build up your blog.
30. Retail arbitrage
Retail arbitrage is a process where you purchase items at a discount and resell them for a profit.
It's a pretty easy way to make money that really anyone can get started with.
There are lots of places where you can find discounted items, like:
The thrift store
TJ MAXX
Marshall's
Ross
The dollar store
Amazon (often the site has coupons and lightning deals where you can get some great savings)
Once you've got your products, you can resell them for a profit on sites like:
This can be an awesome way to make a side income!
Make $100 a Day Guaranteed?
Here's the thing about making money on your own, there is no guarantee that you will make the exact same amount every single day.
But there are a few things you can do to increase the likelihood of you earning $100 or more per day.
In the beginning, try your hands at a few different things so you never run out of work. For example, if you are starting with freelancing, join a few different freelancing sites so you can increase the amount of exposure you get. Once you have established yourself and have gotten a few regular clients, it becomes much easier to have a guaranteed $100 a day.
Listen, $100 a day is a lot of money. It's not easy to make that kind of money, especially in this economy. You need hard work and dedication. So whatever option you choose, treat it as a real business. Set specific hours to dedicate to your work. If you want to make this a reoccurring source of income, you need to treat it as a reoccurring source of work!
Earning One Hundred Dollars a Day with Online Surveys?
When you see blog posts with a list of ways to make money quickly, taking paid surveys usually top those lists. And for good reasons; you can indeed earn extra cash with surveys quickly and easily.
So why didn't I have it on this list?
Well, while you can certainly make extra money with online surveys, it would be very hard to make $100 a day taking surveys. Sure you can easily make a few hundred dollars a month or more, but hundred dollars a day?
Hmm… it's just not possible.
No matter how many survey sites you join, no matter how many surveys you take every day, you are just not going to earn $100 per day with paid surveys consistently.
Now, high paying surveys are a thing. It's not unheard of to get paid $50, $100 or more for a single survey, but those are far and few in between. You won't find that high paying surveys every single day.
So yeah, that's why I didn't include survey on this list. That said, taking online surveys is still a great way to make extra cash in your spare time. So be sure to join a few reputable online survey sites like these and get paid fro your opinion.
Note: While I (Lauren) wrote this post, the following two sections were written by our editor (Saeed).
A $100 a Day Side Hustle
I have talked about different ways you can make an extra $15 or $30 rather quickly, here and here.
I am going to share a simple, yet effective method that almost anyone can use to earn $100 or more a day.
And it all has to do with cars!
31. Putting the shine back on cars!
The purchase of a car is a significant investment for most of us. And we would like that investment to stay shiny and new looking for as long as possible.
Unfortunately, however, this is not that case.
Cars get old and the door handles, mirrors and bumper can begin to fade and turn white.
And if you unload your not-so-new looking car at a used car dealership, the used car dealer is then in possession of a less-than-new looking used car that he needs to try to sell to someone else.
The good news is that if you are in need of some extra cash, you can make some real money by fixing up faded door handles, bumpers, and mirrors for the used car dealership so that these cars are in a more appealing condition to attract buyers.
The Concept
The first step to understanding how this unique used car business works is understanding the need for the used car business service and why there is a market for it.
To do this, go to your nearest large used car lot and take a look around.
Walk through the rows of cars and make a mental note of how many cars you see with bumpers, door handles, and mirrors that are faded or turning white.
As you will see from your own observation, there are a significant number of cars that have these aesthetic issues. And there is room for you to make money fixing them up.
What You Need
Now that you can see with your own eyes that there is a need for this service, it is time for you to take some action.
The main item that you will need for you to take advantage of the opportunity created for you to fix these faded mirrors, door handles and bumpers is called:
Bumper & Trim Black
Bumper & Trim Black is a special black dye that you can find at your local auto supply store or order online at Auto Geek.
The price if this special black dye can range from $10 to $15 a bottle depending on where you purchase it.
Test Run
After getting a bottle of Bumper & Trim Black, the next thing that you need to do is to learn how to use it properly.
It is very simple to use and you will be able to pick up the technique for applying it with only a little practice.
Practice by touching up the door handles on your car.
To apply, simply rub the Bumper & Trim Black dye into the door handles mirrors, and bumper as if you are applying shoe polish. Let the dye set for 20 minutes to ensure that it is dry.
If you get any of the dye on the paint, you can remove it by simply using some rubbing alcohol and a white rag to wipe it off.
To practice applying Bumper & Trim Black to enough cars that you become highly skilled at it, you may want to ask some people in your neighborhood whose door handles, bumper or mirrors have begun to fade if they would like you to fix it up for them at no charge.
The Hard Part
Now that you have developed the skill that you need to apply Bumper & Trim Black to door handles, bumpers, and mirrors to restore these parts to like-new condition, you can start making some money using your skill to enhance the look of used cars.
You need to get a customer.
Go back to your local used car lot and locate the bumper that is most in need of being restored.
Ask to speak to the owner or manager.
Explain to the owner or manager that you are offering a unique service that can restore their used car's mirrors, door handles, and bumpers to new-looking conditions.
Ask for permission to demonstrate your restoration of the bumper.
Only apply Bumper & Trim Black to half of the bumper at first so that the owner or manager can see the difference between what the bumper used to look like and what it looks like after you restored it.
There is a good chance that the owner or manager will be impressed with the work that you have done.
If the owner or manager likes what you have done for the bumper, let him know that you would like to come by once a week to fix up the door handles, mirrors, and bumpers of the cars that need it.
Let the owner of manager know that you charge the following for the service:
Door Handles – $5 each
Mirrors – $10 each
Bumpers – $25 each
Getting Paid
If the owner or manager agrees, you are now in business.
Purchase an invoice book for a local office supply store to keep track of the services that you provide and bill the used car dealership for these services.
You will want to make sure that your name and phone number are clearly printed on the invoice. Be sure to make a note of the identifying information about the car on the invoice such as the year of the vehicle and its VIN# and the service that you provided for each car.
Once you have complete work at that dealership for the day, add up the total amount and make a note of it at the bottom of the invoice.
Mail a bill to each dealership for which you provide your service at the beginning of each month with a copy of your invoices included.
Let's Crunch Some Numbers
Each of those special dye bottles will probably get you through at least 10 bumpers, and that's a conservative estimate.
Let's say you get the bottle for $15 (if you buy a whole box of it, the price goes down), you use it on 10 bumpers, charging $25 for each.
You spend $15, you earn $250. So, $250 – $15 = $235.
That's $235 profit from just one bottle!
Assume each bumper takes you 30 min to complete. 10 will take you 5 hours.
$235 for 5 hours of work, not bad!
OK, wait a minute!
Now, I know  you may be asking, "Why wouldn't the car dealer buy the bottle himself and have one of their staff do it for them?"
Well, the same reason many dealerships pay other people to come clean their cars, the same reason they pay a lawn boy to cut the grass, the same reason…
You get the point!
Time is valuable for people, and not everyone can do everything. Which is why we have so many different service sectors.
I mean, why would people pay someone to walk their dog?…
I am sure you get the point.
There are a lot of money-making opportunities out there. You just have to think outside the box and be willing to put in some work.
The above guide is a prime example of that…
By taking a small problem and offering to solve it for others, you can practically turn this from nothing to a full-fledged small business.
Sure, this may not be the fastest way to making $100 a day, but it sure is a quick way compared to doing nothing and wishing you could make that much.
Once you get your first customer, you are in business. From there it's just a matter of going out there and showing car dealerships and anyone who owns a car for that matter, what you can do for them.
The beauty of this idea is that you really don't have to do much selling or talking, let your finished work do the talking, and before you know it, you will be making 100 dollars or more a day doing it.
By the way, if you need ideas for inspiration, check out online forums, especially sites like Reddit. It is full of posts from people who share different ways they make quick cash. Just search for "how to make $100 a day reddit" and you'll find tons of posts where people share great and creative ideas that they come up with to make $100.
How to Make $100 Fast with Craigslist
Craigslist is one of the best sites to make $100 a day. It creates so many opportunities to make quick money in one day.
Now, while there are a lot of ways to make money with Craigslist, most of them are too inconsistent.
Most people need a regular paycheck, which is why so many people spend their lives working for someone else.
32. Craigslist flipping
Here's one method that can get you an almost guaranteed income using Craigslist that I myself have tried.
All you need are a few items:
An Email access.
A pick up truck or trailer.
And in some cases a little cash (anywhere from $20-50 to $100-200).
Step 1: Quick Research
The first thing you have to do, provided you have everything you need, is look in the appliance section on Craigslist.
Take a look at the typical prices of washers and dryers to get an idea of the usual prices in your area.
Next, find out what the same brands are selling for, brand new, and read the reviews to see customer reactions and feedback.
Step 2: Get the item (free or paid)
After you've done your research, you can prepare to make a purchase.
Research shows that people look at Craigslist most often at 7 am and 11 pm, so try getting on at one of those times.
Try to find a matching washer and dryer with a few good pictures for the price of $150.
It may take a few hours or days of searching.
Be patient.
Craigslist is all about timing, so if you see a lot of sets for sale, it's a great time to low ball some offers.
You could get a really great set for the first $150, but that's not typical. Just keep searching and when you find the right one, pick it up as soon as possible.
Step 3: Fix/Clean it up
Once you have them, clean them up.
Pretend like you are selling a car – you want it to look as nice as possible. Wash them, get a bucket of bleach, and give it a wipe down. If it has rust or chipped paint, get white appliance epoxy and touch them up.
I have cleaned and repainted multiple sets of washers and dryers.
You need a garage to do a paint job, so don't buy appliances that need too much fixing up if you live in an apartment.
Once the set looks in great condition, take as many pictures as you need to from various angles and positions.
Step 4: List it back on Craigslist
Now it's time to get back on Craigslist.
Write a description of your washer and dryer set. Be simple and direct, but detailed. Make sure to list the make, model, capacity, speeds, and settings.
Clearly disclose any scratches or dents, and if the dryer vent and cord are included or missing.
If you search for similar sets in model and age, you will probably find that they are going for about $300 to $400.
Take into account the time and money you spent on the set in picking them up and cleaning them and set a price that makes it worth your while.
Post the add with your phone number and email, and wait.
You should get an offer within the hour. If it takes more than a day, you might need to lower your price.
How I made $100 quickly
All I started with was $50.
I didn't even have a truck.
I had no experience selling or trading.
I just happened to browse through Craigslist with no real goal and happened to see someone selling a washer for $50. I called them on a whim. The seller gave me an hour to come to pick it up or he'd sell it to someone else.
Not thinking about how I would get it home, I drove to his house. The seller helped me squeeze it sideways into the small trunk of my car and strapped it on with ropes and bungee cords.
I get it home, holding my breath that it doesn't fall out, and end up snapping the top off when I try to get it out of the trunk. I had to buy a replacement clip at Home Depot for about $6.
I made the modifications, clean it, and post it back onto Craigslist, asking $150. After a few lowballing prices, a man offered to pick it up that day and pay the price I was asking.
I was excited to make $100 on my day off, but even more excited that my whim of an idea had worked.
Over the next few months, I perfected my strategy, and have never lost a dime on my dealings. The earning potential is uncapped, and not to boast, but you could potentially make six figures a year this way.
Closing Thoughts
With so many ways to make an income online and offline nowadays, there's no reason not to get started!
If you've ever wondered how to make $100 a day online or offline, then give one or even a few of the above methods a try.
There really is something for everyone, whether you're looking to sell stuff online or teach students.
What are your favorite ways to make money fast? And what online money-making methods have you had the most success with? Let us know in the comments section below how you made your first $100 a day.