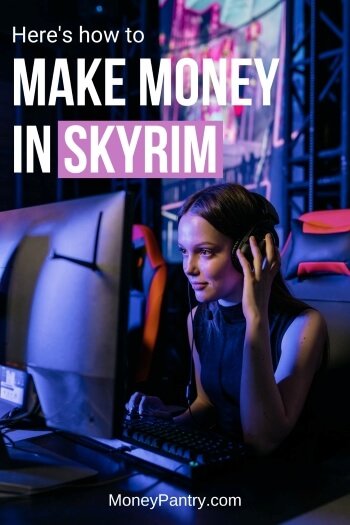 Being able to make money playing games is a dream for a lot of gamers.
Now, I'm not what you would call an avid gamer, but there are a few video games that I play when I have the time, and one of my absolute favorites, probably my favorite, actually, is Skyrim.
It's relaxing yet challenging and fun yet scary (being crept up on in a cave is worse than a jump scare in a horror movie!).
Most of all though, what makes Skyrim so appealing is that the opportunities in the game are seemingly endless.
There's just so much to do and so many ways that players can make the game their own.
With so many possibilities, it's not difficult to see why Skyrim, which was released in 2011, is still being played a decade later.
Need Easy Extra $300+/Month for Free?
KashKick
: Get paid directly into your PayPal for watching videos, surfing, shopping and more.
Join KashKick Now!
Panel Payday
: Earn up to $75 per survey. They also pay up to $50/hr for mystery shopping.
Join Now!
InboxDollars
: Paid over $57 Million to members to watch videos, take surveys, shop and more.
Get $5 instantly!
Branded Surveys
: Get $1 instantly just for joining for free. Plus get paid within 48 hours by PayPal!
Join Branded Surveys
iPsos iSay:
: If you have to only sign up for one paid survey site, go with Ipsos (high paying survyes)!
Join iPsos Now!
Swagbucks
: Get paid to watch videos, shop online, take surveys and more.
Join now & get $5 instantly!
I have played the game for ten years and it is still not boring. One of the most important facets of the game is money, which in Skyrim, is referred to as Gold. Although officially the coins are called Septims, Gold is the name used in your inventory and many other places.
Gold enables you to do lots of important things in the game, such as:
Learn new skills, like Destruction Magic, One-Handed, and Sneak.
Purchase a house.
Purchase armor.
Purchase weapons.
Purchase health potions, magicka potions, and stamina potions, all of which can help you in battles with enemies.
And, much more!
How do you get Gold in Skyrim though?
Thankfully, you have plenty of options. Below, I'll cover 30 of my go-to ways to make money in the game.
Before we get onto the list, I just want to mention that although I have given some examples of the amount of money you can earn in the game with specific methods, many of these examples are from the amount I earned in my game, and the amount you earn may differ from what I earn in the game.
For example, for some quests, the amount of Gold you'll receive varies depending on your character's level. So, my character is level 54, but yours may be lower or higher than that.
Also, there are many factors that affect the price you sell your items for, such as your Speechcraft level.
How to Make Money in Skyrim
If you've ever wondered how to make money in Skyrim, try the methods below.
1. Mining
Honestly, one of the easiest ways to earn money early in the game is through mining.
All you need to get started is a pickaxe, which you can purchase from any blacksmith.
There's one in Riverwood, the first town you go to, and also in Whiterun, and pretty much in every other hold.
After that, you need to find ores to mine. You can find mines all over Skyrim. You can find ores in mines.
Early in the game, you could try Embershard Mine. This is usually one of the first locations you'll find in the game if you follow the Main Quest because it's located near the road between Helgen and Riverwood. This mine has 8 iron ores. You can also find a pickaxe there.
Later in the game, mines can be found all over the map. Aside from in mines, ores can also be found just on the ground as you wander around the map so be on the lookout!
You can smelt the ores you get and use them to make items at the forge. Then, you can sell the items for Gold. You can also sell the ores themselves or the ingots you make from smelting them to the blacksmith.
What's great about mining is that no specific skill level is required, so it's a good option for making money in Skyrim as a beginner.
2. Kill dragons
Dragons are a big part of Skyrim – you are Dragonborn after all. After you complete the quest Dragon Rising, Dragons will randomly attack you as you traverse the map.
Also, they can be found at Dragon Lairs. Once you've killed a dragon, check to see what loot it has to offer.
Dragons are particularly good to loot because they often provide Gold, and they offer dragon scales that you can sell and some other valuable items.
3. Raid dungeons
Skyrim has various structures that you can go through as part of quests, or just of your own volition.
Raiding dungeons is fun, it can help you to increase your skills, and of course, it's actually a way that you can make money.
In the game, you can raid various dungeons, such as:
Caves
Dwarven Ruins
Mines
Surface Ruins
Tombs
Nordic Tombs
Nordic Towers
Forts
Watch Towers
In dungeons, you can find a variety of different items, like:
Gold – look in urns and chests, on tables, bookcases, barrels, etc., and on your killed enemies, like Draugr, bandits, and Falmer.
Armor
Weapons
Potions
Books
Gems like amethysts, rubies, and emeralds.
Soul gems that you can sell or use to enchant items that you can sell.
Enchanted items, which you can sell, or disenchant to learn new enchantments.
You can sell any items that you find in dungeons and make yourself a profit. Once you've dispatched your enemies, have a search around the dungeon to see what items you can find.
Items you'll find will vary depending on the type of dungeon it is that you are looting. For example, in Nordic Tombs, you'll find urns that contain Gold, and Draugr that you can loot Gold from.
Whereas in Dwarven tombs, you'll find Dwarven Centurions that you can kill and loot for items like Centurian dynamo cores and dwarven oil, Falmer that you can kill and loot for Gold, weapons, armor, soul gems, lockpicks, and random ingots, and other enemies you can kill and loot.
You can also find various other items in Dwarven ruins, such as large Dwemer struts and solid Dwemer metal that can be smelted to create Dwarven Metal Ingot, soul gems, and various ingredients, like Chaurus eggs, Falmer ears, and glowing mushrooms.
Overall, dungeons are great for finding Gold and goods that you can sell for Gold.
4. Complete missions from Jarls in different holds
In Skyrim, there's a series of quests called Becoming Thane, where you can become Thane of all the holds in Skyrim.
What's entailed for each quest varies, but the standard formula for each hold is to complete a specific quest or objective from the Jarl and then help a number of citizens within the hold, by doing quests or miscellaneous objectives.
The number of citizens you'll need to help out varies based on whether the hold is a major one, which includes a palace that the Jarl lives in, or a minor one, where the Jarl lives in a longhouse.
Once you're Thane of a Hold, you'll be able to purchase property there, if there's property available in that area. You'll also get a housecarl if there is a property in the hold. You can even get the ability to demand that guards in the hold in which you're Thane ignore minor crimes.
But, it's not just the benefits that come along with being Thane that you get, but also the rewards that you can earn on the way to becoming Thane.
There are nine holds where you can become Thane and each has its own set of quests and objectives that you'll need to complete. These quests and objectives reward you with Gold or with items that you can sell for money.
So, it's definitely worth completing these missions.
Here's where you can become Thane:
Eastmarch (Capital: Windhelm)
Falkreath Hold (Capital: Falkreath)
Haafingar (Capital: Solitude)
Hjaalmarch (Capital: Morthal)
The Pale (Capital: Dawnstar)
The Reach (Capital: Markarth)
The Rift (Capital: Riften)
Whiterun Hold (Capital: Whiterun)
Winterhold (Capital: Winterhold)
It's important to note that not all quests and objectives will pay you with Gold or goods. For example, some quests and objectives reward you with training in a particular skill. Still though, the Becoming Thane missions are great for earning some extra Gold and goods that you can sell.
5. Join the Thieves Guild
The Thieves Guild is a faction that you can join in the game. It is an organization of professional thieves. You can join and get access to 12 main quests. These reward you with Gold, items, like soul gems, and training.
Members Delvin and Vex also offer an unlimited number of radiant quests, which are known as "Jobs." The target item and location for each are randomly generated within Whiterun, Markarth, Windhelm, Solitude, and Riften. You can accept jobs or deny them. The reward for each mission is leveled between 50 and 800.
So, the Thieves Guild provides a lot of opportunities for making money in Skyrim. For example, you get access to Fences who will purchase both regular and stolen merchandise and carry larger amounts of Gold. And, there's also free Gold and lockpicks lying around the headquarters.
6. Hunting
A good way to make money is to hunt animals and then harvest them for items, such as pelts, meat, and tusks, which you can sell.
Animals you can hunt in Skyrim include deer, bears, goats, and horkers. All you need to get started is a bow and arrow, which you can loot from any enemies you kill, or purchase at a reasonable price from a general trader or blacksmith.
Also, the pelts you get from hunting can be crafted into leather using the tanning station at a blacksmith. Then, you can use the leather along with any iron ore you make to create iron daggers that you can sell to make Gold.
7. Smithing
Smithing is a great skill to have on Skyrim as it means you're able to create better weapons and armor for yourself. Not only that though, but smithing can also make you money.
You can make and sell weapons and armor. The best part is that you can collect everything you need to do so for free! Remember I mentioned hunting and mining? Well, use the items you find during the game, like leather, gems, and ores to craft weapons, armor, and jewelry. Then, you can sell these items.
8. Enchanting items
Enchanting items in Skyrim provides them with benefits like increased health, increased sneaking, or faster magicka regeneration.
Depending on what level you are in Enchanting, enchanting items can significantly increase their value. I have found that I can increase the value of weapons and armor by 100s in Gold. So, enchant any items that you've collected and sell them for a profit.
Aside from items to enchant, you will also need to have filled soul gems. And, you will need to learn enchantments. You can learn enchantments by disenchanting items you find that are already enchanted, or by getting training from one of the following people:
Sergius Turrianus who can be found at the College of Winterhold
Hamal after completing the quest "The Heart of Dibella," who can be found in Temple of Dibella, in Markarth.
Neloth, who, in the Dragonborn DLC, can be found at Tel Mithryn.
Getting lessons does cost money though.
9. Ask innkeepers for work
Most of the towns and cities in Skyrim have some kind of inn where you can rent a room for the night. Each one has innkeeper who you can talk to, and some have quests for you. All you need to do is approach the innkeeper, who can usually be found behind the bar in the main room of the inn, and click on "I'm looking for work. Got any leads?" and/or "Heard any rumors lately?" This gives you mostly bounty missions.
For example, when I spoke with the innkeeper Dagur at the Frozen Hearth Inn and asked him "I'm looking for work. Got any leads?", he gave me a miscellaneous quest to "Kill the bandit leader located at Snowpoint Beacon."
After doing that, I had to then "Collect bounty from Malur Seloth." When I went to collect the bounty, I received 100 Gold. That's not a ton of money, but it was a pretty easy quest, and I also found Gold in a chest at the location and also looted money and goods like jewelry from the bandits after I had dispatched of them.
I did another mission I received from Dagur, which involved killing a dragon, and when I collected the bounty, I was paid 500 Gold.
10. Join the College of Winterhold
One of the more fun factions in the game is the College of Winterhold. The College missions are fun, there are lots of people there who can train you, and you can earn money, and get a ton of magical wares, like soul gems, potions, and ingredients while you're there.
The College of Winterhold is a guild of mages. Joining the College opens a questline that includes eight main quests and eight side quests, one of which is radiant. For doing these quests, you'll be rewarded with items and/or Gold. It's another way to get some items you can sell or use to craft items that you can later sell, or just to get some extra Gold.
11. Gather ingredients
Picking wildflowers, and any other ingredients you can find, is really easy, and it requires no skill level. There are a variety of different ingredients you can collect in the game, such as blue mountain flower, purple mountain flower, fly amanita, Nirnroot, and Dragon's Tongue. These can just be found on the ground. There are also ingredients you can harvest from your enemies, like Falmer Ear, Giant's Toe, and Eye of Sabre Cat.
You can then combine ingredients on the alchemy table to create potions that you can sell.
Doing this also improves your alchemy skill. Sure, at first, you'll get a lot of failed potion attempts as you begin to combine ingredients. The more you craft on the alchemy table though, the more potions you'll learn.
Once, you've made a potion once, it will appear as an option in alchemy table menu thereafter, provided you have the right ingredients of course.
Wildflowers and other ingredients can be found along paths as you travel around Skyrim. Anytime I do a mission or wander the map, I'm always looking out for ingredients on the floor. They're free and I can use them to make potions that I can either use myself, which saves me money purchasing them from a merchant, or that I can sell for a profit.
12. Woodcutting
Woodcutting is a pretty boring practice, honestly. It's an easy way to make a little extra money early in the game though.
You can find an axe and wood to chop next to the sawmill in Riverwood. It can be found left of the archway just as you cross the bridge into the town.
I chopped firewood until I had 50 logs, and I sold them for 100 Gold.
13. Searching barrels
Although it's not a huge money maker, searching barrels can be a good idea. Barrels can be found on the streets, near market stalls, within inns, in caves, in Nordic tombs, and in plenty of other places around Skyrim.
Many barrels contain items that you can simply take. Others though, like some in the inns or near market stalls, may only contain items you must steal. Be careful with stealing because if you get caught, you need to pay a fine. Try to go with barrels that simply allow you to take items.
In barrels, you'll usually find food items. You can sell these to make money. Sure, they won't make you a lot, but it's a really easy way to make money, especially early in the game.
14. Get quests from random NPCs
One of the things that I love to do in Skyrim is just explore the map. I like finding random farms, towns, and settlements as I walk across the map. I also like visiting different cities.
Traveling the roads of Skyrim not only allows you to come across enemies that you can fight, and therefore gain experience in different skills, but it also gives you the chance to run into random NPCs, some of which have quests to offer.
Please note that most of the people you come across when you're walking down a random path or over a bridge will, typically, be hostile. So, do proceed with caution there.
At places like settlements, farms, towns, and cities, the people you'll find are usually neutral so you can just go and start a conversation with them. Not every NPC in the game has a quest to offer, but many do. So, approach different people that you come across and see if you can start a conversation with them. Click on different dialogue options until you get a quest.
Like I said, not all NPCs will indeed have a quest. Many do though, so ask around. For example, if you go into the White Phial, which is an alchemy store, in Windhelm, and talk to the shopkeeper, you get a quest called the White Phial.
Shopkeepers are particularly good to talk to because many of them have quests. But, it's definitely worth talking to people in cities, like those who're just wandering the streets and going to places like farms and settlements to see if there are any NPCs there who have missions.
These missions can reward you with Gold, or items that you can sell for Gold, so it's a good way to make money in Skyrim.
15. Find hidden merchant chests
Okay, so this one is sort of a glitch or hack, and, basically, it's to find hidden chests. As you'll know if you've played the game for any significant period of time, there are chests all over Skyrim. Often, they contain Gold and valuable items, like gems, soul gems, weapons, and potions.
Well, there are actually hidden merchant chests in a few locations across the map.
Merchant chests are chests that contain the shop inventories of merchants in Skyrim.
They contain really awesome loot, such as enchanted items, empty and full soul gems, ingots, ores, and much, much more. You can even find Gold in these chests.
Hidden merchant chests, as their name suggests, are hidden. One of the easiest ones to find is the one in Dawnstar. It can be located between two rocks on the left side of the entrance to Iron-Breaker mine. It's best to go into first person point of view and then slowly scour the floor (sneaking works well for this) until you see the words, "Search Chest," appear on the screen.
There's also a merchant chest outside of Markarth. Travel east from the city's gate, pass the stables, a farm, and the Left Hand Mine, and go all the way down to a bridge. There's a path to the left, and a Markarth guard patrols the area. There's a stone wall and Juniper bush to the right of the wall, and the bridge to the right of that. You can find the chest if you go to the other side of that wall and move up against the center of the wall, and then look down.
Here are the other hidden merchant chest locations:
Under the Skyforge in Whiterun. There are four chests in Whiterun in total.
Six chests can be found under The Ragged Flagon.
One chest can be found outside of Solitude. If the Khajiit Caravans are present, crouching and looking at the floor near the left corner of the main tent should cause a search option to appear.
Three chests can be found in Windhelm. A Follower is required to reach the chest.
Seven chests can be found at the College of Winterhold. This includes four in the Hall of Countenance, two in the Hall of Attainment, and one in the Hall of the Elements.
You can collect any Gold you find in the chests and sell any items that you find in there. Many of the items you've found in these chests can be used to create other items and improve skills in things like enchanting, smithing, and alchemy. So, for example, you could use the iron and leather that you find there to make iron daggers and sell them.
The loot you find in these chests is leveled, which means that it varies depending on your character's level. Merchant chests reset around every two in-game days, as long as you are not in the area.
You can take as much from the chest as you want, and it doesn't count as stealing. This is honestly one of the best ways to get money in the game. Once you locate a chest all you need to do is take the stuff from it and sell it.
16. Join the Dark Brotherhood
The Dark Brotherhood is an organization of assassins who carry out assassination contracts. This is another faction that players can join. Initiates must display the ability to kill mercilessly, without regret or sorrow, so as a result, the Dark Brotherhood's ranks include vampires, werewolves, bandits, and mages.
If you join the Dark Brotherhood, you'll be able to complete a variety of quests that can earn you Gold and items that you can sell for Gold, or training in different skills.
There are 14 quests in the Dark Brotherhood, and contract quests where you need to assassinate a specific target. There are also radiant quests and miscellaneous quests available. Many of these quests reward you with more than 1000 Gold, which makes it a profitable faction to join.
17. Search people you've killed
The Dragonborn has a lot of enemies. So, you'll often find yourself in battle with Draugr, giants, and bandits. Sometimes you'll even get randomly attacked by thieves or assassins. Once you've killed your enemies, be sure to search them. Many have Gold on them. It's usually not a lot, but it can add up.
Depending on the enemy, they'll also have things like armor, potions, ingredients, weapons, and even gems like diamonds on them. Thieves are really good to loot from since they often have larger amounts of Gold and high value items on them. Also, if you kill any "big boss" type, always search them since they usually have better loot.
18. Search animals you've killed
Just like with people who attack you in the game, you can loot any animals and creatures that you kill as well. This includes things like Frostbite Spiders, Bears, Frost Trolls, and Spriggan. So, be sure to check any animals or creatures that you kill to see if they have any loot. These items can either be sold as is, or you can use any resources to craft items to sell for a profit.
19. Sell items you've been gifted
While some missions only pay with cold hard cash, which is great, others pay you with items or a mix of cash and items in some cases. This could be a helm or a weapon. If you receive an item as a reward for completing a mission, and you don't have a use for it, then sell it for a profit.
20. Steal
While not the noblest of pursuits, stealing is one of the easiest ways to earn money. It can also be pretty fun too! You can steal money, food, armor, and an array of items from houses, inns, and even directly from someone's person. Many businesses will have a strongbox that you can steal from. You'll need to use a lockpick to open it though. If you are good at sneaking, you can also pickpocket people. It's an easy way to bring in some Gold.
Of course, you can also steal items to sell, rather than just money, but these items will be marked as stolen in your inventory. And, in order to sell stolen goods, you will need to either be a member of the Thieves Guild and sell items to Fences or activate the Fence perk on the Speech Skill Tree.
21. Look out for coin purses
Coin purses can be found in various places throughout Skyrim. These contain Gold. The larger the bag, the more Gold it will contain. Coin purses usually contain 10 to 50 Gold. They're sort of a brownish, orangish, tan color, so look out for these on tables and bookshelves in dungeons and rooms around Skyrim.
All you have to do is pick them up. Some of these will be marked as "steal," so you'll need to sneak and make sure that you're not visible in order to take them.
Aside from finding them randomly across the map, you can also find them inside Jorrvaskr, especially the living quarters, which is the headquarters of the Companions. And, one coin purse can be found at the Windhelm Military Camp.
22. Get money from your spouse's store
The Hearthfire DLC added marriage and children into the game. If you get married, your spouse will start a store. You have the option to ask if the store has made any money, and your spouse will share any profits with you. This is a simple way to make money. You can get 100 Gold per day. If you don't ask your spouse about their profits for a few days, their earnings will stack. I had forgotten to ask my in-game husband whether the store had made any money for a little while and he gave me 1500 Gold.
23. Join the Companions
Another faction that you can join in Skyrim is the Companions. It is a faction of warriors who complete private and public contracts for the people of Skyrim. I often join this faction because the missions are pretty fun and you're not having to steal or assassinate people like in the Thieves Guild or the Dark Brotherhood!
Like with all factions, the Companions has main quests, side quests, and radiant quests that you can complete. There are six main quests and a variety of radiant quests, many of which are repeatable. You can get rewarded with Gold and various items that you can sell for Gold. Also, you can be rewarded with training in a variety of skills.
24. Improve the Speechcraft skill
The Speechcraft Skill Tree is so useful if you're looking to make more money in the game. Sure, getting paid Gold, looting Gold from enemies, or finding Gold across the map are all good ways to make money. But, so is selling items. That's why the Speechcraft Skill Tree is so useful. There are many perks on the tree that will help you to get better prices from merchants and also increase the amount of Gold that merchants have available.
For example, the Haggling perk gives you up to 30% better buying and selling prices. So, consider adding perks to this skill tree and you'll get more for your money when selling goods.
25. Find an amulet of Dibella
Skyrim has various amulets that players can wear and each one gives the player a different perk. The Amulet of Dibella is particularly useful for anyone looking to make more money in Skyrim as it gives you +15 Speechcraft. This means that prices you get from merchants will be better. So, when wearing the Amulet of Dibella, you can earn more money for the items you sell.
You can find The Amulet of Dibella at multiple locations across the map, such as:
At Haelga's Bunkhouse, Riften.
May be found as loot from Stormcloak and Imperial solders.
May be found as loot from Hold Guards
In Riftweald Manor during the Thieves Guild questline.
In Uthgerd's House in Whiterun.
For sale at Radiant Raiment in Solitude.
Can rarely be found as random loot, more commonly in places where hostile mages reside.
May be found in "boss" chests.
Sometimes found on Draugr.
26. Use the Fortify Barter enchantment or potion
Fortify Barter is an alchemical and enchanting effect in Skyrim, which gives you better prices when selling items. If you take the Fortify Barter potion or wear an item enchanted with Fortify Barter, then you will get more money for the items that you sell. You can create a Fortify Barter potion using the alchemy table. You can also enchant items with Fortify Barter, but you will need to find a necklace of haggling and disenchant it in order to learn that enchantment. This is a simple way to get more money for the items you sell in the game.
27. Join the Bards College
The Bards College is a faction that the Dragonborn can join. The Bards College is located in Solitude, and it consists of bards, poets, and public speakers.
Unlike other factions in the game, the Bards College does not have a fully-fledged main questline. Instead, it has various side quests, miscellaneous quests, and radiant quests available.
These quests reward you with skill points, rather than cash or goods. However, you can still make money with Bards College quests because many of them require you to retrieve items from places like caves where you can find Gold and items to sell for Gold.
So, it's worth doing the Bards College quests if you're looking to make some extra money in the game.
28. Receive inheritance money
This one is sort of morbid, but it can be an easy way to make money. Basically, when people die in Skyrim, some of them leave you money, particularly if you helped them out in some way while they were alive. For example, I helped Frida who runs the alchemy shop called The Mortar and Pestle in Dawnstar, to retrieve The Ring of Pure Mixtures from the Forksaken Cave.
When she died, I received a note from a courier saying she'd left me 100 Gold pieces. So, the longer you play the game, and the more you help people, the more you're likely to start getting inheritance from people. You will receive a note called, "Letter of Inheritance," and this will let you know who you received the inheritance from and how much money you'll receive.
29. Sell crops
Sure, this won't make you a ton of money, but selling crops in Skyrim is an easy way to earn money. This is a particularly good option for beginners. All you need to do is collect crops and then sell those crops to farmers.
Simply speak to any farmer, and they will have the dialogue options to purchase some crops from the Dragonborn. You can sell a variety of different crops, such as wheat, cabbage, gourds, and potatoes. Crops you can sell include those that you have picked from the farmer's property, have found as random loot, or have stolen from citizens.
There are farms located across Skyrim in various holds, such as Brandy-Mug farm in Eastmarch and Snow-Shod farm in The Rift. So, head to a farm and sell crops to a farmer.
30. Complete the main questline
Don't discount the main questline for making money. Sure, most of the missions don't pay you with actual Gold, but they do send you to various places on the map where you can find Gold and valuable items that you can sell for Gold.
Closing Thoughts
Skyrim is a really fun game with so much to offer. You can play it for years and never get bored.
Gold is an important part of the game, so knowing how to make money in Skyrim is important. Armed with these tips, you can easily earn money in Skyrim while having fun playing the game.