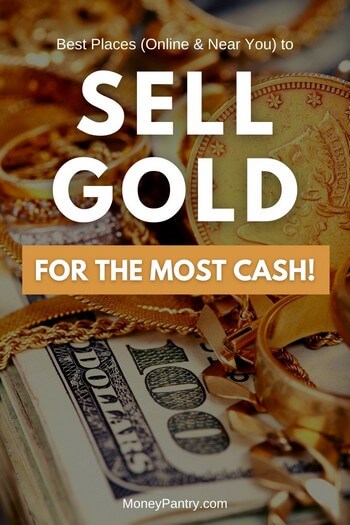 If you want to clear out your home a little or are looking for some extra cash, you might be thinking about selling your gold.
Gold is the third most valuable precious metal on earth and there's been a market it for it pretty much since it was discovered.
It's still valuable today and selling gold jewelry or other forms of gold, like bars, bullion or nuggets, is a good way to make money. And that explains why even today there are places where you can pan for gold!
In today's post, I'll tell you everything you need to know about how to sell gold, from appraising your stuff to getting the best deals.
So if you're looking for the best places to sell gold for the most cash, read on.
Where Can I Sell Gold Near Me
Looking to sell gold for cash near you?
Need Easy Extra $300+/Month for Free?
KashKick
: Get paid directly into your PayPal for watching videos, surfing, shopping and more.
Join KashKick Now!
Panel Payday
: Earn up to $75 per survey. They also pay up to $50/hr for mystery shopping.
Join Now!
InboxDollars
: Paid over $57 Million to members to watch videos, take surveys, shop and more.
Get $5 instantly!
Branded Surveys
: Get $1 instantly just for joining for free. Plus get paid within 48 hours by PayPal!
Join Branded Surveys
iPsos iSay:
: If you have to only sign up for one paid survey site, go with Ipsos (high paying survyes)!
Join iPsos Now!
Swagbucks
: Get paid to watch videos, shop online, take surveys and more.
Join now & get $5 instantly!
Well, you have quite a few options.
What's great about selling your gold offline is that you can get cash on the spot!
Here are a few options to consider if you're looking to sell gold nearby…
1. Local jewelers
If you have gold jewelry to sell, consider taking it to your local jewelers.
You can do a quick search on Google to find jewelry places near you. I would recommend taking your items to a few different jewelers so that you can compare prices and get the best deal.
Also, it's worth calling ahead to see if that specific jeweler actually buys gold jewelry. Some just sell it and don't buy it. So calling ahead saves you from wasting your time.
2. Pawnshops
When it comes to selling stuff near you, Pawnshops are usually not the best places since you won't be able to get the most cash for your items. But when it comes to precious metals like gold and silver, you can often get decent prices at pawnshops.
However, I wouldn't just go to one Pawnshop. I would take your gold to at least a few nearby Pawnshops to get a few quotes. That will give you a better idea of how much you can actually expect to get from your gold. It's free to get a quote and is an easy way to make sure you are not underselling your valuables.
The selling process is usually pretty quick as well, taking 15 minutes or less in most cases. Just make sure you research the pawnshop online and read reviews to see what other customers have to say before you take your stuff in.
3. Cash for gold exchanges near you
Most cities have a Cash for Gold exchange type of place where you can get cash fast for your gold. They usually buy gold to melt it down and reuse it.
The price they offer may be a little lower than what's on offer in other places (that's why you should compare prices). However, it's a quick and easy way to get cash for gold near you.
There are a couple of ways to find these places…
Use Google to search for local gold dealers and jewelry places.
Here's how to get started…
Open up Google or whatever search engine you use.
Enter the term "sell gold near me," into the search box and hit search.
Then, you'll get a list of places near you where you can get cash for your gold.
As you can see from the image below, I got lots of gold dealers near me and even a handy map of where they were: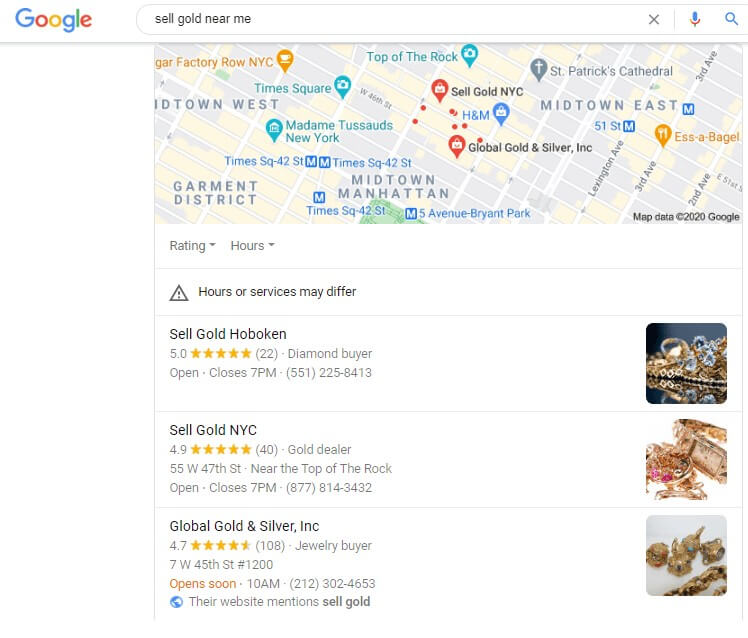 Check Yelp for more local places
I also had a browse on Yelp and found the best 10 gold dealers near me: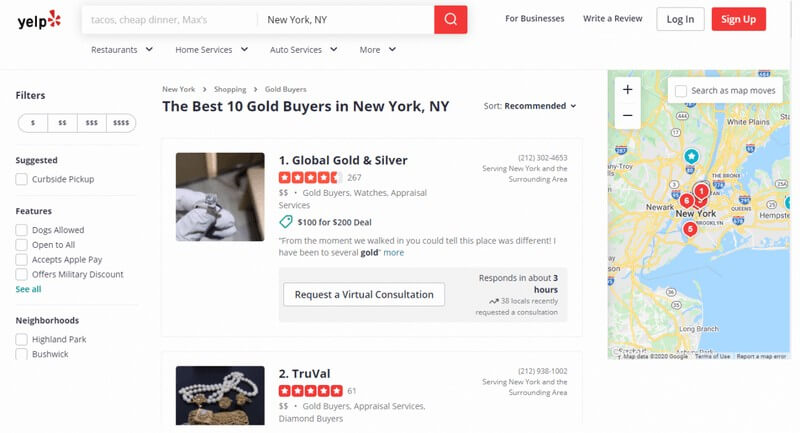 As you can see a got a list of places where I could exchange gold for cash.
Those are the main options for selling your gold near you.
I would recommend another option though…
Selling your gold online!
Why Sell Gold Online?
There are so many reasons why you should consider selling gold online over selling it locally…
It's easier
When you sell your gold at a local store or exchange, you actually have to go there and drive from store to store to compare prices.
If you sell gold online though, you don't have to do that. You can compare prices right from your PC and sell from the comfort of your own home. You don't have to worry about getting to a store during business hours either!
Plus, it's easier to get multiple quotes online than it is in person because you don't have to have that awkward, "no I'm going to check prices elsewhere" conversation!
You're not limited by where you live
Your options for physical stores are limited.
Your city will only have a set number of gold stores and you're not going to want to drive for miles to find more. Sell online though and your location doesn't matter. You can find great deals without having to go far. And you open yourself up to businesses from around the world, giving you access to a much wider range of offers!
In-person buyers have overheads that impact their offers
Brick and mortar stores have expenses, from the electricity to the cost of paying staff. They have the overhead costs of renting, maintaining, and operating the store.
Online businesses don't have this issue because they don't have physical stores. This means that they can often offer higher prices for gold because they don't have to worry about the overheads that come along with running a brick and mortar store.
You can easily find reviews online
If you live in a smaller town it might be tough to find reviews for local jewelers or gold-buyers.
This isn't usually the case with online gold buyers.
Most sites who buy gold will have lots of reviews on social media and on websites like Trustpilot and the BBB.
This makes it easy for you to find legit places to sell gold.
Where to Sell Gold Online
Here are a few legit places to sell gold online.
Truspilot rating: 4.6 stars
BBB rating: A+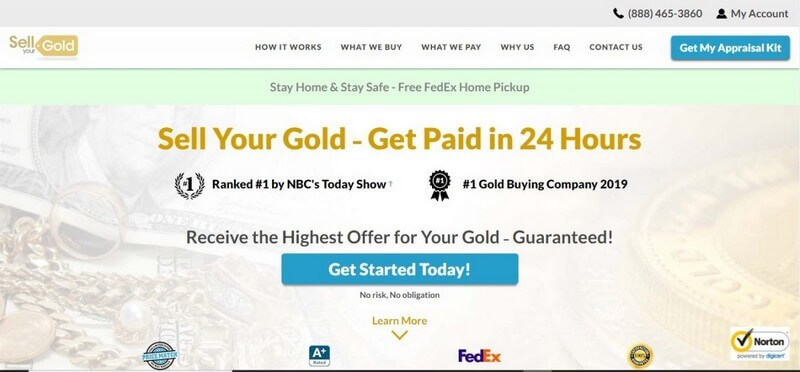 SellYourGold.com is an excellent website for selling your gold. It offers free and insured FedEx pickup right from your home.
How convenient is that?
What I like about the site and why it tops the list of places to sell gold online, is that it offers a price match guarantee.
This means that if you find a better price – the site will match it!
With more than 3,000 reviews and a 4.6 star-rating (which is Excellent) on Trustpilot, SellYourGold.com is a legit company.
It's even has an A+ rating from the BBB and almost a 5-star rating from customers on there too! (Please note that the site's name on its BBB profile is Beyond 79, LLC because that's the company that owns it.) It's BBB accredited too.
The website will buy lots of different gold items like:
Jewelry
Watches
Coins
Bullion
It even offers same-day payments via PayPal!
It would definitely be my pick if I come to sell any gold items!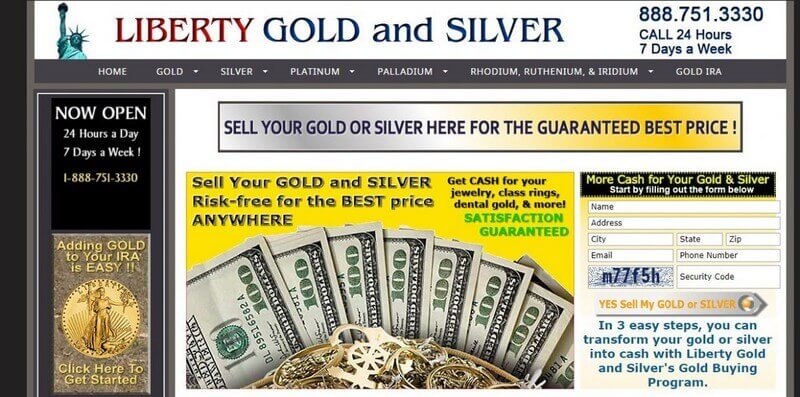 Although not as highly rated as the previous website, Liberty Gold and Silver is still a company worth checking out.
They've been in business since 2012 and have a great rating with the BBB.
If you decide to sell your gold to the company, you place your gold into a padded, prepaid, and insured UPS return envelope that the company sends you and drop it off at any authorized shipping center.
This return envelope is insured up to $1,000.
What's great about Liberty Gold and Silver is that it offers a 110% price match guarantee!
This means that if you can find another buyer who will offer more for an item, the company will match that price, plus 10%.
That's great, right?
Once the site receives your gold, it will email or call you immediately with a quote.  If you accept the quote, the company will mail you a check within 24 hours or if you pay a small wiring fee, the company will wire the money directly into your bank account.
The only downside with Liberty Gold and Silver is that I couldn't find a Trustpilot page for the company or any customer reviews on BBB. But the BBB rating is good, so that still makes it a great option to consider.
BBB Rating: A+
Trustpilot Rating: 4.8 stars (Excellent)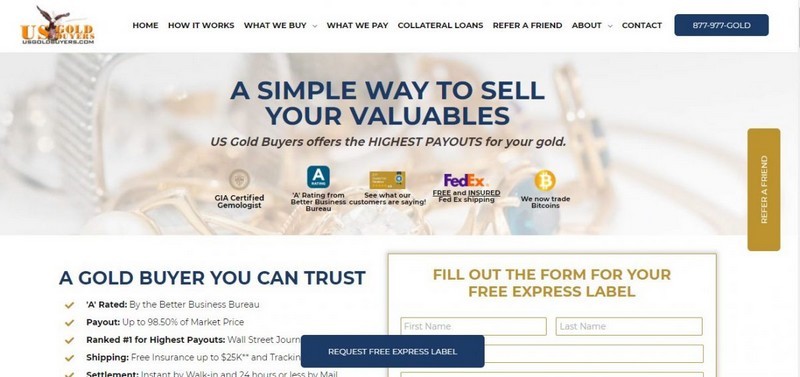 At US Gold Buyers, you can sell a huge variety of items, like:
Watches
Jewelry
Scrap gold and dental
Coins
Bullions
You can get a free express label from the company. So you can ship your items for free! And you get free insurance and tracking by FedEx.
It's a legit company offering high payouts, so I would definitely consider it if you're looking to sell gold. In fact, it was ranked #1 for payouts by the Wall Street Journal.
US Gold Buyers has an impressive A+ rating from the BBB.
It's actually accredited by the BBB as well. Not only that, but US Gold Buyers also has a 5-star rating from customers on the BBB.
It has an impressive 4.8 stars, which is an Excellent rating, from Trustpilot.
Trustpilot rating: 4.9 stars (Excellent)
BBB rating: A+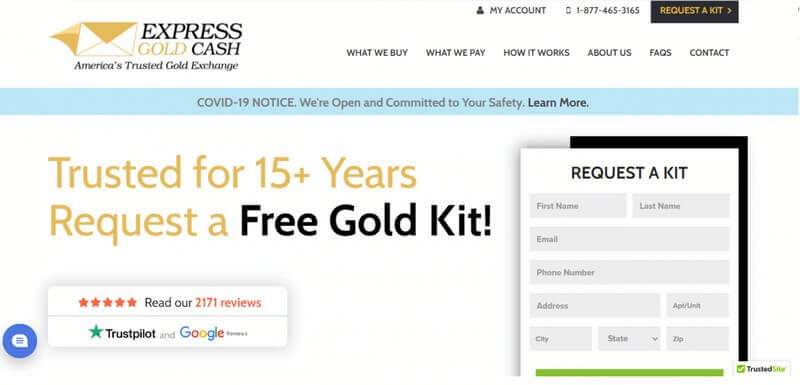 Express Gold Cash is another website that you could consider selling your gold through.
You can get the payment within 24 hours, which is good.
The company has almost 2,000 reviews on Trustpilot where it has 4.9 stars, which is an Excellent rating!
Express Gold Cash is also BBB accredited.
The company has more than 25 years' experience too. You can ship your items to the company with free overnight FedEx shipping. And if you don't like the offer you get for your items, Express Gold Cash will ship them back to you for free!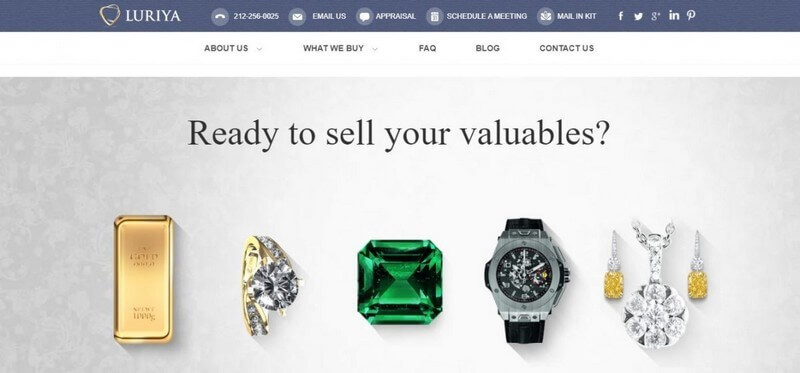 Another place to consider is Luriya. The company has an impressive A+ rating from the BBB.
It buys a variety of precious metals, including gold.
The company buys a huge range of different gold items, like:
If you live in NYC, you can actually visit the Luriya store in-person. It's a great place to visit if you're wondering where to sell gold locally.
If you're not in the NYC area though – don't worry! You can actually sell your gold online to Luriya.
Just fill out a form online and you'll get an email shortly after that includes a prepaid FedEx label. Items that you ship are insured. The company will contact you to confirm they've received your items and you'll get an offer within 24 to 48 hours.
If you like the offer, you get payment through whichever payment method you choose. And if you don't like the offer, then Luriya will send your stuff back to you for free.
Items are automatically insured up to $1,000, but you can insure your items up to $1 million if necessary. The company's standard delivery method is 2nd day FedEx shipping, but it can work with any delivery partner that you want, like UPS, USPS, DHL and more.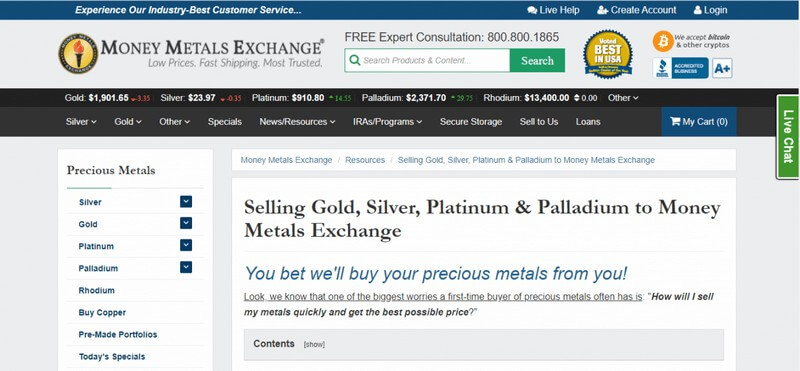 If you're looking to sell gold coins or bars, then give Money Metals Exchange a try.
Money Metals Exchange is a gold dealer will awesome reviews online. On the BBB, the company has an A rating. That's not all. Customers on the BBB have given the business a 5-star rating!
Once the company has your metals, it will pay you immediately.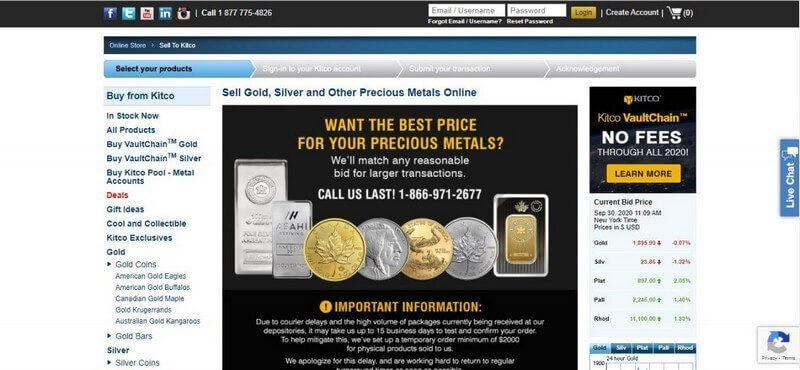 Another website that's ideal if you're looking to sell gold coins or gold bars is Kitco.
It buys a ton of different coins. The website says that it will "match any reasonable bid for larger transactions."
It has an A rating with the BBB, which is great.
BBB Rating: A+
Trustpilot rating: 3.4 stars (average)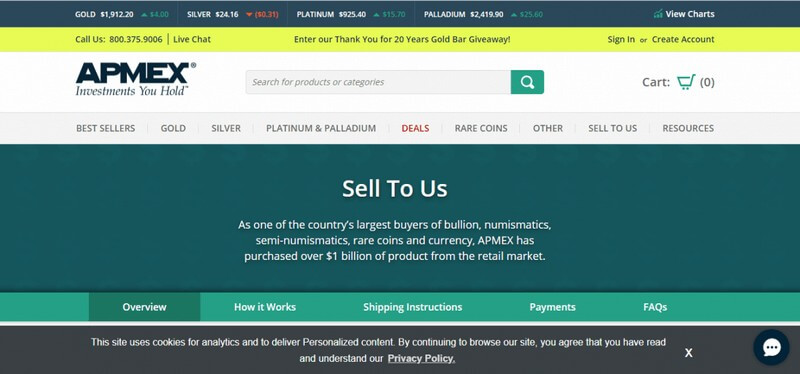 APMEX is the world's largest online retailer of precious metals.
If you choose to sell to the company, it will provide you with all the shipping labels you need and you can drop off your items at a UPS facility or schedule a pickup.
Once you've sent your gold to the company, it will process your payment by the end of the next business day.
The company is incredibly well-reviewed on BBB. To start with, it's accredited by the BBB. It has an A+ rating from the platform. And customers on the BBB give APMEX a 5-star rating!
While the company has 3.4 stars on Trustpilot, most of the complaints were from people buying gold from the website rather than selling it. Plus, 3.4 stars isn't super low or super high, so it's not too much of a concern.
Tips for Selling Gold for the Most Cash
Here are a few tips and tricks you can use to get the most money when selling gold…
1. Check if your gold is real
Before you cash in on your gold, make sure it is actually gold.
Sadly, not all items are actually real gold.
Don't worry though; there are a few ways you check if the item you have is gold or not.
Use heat
Hold the item over a steady flame. Real gold will get brighter when hot. But fake gold gets darker or changes color in some way when it's heated.
Use a lighter or a stove to check. Don't use a blow torch though!
Try a magnet
Using a strong magnet is another way that you can check whether your gold item is real. You can get one from the hardware store if you don't already have one. Since gold is NOT magnetic, it will not be attracted to the magnet.
If the item you have is magnetic, then it's not real gold.
Check if it colors your skin
Fake gold jewelry can color your skin green or black. If you have a piece of jewelry that turns your skin green or black, then it's not real gold. Gold jewelry will never color your skin. I've had costume rings that were faux gold and they made my finger green, so I've stuck with the real deal since!
Put the gold item in water
Did you know that real gold sinks?
Indeed it does!
So a really easy way to check whether an item you have is actually gold is to leave it in a glass or bowl of water for a little while. If the item floats, then it's not real gold. Gold doesn't rust, so don't worry!
2. Know the weight and karats for your items
To be able to calculate the price of your gold item, you will need to enter the weight and karat.
Both are easy to do.
You can weigh your gold using a kitchen scale. It's important to note that some places will use different measurement types, like the Troy ounce (learn more here).
If you want to know what karat gold your items are, that's pretty simple as well. This is because most items will have a stamp on the back or inside of the item.
You will most likely find this is simply in karats, so this could be 9k for example, which means 9 karat gold.
Some golden items, like jewelry, for example, have a 3-digit number on the stamp.
Here's a guide to those numbers:
999: 24 karat – 99.9% gold
990: 22 karat – 99% gold
916: 22 karat – 91.6% gold
750: 18 karat – 75% gold
585: 14 karat – 58.5% gold
375: 9 karat – 27.5% gold
3. Know the value of your gold
The value of gold changes daily. Knowing the market value of what it is you're selling is so important, because then you'll know whether you are getting a good deal. (I cover gold value a little in the FAQs section below.)
There are lots of gold calculators available online.
Here are a few examples:
Some dealers know that there are people who want to sell gold for cash fast and may offer a price that's lower than the actual value. This brings me to my next point…
4. Get multiple quotes
I would highly recommend you get quotes from a few different places before you decide where to sell your stuff.
You may find that there's a place that offers much more for the stuff you have. Don't be afraid to compare prices before selling – you'll make the most money this way.
5. Separate items by their karat value
Don't allow jewelry of different karat value to be weighed together. Sadly, a dealer may weigh all of your jewelry together and then pay you based on the lowest karat value. Make sure you separate your jewelry by karat value.
6. Research the buyer
I've given you legit places to sell your gold above. But if you end up going with a local store, make sure that you research it beforehand. I'd always recommend checking the BBB profile or Trustpilot page for the company you plan to sell through.
You'll be able to see what experiences other sellers had in selling to the company and whether there are complaints against the gold buyer. If a company doesn't have a BBB profile or Trustpilot page, then try to find reviews from people on social media sites such as Facebook.
7. Choose the best selling option for the items you have
Some items are worth more if you sell them as they are rather than selling them for them to be melted down.  For example, if you have a piece of jewelry from a well-known designer then you would likely get more from it whole than you would if it were melted down.
In that case, contact a jeweler would be a good option.
Or you may have an antique decoration that's made (at least in part) from gold.
In that case, going to an antique dealer would be the best option.
These types of items may be more valuable as a whole than the metal they're made of.
If the item is not vintage, particularly rare, or from a well-known designer, then melting it down may be your best option.
8. Know the details
You may choose one of the options where you mail in your gold for cash. If so, make sure that you know all of the terms and conditions.
Make sure you know:
How long it takes you receive payment.
How long the company keeps your gold before it is melted down.
How many days you have to turn the offer down.
Before you send your gold, make sure you take photos of the items.
It's a good idea to send the items insured.
And make sure you keep hold of all of the relevant paperwork and filings.
9. Consider having your stuff appraised
If you have a large collection or some items that you feel may be high value, it can be a good idea to get your stuff appraised before you sell it.
Sure, this may cost you a little more upfront. But your items like jewelry may be worth more than its weight when you factor in things like artistic value, embedded gems, and workmanship. Getting your items appraised can help you to determine whether you'll get more money for your piece as a whole.
Plus, it's a good way to get a more exact figure for what your stuff is actually worth.
10. Take your ID
You will likely be asked to show a government-issued ID when selling gold. This is because buyers want to ensure that they're not purchasing stolen property.
Selling Gold for Cash FAQs
Online I see people ask a lot of questions about the process of selling gold.
Here are some answers to common questions you may have about selling your gold nearby:
How much does gold sell for?
How much money you'll get depends on lots of different factors, like:
Where you sell your gold – prices offered may differ from place to place.
How rare the items are, like rare gold coins or jewelry may garner higher prices.
You can use an online calculator, as I mentioned above, to get a better idea of what your items are worth.
Or if you have a particularly valuable item, you could consult a professional jeweler or expert at a coin shop to get a more accurate value.
The best way to know how much your gold is worth though is to simply get quotes from the places you're considering selling to.
Calculators are only good for getting a rough guide. You often can't input details like the condition of your item into these online gold calculators.
Get a quote directly from a company though and you'll know exactly what payment you're going to get for your specific item.
How much is gold worth per gram?
The market price for gold can change daily, so make sure you check at the item you plan to sell.
At the time of writing, here's what gold was worth:
Gold value per gram: $60.41
Gold value per ounce: $1,879.10
Gold value per kilo: $60,414.42
To check the price when you come to sell your items, visit this page.
Please note that the market price for gold is for gold bullion and other forms of pure gold.
So the price you get for golden items may not match the market price and in most cases, it will be lower.
How much can I get for a golden dollar coin?
Of course, it depends on what type of coin it is. But you can expect anywhere from $90 to $1000s.
According to CoinApps.com, for an 1849-1854 $1 Liberty Head coin, you could get $92.
In terms of what other coins are worth, here are a few examples from Kitco:
1 oz Gold Canadian Maple Leaf Special Coin .99999: $1,884.90.
1/10 oz Gold American Eagle Coin: $188.49.
1 oz Gold British Britannia Coin: $1,884.90.
Factors that'll determine how much money you bring in are the same as with other types of gold. For example, the higher the karat, the more money you'll get for your coin. Weight, condition, and rarity will also affect how much money you get.
How much can you get for your gold
How much money you'll get for your gold depends on the following factors:
Factors that determine the price you'll get for your gold include:
Purity
The higher the karat, the higher the value of your item.
Weight
As the price of gold is calculated per gram or ounce, the heavier the item, the more you'll earn.
Condition
Some items, like coins, will get you more cash if they're in mint condition.
Rarity
If you have an item like a rare piece of gold jewelry or coin, you can get much more money for your stuff.
Where is the best place to sell gold?
Well, this really depends on what it is you're selling. Gold coins, for example, may be worth more to a coin collector than they are to a company who melts down gold.
Similarly, an antique necklace may be worth more to an antiques or vintage jewelry dealer.
That's why, as I said above, you should get quotes from a few places before parting with your gold.
Should I sell my gold now?
Yes, if you're looking to make some quick cash. If you're unsure of whether you want to let go of items at the moment, consider other ways of making extra money like freelance writing, or doing tasks on Swagbucks.
Only you know if it's the right time to sell gold for cash!
Closing Thoughts
There are so many places where you can make money selling gold. Whether it's at a local or online pawnshop or another company online, you have plenty of choices!
If you've ever sold gold online or to a local gold buyer or are currently searching for the best places to sell gold near you, I'd love to hear about your experience. Leave a comment below and let us know.