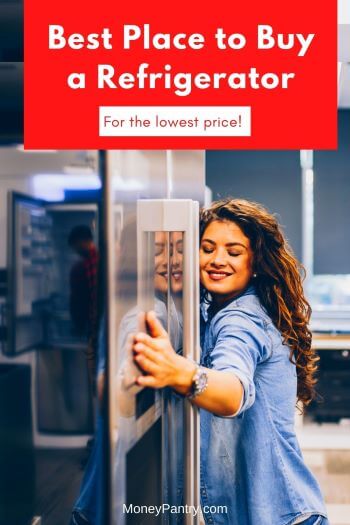 In the market for a new refrigerator?
A refrigerator is one of the most important appliances in your kitchen, so you want to choose well, right?
With so many places to shop though, where do you even start? Do you buy from an online retailer? Do you try your local home store? Or do you go with Amazon where you buy a lot of other stuff anyway?
Deciding where to purchase your new refrigerator can be tough. Fortunately, we've got you covered. In today's post, I'll cover the best and cheapest places to buy a refrigerator.
Oh, and if you want to get some money from your old refrigerator, even if it's broken, check out our posts on how to sell used appliances for cash and recycling refrigerator for cash.
Where is the Best Place to Buy a Fridge Cheap
Here's where you should purchase your new refrigerator:
Need Easy Extra $300+/Month for Free?
KashKick
: Get paid directly into your PayPal for watching videos, surfing, shopping and more.
Join KashKick Now!
InboxDollars
: Paid over $57 Million to members to watch videos, take surveys, shop and more.
Get $5 instantly!
Branded Surveys
: Get $1 instantly just for joining for free. Plus get paid within 48 hours by PayPal!
Join Branded Surveys
First Opinion
: Get paid up to $10 per survey and $300 per virtual focus groups!
Join Now!
Swagbucks
: Get paid to watch videos, shop online, take surveys and more.
Join now & get $10 instantly!
For affordable refrigerators, Appliances Connection is the place to go.
It has so much to offer, including:
Low prices. This includes compact refrigerators for as low as $126 and freestanding refrigerators for as low as $484.
Get free delivery on orders worth $99 or more.
Refrigerators are available from lots of well-known brands like LG, Viking, and GE.
Tons of great deals where you can get $100s or even $1,000s off refrigerators. For example, you could get a Fisher Paykel refrigerator worth $4,999.99 for just $3099, saving you $1,890.39. There are lots of savings to be had on the site.
Wayfair is one of my favorite websites for buying home goods whether it's furniture or appliances. There are a number of reasons to shop there including:
Free shipping on orders of $35 or more.
You can save $100s on lots of refrigerators, which is great. For example, you could get a Samsung French Door Refrigerator for $1,499.40 instead of $1,699.00. And there are tons of other discounts like that where you can save $100s.
Lots of affordable refrigerators on there, like ones for just $400.
If you're looking for a refrigerator, then Sam's Club is a good store with a lot to offer, including:
2-year manufacturer warranty on many appliances.
1% cashback available if you have the Sam's Club MasterCard.
Lots of deals and savings available.
Amazon is a good site for buying yourself a new refrigerator. If you are Prime member, it's even better!
Amazon has lots to offer, including:
Great prices. I think that Amazon offers some of the lowest prices for refrigerators. You can get tons of refrigerators for less than $700 and compact refrigerators for less than $200.
Free shipping on orders over $25 that are shipped by Amazon.
Free delivery on some refrigerators for Prime members.
Lots of user reviews available that you can read through to get the best refrigerator for you.
Okay, so if you're not sure what type of refrigerator you want, then do check out Abt. It offers tons of different types of refrigerators, like French door refrigerators, bottom freezer refrigerators, and side-by-side refrigerators.
The company has a lot to offer, such as:
Free shipping on most orders over $35.
A discount of $25 off your next order of $250 or more when you sign up for the site's email list.
You can find refrigerators at low prices, like $399 for an Avanti Apartment size refrigerator.
Lots of discounted refrigerators on offer where you can save $100s.
Best Buy is another place to check if you're on the hunt for a new refrigerator.
It has a lot to offer, including:
Free delivery on some items. There's a special offer available, at the time of writing, where you can get free delivery on orders worth $399 or more.
Lots of deals and sales available – there's a section on the site too that's just for on sale refrigerators.
Affordable refrigerators on offer. For example, you could get an Insignia Top-Freezer Refrigerator with Reversible Door for just $359.99.
Okay, so another store that's good for purchasing a new refrigerator is Lowe's. Now, this store has a lot to offer, including:
Free local delivery on major appliances worth $299 or more.
Tons of refrigerators available for less than $1,000 making it an affordable place to shop.
Lots of deals on offer where you can get $100s in savings on refrigerators.
With a huge variety of refrigerators on offer, Home Depot is a good place to purchase your new appliance.
There's a lot on offer, such as:
Free delivery on many items
Discounts and deals on offer that can save you $100s or more than $1,000 in some cases.
Everything from French door refrigerators to mini fridges from well-known manufacturers like GE Appliances, Samsung, and Bosch on offer.
For awesome deals and a large selection of refrigerators, you should definitely have a browse of AJ Madison. The store has lots to offer, including:
Free nationwide delivery
On the site's Rebate Center, you can get rebates that can save you $1,000s.
Refrigerators available at low prices, like an Avanti Counter Depth Top-Freezer Refrigerator for just $357.00.
Sale and clearance section on the site too.
Finally, we have Menards, and this is a great store for purchasing a variety of appliances including refrigerators.
There are lots of reasons for shopping on there:
Refrigerators are available at super affordable prices, like as low as $329!
There's a weekly ad section on the site where you can get lots of savings.
Get rebates in the form of a Menards Merchandize Credit Check that you can use on future purchases at any Menards retail store (credit not valid for purchases on Menards.com though).
Tips for Buying a Refrigerator
Okay, so now you have a bunch of awesome places where you can get your hands on a new refrigerator. In this section, I have a few really simple tips that can help you with everything from deciding on the right style of the refrigerator for your home to how to get the best deal. And, I'll even give you tips on when is the best month to buy a refrigerator.
So, follow these simple tips…
1. Pick the right style
There are so many different types of refrigerators out there nowadays that it can be downright overwhelming to actually look through them all!
It can be tough to know which one is best. That's why doing a little cursory research can go a long way!
It can help you to decide on what type of refrigerator would work best for you and your family.
There's a refrigerator style to suit every house.
Here are the most common types of refrigerators:
Top-freezer refrigerators
Top-freezer refrigerators are your traditional refrigerators where the freezer is at the top. If you don't mind crouching down to get to the lower shelves and drawers, then this could be the model for you. This type of refrigerator is good if you are looking for a lot of storage when you don't have a huge amount of space in your kitchen. Widths can vary anywhere from 28 to 33 inches with this type of appliance. And, you should also allow for a wide swing of the doors too when factoring in whether or not this type of appliance will fit into your kitchen.
According to Energy Star, a certified top freezer refrigerator costs only about $45 a year to run, compared to the $77 a year that a side-by-side costs. So, this is a cost-effective option too.
Bottom-freezer refrigerators
Okay, so bottom-freezer refrigerators have the freezer at the bottom. This is handy if you tend to use the refrigerator more than the freezer (as most of us do) because everything is at eye level and easily reachable without you having to bend down. Now, you will obviously need to crouch down when you need something from the freezer. Widths tend to range from 24 to 36 inches.
Now, while convenient because the fridge is at the top, bottom-freezer refrigerators tend to offer a little less usable space compared to top-freezers, and they can cost a little more to run as well.
According to Energy Star, a bottom-freezer refrigerator costs $70 a year to run. Still though, they can be a convenient option.
French Door Refrigerators
If you're looking for something that not only functions well but looks great too, then French-door models are for you. These have two narrow doors on top and then a freezer below. And sometimes there is a drawer or two in between. Now, these vary in width, generally between 28 and 36 inches.
Side-by-side refrigerators
These types of appliances have the fridge on one side and the freezer on the other. And, generally, they have through-the-door ice and water dispensers. So if that sounds like a feature you want, then this type of refrigerator/freezer could be for you. Typically, widths are 33 to 36 inches for this type of appliance.
They are on the pricier side to run compared to other fridge types. According to Energy Star, a side-by-side refrigerator costs about $77 a year to run. Still though, that's not much when you break it down to a per month cost.
Built-in refrigerators
These fit pretty much flush with cabinets and counters and look great in your kitchen. They come in a few different styles, like bottom-freezer, side-by-side, and French-door styles. And, they're usually pretty tall. You can get front panels that match your kitchen cabinets, which is great. Another type of built-in fridge you can get is the column fridge, which as it can be as narrow as 18 inches, can make the most of a kitchen nook.
So, choose a refrigerator that suits your home. Think about the size of it and then choose one that will best fit your kitchen.
This brings me to my next tip…
2. Measure your space thoroughly
When purchasing a large appliance like a fridge, a quick measure of your home won't do. You really need to take the time to get accurate measurements of the space where you plan to put your new refrigerator.
Now, don't just take into account the dimensions of the refrigerator either. Consider the space that it will take up with the door open as well. You want to ensure that you can still properly navigate your kitchen even if the refrigerator door is open.
3. Read reviews
Okay, so one of my most, most important tips when purchasing a new fridge, and this applies to any time you purchase a product, is to read reviews.
Yes, reviews can save you the hassle of later finding out that the fridge you bought is actually pretty poor. My parents had this really great refrigerator that they'd read a ton of reviews on before they purchased it. When they got the kitchen remodeled, they couldn't fit the old fridge in and decided to go with a built-in, bottom freezer refrigerator which matched the new cabinets they were getting during the remodel.
Now, the company that installed the kitchen recommends the built-in fridge and my parents just agree to it without reading any reviews. And, well, the refrigerator is pretty terrible. Water pools in the bottom, it doesn't keep drinks that cold, and it's not space-efficient at all. My parents actually gave their old refrigerator to my husband and me because it still worked fine, but it simply wouldn't fit in their new kitchen. Now, that one still works great – and that's because my parents had read a ton of reviews on it before they picked it out.
So, it just goes to show that reading reviews really does make a huge difference! Go on Amazon and read reviews on there. Look at review sites. This will ensure that you get a product that will work well.
4. Compare prices
Comparing prices is also something that you should do. Again, it's a simple tip but one that definitely shouldn't be skipped over. Have a look at the price of a fridge at a few different retailers. This can ensure that you get the best deal on your new appliance.
5. Consider a retailer that offers a price match guarantee
Another thing to consider is choosing a retailer that will offer a price match. Some retailers will price match either before or after you've made your purchase.
This means that if you have a Lowe's close by and decide you want to pick up your new fridge there, but you've found a better price at Wayfair, for example, then you may be able to get your local Lowe's to match the price offered by Wayfair. So, you can go with the more convenient local option but still get a great price.
Here are some examples of retailers who price match:
6. Buy at the right time
Okay, so it's not just where you buy your new fridge that's important, but also when. Buying at the right time can also ensure that you get the best price. The best time to purchase a new refrigerator is when manufacturers release new models or during a sale for a promotional or seasonal period.
Now, why buy when manufacturers release new products?
Well, because you can often get way lower prices at this time. Because retailers have to make room for these new models, they have to clear out older inventory. So, they put these old refrigerators on sale. Manufacturers usually roll out their new refrigerator models during the spring, so this is the best time to buy a new one. Late spring in particular can be a good time for getting great deals.
As I said above, any time there's a sale is a great time to buy. You can often find refrigerators, as well as other appliances like washers and dryers, on sale during times like Mother's Day, 4th of July, Memorial Day, and Father's Day. Also, big sales like Black Friday and Cyber Monday can also offer some awesome deals on appliances.
7. View the appliance in-person if you can
Finally, if you do decide on a fridge that you like, go to view it in person if you can. There's one thing looking at photos of an appliance online or viewing its dimensions and reading product descriptions. Seeing it in person though can give you a much better idea of what the item is like and how well it will fit into your home.
So, go into a store, even if it's not the store that you plan to purchase the refrigerator from, and see what the fridge looks like in person.
8. Go for the top brands if you can!
The phrase, "You get what you pay for!" is especially true when it comes to purchasing large appliances that are meant to be used every day. A fridge has to work 24/7. So while buying the cheapest make and model may seem like a good idea for saving money, in the long term, you'll end up paying more because cheaper fridges tend to stop working quicker than the higher-end brands.
Some of the top brands includes:
LG
Frigidaire
Whirlpool
Samsung
GE Appliances
Maytag
Café
Danby
So, if you have the means and can afford it, I'd highly recommend buying a higher-end brand. Sure, you'll pay more upfront, but you'll end up saving money long-term since appliances from top brands tend to last longer.
Happy Shopping!
Buying anything new from your home, especially a big-ticket item like a refrigerator, can be a little stressful, right? You want to make sure that you get the best price and the best type of refrigerator for your kitchen.
The retailers above are all great in terms of deals, and the selection of appliances that they have on offer. So do give those a try. And, don't forget to follow our tips. They can help to ensure that you have the best experience purchasing your new appliance.
What do you think are the best places to buy a refrigerator? Let us know in the comments section below.