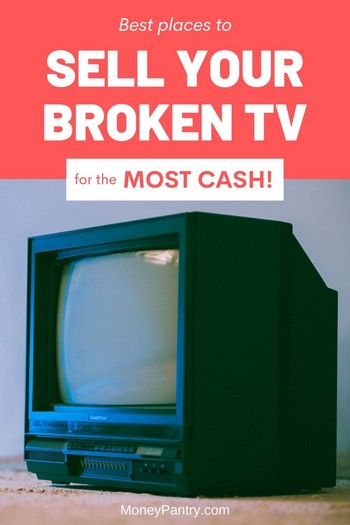 Looking to sell your broken TV for cash?
Sometimes, devices break, and that's annoying, right? Especially when it comes to TVs. We spend a lot of time watching TV. Without it, some of us are just lost!
You have to part with more cash to replace it, and well, what if you're looking to save money, or just don't have the cash in your budget to spend right now on a big-ticket item?
Electronics always seem to break when we're a little a tight on cash it seems!
Thankfully, there are many places to sell used electronics, including TVs for cash so you can recoup some of the cost. And that's by selling broken TVs for cash.
Can you really sell broken TVs?
I'm going to level with you here. Selling broken TVs is not quite as easy as it used to be.
Need Easy Extra $300+/Month for Free?
KashKick
: Get paid directly into your PayPal for watching videos, surfing, shopping and more.
Join KashKick Now!
InboxDollars
: Paid over $57 Million to members to watch videos, take surveys, shop and more.
Get $5 instantly!
Branded Surveys
: Get $1 instantly just for joining for free. Plus get paid within 48 hours by PayPal!
Join Branded Surveys
First Opinion
: Get paid up to $10 per survey and $300 per virtual focus groups!
Join Now!
Swagbucks
: Get paid to watch videos, shop online, take surveys and more.
Join now & get $10 instantly!
Because of the difficulty of recycling modern televisions, many companies that once recycled old TVs will now not accept them, or they'll even charge you a fee to cover the cost.
Also, compared to years ago, these days TVs are so inexpensive, relatively speaking. A big 75″ Flat Screen TV that used to cost thousands of dollars, can be bought for just a few hundred dollars.
Does this mean that you can't get cash for your old TV?
Heck, no!
There are still lots of places out there where you can get paid for your broken television.
And, in today's post, I'm going to cover them!
By the way, if you are thinking about buying a new TV, be sure to read my post on the best time to buy a TV so you can save yourself some money.
Where Can I Sell a Broken TV for Cash Near Me & Online?
Okay, so you can, in fact, still sell broken TVs. Perhaps the screen is cracked, or it doesn't turn on anymore? Whatever the case, you can still get some cash for a television even if it's broken.
Below, I've listed some great places where you can get cash for your broken TV. Whether you trying to sell your broken Flat Screen TV, Curved, LCD, QLED, LED or any other Smart or "non-smart" TV, these are good options for selling them for some easy cash.
I've included a mix of options. Most of them allow you to sell to someone nearby. With others, you can sell your TV online.
Here are the best places to get money for a broken TV.
Okay, so one place to consider selling an old TV is on eBay. You can list 50 items on there for free, which is pretty great.
As eBay has more than 182 million shoppers, it's likely that you'll find someone on there who will purchase a used TV from you.
You can set your own price and if you don't want the cost of shipping to cut into your earnings, then make sure that you specify that the TV is for local pickup only.
That way, you get to keep more of the money that you earn. You can set your own price too, but make sure that it's a realistic price. You can have a quick look on eBay to see what other people are selling similar items for.
While it's free to list stuff for sale on eBay, you do have to pay a fee when the item sells.
Next on the list we have 5miles. This site is great for selling used stuff online for free, as it offers a huge range of categories.
You can list your old TV for sale on there. What's great about 5miles is that it doesn't charge you any commission. So, when your old TV sells, you get to keep 100% of the cash.
Now, while 5miles doesn't charge a commission, it does charge listing fees. So do keep those fees in mind when you are listing your stuff for sale on the platform.
Another place where you can sell old TVs is on OfferUp. The site recently merged with another popular app called LetGo.
With OfferUp, you can list your stuff for sale and people near you can purchase it.
You can sell lots of different items through OfferUp, including TVs. The site is really easy to use and you can put up a listing pretty quickly.
VarageSale is an online garage sale website where you can buy and sell stuff locally.
You can sell everything from kid's clothes to, of course, TVs on there. So, it's another place where you could list broken TVs for sale.
Another great app for selling a TV for free is Shpock. This is another platform where you can buy and sell all sorts of items.
Shpock, which is a portmanteau of "shop in your pocket" is a great option because the site doesn't charge you any fees.
Really!
There are zero fees on Shpock, so you get to keep all of the money that you earn from the sale!
Next on the list we have eBid. I mentioned before that selling broken TVs on eBay is a good option. Well, eBid is a similar site. Although eBid may not be as well-known as eBay, eBid is actually better reviewed.
With eBid, you can sell stuff in more than 25,000 categories.
So you could sell your old TV through the site.
Now, eBid works a little differently from some of the other sites that I've mentioned so far.
This is because eBid actually has membership levels. The Basic Seller account is for the casual seller and it's free. But, when your item sells, you will have to pay a final value fee of 5%.
Now, if you don't want to have to pay a fee when your stuff sells, then you will have to choose the Seller+ plan, which is a paid plan.
How much this plan costs depends on the payment plan that you choose:
7 Day: $1.99
30 Day: $6.99
90 Day: $16.99
365 Day: $69.99
Lifetime (special offer running): $139.99
7. TV Repair Shops
You may be able to get some cash for your TV from your local TV repair shop.
TV repair shops may be able to refurbish the TV and then sell it, so they may be willing to purchase from you.
An easy way to find local TV repair shops is to go to Google, or whatever search engine it is that you use, and then enter the phrase "TV repair shop near me." Hit enter, and you should get lots of results.
If the above mentioned search term doesn't get you good results, try some of these alternative search terms:
"who buys broken TVs near me"
"places that buy broken TVs near me"
"who buys broken TVs for parts near me"
These terms will bring up enough results, including local electronics and TV repair shop and even Pawnshops that buy old TVs near you.
To make sure you don't waste your time, it can be a good idea to call ahead and ask the store if they purchase broken TVs rather than having to lug the TV down to the store only to learn that it doesn't actually purchase TVs!
Craigslist is another place to list your stuff for sale. You can always find people who buy broken TVs near you on Craigslist.
I've seen people online mention that they purchase broken TVs on sites like CL and then refurbish them. So you may be able to find someone on the site who's in the market for a broken TV.
The reason that I think that CL is such a good site to sell through is that it's totally free!
You don't have to pay any fees to list an item for sale on there, and you also don't have to pay anything when your item sells. It's a great website for finding people to sell to locally.
All you need is a great listing!
9. Yard Sale
Another place that you could consider selling a broken TV is at a yard sale. Just make sure that the buyer does indeed know that the TV is broken. Now, you may be able to find someone who's in the market for a TV. For example, a buyer could have a TV repair business and are looking for a television to refurbish and sell.
The good thing about selling through a yard sale as well is that you don't have to worry about the effort or cost of shipping. You can just sell the television in-person and get paid right away.
Sure, you may not always find a buyer at a yard sale who's in the market for a broken TV, but you may do, so it's definitely worth a try.
Next on the list we have Facebook Marketplace. It's a platform from Facebook where you can buy and sell stuff locally. You may be able to find a buyer near you who's in the market for a broken television.
Perhaps you have a TV with a cracked screen that someone else could make as good as new with some repairs?
Consider putting up a listing for your broken TV on the Facebook Marketplace
One of the best ways to get cash for used electronics, including TVs, is to sell them to Buyback Boss.
Buyback Boss is a website that buys used devices. Now it's a great company that's incredibly well-reviewed. In fact, Buyback Boss has an A+ rating from the Better Business Bureau.
And, it has 4.8 stars from reviewers on Trustpliot, which is an Excellent rating.
It's really easy to sell to the site as well.
Here's how it works:
Go to the Buyback Boss website, which I linked to in the heading for this section, and get a quote for your TV. You'll just need to answer some quick questions about your TV, and then you'll get an offer.
If you like the offer for your TV, then you can ship your phone to Buyback Boss using the shipping label provided at checkout. You can track your device every step of the way.
Once Buyback Boss receives your item, it will send you a same-day payment either by check or straight to your PayPal account. You can choose the payment option that you want.
I actually wrote a review of Buyback Boss, so check that out here if you want to learn more about selling electronics to the website.
If you're looking to sell a TV that's broken, then you might want to list it for sale on ClassifiedAds.com.
This is a free classified ads site that allows you to list a wide variety of items for sale. So you could list your damaged TV for sale on there.
You can set the price for your TV, which is great!
It's sort of like CL, so it's definitely another option to consider.
Places to Recycle Your Old TV for Free
Selling your used TV is the ideal option, of course, because you can get some of the money that you spent on the television back, and you can put it toward a new one if you want to.
Another option to consider though is recycling your TV.
There are some companies out there who'll recycle your TV for free.
The Electronic Manufacturers Recycling Management Company (MRM Recycling) has lots of drop off locations across the country where you can drop off your used TV. Just visit the site to find a nearby drop-off location.
MRM Recycling says that you should call the collection site or check its website before you bring your electronics in for recycling since locations can change their operating hours or have other restrictions. So make sure that you call ahead to check when you can bring in your old TV.
Do you have an LG TV? If so, then check out the LG Electronics Recycling program. It's a program that gives consumers, like you, a convenient way to recycle your used, unwanted, obsolete, or damaged LG consumer electronic products by dropping them off at designated locations. What's great about the program is that it offers more than 1,000 designated drop-off sites across the United States.
LG also offers a mail-back program where you can get a pre-paid shipping label to return your device to its recycling partners.
You can learn more about the program and find a drop-off location near you on the website, which I linked to in the heading of this section.
The Samsung Recycling Program gives you a convenient way to recycle your old Samsung TV.
Samsung offers a variety of recycling programs, which you can learn more about on the website. You can also find recycling options near you on the site as well. You can find the link to the website in the heading of this section.
Final Thoughts
Okay, so TVs aren't as easy to sell as other devices are. I mean if you want to sell your phone you have way more options for that. There are even more options out there for things like game consoles (like these places where you can sell PS4) and kindle devices. That doesn't mean that there aren't any options available though.
As you can see from the list above, there are so many ways that you can sell your broken TV for cash near you.
Whether it's listing it for sale on sites like eBay and OfferUp, selling it to Buyback Boss or trading it for cash at a local TV repair shop, there are plenty of options. And, don't forget that there are a few recycling programs out there that will recycle your old TV for free!
You can easily make some cash selling your old, damaged TV!
Do you have any tips for selling a broken TV for cash? If so, share your tips with us in the comments section below.