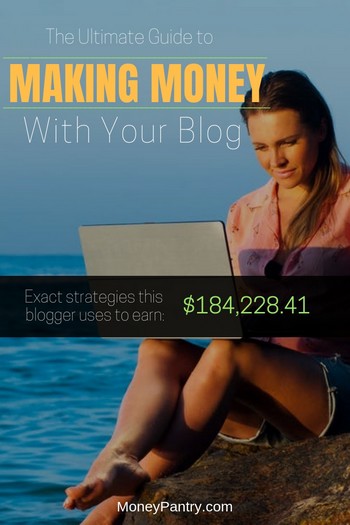 Imagine, earning $100,000 (or more) a year with your blog!
That would be a dream come true.
But making money from a blog is a reality for many bloggers.
The truth is – making money online as a blogger isn't as simple as writing content, and then expecting to get paid.
You need to take steps to monetize it.
Unfortunately, most people don't know how to do that.
Need Easy Extra $300+/Month for Free?
KashKick
: Get paid directly into your PayPal for watching videos, surfing, shopping and more.
Join KashKick Now!
InboxDollars
: Paid over $57 Million to members to watch videos, take surveys, shop and more.
Get $5 instantly!
Branded Surveys
: Get $1 instantly just for joining for free. Plus get paid within 48 hours by PayPal!
Join Branded Surveys
First Opinion
: Get paid up to $10 per survey and $300 per virtual focus groups!
Join Now!
Swagbucks
: Get paid to watch videos, shop online, take surveys and more.
Join now & get $10 instantly!
People tend to do either one of two things:
They just put up content for a couple of months, and then when nothing happens, they give up.
They approach monetizing a blog in the wrong way and use the wrong methods to make money from their content.
But, if you know what you're doing, having a blog can be very profitable.
Just start by looking at the sheer increase in the popularity of blogs in the past decade or so.
Anyone who has ever visited the Internet has read a least one blog post in their time. And nowadays, many big brands have a blog on their websites.
But, it's not just large corporations and local businesses that can benefit from blogging – anyone can.
All you need is to know how to use your blog as a marketing tool.
How Much Can You Earn as a Blogger?
Owning a blog can be a very lucrative gig.
But, exactly how much you earn really depends on factors, like how many visitors your blog gets each day, and what methods you use to monetize it.
You could earn anywhere from $100 to $10,000 per month from your blog – or more or less than that.
But, the point remains that blogging can be incredibly profitable.
Let's take a look at the income of a few different bloggers:
1. JustaGirlAndHerBlog.com
Earning (October 2015 to September 2016): $406,097
JustaGirlAndHerBlog.com is primarily a home décor blog, but the owners of the blog also post their income reports, which you can read here, and offer eBooks and courses on blogging.
From October 2015 to September 2016, the owners of the site earned an impressive $406,097!
Now that's not the average earning of a blog owner, but, it proves that blogging does have a pretty great earning potential.
Abby who runs her site with her husband Donnie, states that neither of them has a degree in business or marketing, but they just worked hard and learned every day.
According to the couple, they make most of their income through eBooks and affiliate commissions.
2. PinchofYum.com
Earning (Between June and August 2016): $184,228.41
PinchofYum.com is a food blog. Between June and August 2016, the website's gross income was an amazing $184,228.41.
You can see more of the site's income reports here.
The website generates its income from a wide range of different sources, like advertising, sponsored content and affiliate marketing.
Again, these earnings are not typical, and this is a fairly big blog, but again, it shows the money making opportunities that blogging can offer.
3. ThisOutNumberedMama.com
Earning (June to August 2016): $1449.33
ThisOutNumberedMama.com is a parenting blog.
From June to August 2016, the website earned $1449.33.
It's a much smaller blog than the two above, so it's a more realistic number for small blogs and less-established bloggers to aim for.
The blog makes money primarily from affiliate marketing, advertisements, and sponsored content.
You can read more about the blog's income here.
4. HomemadeHooplah.com
Earning (Between June and August of 2016): $11,750.53

Between June and August of 2016, HomemadeHooplah.com, which is a food blog, earned $11,750.53. That's a pretty amazing monthly income.
The owner of the site Chrissy, generates her blog's income from a variety of sources, like sponsored content, and advertisements.
Check out more income reports from the site here.
As you can see, regardless of the size or age of your blog, there's still money to be made from blogging.
The First Step: Build Your Audience
You don't have to have a huge following to make a profit from a blog
While you don't need a huge following to make money blogging, you can't make money if no one visits your site.
Visitors are your site's potential customers, and, without them, you can't make money.
It's as simple as that!
So, if you want to make money from your blog, you need to build a following – if you haven't got one already.
This isn't an overnight process.
It takes some time, effort and patience on your part.
But, if you know what you're doing, and you use the right techniques and strategies, you can build a decent-sized following, much quicker than you'd think.
There are tons of blogs and articles out there that offer useful advice on how to grow your blog's audience.
But, if you're just starting out as a blogger, and you don't get many visitors, then make sure that you do these simple things:
1. Create great content
"Content is King!"
This is one phrase you'll keep hearing in the blogging (and by extension SEO (Search Engine Optimization) community.
If you create high-quality content that's useful to the reader, search engines like Google and Bing take notice and rank your site better.
The higher your articles are ranked with the search engines, the more likely people are to find your content when they search using terms and keywords that are related to your content.
2. Use keywords
If you don't want to spend money on ads to get traffic to your site, your biggest option is organic traffic which comes from search engines.
And to get that traffic, you need to rank for relevant terms and keywords that people search for on Google and other search engines.
That's why it's important to have each post on your blog target one main keyword and a few smaller related terms.
Having relevant keywords in your posts tells the search engine spiders what your post is about and whether or not it is relevant to the search terms people are using.
While you don't want to stuff your content full of keywords – the reader should always come first – using a few, well-researched, relevant keywords in your content helps search engines to index your site and makes it easier for readers to find your site when they're searching for something online.
3. Promote your content on social media
Another free (and rather new) way of getting traffic to your site is through social media.
A really effective way to get more eyeballs on your website is to use social media.
Promote all of your content on Twitter, Facebook, Instagram, Pinterest, and any other social networking platforms you use.
A good tip to find followers on Twitter who are interested in your niche is to look for big name companies or bloggers in your niche, and then follow their followers.
They will most likely follow you back. And, then you can promote your content to them – as you know that they are interested in it.
For example, if you blog about skincare, then take a look at Nivea's followers, and follow some of them.
Or, if you're a fitness blogger, then you could take visit a company's Twitter page that sells weights, and check out its followers.
4. Make yourself an expert
Getting your name out there on other sites and platforms can not only drive traffic to your blog but also establishes you as an expert in your field.
Consider answering questions on Quora or HARO, or guest blogging.
If you already have an established blog, that's getting visitors consistently, then monetizing is going to be a quicker process, as you don't have to build up your audience.
How to Monetize Your Blog & Make Money
Okay, so now you have a site, and it gets a little traffic.
As long as your website gets a few visitors, you can make money from it using the following methods.
These methods aren't overnight money-making techniques – they take time.
Below, we've compiled a complete guide on how to monetize a blog.
1. Create sponsored content
One of the best ways to monetize a blog is through sponsored reviews and posts.
Many companies are willing to pay bloggers to promote and endorse their brands in their content.
No matter what subject you write about, there's going to be some product, service, brand or company that you can promote, endorse or review on your blog.
For example:
If you write about skincare, you could promote a line of moisturizers.
As a fitness blogger, you could get sponsored by an activewear company.
If you blog about software, then you could get paid to talk about a brand's new app.
In order to get these opportunities, you need to connect with brands for sponsored campaigns and product review campaigns.
Sponsored content vs affiliate marketing
Writing sponsored and review posts for a company or brand is very different from using affiliate links in your posts.
With affiliate marketing, you are paid when someone purchases a product through your affiliate link.
And, with sponsored posts, you get paid simply for talking about a product or brand in a post – whether that's a quick endorsement of a particular company or a full-on review post of one of the company's products.
Requirements
Some companies and websites only work with big blogs, which have a large following, whereas others work with blogs of all sizes.
Most companies and websites will ask to see the following before they agree to give you sponsored campaigns:
The amount of visitors/views you get each month
Social media following
Email subscribers
Your user engagement, like shares and comments.
How to find sponsorships and product review campaigns
Whether you're a tech blogger or a beauty blogger, companies are looking for bloggers like you to review their products or endorse their brands.
And, while many companies just offer free products in exchange for these reviews and endorsements, others will pay you.
So, you help a company to promote its brand and you bring awareness to a product, service or brand that your readers could find useful – it's a win for everyone involved.
There are tons of paid opportunities out there for bloggers – you just need to know how and where to find these sponsors!
There are two main ways in which you can find sponsorship and product review opportunities:
Work with a company that connects bloggers with companies/brands
Contact companies directly.
In this post, we'll cover both.
Let's start with the first one above – working with companies that connect bloggers, generally referred to as influencers, with brands.
Online, there are many websites that provide bloggers, big and small, with sponsorship opportunities.
Here are a few to get you started:
1. Activate (Formerly Sverve)
Activate, formerly known as Sverve, is part of the blog sharing platform Bloglovin.
It connects influencers with brands.
Essentially, the site makes it easier for you to find paid collaborations, by connecting you with the right brands for monetization opportunities.
You can choose the campaigns you want to work on.
Through Massive Sway, you get access to sponsored posts and product review opportunities that pay.
Once you sign up for the site, you can choose opportunities that suit your blog.
A lot of platforms that connect brands with bloggers require you to have a pretty big following – after all, many companies want to get their product or brand in front of as many people as they can.
But, Massive Sway is a little different.
It states that while getting a decent amount of traffic to your site each month is preferred, you don't need to have a huge following to be approved for the platform.
This is because some of the site's campaigns require bloggers that fit very specific criteria – for example, a campaign might need a blogger located in a particular region.
And, in those cases, the threshold for the number of page views reduces.
So, it's a good place to try if you're a smaller blogger or just starting out.
Another platform that connects bloggers and brands is Tomoson.
It is a really great platform if you're just starting to blog, or you don't have a big following yet, as there are opportunities for blogs of all sizes.
And, it's easy to find these opportunities on the site.
Brands post products that they need review posts for.
Once you've signed up, you can search for campaigns by category – which makes it really easy for you to find paid review opportunities in your particular niche.
After you select a campaign and are approved for it, you have to write a review.
Not all campaigns pay – some send you free products in exchange for the review, but there are many paid post opportunities available.
If your blog has a good-sized following, then check out Markerly.
It's a website that connects bloggers with brands to create sponsored posts.
You need to apply to join the site.
You'll also need to create an influencer profile and link to your social media accounts.
If you're accepted to the site, you'll get access to sponsorship opportunities and free products and services.
Most of the brands on Markerly are fortune 500 or fast-growing companies.
You can choose the campaigns you want to work on.
The amount you're paid for each campaign depends on your following and how much engagement your content gets.
In order to join Markerly, you must:
Post on your blog regularly.
Have consistent follower growth.
And, the following also affects whether or not you'll be accepted:
How many followers/views your content is exposed to
How many shares and comments your content gets, on average.
Another platform that offers sponsorship opportunities to bloggers is Izea.
You can find brands for sponsorships through the site, and you get to control who you work with.
Contacting companies directly
While the above websites are good for finding sponsorship opportunities and product review campaigns, contacting companies directly is also a great option for bloggers – regardless of how many visitors you get each month.
Even, if you're a small blogger, you can still find success by approaching companies directly.
If you're a small blogger, you could contact smaller, local businesses, and ask about sponsorships.
So, create a list of potential sponsors, and write an email or letter to each one.
And, whatever you do, do not make this letter generic.
Here are a few tips:
First of all, learn the name of the person that you plan to email – after all, if you can't even bother to learn the name of the person you're emailing, the brand will think you haven't bothered to research their company.
Secondly, tailor the email to each company. If you send out a copy and paste email to each brand, it will look like you don't care about the company, and why would they want to work with someone like that? A company is much more likely to work with a blogger that has familiarized himself or herself with the company's products or services.
Let the brand know that you love their products/services, and why you love them.
You should let them know about your blog stats and your pricing.
Tips for creating sponsored content or review posts
If you want to keep getting sponsored content campaigns, then make sure you do these two things:
Promote what you know: Only promote products that you like and that your readers will enjoy. If you and your readers aren't interested in a product or service, then there's no point in promoting it.
Keep it professional: After all, you're being paid to represent a brand. If your blog posts are sloppily written, and unprofessional, that company won't want to work with you again.
Sponsored Content: How much can you earn?
Like with most blogging income sources, the amount you can earn from sponsored content really depends on a number of different factors, like the brand that you're working with for example.
Regardless of your blog's size and views, you can make a pretty good income from creating sponsored content.
Check out these cases:
Parenting blog ThisOutNumberedMama.com earned $992.60 from sponsored content between June and August 2016.
Popular food blog PinchofYum.com earned $20,320 in June 2016 alone! Again, this is a bigger blog, but you can see that the earning potential of sponsored content is great.
Earnings from sponsored content vary from blogger to blogger.
If you get your sponsorship opportunities from a platform that connects bloggers and companies, like Izea or Markerly, what you earn will depend on the particular campaigns you work on, and how much commission, if any, the platform takes.
Some platforms that connect influencers and brands take a cut of your earnings for the service they provide, or some of them might charge you a monthly membership fee.
Plus, each campaign on these platforms will generally vary in how much it pays.
Of course, if you're contacting companies directly for paid sponsorship opportunities, then how much you earn will not only depend on the brand that you reach out to but also on the rate you set for yourself.
If you're struggling to decide what you should charge, then take a look at this in-depth article on how to choose your rate for sponsored content.
2. Create and Sell Online Courses
If your blog is centered on teaching or informing people about a particular subject, like writing, fishing, or sewing for example, then consider creating an educational course.
Use your blog posts to showcase your knowledge of the niche.
When a reader sees that you're giving away great information for free, they'll be more inclined to buy your course.
And, you can create your course in whatever format you want, whether it's an eBook, a video course or an audio series.
The course doesn't have to be groundbreaking – it just needs to provide your reader with what they want.
A lot of people put off creating a course because they feel like it won't be "perfect".
Often, that's just an excuse – so just get started!
Benefits of creating an online course
Online courses are a great way to make money because they are always in demand.
People love and pay good money for 'em.
You might find that hard to believe. After all, why buy anything nowadays, when you can find the same information for free online?
Well, it's comes down to one thing: Convenience.
A person would rather buy a course that gives them all of the information and advice that they need in one place – rather than having to take the time and effort to scour the Internet to find the information themselves.
Plus, online courses are ready to be put into action – which is what most readers want; actionable steps they can follow to achieve what they want.
One of the best things about online courses is that their perceived value is much higher than blog posts – because the reader doesn't know how much time or effort you spent creating it, so they feel that a full course must offer value to them.
And, best of all, you don't need to be qualified or have tons of experience in anything to create a course.
If it's well-written and offers value, then people won't care about your experience – it's your blog that positions you as an expert.
How to sell an online course
As online courses are so popular, it's no surprise that there are tons of platforms out there that allow you to sell and create them.
Here are a few of the most well-known:
Udemy is probably the most well-known online learning and teaching marketplace on the Internet.
We actually wrote a guide on how to make money with Udemy review a while ago.
Impressively, the site is home to 12 million students!
And, there are more than 40000 courses available on there.
Whether it's marketing or science, you really can create a course on just about anything on Udemy, and get it in front of millions of potential students in more than 190 countries worldwide.
And, experts of any kind, regardless of their educational background or experience can create a course and sell it through the platform.
How much money can you make from Udemy?
As Udemy is such a popular platform, its earning potential is pretty good.
According to Udemy, its top ten instructors have earned over $17 million teaching online.
And, here are some stats on what some instructors have earned from their courses
Marc Garcia has earned more than $10,000 by teaching courses to students in 67 different countries.
David Travis has earned $185,000 through his online training courses.
Felicia Ricci has earned $11,000 through her online music course.
Phil Ebiner earns more than $100,000 each year on Udemy – and he's used his blog, along with social media to promote his course.
How it Works
Create a course using the site's easy to use, free course design tools.
Sell your course through the site to millions of students worldwide.
Earn money from the courses – you keep 100% of your revenue when you promote your course and 50% when Udemy promotes it
You can learn more about Udemy's payments and revenue share policies here.
Udemy handles the rest for you – like customer service, payment processing and hosting fees.
Even though you're selling the course through the site, you keep the rights to it and have complete control over it.
You can create courses in tons of different forms, like PowerPoint slides, PDF documents, and YouTube videos – you can even combine these mediums to create a coherent course experience.
One of the best things about Udemy is the support and resources that it provides instructors with.
On the site, you can find a ton of detailed information on every step of the course creation and marketing process.
All the information you need about creating and selling through Udemy is easy to find on the site.
Teachable is an online learning platform that offers massive open online courses.
It's another great platform for you to make money teaching online.
There are more than ten thousand course creators on the site.
It offers you all the tools you need to create a course, and it's completely free to use.
How it Works
Create a course – on Teachable, you can upload a range of different files, like PowerPoints, videos and audio.
Set your income goals and price your course
Sell your course
You have complete control of your courses on Teachable.
How much money can you make?
When it comes to pricing Teachable differs quite a bit from Udemy.
There are a few different membership plans, which vary in terms of cost:
Free: As its name suggests this plan is free. But, you have to pay $1, plus 10% for all transactions. You receive payment via a Paypal deposit once a month with a 30 day delay.
Basic: This costs $39 per month – but you only have to pay 5% on all transactions. Payments are once a month, as they are with the Free membership plan.
Professional: This costs $99 per month. The site claims that this is its most popular plan. With it, you pay no fees for transactions if you set up your own payment gateways on Stripe or PayPal. If you don't use your own payment gateway, you pay just 2% for transactions. Plus, you get daily bank and PayPal deposits.
High Volume: This costs $299 per month. You don't have to pay any transaction fees. And, you get daily bank and PayPal deposits.
You can find out more about the site's pricing here.
How much money you can make really differs from person to person.
For example, Angela Fehr, a self-taught artist, made $12,000 from her first course on the site. And, she's made just $8,000 via her courses in just one month.
3. Publish an eBook
Writing an eBook and selling it on your blog is one of the best ways that you can make money online.
People love eBooks because they offer a plethora of knowledge in one handy file.
You can sell your eBooks directly from your blog, or you can sell them on Kindle – either way, it's your blog that acts as a marketing tool that prompts people to buy your book.
Kindle publishing is great if you've never published an eBook before.
Kindle Publishing has changed the way that writers, authors, and bloggers make money.
In the past, if you wanted to get a book published, you had to get an agent, and get your book in front of a traditional publisher – it was a big pain for people without connections, essentially.
And, then, kindle changed everything.
It allows anyone, anywhere to get their books in front of literally millions of customers on a global scale.
These books are incredibly popular, many even becoming New York Times bestsellers.
In the Kindle Store, you can find books on anything from Greek Mythology to Gardening.
And, you could be the creator of one of those books.
Write a book in your chosen niche – it doesn't need to be epic – it should just provide great information to the reader.
Once you've created your book, you can use your blog as a marketing tool to promote it.
Again, all you need to do is write great blog content that offers people useful information or valuable insights, and then they'll be inclined to buy your product.
You can create new books whenever you want and have a designated page on your site where people can view them.
How much can you Earn?
How much you can earn from eBooks depends on what price you're selling your books for, how many visits your site gets and a number of other factors. But, eBooks can be profitable.
Just take a look at JustaGirlandHerBlog.com…
In September 2016, the blog made $958 from its Paperless Home eBook.
4. Use Affiliate Marketing
A lot of people will recommend using Adsense to monetize a blog.
But, unless you get a lot of traffic to your site, it's not the best method.
Affiliate marketing is a much better option.
It's pretty easy to do and it's really accessible money making method.
And, if your blog is really focused on a specific niche – which it really should be, then you can make money from it, even with a small audience.
What is affiliate marketing?
Affiliate marketing is the process of selling other people's products for an agreed commission.
Essentially, here's how it works:
You choose a product or service you want to promote. You get a unique affiliate link.
On your blog, social media and wherever else, you promote it to your audience.
When a user clicks on the link or banner, they are sent to the purchasing page of the product or service.
If they buy the product or service, you receive a percentage of the sale, because you have brought in the customer using your own marketing efforts.
What to sell
Knowing what to sell can be difficult.
After all, there are tons of products and services out there – the choices can seem overwhelming!
Here are a few tips:
A. Keep it relevant
The most important factor to keep in mind when selecting a product or service to sell is this: Is it relevant to your audience?
The best product or service to sell is the one that fits in with your content.
If your blog is about travel, your audience isn't going to be interested in kettlebells.
The product or service you decide to sell should be really specific to your target audience.
For example, if you run a blog about bodyweight training, then trying to sell dumbbells to your audience doesn't make sense, but selling a pull-up bar would.
B. Only promote quality products and services
A really important thing to keep in mind with affiliate marketing is your reputation.
If you recommend a product or service to a reader, they buy it and it's not very good, then that reader could lose trust in you – and it could damage your reputation.
That's why you should only promote quality products and services.
Before selecting something to market, ask yourself: Is it a good product/service and will it please the customer?
C. Consider the quality of the merchant
The landing page on the merchant's page needs to be well-written, persuasive and good enough to convert the readers you send over into buyers.
If a product's landing page looks low quality, it's littered with spelling errors, or just doesn't seem to be very well crafted, then it's probably not going to generate many sales.
Also, consider what the merchant's customer service is like – do they offer post-sale customer care, and do they care about their customers?
Again, if the customer service is poor, then it can reflect badly on you too, as you were the one that sent the customer there.
How to find affiliate programs
Finding affiliate programs is also something that people are unsure of when they first start out.
Essentially, there are two basic ways to do it:
1. Visit a merchant's website directly and join their affiliate program
Let's say there's a store that you love and you want to promote its products.
Visit their site and check to see if they have an affiliate program.
You could also do a web search for the name of the brand/company/retailer, followed by the word "affiliate".
So, for example, if your blog is about beauty, and you love Sephora, type the phrase "Sephora affiliate" into a search engine, and you'll find out how to join its affiliate program.
2. Join an affiliate network
Affiliate networks are websites that offer a wide range of affiliate programs from different merchants.
There are tons of these networks online, but here are a few of the most popular:
Some of the best affiliate networks include:
Working directly with a company vs with an aff Network
Whether you decide to contact merchants directly or to find products and services through an affiliate network is really up to you.
There are pros and cons to both.
The main disadvantage of working with merchants directly, rather than through an affiliate network, is that some choose not to pay their affiliates when commissions are due – so you really do have to be careful.
It's best to go with well-known merchants and do your research before you choose a retailer.
Many merchants allow you to sign up for their affiliate program through their site, and provide more information on how to join the program.
Using affiliate marketing to make money from your blog has a wide range of benefits.
But, the main benefit is that it's pretty easy.
You don't have to create a product or service, you don't have to process payments, and you don't need to create any product pages.
All you need to do is provide a link to the product or service.
Affiliate marketing: How much can you Earn?
Affiliate marketing is one of the best ways that you can monetize a blog.
As mentioned above, it's really easy and you already have a product or service that's ready to sell.
Here are a couple of examples from blogs that earn an income from affiliate marketing:
In June 2016, JustAGirlAndHerBlog.com earned $7,410 from being an affiliate of BlueHost.
In August 2016, PinchofYum.com earned $2,974.12 from Amazon Associates
Melyssa Griffin of MelyssaGriffin.com earned $1673.50 in affiliate commissions in just one month.
In March 2016, BusyBudgeter.com earned $5,201.57 in affiliate commissions.
How much you earn from affiliate marketing really depends on factors like what products or services you promote, and what affiliate marketing network you use.
For example, if you sell 7 to 30 units per month on Amazon, then you'll get 6% commission.
Then, many other services give you up to 75% or more in commission.
5. Promote a Service
Using your blog to promote a service is truly one of the most efficient ways to monetize it.
You can offer this service online or offline – it's really up to you.
And, it works for so many different niches.
If you write about guitar equipment and tutorials, then you could market your services as a guitar teacher – which you could do online through Skype, or in your local area.
Similarly, if you blog about writing tips and grammar, then you could market your services as an editor.
Ask yourself this: Is there something you could easily teach or show others how to do, or even do for them?
How it works
Offering a service on your blog is pretty simple:
Make sure your blog is good.
Create a page that outlines your services
And, that's it really.
You can mention your services in your blog posts and on social media too.
How much can you earn?
It depends…
On what service you sell.
And how well-established you're as an authority in your niche.
Of course, if your blog gets 5000 visitors per month more people are going to see your services page than a person that only gets 500 visitors per month.
Here are a few examples of what you can earn from each service:
Online Tutor: Whether it's history, science, writing, technology or math, you could become an online tutor and teach people in whatever subject it is you blog about. On average, an online tutor can make $12 to $15 per hour.
Freelance writer: If your articles are well-written then your blog can act as an online portfolio you can use to find freelance writing work. How much you can earn will vary from project to project. Generally, you can earn anywhere from $5 to more than $100 for an article.
Online Guitar Teacher: The average price for a guitar lesson falls somewhere between $20 and $40.
As you can see, how much you can earn really depends on the service you offer.
6. Sell Other Products
Online courses, eBooks, services and affiliate products and services – so far, we've covered a lot of different things that you can sell through your blog.
But, here's something else that you should consider…
Selling other products.
Selling products on your blog
Let's take this example – Say, you're a productivity blogger. So, you blog about using time efficiently and being more productive.
In your blog posts, you might talk about planning – so why not sell your own planners?
That's just what JustaGirlandHerBlog.com does.
This blog sells its own planner, called the Intentional Life Planner.
And, it also offers a collection of more than 35 types of printable pages to help people to get organized.
Or, if you blog about budgeting, then consider selling something that helps people to save money.
For example, Rosemarie from BusyBudgeter.com sells a printable price book through her site, which helps people to track the prices on the things they frequently buy.
Or, if you blog about fashion, then you could sell your own t-shirts.
Whatever niche you're in, there's probably a product that you could sell through your blog to make a profit.
Of course, you need to think about the cost of selling a product on your site.
Digital products, like printouts, tend to be easier, as you don't have to worry about shipping costs or manufacturing.
If you do decide to sell a physical product, then make sure that you keep your expenses low enough to make a profit.
How much can you earn?
Like every other monetizing method in this list, the amount that you can earn selling products on your blog varies.
Factors, like the price you're selling the item for, the cost of making the product, and how many visits your blog gets each month will obviously affect the amount that you earn.
But, the one thing to remember is that good money can be made from selling your own stuff on your blog.
Just take a look at JustAGirlAndHerBlog.com. In August 2016, the site made $14,518 from selling its planners and its printable organization sheets.
7. Put Ads on Your Blog
While affiliate marketing is a money making method that you should definitely try out if you're just starting to blog, putting advertisements on your site is definitely something that you should consider once you get a bit more established.
There's a lot of money to be made from using ads on your blog.
But there's a fine line with ads.
If you place too many on your site then it can detract from your content and be a bit off-putting to the reader.
So, make sure you use them carefully!
Placing ads on your site
One of the simplest ways to incorporate ads into your blog is to work with an ad network.
These place ads on your blog and pay you in return.
Usually, you get paid based on how many times the ads are viewed or interacted with.
Here are a few ad networks that you should check out:
Google Adsense is one of the biggest ad networks out there, and with good reason.
It's easy to use, quick to set up and it's pretty flexible too.
Here's how it works:
You choose the ads that you want on your site – there are a variety of ad types available, like text, link and media-rich ads.
Once you select the type of ad you want, you can choose where you want it to appear. It's as simple as copying and pasting a piece of code into your site.
Advertisers bid for your ad space, and once that's done, the ads go live.
When someone views or clicks your ads, you earn money. The site handles the process of billing the advertisers for you. Once you've hit the payout limit, you get paid.
It's one of the most popular ad networks for bloggers, so you should definitely give it a try.
Media.net is an ad network from Yahoo/Bing that offers contextual ads to bloggers.
It claims to have one of the largest advertiser pools out there.
What's great about Media.net, and what really sets it apart from other networks is that it ensures that the ads are your site are relevant and appropriate for your content.
You can choose from a wide range of display ads.
Payment is made via PayPal when you reach the $100 payment threshold.
If you're starting a blog, you should definitely consider checking out this network.
3. MediaVine
MediaVine is a platform with a lot of earning potential.
It doesn't describe itself as an ad network – instead, it states that it's a publisher network that can assist you in generating ad revenue.
The best thing about the site is that you don't have to run as many ads as you do with other networks.
But, the platform requires 100% of your ad space – for companies looking to buy ad space, this is really valuable, meaning that you can earn more for fewer ads.
4. AdThrive
AdThrive is an ad network that caters specifically to bloggers.
It offers ad optimization and management to blog owners.
The best thing about this network is that it takes care of everything for you, like:
Placing the ads on your site.
Finding the best-paying advertisers.
Recommending new advertising strategies.
5. Monumetric (formerly known as The Blogger Network)
Monumetric is an ad network that describes itself as a full-service ads partner that's designed to help you reach your revenue goals.
You can work with the site and place a variety of different ads, from video ads to mobile-specific display ads on your blog.
You have quite a lot of control over what ads are placed on your site too.
How much can you earn?
Ad revenue on blogs can be pretty high, especially if you have a large following or high user engagement.
Let's take a look at a couple of examples:
Things to Keep in Mind
When running and monetizing your blog, make sure that you keep the following points in mind:
1. The content should come first
While there are many things that you can do to monetize your blog, one of the simplest and most seemingly obvious is this – create good content.
When it comes down to it, people read blogs to be informed or to be entertained, in the case of sites like Cracked.com and Buzz Feed.
They want content that is going to satisfy them.
People don't want to visit a blog that's got tons of advertising or where the creator is pushing a "salesy" agenda.
So, if you start to put money above good content, it will show on your website.
Visitors will be able to tell.
And, then you'll lose a lot of readers and you'll prevent new readers from following your blog.
2. Don't be afraid to "give away" information
A lot of bloggers hold their content back because they are afraid that if they give away too much information for free, then no one will buy their eBook, course, or whatever other product their selling.
But, that's not a good thing to do.
When you give people great information for free, that's when you gain their loyalty.
You establish yourself as the go-to person in that niche for the reader.
And, that type of loyalty is invaluable.
It boosts your following and it makes readers think "if this guy is giving away this valuable information for free, then his book must be great too".
It increases the reader's desire to buy from you, and thus makes you money!
3. Stay within one niche
Unless you're a news site or a comedy site that covers lots of different themes, trying to blog about more than one subject is a really bad idea.
Choose one niche and stick with it.
This is beneficial for a number of reasons:
It's easier for Google to determine what your site is about – and therefore, rank your site.
If a reader sees that you're blogging about sewing, car maintenance and hair care, you'll probably not only confuse them, but you'll also make yourself look like a bit of a jack of all trades, master of none type of blogger. And you definitely don't want that. Blogging in just one niche makes you seem like an expert and an authoritative person that the reader trusts and values advice from.
And, don't think that sticking with one niche is hard either.
If you pick the right niche, you'll find that there are tons of different facets of it that you can cover.
Let's take the yoga niche for example.
Within just this one subject area you've got:
The different types of yoga – like Bikram and Asana
Yoga for different body parts – back, shoulders, arms etc.
Yoga poses for different skill levels
Information on yoga equipment – like what you need to get started and product reviews.
And much, much more.
As you can see, writing blog posts isn't how bloggers make money – not directly anyway.
People don't have to pay to read your blog posts.
On your blog, you give away your tips, your expertise and your stories for free.
But, your blog itself can be a platform for generating traffic and building a loyal following – and, as a result, make you money.
If you use your blog as a content marketing tool – and you consistently offer valuable, fresh and useful content to your audience, then you'll attract a lot of readers that will turn into paying customers.
Takeaway
Always remember that your blog is the marketing platform, not the product.
People can read your blog for free, so it's the other things, like eBooks and courses that make you money.
So, use your blog as a marketing tool.
Make your blog great so that people want to buy what you're selling or advertising.
And, one final tip, whether it's sponsored content or eBooks that you want to make money with, always offer an email sign up form.
Encourage people to opt-in for your email list on your blog.
You can use your email list to further build and nurture relationships with your readers.
Then via emails, you can drive them back to your website to purchase your products and services.
Follow these tips, and you're sure to start earning money from your blog.