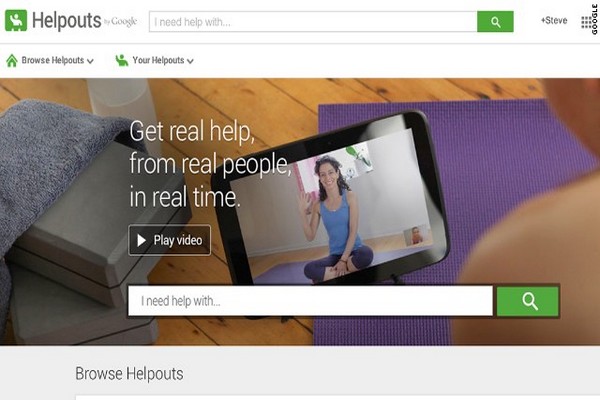 Update: Unfortunately, Google has shut down the Helpouts.
If there is one company that everybody knows for sure, it is Google.
Google has been making a massive expansion into all kinds of fields in the last decade, and it has become a common occurrence to hear about a new Google app, product, or service.
Well, there are certainly a multitude of services from Google worth talking about, but today we'll be talking about Google Helpouts.
Google Helpouts is a way to make money for those who are good at a skill and are capable of teaching others.
Google Helpouts launched towards the end of 2013, in November.
Need Easy Extra $300+/Month for Free?
KashKick
: Get paid directly into your PayPal for watching videos, surfing, shopping and more.
Join KashKick Now!
InboxDollars
: Paid over $57 Million to members to watch videos, take surveys, shop and more.
Get $5 instantly!
Branded Surveys
: Get $1 instantly just for joining for free. Plus get paid within 48 hours by PayPal!
Join Branded Surveys
First Opinion
: Get paid up to $10 per survey and $300 per virtual focus groups!
Join Now!
Swagbucks
: Get paid to watch videos, shop online, take surveys and more.
Join now & get $10 instantly!
This is Google's platform for providing instructional services, or just general help. It is a service that came to be after the advent of widely-available video communications options, namely the idea that many people now have high quality cameras inside their electronic devices.
The service capitalizes on this opportunity and allows customers to use their devices to connect and communicate with one another through the Helpouts app or website.
Of course, the main idea of Helpouts is that it is a paid service. It's just like Udemy where you can earn money teaching almost anything.
Regular people like you and I can make an account, design it to advertise the skills we can offer, and then potential customers will contact us to inquire about our services.
Each instructor sets their own price and provides their own video communications equipment.
Ideally, this would mean a high quality webcam and microphone at your computer, but it could also mean just using your Helpouts app from your smartphone.
Think of all the skills you have, and whether or not you could teach them at a distance.
It could be something simple and classic, like teaching someone how to play guitar, or it could be rather complicated, like teaching someone how to code Python.
It is probably best to go in attempting to teach a skill that is of a middle difficulty, so that you can account for the disadvantages of the video-based medium.
This is especially true if you're teaching a very "physical" skill, because some things are hard to teach if you can't pose your student this way or that (like teaching ballet, for example.) If you can clearly explain the skill to someone, that's a great sign that you can probably teach it through Helpouts.
What Can You Not Teach?
On the topic of what to and what not to advertise through Helpouts, you obviously shouldn't be advertising any dangerous services. You might know how to juggle flaming chainsaws, but the safety regulations required to teach such a thing probably aren't covered through Helpouts.
Furthermore, you can't offer any illicit services, so that means nothing sexual, and no gambling! Google isn't looking to be directly involved with anything like that, but if that's what you're interested in, you can almost certainly find a place to organize that with a quick Google search.
Getting Paid
As for payments, they are handled through Google Wallet and Google takes a 20% cut. It might seem a little unfortunate that they take that large of a cut, but Google brings untold brand recognition to this service, and that's something that other competitors can't replicate.
How to Sign up to be a Helpouts Instructor:
1. Browsing, booking, and instructing
As for browsing and booking, there is no limitation on who can be a customer of Google Helpouts.
You can tab over from this very article and be browsing immediately!
But becoming an instructor is a little more stringent. Google curates their content providers, so that means you're going to need to get an invitation code.
Don't worry if you've never received one, because you can request one.
Once Google gets back to you with your invitation code, you will be permitted to start posting listings.
If you are looking to build a customer base or a portfolio, you have the option of offering your services for free.
Furthermore, you can offer a free first session to inspire customer confidence.
If you're highly confident in your skills, you can also skip straight to listing paid services. That's probably what you're interested in, after all!
You will have to link a Google Wallet account to your Helpouts account so they can send you your payments, so you'll also be making one of those when you make your Helpouts account if you don't have one yet.
2. Creating Listings
This is a simple and streamlined process, thankfully.
Google has definitely put some work into the design of the site to make it as easy as possible to organize your listings and instructional sessions.
We'll give you a 3-step description of the process below.
– Title your listing. Usually, people will avoid anything flashy and name it something simple. This makes it easier for your customers to tell what you're offering.
– There will be a drop down menu where you can assign your listing to a category. Technology, fitness, music, that type of thing. This way, your listings will be placed in an area where your potential customers can see it.
– Create a description for your listing. Only 140 characters will show in the browsing area, so think of your first few sentences like a Tweet– you'll need to be short, sweet, and clear so that nobody gets confused about what you're offering. However, once the potential customer clicks on your listing, they will be able to see the whole description for your service. Feel free to lay it all out after you pass 140 characters.
– (Optional) You can talk a little bit about yourself on the listing in the area that says "Qualifications." If your customer is on the fence about giving you $30 for Photoshop lessons, this is a good place to tell them that you worked for 5 years as a graphic designer, and graduated top of your class in art school, or whatever your qualifications are. It is an optional step, but a recommended one, because customers like someone who has authority.
3. Pricing Your Listing
Now, we start getting to the meat of the matter.
Everybody (or almost everybody) is looking to make some extra money through Helpouts, so this is a very important part of the process.
First, you'll need to choose whether you are offering a free or a paid service.
As discussed above, free services are great for building up a customer base and/or getting your feet wet in the instructional field. If you've never taught somebody this skill before, it's probably worth your time to offer a few free sessions so you can get some practice. It isn't that you can't jump right in and start charging people, of course, but if you want your customers to really like you (and you want the best reviews) you'll want to be prepared to offer a high quality service in return for their money.
Next, you can (optionally) choose to charge a cancellation fee.
This can be done in one of two ways, depending on how your structure your services.
If you charge on a per-Helpout basis, you have the option of charging the customer half of the total price for cancellation.
If you have a Helpout which is priced per minute, you can charge a cancellation fee equal to 5 minutes' worth of time.
These cancellation fees have the potential to get pretty steep, so it is recommended to be very careful with when and how you implement them.
If it requires a lot of effort and coordinating for you to get ready for a Helpout session, it might be alright to charge a cancellation fee for you to recoup your losses. But if you are charging a half price cancellation fee for a $50 service, you might imagine that customers losing $25 in return for 0 instruction minutes are going to be a little upset. You're well within your rights to charge the cancellation fees, but be careful about how it will affect a customer's opinion of you.
After you finish your listing, it will be submitted for review.
A Google employee will look over it, and then schedule an interview with you to touch base.
4. The Video Introduction
This is basically the commercial for your services, and it's what customers are going to watch when they are trying to figure out if you're the one for them.
Because of this, it is of the utmost importance!
Now don't freak yourself out, just make sure you do a good job on it.
You can submit it in one of two ways:
you can record a video of yourself talking and upload it straight to Helpouts,
or you can take your time and make a whole video, then upload it.
Even if you don't have much in the way of video editing skills, it's highly recommended to put some effort into this! It looking good, sounding good, and seeming good are the vital basis for whether or not you net customers.
You might even want to go look up a Helpouts session for video editing.
5. Getting Reviews
OK, so alongside your video introduction, reviews are going to be absolutely critical to how your customers perceive you.
Even 1 bad review can sink the ship, so you're going to want to be on your best behavior to make a good impression on your customers.
Many people start with free services to build up their reputation, much like we were discussing above. Even though many people are offering it for free, it's still a good idea to consider doing that yourself.
A fair portion of visitors to Helpouts are going to want to only choose the free services, so you're going to need some good reviews and reputation if you want to rise through the ranks to become a person that people want to pay for. In this way, there is a certain degree of investment necessary for having a successful Helpouts account. The more people like you, the more people will use your services, and you can charge higher amounts / book more customers.
Always keep in mind how your self-presentation will affect the reviews of your services. Losing a little bit of money to avoid upsetting a customer is not a bad thing at all, because their review is worth almost as much as their business.
You should know that if you offer a service for free, but want to start charging for it, you can change it from "free" to "paid' and you will keep all your reviews. This is a great tactic for bolstering a Helpout you are serious about, especially if it is your specialty skill.
6. Promoting Yourself
It is, of course, a good idea to promote your Helpout elsewhere.
Most of your business will probably come from the Helpouts site itself, since that's where customers go when they are seeking your service.
But getting your name out there might be the difference in getting a customer and not getting a customer, so you wouldn't want to waste the opportunity.
Promoting for Helpouts is a one-way street.
You can share it on social networks, advertise it on your blog, or put it in the description for your YouTube videos. However, you can't use your Helpouts account to advertise your blog or YouTube channel.
Helpouts is an end destination only.
The Bottom Line
With all this in mind, you are prepared to try your hand in the field of Google Helpouts.
It will take an investment of time and energy, but pay off if you are diligent.
After all, $1/minute, or $30/hour, whatever your rate is, will be pretty easy to evaluate the worth of. And it's almost definitely higher whatever your rate is for your day job.