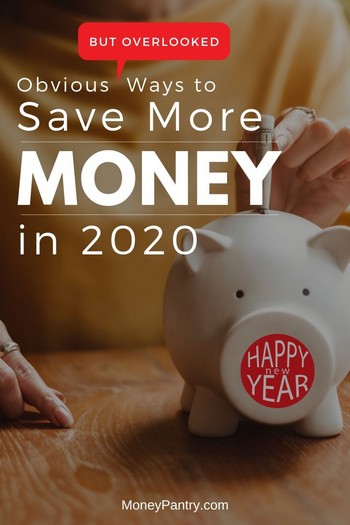 New Year is the time to make promises to better yourself for the upcoming year. One of the main new year's resolutions people mention is saving money, especially now when the economy has been so hard on people.
In this article, we will be showing you the many ways you can save more in 2020.
Resolutions don't have to be limited to health, well-being, or losing weight. This is actually an excellent time to start reworking the way to approach money. Since the holiday season is over, you won't feel obligated to spend a ton of money while you are working out better financial habits!
In this article, we will be discussing how to control your finances, set deadlines and goals for yourself, find alternatives to particularly harsh expenses, and much more. Most importantly, all of these money tips won't end up hurting your social life. Remember, saving money doesn't have to make you feel miserable!
How to Save More in the New Year
You don't have to follow all of these suggestions. Even just selecting a few small ones can make a huge difference to your bank account if you do them for a year. If you stay focused, you can completely change your financial life in just a year!
1. Save whatever you can each month
Sometimes people feel like they shouldn't even bother saving money because they can't contribute much. Believe it or not, even putting away $5 can make a difference. Never give up just because you feel like its not enough.
Need Easy Extra $300+/Month for Free?
KashKick
: Get paid directly into your PayPal for watching videos, surfing, shopping and more.
Join KashKick Now!
InboxDollars
: Paid over $57 Million to members to watch videos, take surveys, shop and more.
Get $5 instantly!
Branded Surveys
: Get $1 instantly just for joining for free. Plus get paid within 48 hours by PayPal!
Join Branded Surveys
First Opinion
: Get paid up to $10 per survey and $300 per virtual focus groups!
Join Now!
Swagbucks
: Get paid to watch videos, shop online, take surveys and more.
Join now & get $10 instantly!
For instance, imagine if you saved something like this for six months:
Month one – $20
Month two – $5
Month three – $15
Month four – $30
Month five – $10
Month six – $20
In just six months, you would have put away $100. That may not seem like much, but that money can help you pay a phone bill, internet bill, or get you a full tank of gas during emergency situations.
2. Budget, budget, budget!
I know, setting up a budget isn't fun. It's a lot of math and thinking about your life decisions. Here's the thing though: it doesn't have to suck! There are tons of apps out there that can automatically help you.
Here are some apps that can help you budget without any pain.
3. Set a monthly allowance
Before you start spending all your paycheck, set up a monthly allowance for yourself. This is the money that you will allow yourself to use when you go out or when you want to buy something for yourself. Then you put the rest of your paycheck away for bills or savings.
Not only does this ensure that you will have the money you need when it comes to paying for your expenses, but it will also keep you from overspending on things you honestly could have gone without.
4. Don't eat out all the time
Going out to a restaurant is a lot of fun, but you honestly shouldn't do it all the time. Eating out is extremely expensive compared to staying home and cooking for yourself. Instead, start investing your time into learning how to cook.
You might surprise yourself by finding you can actually make better meals than your local restaurants!
5. Pack lunches for work
This goes along with the last tip. I know its tempting to head for your nearest fast food place when you are on a lunch break, but think about it this way: would you rather get an overpriced burger or some tasty home-cooked food you made the night before?
Plus, it honestly doesn't take a lot of effort to plan out your lunches. Check out my favorite cooking site, which actually tells you how much it costs to make the recipe and the cost per serving!
6. Make coffee at home
I'm not going to lie: I get tempted to go out for coffee too. I love going to my local coffee shop! However, spending $4 a drink can really add up.
If you are really serious about saving money, you need to cut back on your coffee spending. If you are a coffee snob (it's okay, I am too), try getting yourself a French Press! It's cheap, easy to use, and makes great coffee.
7. Buy food in bulk
Grocery stores like to price smaller items at higher costs per ounce. Next time you need to buy a staple pantry item, buy the bigger bag. It will last a lot longer and you will be saving money in the long run.
This especially works on items like:
Rice
Dry beans
Pasta
Flour
Peanut Butter
Salt
Pepper
Olive Oil
Baking Soda
Baking Powder
Honey
One major tip when it comes to this: only buy in bulk when it comes to items that take a long time to expire. Things like milk or produce? Buy smaller portions so they don't expire before you can use them.
8. Don't buy something new, exchange it!
Have some clothes you'll never use? Makeup you've literally never opened? Shoes that simply don't go with anything you have in your closet? A book you finish reading?
Instead of buying replacements, arrange an exchange with your friends. Every couple of months, meet up with each other and trade items you don't want for something new. That way, you all are saving money and you get to hang out with people doing something rewarding! That's a win/win.
9. Thrift store shopping
It wouldn't be a "save money" article without encouraging you to buy used items. However, when you go out shopping at a thrift store, there are a few handy things you want to keep in mind.
Don't buy items you don't need
Just because something is cheap doesn't mean you should waste money on it
Make sure what you buy is nice quality and isn't falling apart
If you need something that you plan on using every day, you might be better off buying it new so that you can actually rely on it (especially with appliances!)
You can either shop at these online secondhand stores or find one near you.
10. Check your subscriptions
Do you know how a lot of mainstream brands are splitting off to make their own subscription services? Yeah, it's time to look at those.
Ask yourself, do you really need a subscription to:
Disney Plus
Hulu
Netflix
Amazon Prime
CBS
YoutubeTV
HBO
Spotify
Apple Music
and the dozens of monthly boxes of junk you end up not caring for?
Limit your subscriptions to the top three things you absolutely can't live without. Trust me, you're going to end up noticing you didn't need that extra stuff anyway.
11. Invite your friends to hang out at home
Everyone is trying to save money. It's okay if you can't afford to eat out every week just to hang out with your friends. Instead, why not invite them to come to hang out at your place?
You can play games, watch movies, or cook together.
12. Don't drive everywhere
This is going to work more for someone who lives in a city but other people may find it useful. Instead of fighting traffic — and spending a ton of money on gas — by driving, try finding other methods of transportation.
You can:
This can save you a lot of money and it's better for your health and the environment too!
13. Buy a gas-friendly car
If you are going to buy a car this upcoming year, look into getting something fuel-efficient. Not only will this save you money in 2020, but it will also save you money for many years to come!
14. Earn cashback on groceries
You can save a ton of money just by using cashback apps on your grocery trips. Check out our recent article on the best ones to use in 2020!
15. Don't wash your hair every day
This saves money on expensive hair products but it also saves your hair. You don't want to cause damage to your hair by constantly stripping good oils from it.
16. Use reusable washcloths instead of paper towels
This actually does save you money in the long run. If you just reuse the same five or so wash clothes, you won't have to buy paper towels every one or two months. That can really add up!
17. Keep stock of the stuff you already own
Write down what have in your pantry and medicine cabinet. Then, before you go on your shopping trips, check the list to make sure you aren't buying something you own.
This is especially useful for the medicine you don't use often, like Tylenol or allergy pills.
18. Plan your meals carefully
When you're about to decide what to cook for the week, check what you already have in the fridge. Plan your meals around what you own so you don't have to buy a bunch of extra stuff!
19. Be strategic when it comes to dishes and laundry
Don't run your laundry machine or your dishwasher until you have full loads. This will save you money on water, soap, and electricity!
20. Don't purchase stuff right away when shopping online
It happens to all of us. You go on Amazon to shop for something specific you need and then you add a bunch of extra stuff to your cart you thought looked good.
Wait a day before clicking the confirm order button. You might find that all that extra stuff isn't as needed as you thought.
And if you're a big Amazon shopper, don't forget to use these awesome hacks to save more money.
21. Skip buying soda
Replace your drinks with water or tea instead of soda. Why? Besides the fact that it's healthier for you, it's actually cheaper per serving. Most kinds of teas only cost a few cents to make as opposed to $1 or more per can.
22. Buy frozen fruits and veggies
Frozen food is cheaper and can be used for most meals without you telling the difference. You can also use them to make healthy smoothies that are cheap!
23. Make more money!
This may be obvious but it's worth mentioning. If you make more money, you can save more money. And these days, thanks to so many apps and websites, it's easier than ever to make extra cash. Check out these posts for legitimate easy ways you can earn extra cash:
100+ free ways to make money: Read now
Big list of high paying online survey sites: Read now
Legit ways for beginners to make money online: Read now
Treat the money you earn with these sites and apps as a bonus. Don't even count them as part of your take home paycheck. Put them straight into a savings account. That'll quickly increase your savings.
Final Thoughts
Trying to live a more financially responsible life doesn't mean you need to be miserable. There are great ways to save money in 2020 that don't take much effort for you to do!
Plus, if you start saving money now, you can live a lot more comfortable and happy in the future. You can use that money to cushion you during an emergency, plan for retirement, or save up for a major purchase like buying a house. In the end, you'll find yourself a lot less stressed about your financial future which is something we all should feel comfortable about!
Do you have any tips for saving more money in 2020? Do you have a financial new year's resolution? Let us and our readers know about your ideas in the comments below!