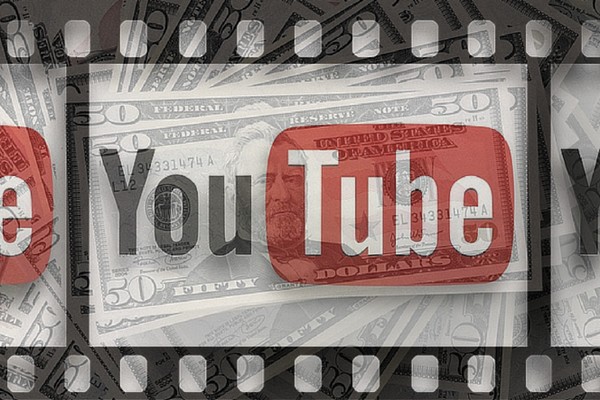 It is no secret that there are many people who make money on YouTube.
There are some who even make their entire living off YouTube, though for most people, it's just a great way to supplement their income.
Some people think it's dying down, but there is still room for anyone who wants to make money with Videos on YouTube.
Let me be clear about one thing don't waste your money on so-called "YouTube Money Making Guides".
You know, those eBooks and "courses" that claim they have the secret to making easy money on YouTube, and that you can access their secret once you buy the eBook?
Let's get this out of the way, there is no secret!
Need Easy Extra $300+/Month for Free?
KashKick
: Get paid directly into your PayPal for watching videos, surfing, shopping and more.
Join KashKick Now!
Panel Payday
: Earn up to $75 per survey. They also pay up to $50/hr for mystery shopping.
Join Now!
InboxDollars
: Paid over $57 Million to members to watch videos, take surveys, shop and more.
Get $5 instantly!
Branded Surveys
: Get $1 instantly just for joining for free. Plus get paid within 48 hours by PayPal!
Join Branded Surveys
iPsos iSay:
: If you have to only sign up for one paid survey site, go with Ipsos (high paying survyes)!
Join iPsos Now!
Swagbucks
: Get paid to watch videos, shop online, take surveys and more.
Join now & get $5 instantly!
When it comes to it, there is only one way to make money on YouTube– producing great videos and getting as many eyeballs as possible in front of them.
Sure, you can change things around and come up with different twists, but the core strategy stays the same. Popular videos are what make money on YouTube, period.
Today, I am going to show 2 ways to earn cash with YouTube by taking that core strategy and putting a spin into it.
Let's start with the first method…
1. 1st Method: Using Channels
The first method relies on what's called a "YouTube Channel".
It involves creating a channel, making and uploading videos to it, and building a fan base around your channel, then monetizing that traffic.
What's a YouTube Channel?
A channel within YouTube is a line of videos that are produced by one person. When someone clicks on one of the videos you've made, they are redirected to your channel where all of your videos are housed. If your videos are interesting enough for this person, he or she will subscribe to your channel and becomes a fan.
There are tons of people who succeed in making their YouTube channel a hit. They have videos that people find useful or entertaining, thus they have a heavy flow of traffic.
When I look at what I subscribe to via YouTube, I find that most are videos that are educational to me in some way.
So, how does someone go about actually making money from this?
When you have added a YouTube video and set up your YouTube channel, you can have advertisements shown on your videos to viewers, and you earn money for every X number of views.
Based on personal experience, you can earn around $2 for every 1,000 views of the video.
This amount of money may not seem very high, but this is income that can easily add up.
For example, if you were able to make 200 videos over the time frame of a year, then these 200 videos get viewed 5 times each. You automatically have $2 in your pocket since this adds up over time.
The best part is, you are earning this $2 without really actively doing anything since you have already produced the video.
As you can see, the effort you make with making a YouTube video not be instantly awarded, as not many people start earning money immediately. It is a slow process that gets better over time.
It's a true passive income method.
For example, you may start off by uploading one video per week. Within a few months, you may only be making a penny or two from the video views. But, you get more and more views over time, thus you increase your earning potential.
Those who are lucky may develop a YouTube channel that is instantly a fan favorite, which results in more views. If this is the case, a person could have 500 videos on their channel that get around 50 views each per day. In one day, all of these videos combined have 25,000 views, which means you have earned $50 that day.
This method is great for those who want a little money on the side, yet they are ready to be patient.
The best way to ensure that this does turn into income is to ensure that the subject of your videos is something that you are interested in and have a passion for.
If you already have a topic that you are interested in, then it really just boils down to making the video in a way that is going to be entertaining, as well as possibly teach viewers something new.
You can edit these videos if you have the know-how, but some of the best videos are not edited, they simply show a person who has a keen interest in a topic and explains this in a way that is easy for a person to be interested in.
Come up with a list of interesting topics
The first step in making YouTube videos is to come up with the idea for the videos.
An example, if someone were an expert or particularly knowledgeable in the area of gardening would ask themselves:
What type of gardening technique do I want to explain first?
Should I talk about a certain tool that needs to be used?
What about preparing for a garden?
…
These are aspects that people would be interested in, especially if they are just starting to garden. Thus, it is aspects that not only teach, but are entertaining as well.
Narrow down and choose the best topic
Once you have a list of topics that you could cover via video, look at your list.
Find the one topic that would be the easiest to film.
The idea with starting with an easy topic is to slowly get yourself immersed into video making and editing.
Then simply use your camera in order to talk about the topic.
After you have filmed your video, sit down and watch this.
Is it terrible?
If so, what makes this video terrible?
Note what needs to change in order to make this video better, and then apply this on the second round of making the video.
You may find that you have to repeat the process several times, which is fine, as you are learning something new each time.
Once you have a version that is not bad, then stick with it.
Now that you have filmed your video, it is time to sign-up for YouTube.
Make sure that you opt for the option to allow ads to be displayed on your video. That's how you are going to make your money.
You will want to create a channel and name this something that is going to explain what your videos are going to offer.
For example, someone who is offering gardening advice may name their channel "Garden Tips and Tricks by Jack".
Once you do this, upload your video and title this something that is short, catchy and explains what the video is about. The better the title, the more likely people are to find it.
For example, if your video discussed proper gardening tools that everyone needs, you could entitle the video "The Guide to Needed Gardening Tools".
After the video is uploaded, copy the link and send it to a few friends in order to get the views started.
At first, you won't get many views and you are only going to make a few cents for every few viewers that you get. This can be very hard to continue with when you do not see results at first, but the longer you stick with this, the better you will perform in the future.
Repeat the process, and upload videos continuously.
Make sure that you keep the videos entertaining or educational. And always pay attention to the title of the video to ensure that this is something that people are going to search for.
Keep thinking up ideas for new videos and jotting these down, as you will eventually get to complete your list.
While you are running with your videos, be sure that you do explain the basic aspects of your topics, as well as those things that are in-depth. This way you are appealing to all people of various degrees of talent or interest.
I found that while making the videos and also writing articles, this gave me more information to think about, and in turn, my videos started to get better.
For example, I wrote for MoneyPantry, and this really helped me to get a hold on finances, and helped me to change some of the bad habits that I once had.
One benefit that people do not think of when it comes to these YouTube videos is that this can help you as well. Though you may not make a lot of money at this at first, you are learning how to better yourself. For example, a person that posts about gardening topics will eventually find that their own personal gardens are better.
You should not worry that your first few videos may not be up to par. You will get the hang of presenting in no time. You may want to consider looking into a video editor for beginners and deleting the parts of a video that are questionable or show you in an unfavorable light.
Keep uploading interesting videos & you'll start to make money
After a while, you may wake up in the morning and find that you have earned quite a bit of money while you were sleeping.
Once you establish a fan base, they are going to be eager to see more videos, thus you want to stay on top of uploading new videos onto your YouTube channel.
You can devote as much time to this endeavor as you want. However, it is a great way to earn a little extra cash, while not actively doing much.
2nd Method: Helping Local Businesses
The second method of making money via YouTube is to work with local businesses, and eventually you can go with national businesses. But it is best to stick with local until you ensure that you know the methods to use and how to do this.
This method can help you to earn money faster, as local searches tend to gain more viewers' attention than those that are just on a specific subject.
You are basically going to use the videos on your YouTube channel to rank a local keyword. Since videos are something that are hot and easily rank, it is relatively simple to do. Here is how to get started with this method:
Locate a local business that is interested in coupling with someone to help promote them. This can be any local business in your area.
No matter what type of business this is, the process is going to be the same. For the purpose of this guide, we will use a local bar as the business you are using.
Create a promotional video
You will want to go to the local business owner and tell them that you are interested in making an advertising video for them that you will upload onto YouTube for them. Point out that this is going to be free, as most local businesses are always interested in free advertising.
The key is that the local business owner, in this case, the bar owner has to give you permission to shoot a video of the bar.
Once you have permission, take your video camera and go to the bar, or other business, and basically shoot the video.
You want to show the world what the business is all about. Make the video interesting, so use your creativity to do this. For the bar, ask the owner if they have something special on certain nights that could help you in displaying what the bar is about.
With a bar, you want to have a video that shows the patrons of the bar having fun and being merry. The more you portray this, the higher the chance that people will start to come to the bar.
What if I can't make videos?
If for some odd reason a person does not want you filming their business, there are no worries. You can take pictures and place these into video format, sort of a slide show, which can be fairly simple to do.
There is a free tool called Animoto that can help in making photos taken look as though the slide show was created by a professional. This tool can also be used in helping to edit videos as well.
Important Note: Always place your name, website, phone number and other information at the beginning and the end of the video. This is what is going to get you noticed as someone to make these videos, thus take credit for the work that you have done. This is the way in which you can make money!
Upload the video to YouTube
Once you have completed your video then you are going to want to upload this to YouTube to be viewed. You will want to choose keywords to describe the video that are going to help the local bar or business that you are making the video for.
For example, a bar that is located in Chicago could use keywords such as "best local bar in Chicago", "locals bars in Chicago", and the like.
On the description of the video, be sure that you take the time to write something that is great. You want to describe the business, what it offers, and basically make this a glowing review of the business.
Also link to any social media that the business may utilize so that they are easily found.
If for some odd reason, the business you are dealing with is not connected into social media, then you have just found another money earning opportunity, as you can offer to set these things up.
You do have to do some link building in order to make this video as successful as you want. Link building is almost a necessity in everything that makes money online. The good news is that with most videos, there is not much you have to do.
Videos that have local keywords are more likely to start ranking on their own. But, in order to ensure that you have not wasted your time and that the video is going to do what you want, it does not hurt to do a bit of link building.
A great way to do this is to write a few articles on the subject of your video.
For example, if you are doing videos for a local bar, then write an article on bars. And then include a link to your video for more information.
You will then want to upload the article to various article directories. You can put the video you made on other sites as well, if you so wish.
Get other local business to see the video
The key to this method of making money locally, is that you are liable to get other local businesses who are interested in what you have done.
Once they see the local bar video, they may call you in order to get you to do the same for them.
This is where you are going to start to get more clients, hence the importance of putting your contact information into the video.
Be prepared for other local businesses offering to pay you for the services that you can offer. It cannot be simple enough, as these businesses are going to seek you out. Thus, make sure that this video highlights the business and you, as well.
Do not start making your video with the idea that this has to be perfect, as this is how you can set yourself up for disaster. Instead, post it, and then make changes if needed or after you learn a few more aspects.
The key is to get started and keep learning.
Final Thoughts
I have used this method in the past, and still use it at times now. When I owned a business, a flooring installation business to be exact, I did this and was getting calls from other local businesses who wanted to pay me to do their business video.
I emphasize the fact that with this method you need to start simple and make sure you take action as this can be a very profitable adventure in making YouTube videos.