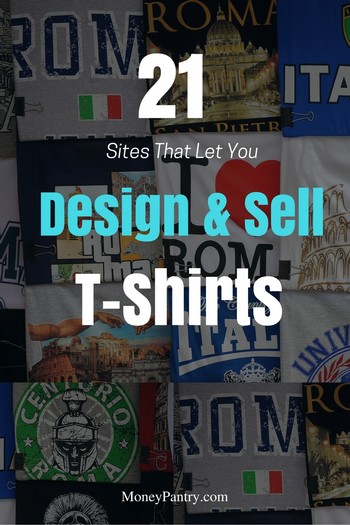 If you've ever looked up making money online, then you've probably read about selling t-shirts.
Selling t-shirts online to make money is a big industry that even the little guys can turn into a profitable business.
Each year, two billion t-shirts are sold – that's pretty amazing.
And, you could be one of those people making money from these sales – all from the comfort of your own home.
There are tons of websites that allow you to make and sell custom t-shirts.
What makes using these sites the best way to sell t-shirts online is that you can sell shirts online without any inventory.
Need Easy Extra $300+/Month for Free?
KashKick
: Get paid directly into your PayPal for watching videos, surfing, shopping and more.
Join KashKick Now!
InboxDollars
: Paid over $57 Million to members to watch videos, take surveys, shop and more.
Get $5 instantly!
Branded Surveys
: Get $1 instantly just for joining for free. Plus get paid within 48 hours by PayPal!
Join Branded Surveys
First Opinion
: Get paid up to $10 per survey and $300 per virtual focus groups!
Join Now!
Swagbucks
: Get paid to watch videos, shop online, take surveys and more.
Join now & get $10 instantly!
But, you do have to design them yourself though (or you can outsource that part to freelance designers on sites like Fiver).

But how hard is it to design custom T-shirts?
Selling custom tees is a great opportunity for designers who want to sell their work.
But, designing t-shirts isn't just limited to those with artistic talent.
Anyone can do it!
Many t-shirt selling platforms offer their own easy to use design tools.
Some even offer their own artwork that you can use.
Often, it's as simple as dragging and dropping design elements.
So, even someone with no design experience can create a pretty awesome t-shirt.
And, if you don't want to design the shirt yourself, you can hire someone to do it for you – but, more on that later.
Best Sites to Sell Custom T-shirts
Finding platforms to design, print, and sell your t-shirts on can be a little difficult and a bit time-consuming.
So, to save you a bit of time and effort, we've compiled a list of the best platforms you can use to make money selling t-shirts online.
1. Spring (Formerly known as Teespring)
When it comes to popularity, Teespring is right up there among the most well-known custom t-shirt sites.
It's essentially a crowdfunding and eCommerce platform for t-shirts. With the site, you can create and sell your own custom t-shirts.
Here's how it works:
1. Create your T-shirt
Designing a t-shirt on Teespring is incredibly easy. Visit the create a design section of the site. There you are presented with an image of a blank t-shirt.
And, on the left and the right of it, you have a wide range of design options. You get to choose everything from the color of the t-shirt to the artwork featured on the front and/or back of the piece.
What's useful about Teespring is that, while, if you want to, you can upload your own designs, the site also offers its own artwork.
You can drag and drop the designs anywhere you want – so designing a t-shirt takes just minutes.
2. Price the T-shirts
After you have designed your t-shirt, you need to set your price. The fact that Teespring allows you to set your own price is one of the best aspects of the platform.
At this point, you also need to set your sales goal – this is the number of shirts that you plan to sell through your campaign. Keep in mind that your sales goal is the minimum number you need to meet to have the shirts printed.
The higher the sales goal, the more profit you get.
The company charges the customer a base price for the t-shirt – this is the cost of making and shipping it. Then, you set a final selling price.
The profit you get is the final selling price, minus the base cost of the t-shirt – here's an example of the base cost per shirt, with a sales goal of 50 units:
A plain, basic tee on the site, with no designs, costs $5.75 per unit.
The same t-shirt with one piece of the site's clip art costs $7.67 per unit.
The same t-shirt with one of your own designs costs $13.75 per unit
So, if, for example, you choose a basic shirt with one piece of the site's clip art on the front, and you sell it for $21.99, then your profit will be $14.52.
It's up to you what price you set – but most people recommend pricing shirts at around $19 to $21.99 each.
Buyers can reserve your shirt during your campaign. The buyer will only have their card charged if you meet your sales goal or if the campaign is profitable for Teespring.
3. Set up Your Campaign
Now's the time to give your campaign an interesting title and write a good description of it.
At this point, you also need to choose the length of your campaign – this can range from three to 21 days.
And that's all.
If you hit your target sales goal, then the company will print your shirts and ship them to customers.
You're paid the profits via PayPal.
2. CafePress
With CafePress, you can create your own customized online shop. And, you can personalize it using the site's professional-looking, pre-made templates – or upload your own graphics and HTML.
You can add your own branding, create your own deals and organize your products however you want!
It's one of the most flexible, personalized and customizable platforms for selling t-shirts.
You can make money selling t-shirts, and sell your designs on 250 plus products.
Here's how it works:
Open your Store: Create your own store and upload the designs you plan to sell.
Set your Price: CafePress puts a base price on each product. This base price is the money that CafePress keeps from each item you sell. It covers the cost of producing and shipping the t-shirt. As the seller, you set the retail price of the item higher than the base price, and then keep the difference as your profit when the product sells.
Get Commission: Earn a commission whenever one of your products sells. For example, if the base price of the t-shirt you sell is $13.99 and you charge $19.99, then you make a $6 profit.
CafePress Features
With CafePress, you get a pretty handy selection of features and benefits, including
Worldwide shipping
Automatic order fulfillment. When an item is ordered in your store, CafePress fulfills the order using its print-on-demand technology.
All payments are handled by the site, including those made with credit cards and PayPal.
The ability to sell your designs on more than 250 products.
The site manages all returns and exchanges.
No up-front costs or set-up costs.
The ability to earn more with the site's Shop Performance Bonus.
CafePress offers pretty good customer support via a toll-free phone number and email.
CafePress provides pretty high-quality products compared to many of the other t-shirt selling sites out there. So, it's no surprise that big brands and organizations, like E! Online and UNICEF use the site to sell merchandise.
3. Spreadshirt
Spreadshirt is another excellent free site for making and selling custom t-shirts.
The site offers quality products and fast delivery.
As a seller, you can set up your own custom online shop or sell through the site's global marketplace. There are two ways that you can make money through Spreadshirt:
Shop product markups: Like with most t-shirt sites, on Spreadshirt, you add a markup to the products that you sell in your shop. On the site, this is called your shop product mark-up and it's on products you sell through your online store. You can set a shop product mark-up in addition to or instead of the design price.
Design Price: Unlike with other similar sites, you can make money on Spreadshirt by uploading your own designs. If someone else on the platform uses one of your designs or if a product of yours sells, you'll get paid up to $15.
Payments are made on the 15th of each month. You must have a minimum of $10 in your account to withdraw your earnings.
4. Logo Sportswear
Logo Sportswear is another platform that allows you to set up your own custom store and sell t-shirts online.
This site differs from other t-shirt selling sites as it mostly caters to sportswear, like football t-shirts and hockey jerseys.
You can upload your own designs, or you can choose from one of the site's 13,000 free design templates.
Logo Sportswear handles everything – it bills the customer, and produces and ships your product.
For each t-shirt that you sell, you earn a 15% commission.
The site is completely free to use too – there are no monthly or set-up fees needed to open and run your store.
5. Zazzle
Another really easy-to-use platform for selling t-shirts is Zazzle. On the site, you can set up your own store.
And you can upload and sell your artwork on t-shirts, as well as on other products, like coffee mugs and pillows.
It's free to start a store on Zazzle. And, you earn royalty rates that can be anywhere from 5% to 99%.
Unfortunately, the site doesn't offer its own clipart, as many other t-shirt selling platforms do – this isn't ideal if you don't have your own designs.
But, you can always hire someone to design stuff for you, if you're not artistically inclined.
If you don't want to do that, don't worry – you can still make money through Zazzle.  All you need to do is become a Zazzle associate. Then, simply share the link to your favorite shops, and products made by other people, and you'll earn a commission.
6. PrintMojo
Through PrintMojo, you can sell high-quality, screen printed and embroidered products, including t-shirts.
Here's how it works:
Create and upload your design
Choose the product you want to print it on – a t-shirt in this case.
Pre-order the products from PrintMojo at wholesale price – you have to order a minimum of 25 units.
The company prints or embroiders your t-shirts.
PrintMojo warehouses your tees and creates an online store for you to resell them.
You add a mark-up to the product. This is the retail price for the products.
When a customer places an order, PrintMojo processes it and handles the shipping for you.
PrintMojo sends payments each month. You not only get the profit from your mark-ups, but you also get back the money you paid for the products initially. At this time, PrintMojo also deducts its fulfillment fee – the site charges this per order, rather than per unit. So, the bigger your order the better price you'll get.
7. SunFrog
SunFrog is an excellent site for selling t-shirts because it doesn't require you to hit a sales goal to print your shirts, or set up a campaign.
With SunFrog, you can keep your t-shirts posted for as long as you want, unlike some other platforms that only give you a short sale period.
You can make money with SunFrog by uploading your own designs, or you can earn money from other people's designs as an affiliate.
The affiliate commission at SunFrog is pretty generous, so this is one of the easiest platforms to make money selling t-shirts.
Here's how the affiliate program works:
Copy the URL from the t-shirt you want to sell and then add your affiliate ID to the end of the address.
Then, share this link on social media, your blog or anywhere else online.
When someone clicks your affiliate link, Sunfrog creates a session and adds cookies to the visitor's computer for two weeks.
So, for fourteen days, if the user that clicks this link originally comes back and buys a t-shirt on the site, you get paid for it.
And, if the visitor comes back again, the cookie renews – giving you a further two weeks to make a profit.
The prices of t-shirts are set by the artist that sells the design – meaning prices can vary from $19 to $35 per t-shirt. You can earn up to 65% commission.
You need to make more than $50 for each payout.
Payments are made via PayPal, check or wire transfer.
8. Gear Bubble
Gear Bubble is a great platform for selling t-shirts. You can set up a campaign and use the site for free.
But, you do need to sell your own designs – meaning you need to have some design skills or you'll have to hire someone to create artwork for you.
Gear Bubble charges you a flat fee for each product that you sell. This fee is part of the base price that you see when you upload a design.
The site does not take any other fees or a percentage of your profit margin.
Gear Bubble handles all of the production and distribution of your t-shirts, as well as the customer support via phone and email.
In addition to t-shirts, you can also sell other items through Gear Bubble, like phone cases, mugs, sweatshirts, and hoodies.
You can withdraw your earnings once your campaign ends. All you need to do is request a payout from the "Get Paid" section of the site.
Keep in mind that it can take a few hours for your funds to show up in your profile after the campaign ends.
It takes up to 14 business days for payment to be sent.
9. Skreened
Update: No Longer in business!
Skreened is a t-shirt selling platform with more than 100,000 artists. With the site, which is free to join, you open up your own online store.
You can set your own commission, but there is a $10 cap, and the site recommends setting prices at $4.
In 2014, the site introduced Marketplace Optimization Adjustment (MOA) for commissions set above $4 – this affects the amount you earn. Click here to learn more about it.
So, the earnings potential not is quite as high on this site as it is on others.
With Skreened you can set both a store wide commission and an individual design commission.
The website handles production and shipping, as well as customer service.
One of the downsides to Skreened is that you have to wait quite a while to receive payment. Commissions become available 45 days after a purchase has been completed.
The site claims that this period covers processing time, as well as any returns and exchanges.
After this 45 day period, the site takes 10 business days to issue the commission.
10. Shopify
Shopify is an eCommerce company that provides software for online stores and retail point-of-sale systems.
With Shopify, you get access to a plethora of tools that can help you to set up your own eCommerce store, which is available to customers on a global scale, in just a few minutes.
The only issue with Shopify is that it doesn't produce and print the t-shirts for you. You'll need to use a print-on-demand or print fulfillment company, like Teepsring, for example, to do this for you.
While using Shopify does take a bit more effort than the previous sites, often your profits can be higher, as the site doesn't take a cut.
If you want to turn making and selling custom t-shirts into a fully-fledged business that you can potentially make a full-time income from, then Shopify is one of the best options.
But, you do need to play a monthly fee:
$29 for Basic Shopify
$79 for Shopify
$299 for Advanced Shopify
The site does offer a free 14-day trial.
11. Instaprints
You might just see Instagram as a place to look at beautiful photos. But, it's more than just a social networking and image sharing platform.
Thanks to a company called Instaprints, you can actually make money from the images you put on your Instagram account.
Instagram itself doesn't pay you directly for the images, but using Instaprints, you can turn your uploads into cash.
All you need to do is upload the designs that you'd like to see on your t-shirts, to your Instagram account. And, link your Instagram profile to your Instaprints account. Then, you'll be able to sell your images as physical prints on t-shirts.
But, that's not all, Instaprints, also allows you to sell your images on a range of other items, from phone cases to throw pillows.
Instaprints handles all of the production and shipping of the t-shirts.
You can set your own price for the designs you sell with Instaprints. So, you could earn anywhere from $5 to more than $50 per design.
12. RedBubble
Redbubble is another website that allows you to sell designs on a variety of products, including t-shirts.
According to RedBubble, t-shirts are the most popular product sold on the site.
The website goes into more detail here about what types of t-shirt designs it accepts. RedBubble sets a base rate for each product – this covers the cost of producing the product.
The site also handles payment transactions, shipping and customer services.
Then, you add on a profit margin to the product, which is a percentage of the base price.
For example, the cost of a White Unisex S-L Tee is $20.67. So, if you add a 10% markup, then you'll earn $2.67. And the price the customer sees will be $23.34
The site's average profit margin is 17%. The price the customer sees is the base price, plus your profit margin.
13. Print All Over Me
Print All Over Me is a good site for selling tees. The site handles the production and shipping of your t-shirts.
With PAOM, there are three types of membership plans to choose from:
1. PAOM Standard:
This plan is free.
Every three months, the site releases a series of silhouettes. These are essentially plain items, like t-shirts and backpacks.
You can upload your designs to these items, and then offer your design for sale.
Each time a person buys your design, you get 20% commission.
2. PAOM Plus:
This plan costs $15 per month.
With this plan, you get access to special PAOM plus silhouettes
You can set your own price.
You can create discount codes for your products
You can create exclusive, invite-only pieces
You'll also get early access to features, like affiliate programs, numbered edition pieces and campaigns.
3. PAOM Pro:
This plan costs $20 per month, and there's a $75 setup fee.
You get all of the features of PAOM Plus
You also get custom labels.
You can integrate your own Spotify store with the platform.
14. Printful
Printful is an order fulfillment and print-on-demand company.
It's a great platform for selling t-shirts. Unlike other t-shirt selling sites, Printful doesn't give you the option to open your own store within its platform.
Instead, Printful integrates with your store that you've opened on an eCommerce platform, like:
Shopify
WooCommerce
Big Cartel
Storenvy
Tictail
Bigcommerce
Gumroad
ShipStation New
Here's how it works:
You set up a store on an eCommerce platform and have all of your products listed. And you also set up your Printful account.
You sync your designs and products so that Printful is ready to fulfill them when an order comes through.
A customer finds a shirt they like and buys it from your store.
When the customer's payment is confirmed, as your shop is synced with Printful, an order for that product is sent automatically to Printful.
Now, Printful charges you for fulfillment. So, for example, if the customer pays $40, but the cost to fulfill the order is $20, then you keep $20 profit.
Printful handles the shipping and prints your branding all over the packaging.
15. Print Aura
Print Aura is another order fulfillment and print-on-demand company. It is very similar to Printful, in the sense that you don't have a store within its platform.
Instead, you set up an account with whatever eCommerce platform you want to use and you sell your t-shirts there.
Print Aura integrates with the store you have on this platform.
Print Aura integrates with many eCommerce platforms, including:
Shopify
Woo Commerce
Storevny
Bigcommerce
Opencart
Etsy
So, when someone buys a t-shirt in your store the order and customer information are automatically sent to Print Aura.
Print Aura then fulfills the order for you:
It prints the t-shirt for you.
It handles the shipping of the product and gives the customer tracking information for their order.
It gives you custom branding options.
With Print Aura there are no membership fees.
16. Threadless
With Threadless, you can set up your own online store in just minutes and make money selling your t-shirt designs.
Setting up a store on Threadless takes just minutes. And, you can completely customize it to make it your own.
You can add your own logo, color theme and any other branding you want and you get:
Unlimited products
Customizable pricing
Free hosting
Free marketing resources
Merchandising tools
Layout editor
Font editor
Responsive design
Site analytics
Facebook pixel integration
Mailchimp integration
Mobile-optimized checkout
Once you have set up your online store, you can add as many products as you want. The site offers drag and drop product creation. So, adding your designs to the store is pretty easy.
The website handles everything post-order for free, including:
Manufacturing
Shipping
Customer service
On Threadless, how much money you make is really up to you, as the site lets you set your own prices.
In terms of pricing, Threadless works in a similar way to many other t-shirt selling platforms.
Threadless charges a base price for each t-shirt – this covers the cost of manufacturing and shipping the product.
Then, you add a profit margin onto the product, and that's what you earn.
For example, the base price of a t-shirt on Threadless is $15, so if you put a $10 markup on it, the customer pays $25 and your profit is $10.
One of the best things about Threadless is that the products in prints on are high quality. And, there are no minimum sales goals you have to meet to make a profit and no extra fees.
17. TeePublic
Teepublic is a digital storefront and fulfillment company. On the site, you can open up your own storefront, and sell your designs.
Make sure you upload your design as a PNG file, with a transparent background at 150 dpi or more.
Once you upload your design, it will go on sale on the site for the first 72 hours.
One of the downsides to Teepublic is that you don't get to set your own prices as you do on many other platforms.
Instead, the site has set commission rates:
Full price commission is $4
Sale price commission is $2
The company handles everything post-order, including production and shipping.
You get paid by Teepublic on the 15th of each month for all of the sales that you made during the previous month. Payments are made through PayPal.
18. Design by Humans
Design by Humans is a site that sells t-shirts, phone cases, and wall art prints from artists all over the world.
The site, which has been around since 2007, allows designers from countries ranging from the United States to Spain to join the DBH community and sell their designs.
Design by Humans differs from other sites – you can't just open up an account and start selling.
Instead, you have to apply to become a member of the DBH community.
But, this doesn't take long and getting approved is a quick process too.
Generally, your application will be approved and your store can be activated within 24 hours.
Uploading your designs to the site is pretty easy, so you can start selling quickly.
Unfortunately, Design by Humans doesn't allow you to set your own rates. Instead, it has set commissions.
You get a $3 profit for every t-shirt that you sell through the site.
While you can promote your products yourself, Design by Humans also helps with marketing:
It site features designers on its homepage.
In highlights designs in its email newsletter.
The site also promotes artists on its social media profiles and through ads.
Once a customer orders one of your t-shirts, Design by humans:
Processes the order.
Deals with payment.
Handles the production of the product.
Ships the order to the customer.
So, all you need to do is upload your designs.
On Design by Humans, you get paid on the first business day of each month for sales that have cleared from your store in the previous two months.
The site has a more detailed payment schedule that you can read here.
19. NeatoShop
NeatoShop is another good option if you want to sell t-shirts online. This site favors high-quality artwork, so it's best for those with design experience.
If you want to sell your designs through the site, then you need to prepare a portfolio and send it via email to info@neatoshop.com.
If you're not a designer, however, don't worry – you could still make some cash through the site's affiliate program.
As an affiliate, you can:
Earn a commission for every sale made through your affiliate ink
Continue to earn commissions with the site's referral window, long after a customer first clicks on your links.
Get paid each month.
You can only become a NeatoShop affiliate if you have a live, high-quality website. If you're interested, then contact the site via email.
20. Tostadora
Through Tostadora you can set up your own online store for free.
In your store, you can sell t-shirts, as well as other products, featuring your own custom designs.
T-shirts you sell can feature designs, slogans, phrases, jokes, and images.
Once you've uploaded your designs, the site handles the rest.
When a customer purchases one of your t-shirts, Tostadora is responsible for:
Producing the product.
Shipping the item to the customer.
Handling any problems with deliveries.
Taking care of returns and exchanges.
One of the best aspects of Tostadora is that, rather than having a set commission per unit, it allows you to set your own rates.
Like many other sites, Tostadora sets a base price per product – this is the amount it costs to fulfill the order.
Then, you add a markup to the product, and this is your profit.
Here's a quick example:
The base price of a black t-shirt with a design is $19.99. Let's say you decide to sell it to customers at a retail price of $23.99. Your profit, in this case, is $4.
The site recommends that you browse other users' stores or use the search bar to get an idea of the commission that people typically charge.
Commissions from Tostadora are paid quarterly – the site totals all of the commissions that you earned during that period and transfers it to your bank account or PayPal account.
You must have a minimum of $10 in order to receive your earnings.
21. The Tshirt Mill
The T-Shirt Mill is an Australian site where you can open up your own shop for free. On the site, you can make your store completely customized and tailored to suit your brand.
The site offers the following features to help you produce and maintain a great store:
Design tools
Integrated shopping cart
Product catalogues
Full access to CSS and HTML
A safe and secure payment gateway
Easy to use, customizable templates
Google analytics
Access to customer data
The ability to use your own domain
Social media integration
Once you have set up your shop, you upload and place your designs on one of the products from the site's extensive catalog.
When a customer purchases on of your t-shirts, The T-shirt Mill fulfills the order and is responsible for:
Printing your t-shirts
Shipping the product to your customer
Customer service
On the site, you get a 10% discount wholesale rate and set your own prices. Payments are made monthly through PayPal.
More platforms
Designing custom tees are becoming even more popular. And that means more competition for custom T-shirt designing sites.
Here are a few more:
22. SellMyTees
This site is very user-friendly.
You can create or upload your own artwork with their awesome "Designer Studio" tool.
They have three plans for sellers:
Bronze: This is the free plan that allows you to open a small basic shop with a limit of 20 designs.
Silver: This one costs $19/mo. You get everything that comes with the Bronze plan but instead of 20 product to display, you get to display 60 product designs in your store.
Gold: Gold gives you unlimited stores and unlimited product displays.
The best thing about this site is that they have no transaction fee.
Pro Tips
While many of the above sites do a lot for you when it comes to fulfilling orders, and, to some extent, marketing your products, it's still best to take a few extra steps yourself to ensure your t-shirt selling venture is a profitable one.
So, we've compiled a shortlist of things you should do to maximize your earnings and make sure that you keep sales coming in:
1. Spread the word on social media
Whether you have a small following that just includes family and friends or a huge, varied following, you should definitely promote your t-shirts on social media.
2. Have a target Niche
Sometimes having a specific niche or even style can really boost the number of sales you make. This is because you can market these more easily.
For example, if you make t-shirts that feature a lot of dog-related designs, then you could market these to groups that love canines on social media groups.
3. Make sure there are paying customers in your niche
After you decide on a niche, you need to make sure that there's a demand for that type of product.
A quick Google search should help you to decide if there's a market for the type of designs you want to sell.
4. Create quality designs
The designs you upload don't have to be super complex. But, they should be of good quality as people won't pay well for poor artwork.
If you're not artistically gifted, then consider hiring a designer. You can find designers on sites like UpWork and Elance.
Final Thoughts
T-shirts are never going to go out of style.
And, that's just one of the reasons why selling custom t-shirts can be such a great money-making venture.
So, give out of these site's a try and there's a good chance that you'll give your income a bit of a boost!