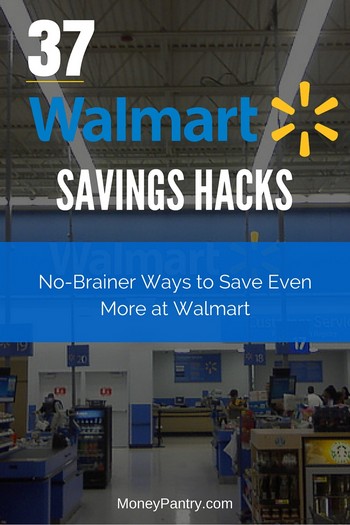 Shopping at Walmart saves you money.
There is no doubt about it!
But are you catching all the savings and deals that are available to you?
According to BusinessPundit, in 2010, everyone in the world made an average of 1.1 purchases at a Walmart.
Most people who shop at Walmart are convinced they're getting the lowest prices.
While it's true to a point, as Walmart has very reasonable prices for most goods, there are a number of tricks that you can use to save even more in store and at walmart.com. You just have to know how to work it.
Need Easy Extra $300+/Month for Free?
KashKick
: Get paid directly into your PayPal for watching videos, surfing, shopping and more.
Join KashKick Now!
InboxDollars
: Paid over $57 Million to members to watch videos, take surveys, shop and more.
Get $5 instantly!
Branded Surveys
: Get $1 instantly just for joining for free. Plus get paid within 48 hours by PayPal!
Join Branded Surveys
First Opinion
: Get paid up to $10 per survey and $300 per virtual focus groups!
Join Now!
Swagbucks
: Get paid to watch videos, shop online, take surveys and more.
Join now & get $10 instantly!
Walmart Money Saving Hacks
Here are 37 money-saving hacks that will save you money when shopping at Walmart (which is, by the way, the world's largest company by revenue,) on anything from groceries and toys to electronics, home décor, and even clothes.
1. Know the secret Price Code
As I explained in our Save Money at Sam's Club post, most retailers have their own price code, and knowing them can help you avoid missing out on great deals and discounts.
If an item is on clearance, then you can figure out with these codes whether it's at the best price.
Price Ending at 7: If the price ends in 7 (like $5.57), then the item really hasn't been discounted yet.
Price Ending at 5: If the price ends in 5 (like $9.95), it's been discounted once.
Price Ending at 1: And when the price ends in 1 (like $12.01), that's as far as they are going to discount it.
If there's plenty of stock and the price ends in 5, you might want to wait before buying it, as you know it can be discounted more.
2. Use the Pirc app
Update: Pire is no longer available.
Pirc is a great new website that acts as a personal shopping concierge. It's free to use and works to save you money.
You simply favorite all the items that you normally buy, and Pirc will automatically search all your local ads for the best deal.
Any time one of your items goes on sale, you will get an alert from Pirc. It will even let you know if there are coupons available, to make sure you get the cheapest possible price.
With this app in your pocket, you'll always be able to price match at Walmart.
3. Walmart printable coupons
You can find some coupons from Walmart and print them out to use them in the stores.
Because Walmart doesn't make much use of coupons, preferring instead to price down all items all the time, you may even have trouble using the coupons at the store.
If there is a problem, don't hesitate to ask for a manager – the worst they can say is "No".
4. Use Walmart's Savings Catcher
Update: Walmart Savings Catcher has ended.
I love Walmart's Savings Catcher!
With no extra work, you can get money back.
Anytime you shop at Walmart, simply scan your receipt's QR code or barcode with this app. Instantly, they know exactly what you bought and how much you paid for it.
In a day or two, they have scanned all the local ads for matching products, and if there is a lower advertised price on anything you bought you get back the difference. You can get it back on a gift card, or transferred to an American Express Bluebird card which you can use at the checkout.
Here are the links to the app for both Android and iOS devices:
Walmart's Savings Catcher for Android devices
Walmart's Savings Catcher for Apple devices
5. Get money back with the Price Drop Guarantee
Like Target and other giant retailers, Walmart also has a price drop guarantee.
That is, if what you buy falls in price in the next 7 days, you simply take the receipt back to the store and they will give you the difference, no questions asked.
6. Save big with display models
If you want an item that is out of stock, try asking the manager if you can buy the one that's on display.
You may not get the box it came in, and possibly not the manual, but you can always look up a manual online.
In return for a little inconvenience, you should find that you get a good discount on an item that's as good as new.
I used this strategy a few months back to save almost a $1000,00 at the Home Depot.
7. Get deals early
If you want to discuss making a deal on display items, or getting a discount for buying in bulk, then you need to get to Walmart early, anytime from 7 AM.
You want to speak to the Department Manager, as the Associates don't have the power to negotiate this. Even assistant managers probably can't help you, as they are too busy keeping the department running.
8. Except for the garden center
Although you should note one exception, that in some stores associates are allowed to agree on a markdown in the garden center, for plants that are obviously past their prime and need to be sold.
The markdown is set at 50%, and generally not negotiable.
9. Use an item-specific coupon to save on other items
It's worth using coupons that are of greater value than the price of a product, as Walmart can apply the excess to other products in your shopping cart.
For instance, if you have a two dollar coupon for something that Walmart sells for a dollar, you can get a dollar off something else.
So even if you can't get a coupon for something else, you can have coupon savings on it!
10. Walmart accepts competitors coupons but…
Walmart generally doesn't encourage in-store coupons.
However, they do accept all other competitors' coupons if the coupons state an exact price.
For example, they won't accept a 10% off coupon from Target, but they will accept a Product X for $3.99 coupon from Target.
11. Use the Daily Savings Center
The Daily Savings Center is a must-visit if you're planning to shop at Walmart. It offers great deals every day of the year.
For instance, today there's a DVD player for $12.88.
Mostly the prices are listed, but occasionally you'll find you have to put something in the cart so you can see how much it is. Some manufacturers are shy about their lowest prices being on public display.
12. Consider the Walmart credit card
The Walmart Credit Card is a great deal, as long as you use it responsibly.
In common with other store cards, if you carry a balance it will be at a high rate of interest. But if you pay it back every month, then you can save a lot.
When you sign up for the card they give you $35 back as long as you spend $75 or more. And every time you spend another $500 on the card, you get another $25 or 5%.
Finally, at participating gas stations, you can save five cents per gallon.
13. Get the Amazon app
If you're like me and like to price check to see if you can find better deals elsewhere, you'll love the free Amazon app.
This is available for the iPhone on iTunes and you can also get it for Android from the Play Store.
It's an incredible fully featured shopping app where you can browse, read reviews, compare prices, and even do things with voice control.
While in a Walmart store (or any other store for that matter,) you can use it to scan a barcode or image and see what Amazon charges. If the price is lower on Amazon, you can then ask Walmart for a price match.
14. Get free samples from Walmart
As I explained in our Walmart Free Samples post, there are tons of free stuff and samples that you can get that are actually useful stuff and not just junk.
The best part of taking advantage of Walmart samples and freebies is that not only do you get the products in a sample pack but often you will also get a coupon to buy the full-size version.
15. Get prescriptions for $4/month
That's right, you may even be able to save more money on prescriptions buying from Walmart rather than Walgreens.
Use the Walmart pharmacy, and you will get hundreds of generic prescriptions at just $4 for a month's supply, $10 for three months.
You may even get home delivery when you order online.
16. Get free shipping
Update: Walmart has ended Shipping Pass program and replaced it with free 2 day shipping withy minimum purchase of $35.
If you see you're going to be buying a lot of goods online, you can sign up for a Walmart Shipping Pass.
It will cost you $50, but it will get you unlimited free three-day shipping on all your orders.
17. Combine price matching with coupons
Remember that you can use coupons on goods that are price matched.
You want to make sure the price match happens first, so show the advertisement to the cashier and allow her to make the correction. Then give her your coupon for some extra discount.
18. Get free money when you shop at walmart.com
Using rebate sites is a no-brainer.
Any time you decide to shop online, you should be using a cashback portal like Rakuten.
This is a win-win situation for you and Rakuten.
When you shop from the Rakuten website, they receive a commission for sending you to the shop, and they will share a part of the commission back with you.
At present, you will get 1.5% cashback if you shop at Walmart.com through their site.
19. Look for the Rollback prices
You will have heard about Walmart's rollback pricing. The idea is that they price goods down to a previous lower level, rolling it back in time.
It's really just a term for them reducing the price temporarily to encourage sales.
This gives you a great way to see where the best deals are, simply by looking for the rollback signs. They are usually displayed in prominent locations.
And yes, you can see 'em online as well.
You can expect each rollback sale to last for a month or two.
20. Walmart Price Match policy
Does Walmart Do Price Match?
Yes, it does!
On its Policy page, the company states that it will match any current published price.
You can do this at any cashier when you check out by simply showing the advertised price to the cashier.
As long as you make a shopping list, and don't just buy goods when you see them on the shelf, then you can save yourself money by going through the local ads for bargain prices before you shop.
Of course, Savings Catcher is also supposed to do this for you, but you can make sure by finding your own advertisements.
21. Price matching online
Don't forget that Walmart will also price match with online stores, with specified online retailers.
See http://corporate.walmart.com/policies/our-online-price-match-policy.
And the store will match with Walmart.com if the prices are out of sync. Once again, the cashier will gladly match the prices.
It's natural to price match for the bigger items, but don't forget to price match your regular items, such as groceries too, as it all adds up.
Walmart-Amazon price matching problem
Walmart does price match with Amazon as well. However, most Walmart locations will not accept a price match on any Amazon product that has the label "Prime" on it.
That's because of their policy:
We do not honor: Prices from auctions or requiring memberships
They consider Prime a "club" that requires a membership fee.
But, as Rather-Be-Shopping.com explained, there is a way to get around this issue.
When you are at the store, pull up your phone and navigate to Amazon.com, but do not log in. Then pull up the product page and show the price to the cashier. Since you're not logged into your Amazon account, there will be no mention of the Prime membership on the product display page, which means Walmart will have to price match it.
22. Buy online and pickup at the store
As mentioned, the online Walmart price may be less than that in the store. If you want to buy online but don't want to wait, it might work for you to buy online and select the option to pick up the goods at your local store.
You can do this by selecting Free Pickup at the checkout.
If it's something that the store sells, you can pick it up the same day. If it's not, well at least you won't have to pay for shipping and it will be ready in a day or two.
23. Look for the end caps
In case you don't know, the end caps are the displays at each end of the aisle, and this is where you will often find clearance items.
Walmart doesn't have any particular day when it puts the stock on sale, so it's a matter of chance if you will be there when the latest items come up – but that means most days when you shop, there will be new sale items.
Each department has a certain place where they put clearance items, and you should make sure you know where it is so you can check out these items before carrying on with your full-price shopping.
If not on the end caps, often the departments will put sale items at the back of the section, forcing you to come past the full price items and perhaps be tempted. They won't always be marked clearance, so you will have to check.
24. Check out the events
Another place to look for discounts is at Walmart's special events in store.
Every store has these from time to time, and each store has a different schedule.
The best way to stay in touch is to join your local store's Facebook page, and/or check out the website, making sure you enter your ZIP Code so you get the local news.
25. Check with coupon sites
Walmart pretty much has the cheapest prices, and programs such as Savings Catcher serve to emphasize this.
But that doesn't mean you can't reduce how much you pay even more by using coupons.
Sure, Walmart won't double coupons and they don't do coupon stacking, but they can give you cashback if the coupon is worth more than the Walmart price.
Say you have a $2 coupon for something that Walmart has at $1.50 on sale, then the extra $.50 will go toward something else in your basket. If you're not buying anything else, you should get the $.50 back in change.
So, it's always a good idea to check a few coupon sites before doing your shopping.
26. The earlier the better
The best way to get great deals on perishables such as meat is to shop early in the day. That's when the associates usually go around marking down goods that are nearing the sell-by date.
You could also check this with your local store to make sure that is their practice.
So try getting to your store an hour earlier than usual, and you may find great availability of reduced price goods.
The only downside is that you will need to use them or freeze them more quickly if they only have a short time to run.
27. Save on baked goods
In the morning you'll find that the bakery marks down the goods it produced the day before.
Just because a loaf of bread is a day old doesn't mean it's not fine for use (how old is the loaf of bread that you have in your house right now?), and even if you're not going to use it straight away, you can always freeze it.
28. Look for refurbished goods for big savings
If you go online to Walmart.com, you can click through to "refurbished" items and perhaps save a lot.
Typically you'll find TVs, computers and those sorts of goods, and you can refine your search to find just the item you want.
If you find what you want in the refurbished section, you might save up to 40% of the new price.
It will also come with a full warranty, backed by Walmart's customer service.
29. Gift cards at a discount
Wherever you shop, it is good to remember that there are sites that sell discounted gift cards.
One such site is GiftCardGranny.com, where you always get a few percent off the face price.
Of course, Walmart gift cards are popular, so it helps if you sign up for the email alert service to let you know any time they have some available.
30. Check with your butcher
Each meat department usually has its own schedule of when it marks down prices.
You can either try to figure it out, by keeping an eye on how prices go during the week, or you can ask one of the associates there directly what day they tend to mark down prices.
They will usually set the prices down first thing in the morning, so aim to be there an hour or two later so that you have the best choice of reduced value goods.
31. Get the Ibotta app
Not just for Walmart shopping, Ibotta is a great app that works in other grocery and retail stores too. It earns you cashback from your shopping.
If you buy something which is being sponsored by Ibotta, all you have to do is login after your shopping trip and perform some simple task, then take a snap of your receipt showing the item.
You will be credited automatically with the cashback. At the moment, you will even get a $2 bonus when you use Ibotta the first time.
32. Use Checkout 51
Checkout51 is another shopping app, similar to Ibotta.
In this case, the rebate is from the manufacturer or distributor of the goods, and not from the shop, making it more flexible if you don't have many big-name stores in your town.
You can use it every day for goods like milk, eggs, and other groceries.
33. Buy the own brand
Good advice whatever store you're shopping in, if a big-name store has its own brand it will be of good quality, and probably supplied by one of the name brand manufacturers.
The idea is that name brand manufacturers have to spend money on advertising, therefore, the brand name goods have to sell at a higher price.
Walmart has a bunch of its own generic brands, the most well-known one being the Great Value.
It will usually be cheaper than the branded item, and if you don't have a coupon for the branded item that reduces it below the Great Value price, save by buying Walmart's own brand.
34. Use Favado
Update: Favado is no longer available.
Another useful app for shoppers, Favado will show you prices between the various stores in your area.
It enables you to make sure you never pay more than you need to.
35. Use Flipp
For those who want to do their own price matching, get the Flipp app. It checks out all the weekly ads in your area, and even allows you to search them.
There's no easier way to find competing prices for a price match discount.
36. Social media sites are your friend!
It's worth following Walmart on Facebook, Twitter, and other social media site they are active on.
Companies often giveaway exclusive deals and coupon codes to their social media followers, and Walmart is no exception.
Here are the links to Walmart's profile on social media sites it's active on:
37. Sign up for Walmart's newsletter
Joining email newsletters of companies you shop from is a great way to find out about new happenings at the company, as well as get access to exclusive deals and discounts that aren't available to the general public.
You can sign up for Walmart's email newsletter here (yes,it's free!)
Bonus Tip
Check out Grocery Shop For Free At The Mart.
It's an impressive site that will tell you a lot about saving money on groceries at Walmart.
The blogger who runs it spends hours each week going through competitive ads to find the best sales and coupons, and then he posts them on this site.
Some say you can save 60% or more on your grocery bills.
Final Words
There are many different ways to save money when shopping at Walmart, as you can see.
Even with their great prices, you can do better!
Choose the ways that work best with your lifestyle, and see your savings grow.