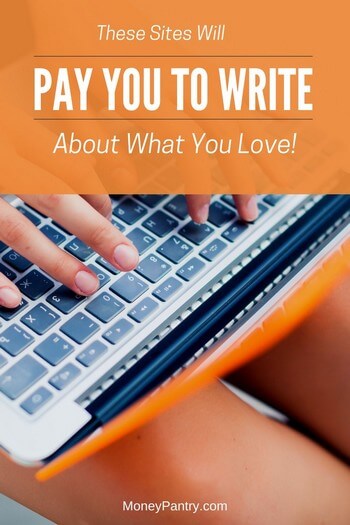 Getting paid to write about what you lover may be the perfect job for the writer in you!
We all have subjects or topics we love.
Are you passionate about sports?
Do you love spending time in your garden, or are you a foodie always experimenting in the kitchen for the next culinary masterpiece?
And are you looking for a way to earn some extra money or generate a second source of income?
The gig economy has really taken off in recent years.
Need Easy Extra $300+/Month for Free?
KashKick
: Get paid directly into your PayPal for watching videos, surfing, shopping and more.
Join KashKick Now!
InboxDollars
: Paid over $57 Million to members to watch videos, take surveys, shop and more.
Get $5 instantly!
Branded Surveys
: Get $1 instantly just for joining for free. Plus get paid within 48 hours by PayPal!
Join Branded Surveys
First Opinion
: Get paid up to $10 per survey and $300 per virtual focus groups!
Join Now!
Swagbucks
: Get paid to watch videos, shop online, take surveys and more.
Join now & get $10 instantly!
According to an article in Forbes Magazine, about 36 percent of American workers participate in the gig economy.
That works out to be almost 57 million people!
And getting a second source of income is a great way to pay off debt or help save for a big expense like a car or a house.
What if there was a way to earn some extra money writing about your passion?
Guess what, there is!
In fact, there are many sites that pay you to write about topics you like.
Make Money Writing About What You Love
Here are the best places that will pay you to write about what you love.
General Interest Freelance Sites
There are many sites out there that accept work from freelance writers that focus only on a certain topic.
For example, some focus exclusively on travel.
Others on food.
We may get to those at another time.
Here, we're focusing on sites that cover a wide range of topics.
So here we go.
1. Upwork
Upwork is the largest freelance website there is.
In all, they have over 14 million different users!
How it works is people or companies will submit jobs or assignments to be completed.
From there, writers will bid on these assignments or the companies will reach out to writers directly.
To get started, you must create a profile.
However, there are fees associated with this site.
Freelancers are charged between $0.15 and $0.90 per bid.
And once an assignment is completed Upwork charges a fee between 5%-20%, depending on how much you're paid for that assignment.
But the pay can really be good!
Some of their freelances can make up to $150 per hour!
And payment will be made through your account.
And with so many users, it's a safe bet you can find any topic you're passionate about.
As you can see at the bottom of this page, there is almost every topic you can think of.
But the downside with having so many users, the process is very competitive.
2. Listverse
One common article or blog post you often see are lists, or commonly called "listicles."
This article right here is a prime example of one.
If you think you'd be good at writing this type of article, and have an interesting subject you think people will be interested in,  Listverse is a good place to look.
They focus exclusively on "listicles" and it's pretty straight forward how it works.
You write your article (the list needs to be at least 10 items long), submit it, and if they like it they pay you $100.
Payment will be made only via PayPal, and they emphasize this is non-negotiable.
Listverse doesn't focus on one topic or subject, it's open to almost anything.
If you love to cook, you could do an article on easy dishes your family will love.
They just ask that your list be original, and the more interesting or offbeat the subject the better.
You can find a link to their submission form here.
3. Freelancer
Pay: up to $1085 (if you're a really good copywriter)
Freelancer is a website where people can offer their services for any type of job you can think of.
Including writing about topics that are important to you.
To get started, create an account.
From there you will set up your profile by selecting your skills and going through their verification process.
Once you've set up your profile, set your fee structure (it can be a set fee or an hourly rate) and begin bidding on projects.
A search for copywriters found people charging $6-$7 per hour, or set amounts as high as $1085.
Once you've finished the job, you'll be paid the agreed-to amount.
Payment will arrive through your Freelancer account.
But like Upwork, there are various fees to be aware of.
It is free to set up a profile, and you get eight free bids per month (after that there is a fee per bid).
Also, freelancers are charged a fee per project.
For fixed-price assignments the fee is 10% or $5 (whichever is greater), and it's 10% for hourly projects.
A more detailed description of the fee process can be found here.
4. nDash
Pay: $150-$450 per submission
nDash is different than the other sites we've mentioned so far.
While the others offer a variety of freelance opportunities in addition to writing, nDash is dedicated only to writers.
Their goal is to connect companies with quality writers to help businesses get their message out and for writers to get their show off their expertise.
And some of the companies who use nDash are heavy hitters, including LinkedIn and Hitachi.
All you have to do is sign up and create your profile.
After that you can set your rate (the site says the average is between $150-$450 per submission) and start pitching content.
If you have a background recruiting or a passion about helping people find jobs, pitch an article with LinkedIn in mind.
Or if you're a techie, write a blog post you think Hitachi will be interested in.
Their freelance writers are paid with 3-5 business days via Stripe (no PayPal option right now).
nDash says they have several writers who earn six figures a year!
5. Scripted
Pay: average of $0.10 per word
Scripted is a website similar to nDash in that it caters only to writers.
Their goal is to connect companies to top-flight copywriters and freelance writers in order to create great marketing material.
If you have a marketing background and a desire to help companies craft their message, you can apply here.
But the onboarding process here is more involved compared to some of the other sites mentioned so far.
After you create your profile, you do have to pass a proficiency test.
Once you pass their test, you'll set up payment and start proposing ideas.
Once you and a company work out the details, you'll submit your work.
You'll be paid 15 days after you job is accepted via Scripted, and you may be eligible for partial payment for a rejected job.
The site says you can set your own rates, but the average is in the neighborhood of $0.10 per word.
6. Izea
Pay: $100 and $500 per post
Izea is another website that aims to connect companies and writer to create eye-catching marketing material.
Izea has been around since 2006 and claims to have created the influencer marketing industry by paying bloggers to create content for established brands and companies.
They've grown so much they're now publicly traded on the NASDAQ stock exchange!
To get started, just create a profile.
There are three different plans for creators to choose from.
A Free plan where you can bid on five opportunities every 30 days, and can cash out when you have a $100 balance
A Basic plan where you have unlimited bids and can cash out at $50.
And a Pro plan that also has unlimited bids and a $25 minimum to cash out.
From there you'll create content for such heavy hitters like Subway, Whole Foods, Target, and more.
And unlike some of the other sites, Izea also offers opportunities for photographers, videographers, and influencers.
Izea also has its own app for iOS.
You'll have several options to receive payment including PayPal, adding your cash amount to your credit card, and PayPop.
Creators and influencers can make between $100 and $500 per post.
Get Paid to Write Poetry & More
What if blog posts or traditional articles don't light your fire?
Do you have the soul of a poet?
What if have a passion for a subject, but want to convey it through a short story?
If this describes you, you're in luck!
Here are a few sites with more of a literary emphasis that accept freelance submissions. You can get paid to write poetry, short stories, fictions and more.
7. The Sun
Pay: up to $2000 for Personal Essays & Fiction and up to $250 for Poems
The Sun is an independent and ad-free magazine whose goal is to "evoke the splendor and heartache of being human."
It's been around since 1974 and some of it's work has won prestigious awards and featured in several anthologies.
Their issues contain personal essays, poems, photography, and more.
And since it's ad free, they encourage more intimate and personal stories than you may find in more traditional magazines.
If you have a deeply personal story to tell, or an issue to advocate through a poem, this is a great place to look.
They offer $300 to $2000 for personal essays and works of fiction, and $100 to $250 for poetry.
You can submit your work here.
8. Slice Magazine
Slice Magazine is a literary non-profit founded in 2007.
Its goal is to help aspiring writers break into the literary world.
Each issue revolves around a specific theme, so this can be a great way have your voice about your cause or issue heard.
They offer $400 for stories, $150 for flash fiction pieces, and $100 for poetry.
You can submit your work here, but keep in mind they only accept submission during certain parts of the year.
If you missed the most recent submission period, just keep an eye on the website for the next submission window.
9. The Threepenny Review
The Threepenny Review is a literary magazine based out of Berkley, California that is published quarterly.
The type of material you'll see in each issue ranges from critical articles, memoirs, poems, short stories, and more.
If you have a story or poem you think they'll be interested you can submit your work through traditional mail (they ask you include a self-addressed stamped envelope) or electronically.
They pay $400 per story or article and $200 per poem, and they take submissions year round.
They do have very specific guidelines for you to follow regarding the submission process, you can see them by clicking on the "submit your work" link above.
10. Virginia Quarterly Review
Pay: $200 per poem and $0.25 per word for fiction and nonfiction
The Virginia Quarterly Review has been around since 1925, calling itself a "National Journal of Literature and Discussion."
And if there's been a topic to be discussed, The VQR has addressed it.
So no matter what issue or issues you care about, you'll have an outlet here.
And while many famous authors like Eleanor Roosevelt and Robert Frost have appeared in its pages, they also take submissions from new or aspiring writers.
They accept short fiction stories (3500-8000 words), nonfiction (3000-9000 words) and poems of any length.
They pay $200 per poem for up to four poems, and $1000 for five poems or more.
For works of fiction and nonfiction, they pay rate is $0.25 per word.
But keep in mind they read submissions only through the month of July.
You can submit your work here.
11. And don't forget about your local newspaper
Your local newspaper can also be a great choice to earn some extra money while expressing your passion.
It's a great choice for people who love sports.
Newspapers often have way more schools in their coverage area than writers on staff.
Often times during high school football or basketball season they'll bring in freelance writers or stringers to help cover the games in their area.
Usually they'll pay you a set wage per article (probably about $50 per story), plus a certain amount per mile to cover gas.
This can be a great opportunity for college students to get experience and real-world writing samples to show potential employers.
(On a personal note, I did this during college.)
And this can be a great opportunity for parents who have kids playing sports.
If your son plays high school football or your daughter plays high school basketball, call the local paper and see if they have anyone covering the game.
If not, offer to do it.
You're already going to be at the game, why not see if you can get paid for it?
And since you'll be covering the game for a news outlet, you'll get into the game for free!
Talk about a real win-win situation!
Also, from time to time small- or medium-sized newspapers will have "Community Columnists" where people from the community will write a weekly column for a couple of months.
If there is a topic you really believe in that you don't believe is getting enough attention, this can be your way to spread the message.
Or what if you're passionate about local government and care about what's going on with your city council or local school board?
Call the news editor and ask if you can cover and do a write up for their weekly meeting.
You could really be doing them a favor.
Newsroom staffs have been cut dramatically, and local news coverage has been cut so deeply some are calling it a national crisis.
So, if you want to earn some extra money and help local journalism, give your hometown paper a call.
A Few Tips to Keep in Mind
Any time you start a side gig or look for a way to get a second income stream, there are two key things to always keep in mind.
Make sure there isn't a conflict of interest
Before you sit down at the keyboard and start writing, check the paperwork associated with your primary job or talk to your boss.
Make sure this new endeavor isn't a conflict of interest.
For example, if you're an accountant or work in the financial world you may want to stay away from writing about any financial topics.
It could undermine your objectivity.
And you don't want this secondary gig to cost you your primary source of income.
So just be safe and ask your supervisor or HR person if this would be okay.
Keep detailed records for tax time
Also, since this will be income there's a good chance it will be considered taxable income by the IRS.
And since you'll likely be working as an independent contractor and not as an employee of a company it's unlikely any taxes will be taken out of your check.
The money you will owe the IRS will come out of your own pocket.
If you had to fill out a 1099 or similar form, that's a good sign you'll need to report that income.
So, keep that in mind whenever you're filing your tax return for the year.
If you have any questions, ask your accountant or anyone who has experience with the tax code for help.
Now Get to Writing
If you have a love for the written word, or have a passion about a certain subject, now you know where you can share your creative talents.
And also make a few extra bucks in the process!
So, now is the time to sit down at your computer and start getting paid to write about what you love!