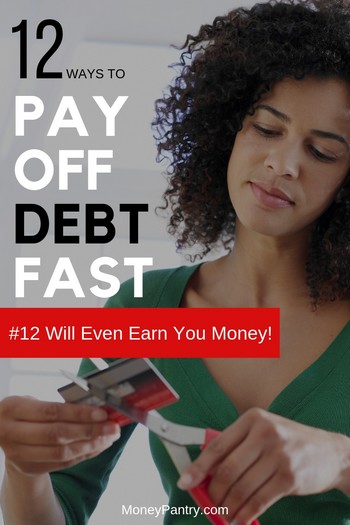 Before we get to the tips and how you can easily pay off your debt faster, let me share a quick fact.
According to reports, the average American now has around $38,000 in personal debt!
That's a lot of money!
And, that figure excludes home mortgages.
This mountain of debt comes from things like student and auto loan debt to credit card debt.
How to Pay Off Debt in a Year
Fortunately, there are plenty of things that you can do to pay off debt quickly.
Need Easy Extra $300+/Month for Free?
KashKick
: Get paid directly into your PayPal for watching videos, surfing, shopping and more.
Join KashKick Now!
InboxDollars
: Paid over $57 Million to members to watch videos, take surveys, shop and more.
Get $5 instantly!
Branded Surveys
: Get $1 instantly just for joining for free. Plus get paid within 48 hours by PayPal!
Join Branded Surveys
First Opinion
: Get paid up to $10 per survey and $300 per virtual focus groups!
Join Now!
Swagbucks
: Get paid to watch videos, shop online, take surveys and more.
Join now & get $10 instantly!
Below, we'll give you tips and tricks you can use to become debt free.
Using these hack combined, you might be able to pay off your debt in a year or so. For some, it may take longer especially with larger debt and smaller repayment plans.
So whether you're wondering how to pay off debt with no money or how to get rid of your credit card debt, our tips are sure to help!
1. Know what you're spending
If you don't know what you spend, it can be difficult to keep track of where your cash is going.
If you take a bit of time to analyze your spending, not only will you uncover those areas where perhaps you could cut back, but you'll also see how much money you have to put towards paying off your debts.
Here's how to do it in a few easy steps:
Step 1: Write down all of your outgoings, like utility bills, mortgage/rent payments, and expenses, like groceries, gas, and recreational spending. Basically, look at your account for the month, and write down everything that comes out of it.
Step 2: Then, get a total figure for the amount of debt that you owe as well.
Step 3: Next, write down your income. Then, see how much money you have left over each month that you could put towards paying off your debts.
You might find that your income and expenses are pretty similar – so you'll need to work on changing that, but more on how to do that below.
2. Set goals to keep yourself motivated
If after writing down all of your debts altogether in one place, the number seems overwhelming, don't panic!
It's completely normal to feel like you don't even know where to start.
The key is to break your large goal of paying off debt, into smaller goals.
So, let's say that you are $30,000 in debt.
Well, break that number down – so for example, your first goal might be to just pay off $200 from your balance. It's small, but it's a start.
Or, you could break the goal down based on how much you can afford to pay each month.
Let's say you owe $1,000 on a credit card – your goal could be to pay $200 off that debt each month, on top of your minimum payments and interest charges.
Break down your main goal into smaller goals, and then check off each one as you achieve it – this will not only make the prospect of tackling your debt less overwhelming, but it will also keep your motivation high!
Plus, when you have smaller goals, rather than vague ones, like "pay off $30,000" in debt, it makes your goals seem more attainable. These goals can act as stepping stones toward your bigger goal of being debt-free.
Just remember to be flexible with your goals – sometimes the car needs unexpected repairs, or there's a trip to the vet's for the family pet to pay for. Don't let things like this deter you.
Instead, reassess your financial situation and adjust your goals accordingly – just keep working toward your goals.
3. Use the Snowball method to tackle debt (good for keeping motivation high!)
There are lots of ways to pay off, debt, but the Snowball Method is definitely one of the most popular.
If you follow the Snowball Method, you write down all of your debts in order of smallest to largest.
So, if you had debts across three credit cards, here's how your list would look with the Snowball method:
Credit Card One: $350
Credit Card Two: $900
Credit Card Three: $1,500
It's actually one of the fastest ways to pay off debt.
In this method, you pay off the smallest debt first.
It's important to note that you continue to make the minimum payment on your balances for all of your debts.
But, you focus on paying more to the first, smallest debt.
Once you've paid off that debt, so in this case, the $350 one, you move onto the next one – the $900 debt in the example above.
But, you put the money you were using to pay the first debt and add it on top of the minimum payment, towards the second debt.
So, the whole thing snowballs, hence the name!
This method is good if you struggle to keep the motivation to pay off debts. It's much quicker to pay off a $350 debt, compared to a $1,500 debt. That $350 seems achievable. And, once you've paid off that first one, you'll know you're more than capable of paying off the rest!
4. Use the Avalanche method to pay off debts (good for saving money on interest payments)
While the Snowball Method is so popular – thanks to those small wins! – another excellent way to pay off debts is with the Avalanche Method.
It's a good method because it involves you paying off the debts that have the highest interest first, which, in the long run, saves you a lot of money.
If you choose this method, you list your debts in order of their APR – the one with the highest APR first, and the one with the lowest APR last.
Then, take the money you've assigned to pay off your debts each month and use it to pay the debt with the highest APR.
After the first one is paid off, just like with the Snowball method, you take the money you used to pay off the first debt to put towards the next debt and focus on paying that off.
Compared to the Snowball Method, the Avalanche method will save you more money in the long run – but for some people, the Snowball method just works better, since many of us like to see little wins!
5. Consolidate your debts
The Snowball and the Avalanche method don't work for everybody. If you'd prefer a simpler method, then try simply consolidating your debts onto one card or loan.
It can make paying debts easier, as you'll only need to make a single payment each month, rather than multiple payments across your debts.
You won't have additional minimum payments to make each month, so your money won't be tied up – you'll be able to focus all of the money you have to pay down one debt.
It definitely makes the process of paying off debt less stressful!
6. Transfer your balance – but only if you can afford to pay it off in time
Transfer your balance onto a zero-interest card, and you'll save money on interest charges.
If you have debts on high-interest credit cards, then a zero-interest balance transfer is definitely something to consider.
It's handy because you're not adding more interest charges to the debt that you already owe.
You could save hundreds of dollars in interest charges, which really makes a difference when paying off debts.
7. Always pay more than the minimum payment
If you only pay the minimum amount on your credit card, then it will take so much longer to pay off your debts.
In fact, you'll barely clear the interest charges from last month. Each month, you'll continue making the minimum payments without clearing your full balance.
Increase your payments. If your monthly minimum payment is $100, then double it and pay off $200 a month – you'll pay off your debt twice as fast!
And, you'll start each new month with less debt.
8. Leave your credit cards at home
Paying off debt is great, but you also need to do things to stop yourself from accumulating more.
A really easy way to do this is to leave the credit cards at home when you go shopping. Just leave them out of your wallet. Spend using your debit card or cash instead.
If you need to, you can use your credit cards once you've paid off your debts – but remember, not to get yourself back into debt again.
9. Delete your card information from online stores
When an online store has your credit card information, it's so much easier to spend money!
You basically click a button during the online checkout and you've spent money instantly.
When you have to actually enter your card number, it gives you more time to decide whether you really need the item you're going to buy.
So delete your credit card information from any of the online stores that you shop with.
10. Change your spending habits
If you change your spending habits, you'll not only have more money to service your debts, but you'll also prevent yourself from getting into more debt in the future.
If you can, make some small changes, like bringing lunch to work, rather than buying it, or making coffee yourself, rather than visiting Starbucks every morning (if you must have Starbucks, at least use these Starbucks hacks to save money!).
Obviously, you don't want to make yourself miserable by cutting out too much – just see if there are a few small changes that you can make to your spending habits
We have more tips on spending less in the quick tips section below, so do check that out!
How to Pay Off Debt with No Money
If you want to know how to pay off debt with no money, then this is the most important tip for you!
We mentioned above that sometimes your income might be very similar to the amount you spend.
While you can save money, there are only so many things that you can cut back on without making yourself miserable.
Plus, if your bills are close to your income, even without recreational spending, then it can be even trickier to set aside cash to pay down your debts.
11. Sell your unwanted stuff and use the money to pay your debts
Search through your home and see if there's any stuff that you can sell. You can put the money you make towards paying off your debts.
Whether it's books, DVDs, clothes, or furniture, many of us have stuff in our homes that we no longer want.
There are tons of places and apps to sell stuff online, and locally as well.
Here's a list of best places to sell used stuff for the most cash online and offline.
12. Pick up a side gig and make more money to put towards your debt
In today's sharing and gig economy, most of us can find something to do make some extra money on the side.
If you haven't already, I highly recommend to anyone with debts to pick up a few side gigs.
You give yourself more breathing room with your budget, and more money to put towards your debts.
Here are a few examples of side gigs:
You could pick up some data entry work online and make $440 plus a month, working just ten hours a week.
Or you could drive for Amazon Flex and make between $18 and $25 an hour – work just 8 hours a week, and you'd make up to $800 a month.
Or, teach English online and earn $20 an hour!
Do some test scoring work, and make between $10 and $18 an hour.
Take surveys for places like MySurvey and Vindale Research – join multiple survey websites and you could make more than $100 a month.
Join rewards websites, like Swagbucks and earn $30 to $50 a month!
Here are some more resources for finding side gigs:
Quick Tips for Paying off Debt Fast!
Above, we've covered ways you can pay off debt in-depth, but there are a few more small changes you can make that make a huge difference!
The tips below will help you to cut down your spending, and pay off your debts!
Switch cable for Netflix and potentially save $56.42 a month to pay your debts!
Put your work bonuses towards paying off your debts – it's not exciting, but it will get you out of debt faster.
Sign up for MoviePass, and save $26.69 each month on movie tickets!

Switch to a cheaper cell phone plan, or a free cell phone plan (like FreedomPop) and save $148 a month!
Use coupons and save $200 or more a month!
Cancel unwanted transcriptions and save $120 a year! – You can use Trim to find and cancel subscriptions for you (check out our review of Trim here.)
Eat at home instead – according to federal data, the price of food at home decreased, but restaurant prices increased by an average of 2.7%!
Work out at home and potentially save $648 a year on the gym!
When you do need to buy something, make sure you use a cashback website, like Ebates, TopCashBack and Mr Rebates, and save up to 40% on everything you purchase!
Use gas price comparison apps to save $340 or more a year! – Check out Gasbuddy!
Compare the prices of everything – this ensures that you're not spending too much, and have more money to put towards your debts. Check out our list of the best price comparison apps to save you time comparing prices!
Praise yourself when you reach milestones – this will keep your motivation up.
Use apps like Mint to help you to budget and, therefore make saving money a whole lot easier!
Debt Pay Off Calculators
Wanna know exactly how long it'll take you to get rid of your debt?
Debt pay off calculators are your friend.
Use any of debt reduction calculators to see how long it'll take you to become debt free based on the amount you can afford to pay towards your debt every month.
These calculators are free top use. Play around with the numbers to find one that matches your current debt to income ratio so you can create a debt payoff plan that fits your current financial situation and is easy to stick to.
Final Words
Tackling debt can seem overwhelming. But, by taking the time to do it, you'll set yourself up for a much better financial future, and you won't have the stress and worries that come along with being in debt.
Let us know in the comments section below if you have any tips on how to pay off debt!